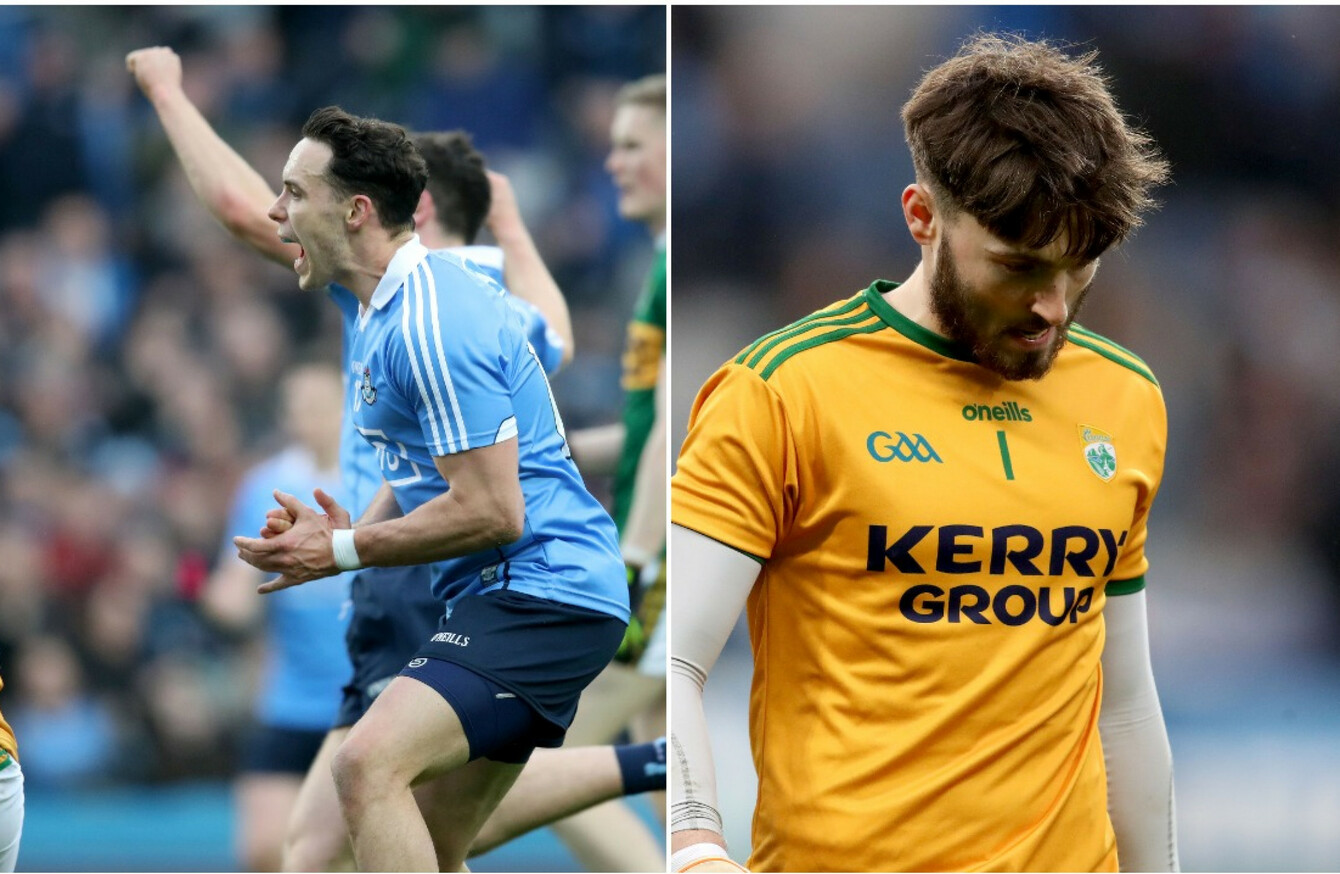 Contrasting emotions for Dublin and Kerry yesterday.
Image: INPHO
Contrasting emotions for Dublin and Kerry yesterday.
Image: INPHO
A FIFTH LEAGUE assignment successfully completed in 2018 by Dublin yesterday but the identity of the opposition elevated the value of this win.
A 12-point dismantling of Kerry means that already this spring they have taken care of the other three sides that contested the All-Ireland semi-finals last August.
The scoreboard concealed the emphatic nature of their Saturday night wins last month against Tyrone and Mayo but the end result yesterday spoke volumes for the dominance they had exerted.
Eamonn Fitzmaurice watched on in the second half as a three-point deficit had swelled to 12 by the final whistle.
"It was a chastening experience for us today but we're just going to have to take it on the chin now and move on pretty quickly. I think early in the second half Dublin really got after us. They punished our mistakes.
"For whatever reason then we seemed to go into our shell a bit, which was disappointing. But look they're an outstanding team and we can see where we're at, we can see where they're at and there's a gap there that has to be bridged."
How can that gap be bridged? Kerry's thoughts will quickly turn to next Saturday night in Tralee, an encounter with Kildare that they need to mine full points from in order to douse any relegation flames flickering around them.
After that they will enter provincial combat as the favourites to rule for a sixth year in succession in Munster and journeying deep into the summer is likely.
But on a wider level the latest show of Dublin power generates fresh concerns for Kerry when it comes to their hopes of reigning on the national stage.
Certainly they were hampered yesterday by the loss of attacking focal points Sean O'Shea and Paul Geaney at the break through injury. That pair could easily have rifled home first-half goals as well. There were flashes of menace from David Clifford in the first half before Dublin's defence choked the space available to him thereafter.
They can point to the collection of players that will fitness permitting be back in harness for the summer. Only eight of those that got game time in their last championship outing of 2017 against Mayo were pressed into action at some stage yesterday.
Tadhg Morley and Killian Young will be fresh defensive options while they'll look to Donnchadh Walsh, Darran O'Sullivan, Johnny Buckley, Stephen O'Brien and James O'Donoghue to provide choices in attack.
But to hone in on Kerry's absentee list yesterday is a red herring considering who Dublin were shorn of. From the starting team last September against Mayo, they coped without the suspended Mick Fitzsimons yesterday and the club hurling tied Con O'Callaghan.
They are ploughing on without cruciate victims Jack McCaffrey and Bernard Brogan while James McCarthy, Paul Mannion, Paul Flynn, Diarmuid Connolly and Kevin McManamon were all not part of the match day panel.
Yet it never looked like Dublin would be knocked off their stride with Ciaran Kilkenny conducting matters, Michael Darragh MacAuley thundering forward at every invitation, and Jonny Cooper producing a defensive masterclass.
Then there was the proof that the flow of players continues with Niall Scully, Brian Howard, Colm Basquel and Paddy Small all putting forward their case for inclusion.
Dublin were down five All-Star winners from last year but still amassed 2-17 and are on the cusp of a sixth straight league final appearance. By round five last year, Jim Gavin had seen his team held to three draws but they have been flawless to date in 2018 and are hitting full speed earlier in the season.
The second half was sobering viewing for Kerry fans in the context of the overall campaign that stretches ahead of them. The defensive shortcomings that surfaced against Donegal and Galway cropped up here again. Two goals were put past Shane Murphy but Dublin came close to embellishing that tally on a few occasions in the second half.
In 2016 there was a similar level of despair in the Kingdom when they slumped to an 11-point reversal in the league final. The memories of that April loss were diminished when they pushed Dublin to the wire in a thrilling All-Ireland semi-final that August and it's under a year since they did savour that winning feeling against Dublin in Croke Park.
Kerry have bright underage gems that can be polished at senior level and they will improve as is their habit when the serious summer showdowns arrive.
But there's no sign of Dublin slowing down either and the return to play of their senior stalwarts will only bolster their squad.
Yesterday was just another reminder of the scale of the challenge to overcome the champions.