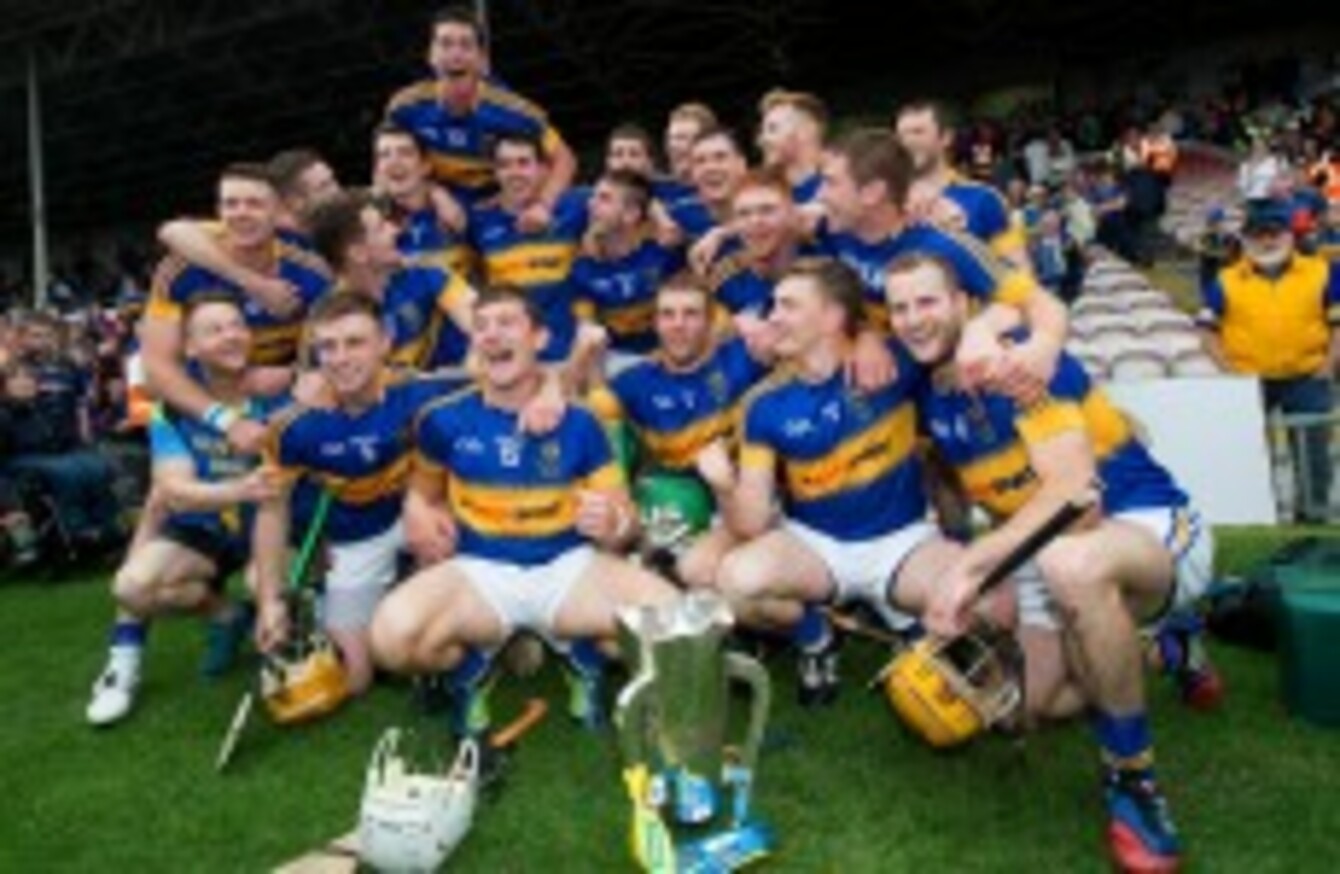 Tipperary's players celebrate Munster championship success.
Image: Ryan Byrne/INPHO
Tipperary's players celebrate Munster championship success.
Image: Ryan Byrne/INPHO
THEY WON'T SAY it publicly but Tipperary's senior hurlers were desperate to win yesterday's Munster final, not only for themselves, but for Eamon O'Shea.
He's the man who's stuck by them through thick and thin over the past three seasons, the man who picked them up when they were at their lowest ever ebb.
In August 2012, Tipp were crushed by 18 points against Kilkenny in the All-Ireland semi-final.
The fallout in the Premier County was particularly vicious and angry hurling folk went hunting for scapegoats.
Lar Corbett, writing a column for the Irish Independent at the time, was caught in the maelstrom, after he ran around Croke Park after Tommy Walsh.
But Corbett is a player O'Shea loves, a template of the fluid movement and freedom of expression that the manager craves.
He did well yesterday, Corbett, coming off the bench to collect possession six times.
His point was majestic, an arced, over the shoulder effort that split the Town End crossbar. The roars that greeted his arrival and subsequent white flag will have been music to Corbett's ears.
They might not forget in Tipp, but they'll forgive if you're doing your stuff.
The challenge now for Tipp is to build on yesterday's Munster win, the county's first at senior level since 2012.
It tends to be a cyclical thing, winning All-Irelands. Take Nicky English's path to glory from 1999-2001, ditto Liam Sheedy 2008-2010. Eamon O'Shea, 2013-2015 anyone? Perhaps.
What was so encouraging for Tipp was the manner of victory. This was a different type of win, chiselled out in marked contrast the fluid, flashy nature of their demolition job on Limerick.
It was only in the final minute, O'Shea told reporters afterwards, when he felt that he could really relax. At the Gaelic Grounds, he was twiddling his thumbs from a long way out.
'Brittle' and 'soft' are accusations that have been levelled at Tipp in recent times. They're unfair when you take into account that they regrouped through the back door to win the 2010 All-Ireland.
You're not soft or brittle if you win five games in a row to claim the MacCarthy Cup.
They're also the one team, 2012 aside, who have put it up to Kilkenny consistently since 2009. In any other era, we would be talking about this Tipp team as one of the finest ever.
What they can do now is make the jump from nearly men to achievers, and reward O'Shea's faith in them.
Word has it that sitting at Croke Park in August 2012, he watched through his fingers and finished with his head in his hands. What had the team he helped to mould become, he wondered? Where was the system he had cultivated and honed?
It's back now but it's taken O'Shea some time to pick up the pieces. 2013 was a step forward and when O'Shea addressed reporters outside the Tipp dressing room at Nowlan Park following a qualifier defeat against Kilkenny, passion burned in his eyes.
There were good lads in that dressing room, he insisted, and they would prove it.
SEE SPORT
DIFFERENTLY
Get closer to the stories that matter with exclusive analysis, insight and debate in The42 Membership.
Become a Member
14 months later they were going toe-to-toe with Kilkenny in one of the greatest All-Ireland finals of all-time, within a HawkEye call of glory. Now they're set to go one step further and claim September's big prize.
Having failed to win a trophy in his first two seasons at the helm, O'Shea's final year could yield two before he hands over the reins to sidekick Michael Ryan.
There are two more hurdles left to jump, of course, and Cork will have revenge in their sights should the sides meet in the All-Ireland semi-final. Tipp's other potential opponents, Galway, won't need reminding either of how they blew a six-point lead in Thurles last year to lose by nine in the qualifiers.
Their manager, Anthony Cunningham, has already told Kilkenny boss Brian Cody that he'll see him in September.
A five-week gap should allow for a couple of rounds of club fixtures to take place. Tipp will also hole themselves up in Carton House at some point, a place where truth and honesty have come to the fore in previous team meetings.
They'll fulfil media obligations too in the build-up to the semi-final but the shutters have come down to a large extent in this regard. There was no press event before the Limerick game and a mini-version ahead of Waterford.
The siege mentality created within the group serves to ensure that newsprint and online media will not affect preparations in any way. The only concern for O'Shea and his players is what happens inside their inner circle.
What we've seen thus far suggests that something really good is happening. Before the championship began, they drew up a four-step plan that would take them to the Hogan Stand steps in September. Now, they're halfway there.
Finishing the job will ensure that O'Shea rides into the sunset with accomplishment and hope in his heart. Accomplishment at a job well done and hope that he won't have to wear the fireman's suit again.