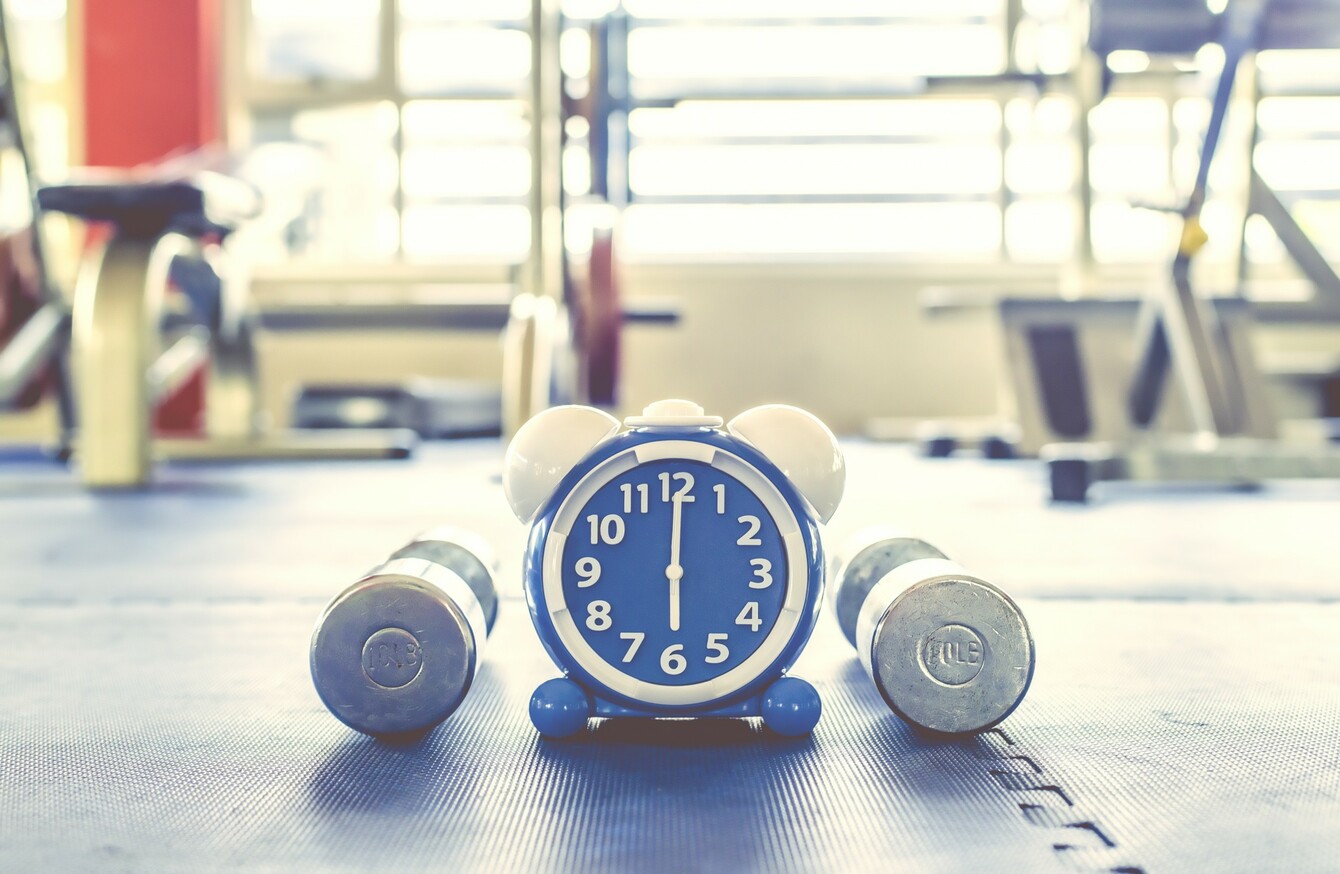 Image: Shutterstock/eakkaluktemwanich
Image: Shutterstock/eakkaluktemwanich
WITH THE SHIFT in seasons and the brighter mornings starting to creep in, I've noticed a lot more people out running, cycling and going to the gym early.
For most personal trainers, this is generally the busiest part of the day with clients and gym-goers eager to make hay as early as possible.
My first clients come in at 5am and while this may sound like a massive challenge to get out of bed and function this early in the day, once you're up and about that's the biggest obstacle beaten.
Below are a couple of benefits to training early in the morning:
Increase fat burn
Brain boosting/Increased daily energy
Rev up metabolism
Can lead to better work quality and focus for remainder of day
Improves body clock and daily function pattern
Having said that, the first goal of the exercise is to show up and get your work done. Better to show up at any time than not, and many people have to do what their schedules allow.
I always get a lot of questions regarding the best type of training or how to fuel your body correctly both before and after an early morning training session.
Generally, they all sound a bit like this:
1. What should I eat/drink prior to an early morning session?
This generally comes down to the person, their goal, the type of training they're doing that day, along with other lifestyle factors such as sleep patterns and their stress levels.
Go with what works best for you. The majority of clients I train early morning tend to have a good feed the evening before which usually consists of a well-balanced meal of fats/proteins/carbohydrates.
Then before the session, they generally go with half a banana, a black coffee or even some water with a pinch of sea salt.
As for pre-workout drinks, I'm not the biggest fan as I have not seen a huge benefit in them when it comes to my own training.
2. Is it alright to train on an empty stomach?
Personally, I've trained fasted and have found it 100% fine. I've seen some great results with clients who go into training sessions fasted and who have had the right meal the night before.
Again,this comes down to the individual and the training session they're going into that morning.
Be part
of the team
Access exclusive podcasts, interviews and analysis with a monthly or annual membership.
Become a Member
If you have tried fasted training and it has worked for you then stick with it, if not change it up.
3. What should I eat after an early morning session?
My advice would be to fuel correctly within an hour of a workout. This is far more important than what you eat before the session.
What you eat post workout is going to help you recover better and generally keep you on track. Anything with a well-balanced meal is something I recommend.
This could be anything from porridge/oats along with a protein source so perhaps some scrambled eggs. If time is an issue then why not look at a smoothie.
One particular favourite is almond milk or water along with a handful of frozen berries, broccoli, whey protein and a teaspoon of coconut oil or nut butter. Add in some flax seeds for bonus points and this generally only takes a couple of minutes to make in a blender.
4. What is the best type of training to do in the morning?
Again, what is your goal here? Improve strength? Build your aerobic base or perhaps work on your mobility/flexibility?
I've seen people do conditioning work early morning and others do some strength work or a combination of both. Again it's not really a big deal at what time you train, just the fact that you do train and show up.
If your goal is nothing too specific, like marathon/triathlon training, and all you're interested in is keeping fit and healthy then I always encourage clients to include some strength and conditioning work as well as mobility work at least three or four times a week.
I hope these tips have helped you out and let me finish by saying, the key to optimising results in and out of the gym is to listen to your body. Our body tells us when it wants to exercise.
We simply need to listen.What works for me, may not work for you. Go with what works for you, implement it and stick to a plan.
David Last is a personal trainer based in Dublin, for more information you can follow him on Facebook, Instagram and Twitter
The42 is on Snapchat! Tap the button below on your phone to add!