ED MCILVENNY WAS fed up at Wrexham.
He'd been at the Division Three side for two years but had made just seven appearances. The numbers didn't add up. In his mid-twenties, it was time for a change. But where to go? Back to Scotland and Greenock? Absolutely not.
The youngest of nine children, two of his sisters lived in the United States so, with a couple of months still left in the 1948/49 league season, McIlvenny left Wales behind and headed for Philadelphia.
He picked up various jobs – a bit of plumbing, some delivery work – but he was also signed by the Washington Nationals of the American Soccer League, the domestic champions and a club who already boasted two US internationals in Benny McLoughlin and Walter Bahr.
By May 1950, McIlvenny found himself selected for an exhibition game after a fine season with Philly ended with another league success.
The opponents were Matt Busby's Manchester United who were on their very first tour of North America. Their squad featured the likes of Dubliner Johnny Carey, who had captained United to an FA Cup triumph two years earlier, Jack Rowley and Stan Pearson. The game ended 2-2 and McIlvenny impressed to such a degree that US officials were keen on him representing the country at the upcoming World Cup in Brazil.
But, there was a slight problem: McIlvenny wasn't an American citizen. However, it mattered little and he was included in the 17-man group that headed for South America.
It was a motley crew. Five of the players were from St. Louis while six – including McIlvenny – were born outside the US. Geoffrey Coombes was English, Gino Gardassanich was Italian, Joe Maca was Belgian, Adam Wolonin was Polish and Joe Gaetjens was Haitian.
So, it wasn't just McIlvenny with the citizenship issue.
Still, according to longtime soccer historian Colin Jose, there was some wiggle-room with the rules and regulations back then.
"It's not generally known but there was a big FIFA meeting in December about there having been ineligible players on the U.S. World Cup team in the summer of 1950," Jose told The42.
There were five players, who were not U.S. citizens in squad, of whom Ed McIlvenny was one. But there was a rule which said you could play for a country if you had declared your intention of being a citizen and Ed had done that."
The squad was semi-professional and the players relied on a variety of jobs to support themselves and their families. John Souza worked at the Bristol Knitting Mills on Broadway, Harry Keough was a postman and goalkeeper Frank Borghi, a US Army medic during World War II, was a hearse driver for his family's funeral business. Gaetjens, who was born in Port-au-Prince, was an accountancy student at Columbia University, having received a scholarship to attend from the Haitian government. Part-time, he worked as a dishwasher in a Brooklyn restaurant.
So, within the US squad, McIlvenny was a rare breed: a player who had elite football experience, however minimal.
His first ever appearance for his adopted nation came in their World Cup opener against Spain and though the US put up a surprisingly admirable performance and took an early lead, they eventually suffered a 3-1 defeat.
Next up was Walter Winterbottom's England in Belo Horizonte and one of the most remarkable moments in the tournament's history.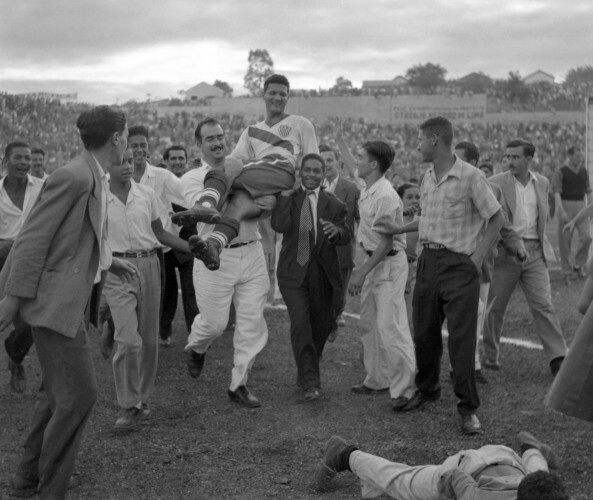 AP / PA Images Joe Gaetjens is carried off the pitch after the United States' legendary World Cup win over England. AP / PA Images / PA Images
With Stanley Matthews, Tom Finney, Stan Mortensen and captain Billy Wright all part of the squad, the English were understandably 3-1 favourites to win the competition. Theirs was a revered side and Winterbottom had the luxury of resting Matthews and Newcastle's Jackie Milburn until games became more taxing. Their first assignment ended in a comfortable win against Chile and everyone expected something similar against the limited Americans.
McIlvenny was handed the US captaincy for the game by his Scottish-born manager Bill Jeffrey, who hoped the armband would help motivate and give him an extra edge.
And the plan worked a treat.
Despite the English starting well and hitting the woodwork twice early on, the US – just as they had done against the Spanish – went in front.
On 37 minutes, Bahr's shot from about 25 yards was inadvertently helped on by Gaetjens. The intervention changed the ball's direction and wrong-footed goalkeeper Bert Williams before nestling in the net.
The English rallied but were rattled. Chasing a game was new to them and largely thanks to Borghi's excellent goalkeeping, the US held on to claim a miraculous victory.
McIlvenny had captained the United States to one of the greatest World Cup shocks of all time.
Given the psychological impact of the defeat, it wasn't too surprising that England also lost their final group game to the Spanish and suffered the ignominy of an early exit.
But, the real story was the Americans. They rounded out their World Cup odyssey with a 5-2 loss to Chile but their legacy was already assured. And for McIlvenny, the entire US experience led instantly to an intriguing opportunity.
The win over England may not have made headlines in the United States but it was a major story in the UK. And McIlvenny's name was carried throughout various reports given his Scottish background and the captain's role he played.
In Manchester, Matt Busby scanned the newspaper copy and cast his mind back to the friendly game his team had played in the United States a few months earlier. He had been impressed by McIlvenny even then but the subsequent World Cup performance sealed the deal. Contact was made and in August 1950, McIlvenny signed with Manchester United.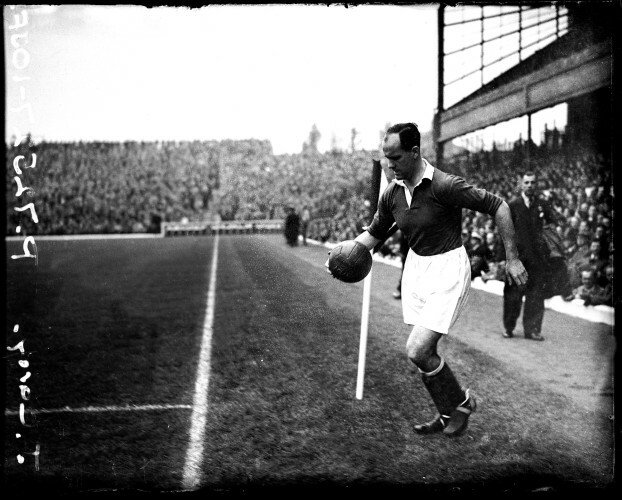 Barratts McIlvenny made his Manchester United debut alongside the iconic Johnny Carey. Barratts
He made his debut on the opening day of the season and started in a 1-0 win over Fulham. Alongside him were club icons like Carey, Rowley and Pearson. In a little over 12 months, McIlvenny had gone from an unwanted Wrexham reserve to a starter with Manchester United via the role of a World Cup hero.
Four days after his debut, McIlvenny started against Liverpool but United suffered a 2-1 loss. And, for whatever reason, it proved his final appearance for the club despite remaining at Old Trafford until 1953.
It was Carey who recommended McIlvenny to League of Ireland side Waterford and he made an instant impact at his new club as they claimed the FAI Shield in his first campaign.
In 1954/55, the club narrowly missed out on a league title and finished three points behind St. Pat's. But, McIlvenny was rewarded for his impressive performances and was selected for a League of Ireland XI in various exhibition games.
He stayed in the south-east for four years before returning to the UK and signing with Headington United (later becoming Oxford United). Perhaps inspired by his time in Waterford, he retired to the coastal town of Eastbourne and ran a coaching academy until his death in 1989.
McIlvenny never submitted his US citizenship application. Decades later, his son found the dusty document – still unsigned – in the attic.
When he signed for Busby, McIlvenny was served with a suspension from the country's football authorities because he never sought an official release from the Philadelphia Nationals.
But, even still – and having made just three international appearances  - he was named to the US Soccer Hall of Fame owing to that inexplicable and incredible World Cup adventure.
The42 is on Instagram! Tap the button below on your phone to follow us!