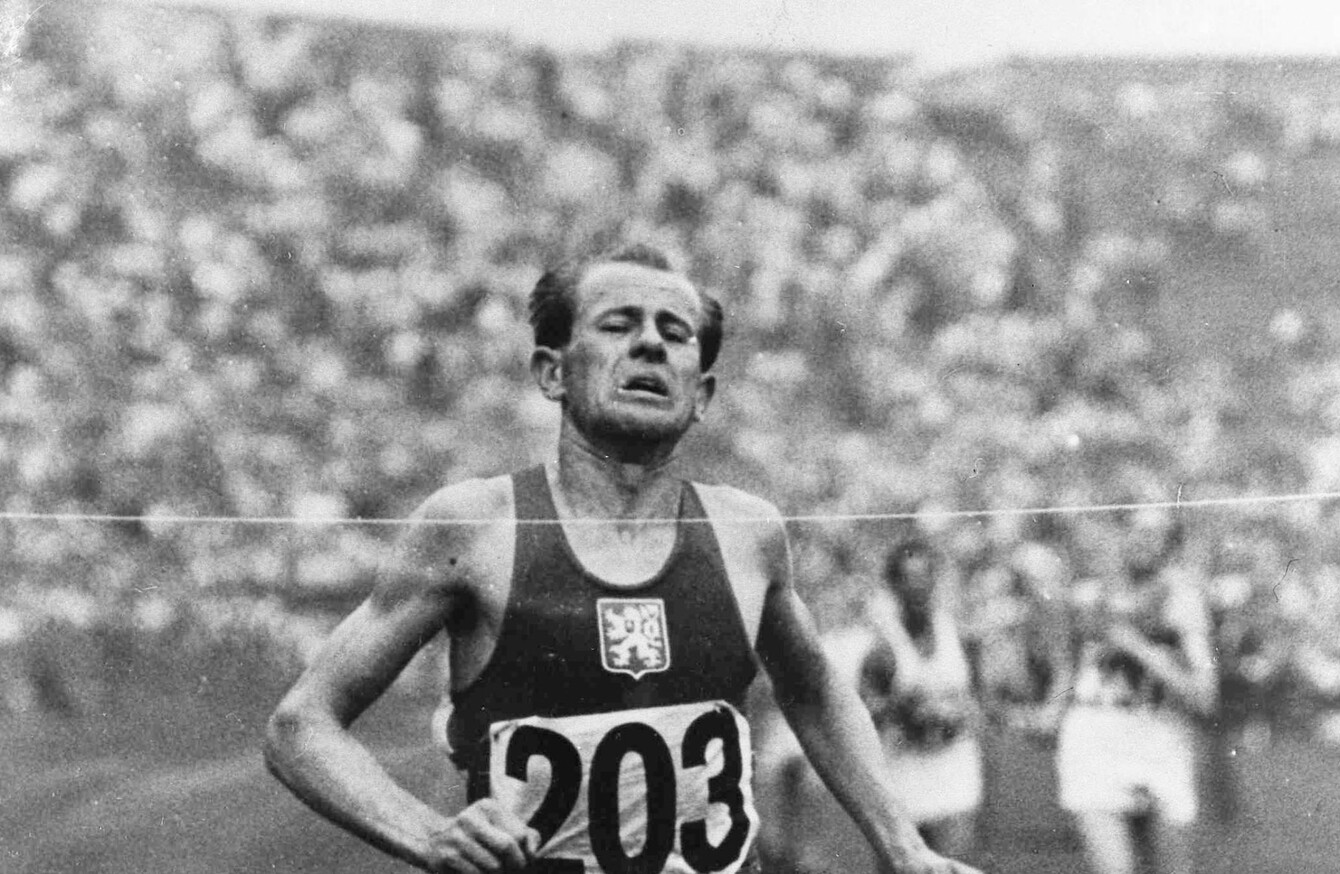 Emil Zatopek pictured competing at the Olympics.
Image: AP/Press Association Images
Emil Zatopek pictured competing at the Olympics.
Image: AP/Press Association Images
THE EXTRACT BELOW is taken from Today We Die a Little: The Rise and Fall of Emil Zátopek by Richard Askwith.
This passage examines Zatopek's brave threat to boycott the Helsinki Olympics and consequently sacrifice the opportunity to add to his tally of two medals from the London 1948 Games in protest at the initial decision to exclude Stanislav Jungwirth from Czech squad on account of his father's anti-government activities.
Zatopek's hardline stance eventually persuaded Czech authorities to allow Jungwirth to travel to Helsinki as part of the team.
His fellow Olympians worshipped him. The Englishman Gordon Pirie praised his 'magnificent character'; the Frenchman Alain Mimoun called him 'a saint'; Fred Wilt, the American, called him 'perhaps the most humble, friendly and popular athlete in modern times.'
Ordinary athletics fans were scarcely less enthusiastic. The Helsinki Olympics were supposed to be the Games of the Cold War, with two separate athletes' villages embodying humanity's bitter and terrifying ideological division. Zátopek did more than anyone to turn them, by sheer force of personality, into the Games of Reconciliation, where athletes and spectators of all nations came together and celebrated their common humanity. They did so largely through celebrating him: his genius, his tenacity, his life-affirming exuberance.
Yet it almost never happened. Just over a week before the opening ceremony, after four years of unimaginably intense preparation, knowing that he was poised to make sporting history and would never get a better chance to do so, Emil Zátopek risked losing it all. He had worked all his life for this moment and now, for the sake of a friend, he was prepared to throw it all away.
I can think of only one other example of an athlete of such stature gambling so much – and, in doing so, showing moral greatness to match his physical gifts. That was when Muhammad Ali refused to be inducted into the US armed forces in 1967, during the Vietnam War.
Like Zátopek, Ali was not just a talented athlete but one of breathtaking, sport-redefining genius — and huge personal charisma. Like Zátopek in 1952, Ali was at his physical peak when he took his stand. In taking it, he risked not just punishment and disgrace but also, most painfully, the loss of the best years of his sporting life. Ali took his gamble and, in sporting terms, lost. By the time he had won his appeal against his conviction for draft evasion and was allowed back into the ring, in 1971, his best years were behind him.
Be part
of the team
Access exclusive podcasts, interviews and analysis with a monthly or annual membership.
Become a Member
Zátopek's gamble came off; but it was no less a reckless one for that, and it is arguable that he paid a heavy price for it later, in 1968, when he, like Ali, defied a superpower and lost. If it hadn't worked — if the Communist authorities had called his bluff and condemned him to hard labour in the uranium mines instead of caving in at the last minute and sending him, with Jungwirth, to Helsinki — then he too would have forfeited his golden years: the years of miraculous achievement on which his claim to sporting immortality is founded.
But whereas Ali's sacrifice is central to his legend, and is celebrated in countless books, films and documentaries, Zátopek's stand is forgotten; or, more accurately, lost – like the plan for 'exemplary punishment of Captain Zátopek' that was drawn up by officials as Zátopek and Jungwirth were taking off for Helsinki on a later plane, then hastily destroyed when news came back that Zátopek had just won his third gold medal.
Today We Die a Little: The Rise and Fall of Emil Zátopek, Olympic Legend is published by Yellow Jersey. More info here.
The42 is on Instagram! Tap the button below on your phone to follow us!