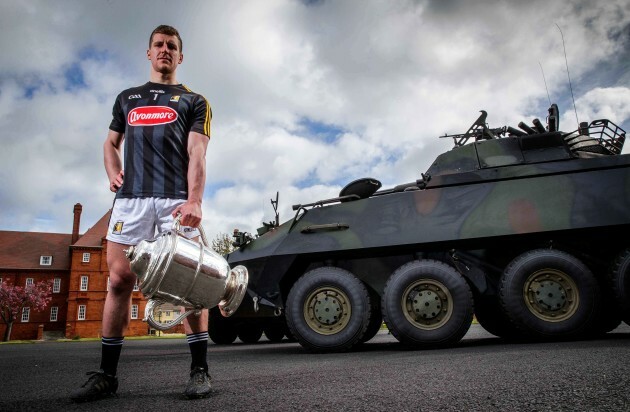 Ryan Byrne / INPHO Ryan Byrne / INPHO / INPHO
LONG-TIME READERS of The42 will know Kilkenny goalkeeper Eoin Murphy is huge NFL fan.
The Glenmore clubman took part in a Pick Six challenge in 2014 and 2015, going an impressive 9-3 with his predictions across the two years.
Given his love for America's Game, the Baltimore Ravens supporter often uses the sport as an example when he's breaking down hurling.
Last year he spoke about his admiration for the quarterback role Dónal Óg Cusack had with Cork during his playing days, with his short puck-out system central to Cork's possession game.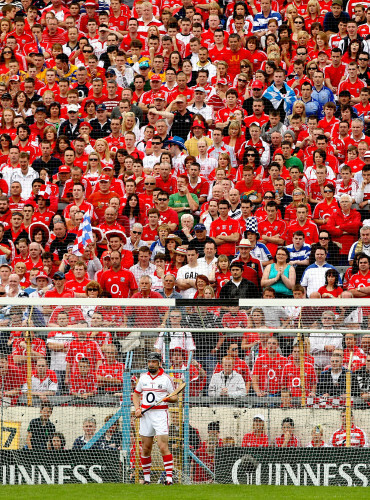 James Crombie James Crombie
Now Murphy is being asked to perform similar duties as Kilkenny shift towards a more short-passing style.
Defenders working the ball through the lines with 20-yard stick-passes was obvious during their league winning campaign. It's a definite move away from the more direct pattern of attack they employed during the glory years of the last decade.
The 27-year-old goalkeeper isn't quite the quarterback of the Cats, but can see the similarities.
"You have to play it as you see it – hurling is so fast," he says. "You take your other sports, for argument's sake NBA and NFL. It's all set plays and gameplans but hurling is so fast, once I get a ball, I can't think about what I did a week ago, two weeks ago in training.
"If a guy is coming short, fair enough I'll give it to him short. If I'm under pressure, the ball has to go long. You can't really set yourself for different scenarios in hurling, it just happens so fast.
"Guys have to be clever enough in how they play the game but also have confidence in their own ability that whatever way it comes to you, you will get the ball.
"We want to be thinking on our feet the whole time and things do happen so quick – I know there's a bit of a cliche in that – but honestly, you just have to think on your toes the whole time.
"There's different scenarios in the game where if you were having the one train of thought, it'd completely throw you off. From the mental side of things, you just have to stay tuned in to play the game whatever way it's going or whatever opposition, whatever way they play."
James Crombie / INPHO James Crombie / INPHO / INPHO
The infusion of youngsters under Brian Cody's tutelage didn't take long to adjust to the possession game, with many already familiar from playing with their colleges in third-level competition.
As Joe Hart learned at Manchester, a goalkeeper must be comfortable on the ball and be an accurate passer over short- to medium-distances to belong in a possession-based team.
Fortunately for Cody, he has a goalkeeper who played most of his underage hurling with the Cats as an outfield player. Murphy regularly operates anywhere in the front six for his club and was a star forward for Waterford IT in his Fitzgibbon days.
When Cody went about refining Kilkenny's game-plan to a more modern approach, he did so safe in the knowledge that he had Murphy between the posts.
"There has been a number of teams who've come up ways that suit their gameplay," Murphy says. "We talk about gameplans but every team has a gameplan that suits themselves. We probably struggled with the likes of Waterford and Wexford the last couple of years.
"Last year, we got to grips with it in the second half against Waterford but I think we expended so much energy trying to draw back eight or nine points, we were just completely gassed out in extra-time – then they took over.
"You have to have that bit of a mixture. A forward, at the end of the day – and even a back – has to be able to win their own ball.
"But if a team is playing with a sweeper, you have to play around him to a certain degree as well, keep them guessing. That just, essentially, drags the other team down on top of you to cut out you playing the short passes.
"You see Mark Fanning from Wexford is a massive cog in their wheel because his puck outs are deadly accurate," Murphy says. "He sets up plays for them, guys making runs, the likes of Lee Chin but then also, maybe a short one to Shaun Murphy, the spare man or whatever the case is.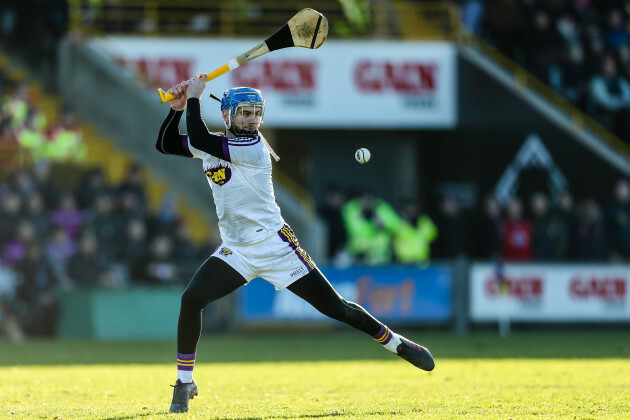 Laszlo Geczo / INPHO Laszlo Geczo / INPHO / INPHO
"He's confident enough to drive it down on top of Jack O'Connor, their half-forward line, Harry Keogh, Lee Chin and Conor MacDonald. They're able to win their own ball, catch their own ball. So, they do have that route of going long. He's there pinging puck outs and he's brilliant at it.
"Anthony Nash with Cork, pucking the ball into space for their forwards to run onto. You do have to have that sort of element to your set-up these days.
"When you look, the easiest type of ball you can give to a forward is in front of them. If there's not that sort of space there you just have to go long."
Jackie Tyrrell remarked last summer that during his playing days fellow corner-back Michael Kavanagh would always turn his back on the puck-out for fear of a short one going to him.
You can be sure the full-back line of Joey Holden, Padraig Walsh and Paddy Deegan won't be turning their backs on Murphy's puck-outs in Parnell Park later today.
"The option is always (there) to go short, guys want the ball and there is that confidence there; the backs have no problem actually going for it."
And sometimes when the game is in the melting pot, you have to go long. Murphy is fortunate to have man mountain Walter Walsh as well as TJ Reid – possibly the best fielder in the country – to aim for on the half-forward line.
When Offaly hauled themselves level against Kilkenny in stoppage-time of the league quarter-final, Reid pulled off one of his signature moves. He drifted over from his accustomary centre-forward position to the left flank and Murphy launched the ball in that direction.
Sure enough, Reid clawed the sliotar from the sky and won a free that he converted. Walsh added another and Kilkenny scraped through by two.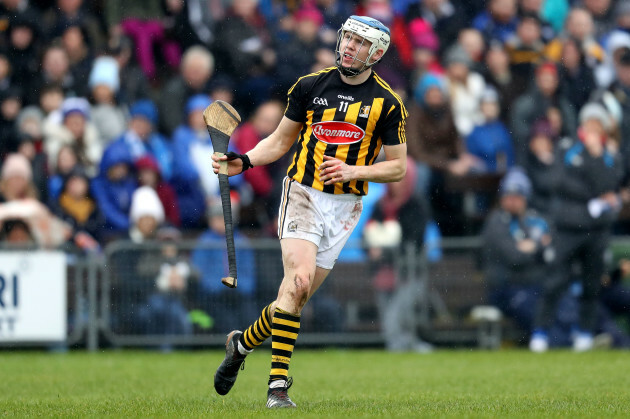 Bryan Keane / INPHO Bryan Keane / INPHO / INPHO
"If the opposition are sitting up on the puck-out, the likes of John Donnelly, Mossie Keoghan, TJ, Wally – whoever is coming out of the half forwards – you can just puck down the ball (on them).
"It allows you have a couple of routes and keeps the other team guessing. They can't really come into a game and say, this is the way Kilkenny are going to play."
There's far more to Murphy's role than just restarts. He's also arguably the best shot-stopper around and has been pulling off acrobatic stops for a number of seasons now.
officialgaa / YouTube
A goalkeeper's relationship with his full-back is a unique one and Murphy says he has a good "connection" with Padraig Walsh at the back.
Exclusive Six
Nations Analysis
Get Murray Kinsella's exclusive analysis of Ireland's Six Nations campaign this spring
Become a Member
"With the whole backs as a unit, if you can have a good spine to it – obviously, we have Padraig and Cillian Buckley our three and six and they're constantly talking and settling guys. They never seem to be under too much pressure themselves which is a good thing – it has a calming effect on the other four lads there as well.
"You look at it with Galway, Daithí Burke was one of the best half-backs there in 2015 and then for '16 and '17 they moved him in full-back and he's probably been the best full-back the last couple of years.
"Full-back is after changing. The way teams try to create that space, you have to have a full-back who's confident of actually hurling along with mixing it up – being that old style full-back actually pulling and dragging if it comes to it.
"You see the full-backs now, they have no problem with the ball being played in low. They're coming out and attacking it ahead of the forward, that never would have happened ten years ago."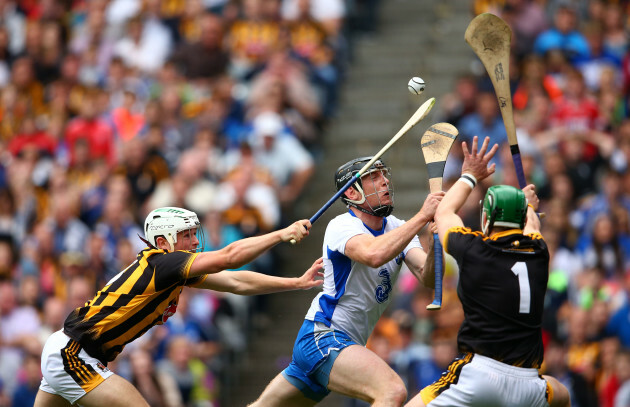 Cathal Noonan / INPHO Cathal Noonan / INPHO / INPHO
And despite the two All-Irelands he won between the posts for Kilkenny, you get the sense he'd like another shot at playing outfield.
"We'll leave that to Brian. I got a game (outfield) a couple of years ago. Probably, physically, I wouldn't have been in as good a shape as I am now. I'd love to get a run at it but my job now is in the goal and if I have to go corner-back or full-back, I'll approach it the exact same way: giving it 100%.
"I just love hurling, I've played every position in my club, probably, apart from the full-back line.
"I played a game at 16 or 17 in the goal and from there I've played in the half-back line, midfield all the way through to the forwards. I genuinely don't mind it. Similar enough to when I was in WIT.
"It's just hurling, you want to play games and that's it. If I had a preference, I would say out the field but I'm playing in goal at the moment, competing for a spot there."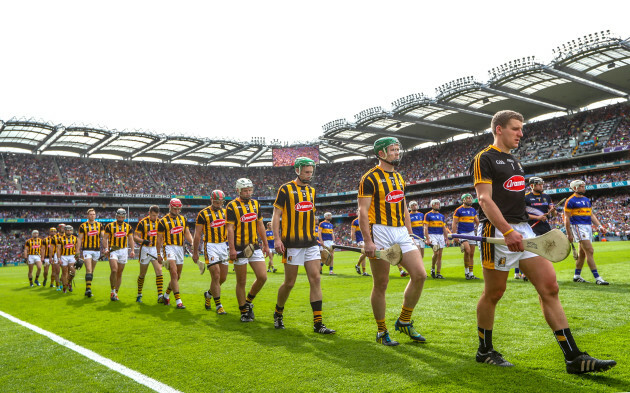 James Crombie / INPHO James Crombie / INPHO / INPHO
He gives a wry smile when he's asked how his shot at playing outfield went. "I was corner-forward and Brian Murphy roasted me down in Cork.
"I got two pucks the same day, I played a pass to Michael Rice for a point in the second half but I got one (other) puck in the second half and he blocked me down. That's all I had, I remember it vividly.
He continues: "Brian was brilliant, I've never seen anyone like it. He was able to read my body movement – if I was turning left or right – there was no sort of half throwing him off or getting that half a yard.
"He was the best corner-back in the country along with the likes of Jackie Tyrrell for ten years. They were playing a level different to everyone else at that time.
"Look, things didn't go well for me, I would have loved to get another shot but that's the way it goes. I would have been the third keeper at that stage as well and management made it clear to me.
"I didn't go in not knowing where I was going to play. They said they were going to give me a chance outfield, see how it goes. PJ Ryan retired at the end of that year and I knew I was going to be competing for a goalkeeper's spot and I was more than happy."
And Kilkenny have been more than happy with him ever since.
The42 is on Instagram! Tap the button below on your phone to follow us!