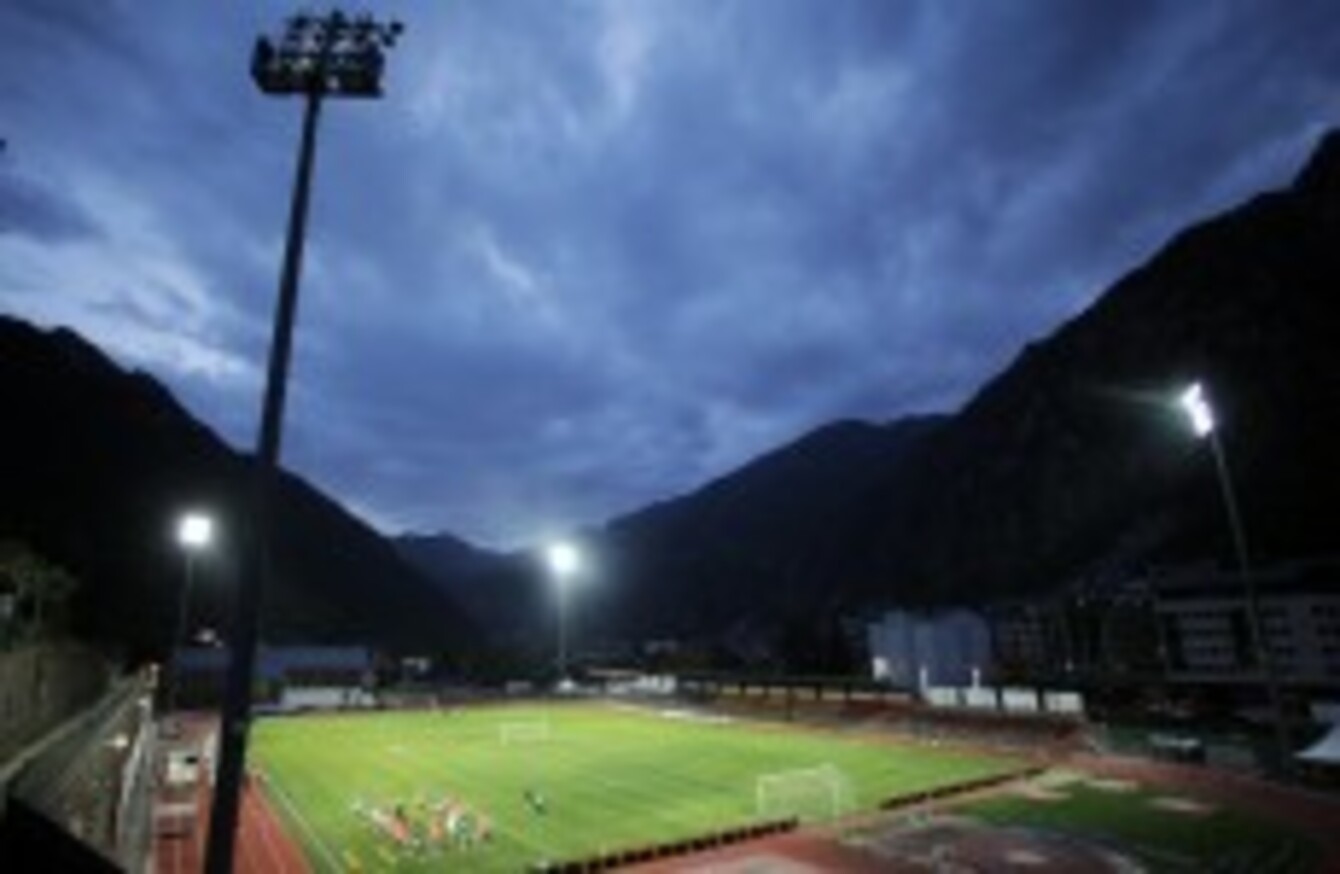 Stage set: Andorra's Comunal Stadium
Image: Inpho
Stage set: Andorra's Comunal Stadium
Image: Inpho
It should be so clear-cut. If Russia fail to get a point in Slovakia tonight and Ireland win their next two games then Giovanni Trapattoni will have delivered the country to a first tournament in a decade.
If Russia draw, however, then it's likely to be an effective play-off on Tuesday against Armenia to get into another play-off.
Except, the fact is that this group has been anything but clear-cut. A series of utterly surprisingly results have made it by far the most complex of all the Euro 2012 qualifying pools.
And, to a degree, Trapattoni's team are only in this situation because of the biggest of them.
Had Slovakia done what form suggested and beaten Armenia at home in the last round of fixtures, then Ireland's situation would be a lot less straight-forward. They'd have trailed both Russia and the Slovakians by two points.
Of course, Armenia's eye-catching 4-0 evisceration of Slovakia was only followed the latter's win in Moscow and Russia's win in Dublin. And, given that thread, Irish captain Robbie Keane has said he expects another "twist here somewhere along the line".
The hope for Keane is that it won't take place on Ireland's trip to Andorra.
One cause of concern, though, is that the minnows have been threatening some kind of surprise for a while. It took Slovakia 63 minutes to score against them in June and, other than against Armenia, they haven't yet lost by more than two goals.
In saying that, though, they still haven't yet got a point either.
And, unless we see another drastically unpredictable series of events contained within 90 minutes, then they're highly unlikely to tonight either.
In truth, this is something of an odd game to preview. By just blocking their box with amateur players in the hope of an unlikely draw, Andorra are far too one-dimensional and woeful for the game to really tell us much about Ireland.
Sure, convincingly taking the game to teams and opening them up hasn't exactly been a virtue under Trapattoni. And, as a result of that, it might have been beneficial for the manager to start the more innovative Keith Fahey rather than risk the suspension of Glenn Whelan.
But, really, Andorra are so poor that one of the more traditional strengths Trapattoni has imbued the team with should pay off here. So long as Ireland keep doing all of the little things right and stay patient, then – no matter how long they go without a goal – the amateurs of Andorra will eventually make an error.
As such, the most interesting aspects of the night are likely to happen elsewhere.
In Zilina, Slovakia host Russia in what is likely the most important remaining fixture in the group. Since the Russians themselves take on Andorra at home on Tuesday, then this could well be the game that settles automatic qualification.
If it's a draw, then 'results against each other' mean Ireland will not be able to pip Russia to top spot unless Andorra pull off that unlikely twist in Moscow. Instead, Tuesday's match between Ireland and Armenia would be a straight play-off for second – provided the latter beat Macedonia.
If Slovakia win, then the group is blown wide open. Potentially, Ireland could be on 18 points and all of Russia, Armenia and Slovakia on 17 going into the final game. And muddying the waters here would be results against each other. In the event the teams finish level, Russia are guaranteed of finishing ahead of Armenia and Ireland but not Slovakia. Ireland, meanwhile, are guaranteed of finishing ahead of Slovakia but not Russia.
At the least, though, a Slovakia victory would leave Ireland with top spot in their own hands against Armenia.
So that's the result Keane wants. Another complication, however, is that the game will be almost over by the time Ireland take to the field in Andorra.
"Hopefully, Slovakia can do us a favour… eventually we will find out somehow. But it's important that we focus on what we are doing rather than looking at Slovakia and Russia."
In that game, both teams would appear evenly matched in both quality and make-up while Slovakia have the confidence derived from that win in Moscow. But, since then, their groups have taken very different paths. From struggling to score at one end, the Slovakians have recently found it difficult to keep it tight at the other. So, should Russia repeat the kind of interchanges they produced against Ireland in Moscow, then they're highly unlikely to encounter the kind of astounding rearguard action that prevented them scoring.
Slovakia are really going to require something rousing.
As to the other game in the group, scoring has also been a problem for Macedonia – who even drew 0-0 with their under-21s recently despite a tutorial from new manager John Toshack. Since Armenia are the group's emerging side and suddenly well capable of hitting the net, then it's hard to look past another highly impressive win.
All in all, Tuesday's match is likely to be a momentous one, with – at the least – a play-off place up for grabs.
As we know, though, that has been anything but clear-cut.
Ireland team to face Andorra: Given, O'Shea, St Ledger, O'Dea, Ward; Duff, Whelan, Andrews, McGeady; Doyle, Keane