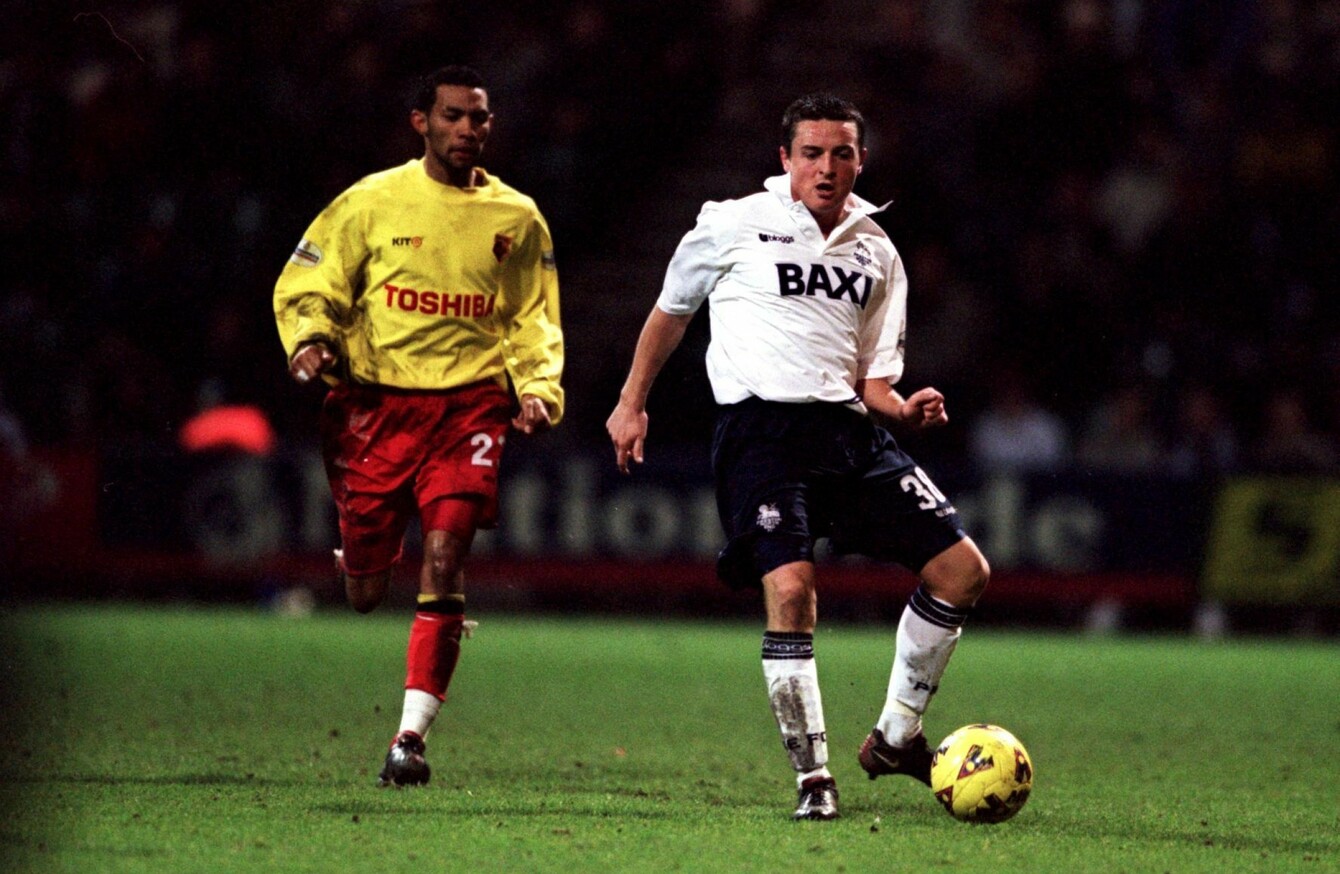 Preston North End's Michael Keane (r) is closed down by Watford's Jermaine Pennant (l) during a Division One match in 2002.
Preston North End's Michael Keane (r) is closed down by Watford's Jermaine Pennant (l) during a Division One match in 2002.
EVERY YEAR, COUNTLESS young Irish footballers make the brave leap to join the underage set-up of British clubs.
Nevertheless, what seems a dream move can rapidly turn into a nightmare. Figures show that just a tiny fraction of the Irish footballers that make the move across the water actually end up earning a living from the game.
However, unlike some youngsters who find it hard to resist the allure of a big first contract and a high-profile team, Michael Keane was different.
The Dubliner was one of the most sought-after young Irish footballers in the late 1990s. There was interest from Joe Royle's Man City and Gerry Francis' Tottenham. Ipswich Town, Stoke City and Stockport County were also among Keane's suitors. However, despite some "lucrative" deals on offer, Keane ended up with David Moyes and Preston in 1998, signing a contract for a "pittance".
So why did the promising teenage footballer reject all these financially superior offers?
"David Moyes sold the club to me," he tells The42. "I could have easily made the move for big money. But to me, money never even entered into it. I thought: 'Where am I going to get the opportunity?' David Moyes said to me: 'I know what these clubs have offered you. But here's what I can offer you that they can't — we need to look to our youths if they're good enough."
Keane was impressed that Moyes, who was a young and relatively obscure lower league manager back then, had actually taken the time to watch him play in person. Moyes, similarly, "admired" the young player for turning down bigger contracts elsewhere to join Preston.
He was like a father-figure. Moyes said to me: 'You have something unique in you that other players don't have. If you do well in the youth team here, I'll play you in the reserves. If you do well in the reserves, I'll play you in the first team. It doesn't matter to me how young you are.'
"And with that, I played in the youth team on the Saturday, scored two goals in my first game, I was outstanding. I played in the reserves on the Wednesday, I scored once, played brilliantly. And then I played in the first team on the Saturday, all in the first week. And I scored on my debut against Wimbledon. So I hit the ground running.
"I actually have a few photographs of me jumping into (Moyes') arms. It was to say 'thanks for giving me the opportunity.'"
Keane describes Moyes, who he used to babysit for, as "a winner" and an "outstanding" coach, and says he knew the Scot would go on to manage in the Premier League one day.
"I saw something different in him that I didn't see in the other managers that were already (coaching in the Premier League).
He used to love this about me — it would be either me or him in that training ground first every single morning.
"On Monday morning after the Saturday game, I would go into David Moyes' office and we would talk. We could have won a game 3-0 but I always asked him: 'Where did I go wrong Saturday, gaffer, what can I improve on?' And that's the difference — you have to want to learn. It's the things that you're not doing right that are most important."
Despite having more good days than bad, unfortunately for Moyes and Keane, they just fell short in achieving their dream of taking Preston to the Premier League.
We got to the play-off final (at the end of the 2000-01 season). We were 90 minutes away from the Premiership. But we never showed up that day. Bolton Wanderers beat us 3-0. It was the only time in the season that we never played and it was the most important game."
Before retiring, Keane also had spells at Hull City, Rotherham United and St Patrick's Athletic, but his fondest footballing memories remain at Deepdale. Ultimately, Moyes and the former Ireland U21 international went down different paths, but he still keeps in touch with the Scottish manager to this day.
"He has gotten involved many times when I organised charity events while he was manager of Everton and sent items for me to auction, and we managed to raise close to €10,000 for the sick children in Crumlin hospital.
He actually arranged for myself, my girlfriend and her cousin's young lad, Graham Parkinson, who was very ill (and who later sadly passed away), to go on a trip to Old Trafford. But he was actually sacked as Man United manager the day before we flew over, which was a nightmare."
Keane also believes that Moyes was treated unfairly at Man United and is optimistic his former manager will "bounce back" after he stepped down as Real Sociedad coach recently.
"Moyes never got a fair crack at the whip (at Man United). In my opinion, Alex Ferguson knew exactly what he was doing. He wasn't going to stay there because he knew they weren't good enough. The squad needed a full shake up. If you look at them still now, they're failing. It's not good. There needs to be a massive clear out.
"If Moyes had been given the time, he would have improved them. The thing as well is he was a proven manager at Everton over a number of years. They were fighting relegation when he took them over and he turned them into a top-six team. That's an incredible thing to do in one of the best leagues in the world."