WITH A NICKNAME like The Butcher, it's little wonder that Dylan Fawsitt is a clear-thinking, no-nonsense and driven individual.
The New York-based Wexford man will come off the bench for the USA in this evening's closing November international (kick-off 18.30, RTE), taking on the country of his birth to round off a year in which he has fulfilled his dream of playing Test rugby.
When The42 spoke to Fawsitt soon after his USA debut against Chile early this year, he described how he has 'worked his ass off' to be in the position he is. And there can be no doubt that he has had to take a circuitous route to international rugby compared to some of his schoolboy peers, who he will meet face-to-face on the field tonight.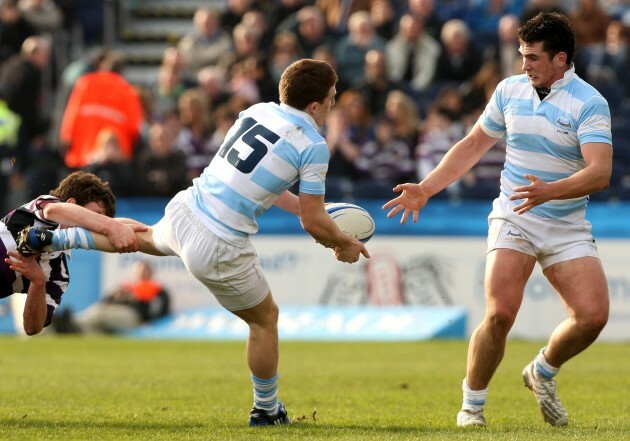 James Crombie / INPHO Andrew Conway passes to Dylan Fawsitt during the 2009 Leinster Senior Cup final. James Crombie / INPHO / INPHO
"I've known him since first year in school," said Andrew Conway this week. The Munster wing was an obvious stand-out star for a Blackrock College side that featured Jordi Murphy, Denis Buckley and Brendan Macken as well as then blindside flanker Fawsitt.
Conway has had his own travails and work-ons to grind through before his big chance at Test rugby came around. But back then, the age grade honours were coming thick and fast.
"I remember I had gear from Irish under 18s and I was giving it to the lads. I went to give it to him or I said: 'here, there's a bit of gear for you.' And he said: 'no, no, I'll get my own gear'.
I said, 'are you sure?' And he said 'yeah, yeah, I'll play international rugby myself."
It takes an incredible level of fortitude to shun a harmless, friendly gesture because of a perceived symbolism and the wish to achieve it all by for yourself. Fawsitt is a serious man, but once tonight's final international of 2018 blows full-time, he deserves to relax and toast a landmark year and a point proved. 
"To be honest, he would have been laughed at by a lot of people who were going 'you don't have a chance.' But where there's a will, there's a way and he went off and he found an alternate route.
He's gone off and carved a niche for him and I'm sure the Americans have taken to him with the personality he has. He's not short of confidence and well able for a bit of chat but it's inspiring stuff to be honest, watching someone go off and chase their dream."
As Conway notes, chasing that American Dream is never an easy task. The Greystones-born man laps up the opportunity to coach around New York, he played on loan with Denver side Glendale Raptors this year and will be in the Irish contingent of Rugby United New York next term.
"I take a great amount of motivation watching someone I grew up with doing something like that," says Conway, adding: "myself and Jordi will probably be competing to get a US jersey off him."
Oisin Keniry / INPHO Fawsitt gets to grips with the ball during the Captain's Run at the Aviva Stadium yesterday. Oisin Keniry / INPHO / INPHO
The WhatsApp lines have dropped cold this week. The Butcher is sharpening up before facing the green jerseys. He told them as much when he met them in Chicago this month.
"We were playing the Māori All Blacks after their game against Italy," explained Fawsitt this week, "we had a coffee and I told the boys they better be ready come Saturday! We left it at that…"
Because they don't need reminding that Fawsitt has a habit of keeping promises.