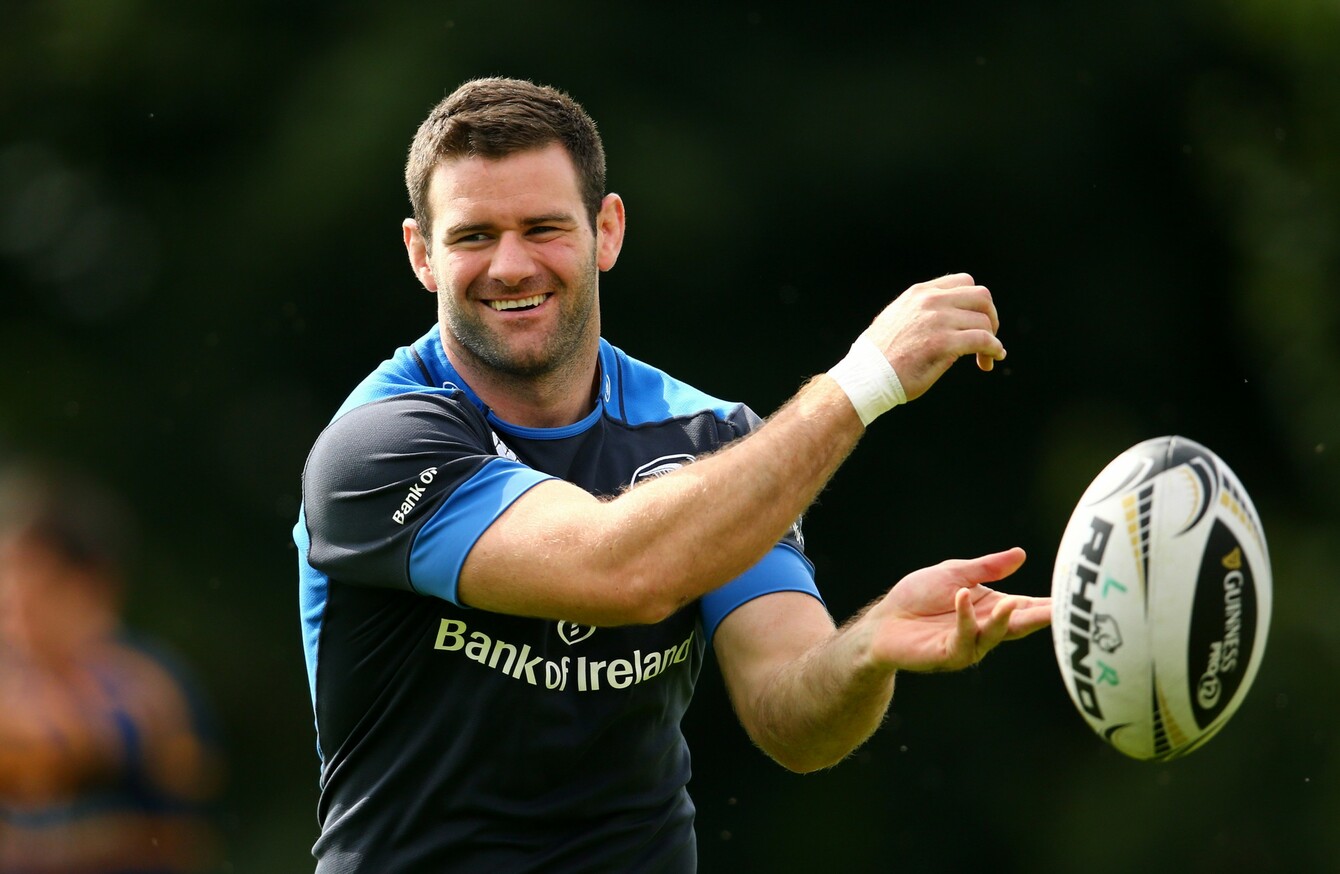 McFadden at training.
Image: Cathal Noonan/INPHO
McFadden at training.
Image: Cathal Noonan/INPHO
LEINSTER AND IRELAND player Fergus McFadden is in his ninth season with his home province and has a fine CV that boasts a couple of Heineken Cup medals as well as Ireland caps in every age category.
With the RBS Six Nations kicking off in a matter of weeks he'll definitely look to be in the shake-up and here, he outlines an average day in his life and what he's doing to get himself in the best shape possible.
The 29-year-old Kildare man is equally adept in the centre as on the wing and his training diary – an average Monday or Tuesday here, is quite interesting from a number of angles.
His diet will largely depend on what his workload will entail for that day, there is far more than lifting weights and running fast when it comes to what he does for a living while his recovery is taken just as seriously as any other aspect of his training.
Take a look…
7.45am: Monday and Tuesday would be the heaviest days with the training load so you'd be up around this time to get a bit of breakfast in beforehand.
I'd always get it at home before heading in to training then afterwards.
Generally I'll cook myself poached eggs with a bit of avocado, salmon or else a bit of bacon, ham and brown toast or maybe a bit of porridge.
8.45am: We have to be in by this time but as I live just 20 minutes away I've no excuses.
On a day off (Wednesdays are usually my days off) my intake of carbs wouldn't be as high at breakfast, but that's not the case on a Monday or a Tuesday because I know I'll need the energy to burn in the pitch and weights sessions that follow.
9am: Each player would have to be in the club and submit information into the tablets, information which is vital for our coaches and physios.
We'd enter our weight, there's a sit and reach machine to check your flexibility in your hamstrings, all that stuff would have to be put in so the physios and S&C coaches have a feel for how guys have recovered after the weekend and if they're ready to partake in full training.
That takes five minutes to get those measurements. It's just important we get them all done so the physios and S&C coaches can have a meeting in the morning to see how guys are going to train and what load they're going to do.
9.15am: Next we'd be split in units between forwards and backs.
9.30am: Time to hit the gym. On a Monday you'll do a heavy lower-body weights session in the gym.
That would take around 45 minutes to an hour of high-intensity and post that you'd have a 30-minute rest to get a bit of fuel in, be it a shake or some food.
After that we'd have a backs meeting.
11am: We'll have that backs meeting and that'll be an hour and a half after the weights session, to give us some recovery time.
Firstly you'd assess how you played at the weekend; what you did well and what you did badly.
Then we'd analyse the players we'd come up against the following week, looking at strengths you'd have to be aware of.
12 noon: From there, the forwards would be in the gym and we'd have a refuel, maybe some food in the canteen together or in the 45-minute lunch slot before we have a squad meeting for the pitch session.
Lunch generally is taken care of in the club before the pitch session. That can be anything from chicken or beef with carbs in there like sweet potato and veg.
The food is great and it's important to refuel well between sessions.
1pm: The pitch session would generally be after weights and last around an hour and 15 minutes.
We'd have an army of support staff then watching on; maybe two physios, an academy physio and the S&C staff.
Then you've the coaching team; scrum coach, backs coach, head coach and that wouldn't even be inclusive of the academy structure.
3pm: After the pitch session it's about getting rest and recovery in for the rest of the day. It's all relative to the individual but I might do an ice bath post-shower for two-five minutes.
Then I get home and just try to eat well and stay off my feet.
3.30pm: Some guys would have physio or massage slots booked in for after the pitch session so this varies from day to day.
I'm not a big man for napping. I find it can affect my sleep at night.
However, during pre-season you'd have a much higher workload so I can't help but maybe get an hour in during the day – but not during the season.
7.30pm: I generally try to eat before 8pm.
Here, for dinner I'll try to get a big meal in with not too many carbs in the evening; a normal meal would be a bit of chicken, good beef and veg, maybe some sweet potato or for carbs maybe some brown rice or pasta dishes.
I live with my girlfriend so it'd be a mix between us (who cooks) and she shops pretty healthily.
8.30pm: For the night then I'd just relax. I love watching series. The latest one I got through was Making a Murderer which was pretty enthralling.
Prison Break, Breaking Bad, Homeland are all great. I love the series stuff, it's just easy to switch off and I'd keep an eye on the sport like the Champions League during the week too.
10.30pm: Usually lights out. I try to be asleep before 11 and if I got six-hours hours then I'd be happy, that's what I'd be going for.
Clearly, McFadden's day is all about optimising his recovery and always about the next session or the next game.
In the gym, he'd have a main lift like a squat or a dead lift mixed in with a more powerful movement like a clean or jump squats.
What's apparent is the sessions are not terribly long – but they're shorter and more explosive.
"Some programmes are tailored for different guys, depending on what they need to work on," he explains.
Hydration is of huge importance to McFadden also.
"I'd try to drink maybe two litres every day because it's very important for performance and recovery.
"You'd take a protein shake after the weights session and you'd be sipping on water for the day.
"I wouldn't have a big sweet tooth – not as big as some lads! I'd be more of a jelly man, so if I went to the cinema on a Tuesday night with a day off Wednesday I might get a tub of popcorn and some jellies but I wouldn't have too big a sweet tooth for eating crap.
"Trying not to eat out too much is the key as well in terms of a healthier diet I find. I try to get out to walk the dog in the evenings and this is a nice way to wind down after the day."