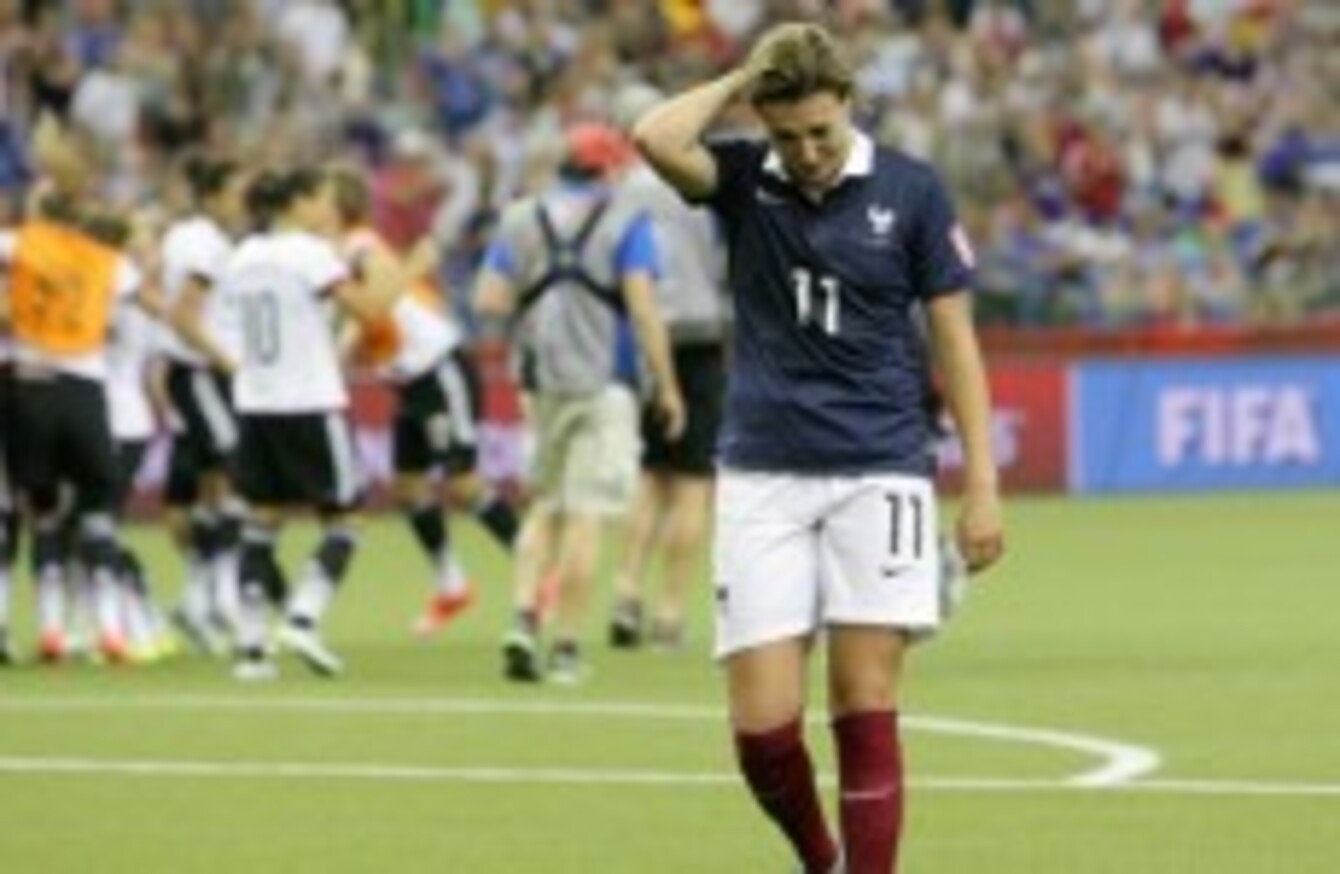 Camille Abily has slammed Fifa for "taking us for idiots" .
Camille Abily has slammed Fifa for "taking us for idiots" .
FRANCE WOMEN'S STAR Camille Abily has slammed Fifa for "taking us for idiots" over the decision to rig the World Cup draw for ticket sale purposes.
Germany (ranked No.1 in the World Ranking) finished top of their group and so did France (ranked No.3) but Fifa had organised the groups under the assumption the duo would meet in the quarter-final stage of the tournament.
This is unlike the men's version of the World Cup, which sees teams drawn randomly into groups based on their seeding rather than any attempt to set up match-ups at specific points of the competition.
Following a thrilling 1-1 draw that culminated in Germany beating France 5-4 in a penalty shootout, Abily was fuming with two of the top three ranked teams being forced to clash earlier than a random draw would have necessarily resulted in.
"Unfortunately, the main frustration is having to face Germany so early, Fifa did not conduct a real draw," she told L'Equipe. "This is not to blame them for the defeat but why don't we do it like the men?
"A1 of the draw would be for Canada then we would've be drawn randomly according to our seeding. At some point Fifa has to stop taking women for idiots.
"I'm sorry but if they did a real draw maybe we would not have played Germany or the United States after. Inevitably, it's frustrating even if we knew this from the start. The hope was still to go all the way, as we proved on Friday."
Fifa does not try to hide the fact it is prioritising ticket sales and stadia filling over treating the Women's World Cup the same way it treats the more popular men's tournament, relegating sporting fairness behind balancing the books.
"Similar to previous draws for Fifa Women's World Cups like Germany in 2011, teams are seeded and allocated into specific groups for ticketing and promotion reasons," a Fifa spokesperson told Sports Illustrated.
"Whilst the interest in the Fifa Women's World Cup has grown significantly over the last years, the success and great interest from the public in the tournament in Germany in 2011 can't be compared to the Brazil World Cup.
"Filling the stadia is a Fifa and host association key objective. The allocation of teams to venues, the ticketing and promotion plan and the ticket price strategy are among the key factors for the overall success of the event."