YOU MAY REMEMBER 1994 for any number of reasons.
Tom Hanks was discovering life was like a box of chocolates in Forrest Gump, Ray Houghton was chipping the ball into the Italian net and Michael Flatley and Jean Butler danced down the river to a standing ovation for the first time.
Fiona Steed recalls it for a very different reason as it was the year she won the first of her then-record 62 caps with Ireland.
Not bad for someone who took up rugby because there was nowhere to play camogie in the north-east of England at the time.
"I was in the UK [when I first played] Steed told The42 recently.
"I was studying physiotherapy between 1990 and 1993 and I started playing in college there, in my second year.
I would have played camogie for Tipperary up until I finished my Leaving Certificate but, at that time, there wouldn't have been many opportunities to play Gaelic games in the north-east of England.
"There might have been [a team] in Leeds, but it was too far away, especially when you're doing physiotherapy, it's just too intense a course for other stuff.
"I did try hockey in first year but I kept getting pinged because I was just too physical and I kept raising the stick too high so it really wasn't the sport for me.
"My flat-mate at the time and I tried soccer and rugby in second year and I just absolutely loved the rugby. I kept thinking 'wow, this is fantastic'.
"I would have watched rugby at home, the Five Nations as it was at the time, but I wasn't really into it."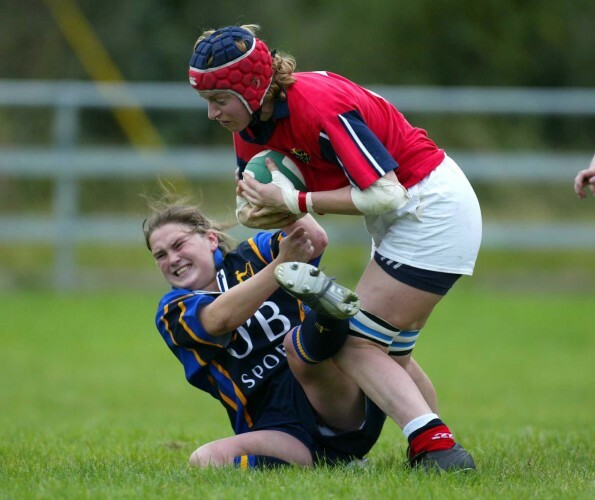 INPHO Steed during her time with Munster. INPHO
That would change very quickly, however, and soon Steed found herself not just a rugby fan, but a player very much in demand.
"In the 1993-94 season, I left college and started playing with Novocastrians RFC in Newcastle," she says.
"We were playing in the equivalent of the third division in England at the time but we'd an incredible coaching set-up and we went through the season undefeated.
I don't think we even conceded a point at all that first season. I remember Rugby World at the time had us up as Team of the Month because we'd done so well.
"We eventually went all the way up to division one but, while I was there, I was encouraged to go for north-east trials and I got through that and the north trials were next.
"My coach at the time suggested I go for the Irish Exiles trials instead because, if I got the north trials then I might have to make a choice about playing for England.
"For me, I'm a very passionate Irish woman so I was always going down the Exiles route."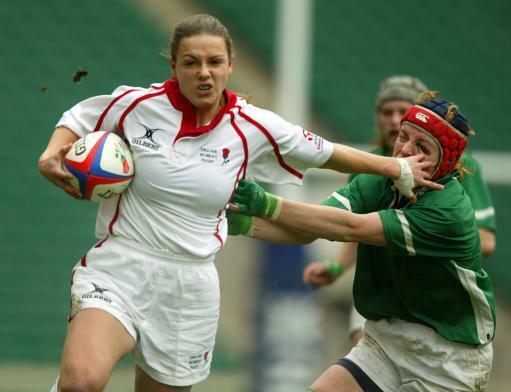 Mike Egerton / PA Images Steed takes a hand to the eye from England's Assunta De Biase. Mike Egerton / PA Images / PA Images
Ireland's call would come quite quickly and, at 21, Steed found herself playing in this country's second-ever Test match.
Taking place in Ravenhill, it did not go according to plan.
"I'd only played one real season of club rugby at that time and wasn't really thinking about Ireland, especially as there had only been one Irish international at that time.
"But, in 1994, there was a match against Scotland and I got picked for that through the Exiles and became an international, playing 61 more times after that.
"I think we lost that game 5-0 and I was playing at 13 where I got the ball twice and dropped it once.
"I remember vividly there was a girl playing at inside centre and she didn't really pass the ball. I don't know if I could have done anymore with it if she did to be honest, the whole thing just passed me by."
Despite not performing to the standards we would come to expect of Steed in an Ireland jersey, she was selected in the World Cup Squad later that year.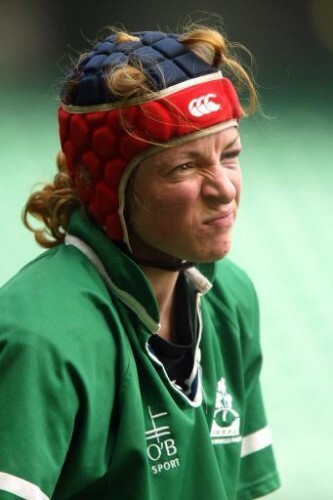 EMPICS Sport / PA Images Steed during the 2004 Six Nations. EMPICS Sport / PA Images / PA Images
Dedication
Flying out to the 1998 World Cup, Steed met a friend of hers, Ulster backrow Rachel Reid in the airport and assumed she was travelling as a fan as she wasn't in the squad.
"She joked that she was actually travelling out just in case I got injured," says Steed.
"Well Donal O'Leary thought this was a great idea and we ended up rooming together. Thankfully I didn't get injured though."
Indeed, the one serious injury Steed had in her career came the following year, just before the 1999 Five Nations, when she damaged her shoulder in a league game. Having never missed an Ireland start since her first cap, Steed was determined to play despite being in agony.
"You wouldn't get away with it now but they only playing time I missed in my career was when I was sinbinned twice so I wasn't going to let an injury stop me," she says.
I'd a friend who was an orthopaedic surgeon and he gave me an injection into the shoulder and I just tapped it up before the French game and said nothing.
"Three weeks into the tournament I had another injection and I didn't miss a second with injury. I was just so determined to play and my team-mate, Ruth McKeown, who was also a physio looked after me, but I know you'd never get away with that now."
Coming home
After spending years flying over and back from England, Steed remembers the exact moment she decided to move home and make her life in Ireland.
"In the 1999/2000 season, the IRFU pulled us out of the Five Nations.
"I'm still not sure why but I think it might have been because of the huge reliance on Exiles and they wanted to grow the game at home. I suppose they had to have a look at the grassroots.
"We still had Irish training sessions but I remember I ended up travelling home 11 out of 16 weekends for training and in 2000 we played in the European Championships.
"We flew back into Heathrow after that tournament and everyone else was flying back to Dublin and I was the only one staying in England.
I said to Donal O'Leary: 'This is shit' and he said I should just come home.
"So I thought to myself, 'he's right, I should come home.'
"That was May and I'd moved home by September.
"When I moved home, I started playing for Shannon — I'd already been flying home to play for Munster. I was really lucky because I'd done a post-grad diploma with the University of Northumbria and, because I was an international, they treated me as one their elite players so they paid for all my flights and stuff that year which made it feasible to fly over and back.
Exclusive Six
Nations Analysis
Get Murray Kinsella's exclusive analysis of Ireland's Six Nations campaign this spring
Become a Member
"But anyway, I played for Munster and Shannon and we won the AIL the following season (2001) for the only time and stayed playing until 2004."
End of an era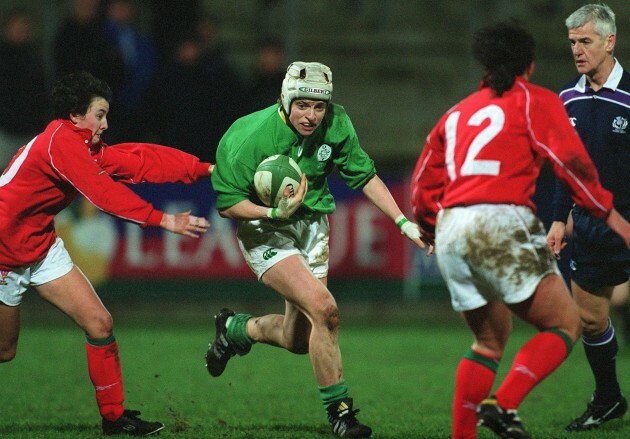 INPHO Breaking the gain line against Wales in 2002. INPHO
The decision to retire actually came quite easily, even if Steed knew she probably could have continued playing on until the 2006 World Cup if she'd really wanted.
"At the end of the 2004 Six Nations, I'd done it for ten years and I was mentally and physically worn from it, so I just retired.
"I was getting married in the July and I just thought 'do I go on to the next World Cup in 2006 or do I stop now' and, after ten years, it had been a hard slog — not that it's easy now, it's hard in a different way for the current squad — but we lost all three home matches in Thomond Park to Wales, Spain and Scotland.
"And even though I scored two tries against Wales, I just couldn't physically give any more of myself at that stage."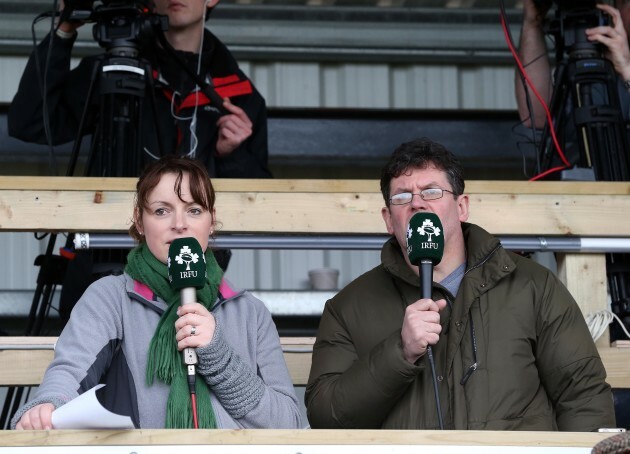 Dan Sheridan / INPHO Steed will commentate on this year's World Cup for RTÉ. Dan Sheridan / INPHO / INPHO
Since retiring, Steed married John Hayes — the couple coming together in no small part thanks to Rosie and Anthony Foley — making them, perhaps, one of the most-capped rugby couples in the world.
They have had three children — Sally (11), Róisín (8) and Bill (5) — two of whom are already playing rugby but not necessarily because they're following in their parents' footsteps.
"Both my daughters started to play rugby this year," Steed says.
"They weren't pushed in, they asked to play and they're with Bruff at the moment.
"They had a mini 'Rugby World Cup' tournament back in June in Carton House for underage teams and there were three teams from each province — Bruff were 'Australia' — and it was just a fantastic day.
"The IRFU really pulled out all the stops and you look at these kids and some of them were really, really good. I started at 19 years of age and my eight-year old was playing on the boy's team because there's no girls age group for her yet.
And the thing is, they both want to be Niamh Briggs or Maz Reilly, that is who their rugby idols are.
"I brought them to France three years ago and we were there when Ireland beat New Zealand and the two girls sang Ireland's Call word-perfect and Philippe Saint-Andre was behind us in the stands and he gave them the thumbs-up when they finished.
"My kids don't really get that I played rugby, it's not like John where they don't need to see him crying one more time. But it's not about us, it's about them knowing what they can achieve themselves.
"Bill's five so he's a bit young to be playing yet. But he wants to go to matches now and we'll give him a hurley to start with and see where it goes from there."
Given the pedigree, you wouldn't bet against all three joining their parents in wearing the green of Ireland in future years.
The42 is on Instagram! Tap the button below on your phone to follow us!