FINE MARGINS OFTEN make all the difference in sport, with everyone looking to find that extra edge and added percentage to enhance their performance.
Piaras Ó Mídheach / SPORTSFILE Noelle Healy at yesterday's LGFA and Oreco FitrWoman app announcement. Piaras Ó Mídheach / SPORTSFILE / SPORTSFILE
A new, ground-breaking app is guaranteed to be a huge plus for top ladies footballers across the country, helping them tailor their training and nutrition during their menstrual cycle.
The Ladies Gaelic Football Association (LGFA) yesterday announced an interesting partnership with app developers Orreco, giving players free access to 'FitrWoman'.
And each of the inter-county stars who were present in Croke Park for the announcement of the news opened it with welcome arms.
One statistic which caught the eye is that 54% of women (and 75% aged 16-24) say that their menstrual cycle has made them stop playing sport or exercising, and that more than half of women are embarrassed by their periods.
Dublin All-Ireland champion and 2017 Player of the Year Noelle Healy confirmed the reality of those findings, telling of relatable experiences through the years.
"I remember the Foxrock girls were the first team that used to wear white shorts," the St Brigid's sharpshooter told the media.
"They put in a big thing to get the navy shorts in, and a lot of other clubs have done it. It's something as small as that but younger girls don't want to be wearing white shorts. It's something that small that people are getting hung up about. It does affect people.
"I know girls who've come to an All-Ireland quarter-final and their periods come and they've got horrendous cramps. They just don't feel well, they feel run down. It's good to get education out there. Even just to plan it so they know they've painkillers with them so they can take it, or they've eaten the right foods so they're not going to feel run down.
"I can remember countless times where we've known that we've a tough session coming up, and somebody being like, 'Oh, for f*** sake, I know I've my period. I'm not going to be able to give enough.'
Morgan Treacy / INPHO Noelle Healy with the Brendan Martin Cup in September. Morgan Treacy / INPHO / INPHO
"They're not sure whether they're comfortable to be able to say it. Will they accept it as an excuse or will they think that it's just, you're trying to get out of something?"
Healy, who works as an anaesthetist, added of the Sky Blues' management team: "Now in fairness, Ken [Robinson] has been brilliant.
"He's always saying to us, 'I have a daughter, I know. Just say it to me if you need to' — which is great because he genuinely takes it as that's the way we are.
"It's women's sport. I think we base so much of our training on the male model, and we're not men. Anatomically and physiologically, we're different."
FitrWoman provides day-to-day evidence-based training and nutrition suggestions tailored to the changing hormones in a woman's cycle, allowing them to map their progress alongside their sport.
And it's something Healy — whose Dublin side is gunning for a seventh Leinster title in-a-row in two weeks' time — well and truly endorses: "It's really good.
"We need to be able to have a structure or have a source of information there to be able to eat around it [your period] and train around it.
"Even the ACL injuries are one of the things that they were saying fluctuates an awful lot with your menstrual cycle and you're more likely to do it at different stages. At least you know then to do certain types of training a different phases.
"Looking through the app, it's brilliant like that. It shows you what phase you're in, what training you should be doing at this time — whether you'd get more benefit out of a strength training session or get more benefit out of an endurance session — what type of foods you should be eating to maximise that.
Exclusive Six
Nations Analysis
Get Murray Kinsella's exclusive analysis of Ireland's Six Nations campaign this spring
Become a Member
"And then there's a little section where you can track symptoms and things like that. It just gives you a little bit more control and little bit more power over it. It's interesting."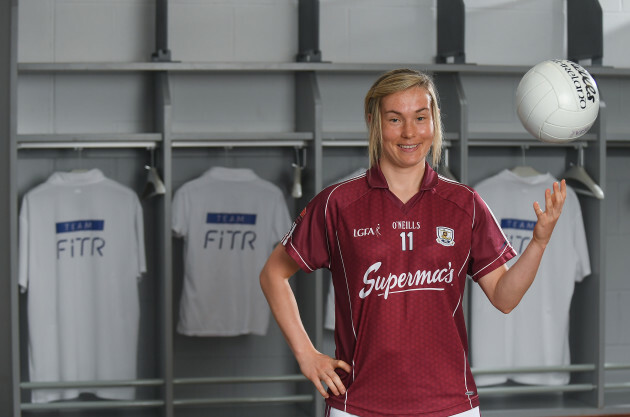 Piaras Ó Mídheach / SPORTSFILE Tracey Leonard at the announcement. Piaras Ó Mídheach / SPORTSFILE / SPORTSFILE
Periods are something that are seen as almost a taboo subject in women's sport, with many reluctant to speak about it and Galway captain Tracey Leonard, like Healy, accepts that.
"I think it's massive. I think it's really going to take off," she said, adding that there was slight hesitation when she was approached by the LGFA to be an ambassador for the app.
"It was something I never would have thought of. I don't think it's something that women talk much about. I didn't really take really much heed that it does take such impact on the field.
"It's massive to think that at different times of a cycle you can be stronger. There's times that you need to hold back because of injury prevention.
"For me, someone who has done a cruciate, that's going to be massive. That you can say a few days before, 'Look, I'm going to tailor back here.' Something that you stop training for one night, could prevent you from being out for 11 months (if you got injured), that's going to be massive.
"I think, not alone for inter-county players, but for club players, it's going to be massive. At home, the Galway girls are really interested in seeing what it's about and can't wait to get downloading it. I think it'll be really good."
The42 is on Instagram! Tap the button below on your phone to follow us!