LAST YEAR PROVIDED Roscommon with their first Connacht SFC success since 2001. This Sunday will see the Rossies trying to defend the title against a Mayo side that impressed in their victory over Galway.
TheScore has a look back on the last three Connacht finals, where three different winners lifted the Nestor Cup in what is perhaps Ireland's most competitive province.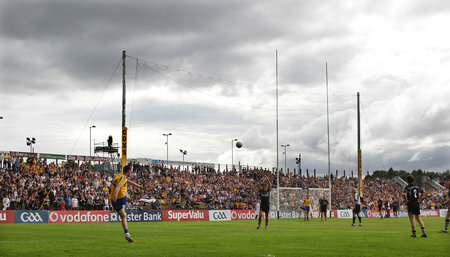 Donal Shine kicks the winning point during the final moments of the match (INPHO/Cathal Noonan)
2010: Roscommon end 10-year drought
Sligo were almost single-handedly taken apart by Donie Shine as he kiched 0-10 to steer Roscommon to a one-point victory in Castlebar; 0-14 to 0-13 the final score.
The Yeats men had come in to the final as favourites having dispatched the 'big two' of Mayo and Galway in previous rounds. However, they found themselves down 0-10 to 0-6 at half time, with Roscommon dominating midfield and Shine delivering a masterclass from both free-kicks and open play.
An Alan Costello led fightback around the hour mark brought Sligo back level, only for Shine to deliver the killer blow in the dying minutes and bring Roscommon their first Connacht title in a decade.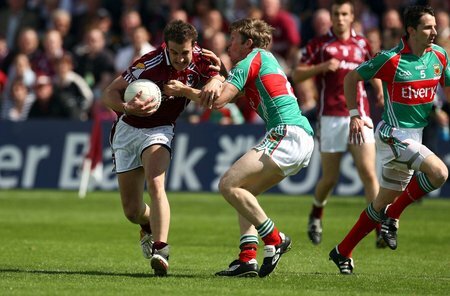 Galway's Nickey Joyce with Liam O'Malley of Mayo (INPHO/Dan Sheridan)
2009: Mayo break Galway hearts in a Connacht classic
An excellent first half from Mayo put them 1-09 to 0-07 up at half time in Pearse Park, with Barry Moran slotting home on 21 minutes to put some distance between the sides.
Galway had fought back well towards the end of the first period though, and continued that momentum into the second half. The gap was reduced to just three points before Conor Mortimer scored a goal and a point in the space of three minutes to apparently end the Tribesmens fightback.
There was drama to follow however, as Galway clawed back the scores to within three, then levelled with a goal from Michael Meehan two minutes into injury time.
With Galway fans still celebrating, Mayo went back up the pitch and scored through Peadar Gardiner. The whistle blew, and Mayo supporters invaded the pitch, their team lucky to have defeated a Galway side that showed what the championship is all about. The final score of 2-12 to 1-14 was a direct reversal of the previous year.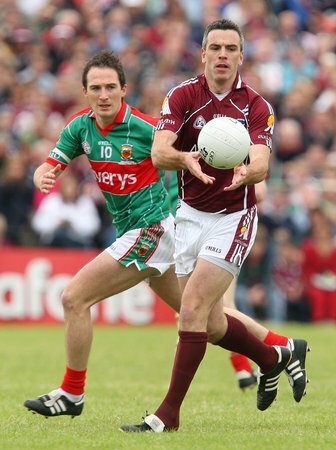 Galway's Padraig Joyce and Alan Dillon of Mayo (INPHO/Cathal Noonan)
2008: Tribesmen just have edge in another nailbiter
Yet another epic edition of the Connacht final, where again only a single point seperated the sides at the end. The teams traded scores until the 21st minute, when Padraig Joyce got away from four Mayo players to make it 1-03 to 0-03.
Another goal from Fiachra Breathnach just seven minutes later stretched the lead to six points. Mayo, with their backs to the wall and having lost Trevor Mortimer through injury, dug deep and found a couple of scores before half time to give themselves hope.
Early points in the second half, coupled with more discipline at the back, brought Mayo to within striking distance. Then a Kilcoyne goal in the 51st minute put them ahead.
Galway rallied to stay in the game, trading several points with their great rivals and eventually taking a two point lead into injury time. Mayo managed to get one back in the 72nd minute, but a 45 metre free from Conor Mortimer at the death fell short and wide, giving Galway their first Nestor Cup victory in Castlebar for 21 years. The final score was 2-12 to 1-14.