PANCAKES WITH TOPPINGS are almost always a winner for breakfast or even a pre-exercise snack — so this recipe doesn't need to be reserved for just today!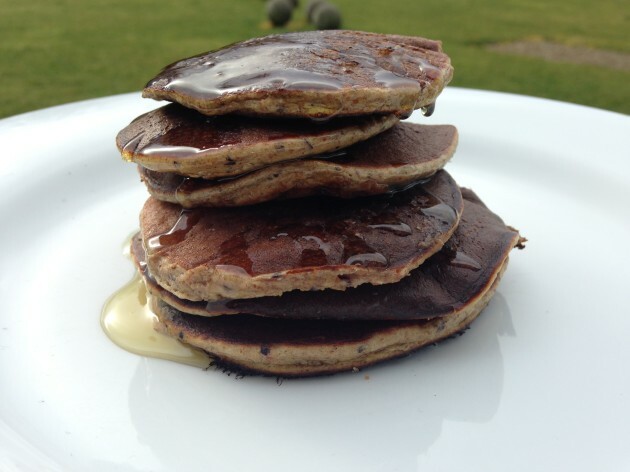 Food Flicker Food Flicker
The great thing about pancakes is that you can make them to suit your needs, they can be high or low carbohydrate or you can even make protein rich pancakes.
These banana pancakes are super tasty while providing a source of protein, fibre, long lasting energy and lots of vitamins; making them great for exercise days or in preparation for exercise competition.
Great for:
Breakfast on training days
Slow release energy
Protein intake
Post workout recovery
Ingredients:
125g of porridge oats
2 eggs
2 bananas
2 Tbsp. dried cranberries
1 Tbsp. coconut oil for cooking
1 Tbsp. dark chocolate chips or pieces
1 Tbsp. ground flax seed
1 Tbsp. baking powder
Pinch of cinnamon
Pinch of salt
100ml milk
150g Greek style yogurt to serve
Mixed berries to serve
1 Tbsp. honey to serve
Preparation:
To make the oats into a lighter softer texture add them to a food processor or blender and process them for a minute to a light powder like texture.
Add in the rest of the dry ingredients and then the wet ingredients — the milk, honey, eggs and banana — and blend for a minute to a smooth texture.
Stir in the cranberries at this point, and some blueberries too if you like.
On a medium to high heat using a non-stick pan with coconut oil, cook pancakes for 2-3 minutes on each side or until bubbles start to form on the surface.
Serve with yogurt, blueberries, strawberries and a sprinkle of cinnamon.
The42 has teamed up with FoodFlicker to bring you a series of tasty recipes to help you achieve your goals.
For more information and recipe ideas visit foodflicker.com, or follow them on Facebook, Twitter or Instagram. 
The42 is on Instagram! Tap the button below on your phone to follow us!