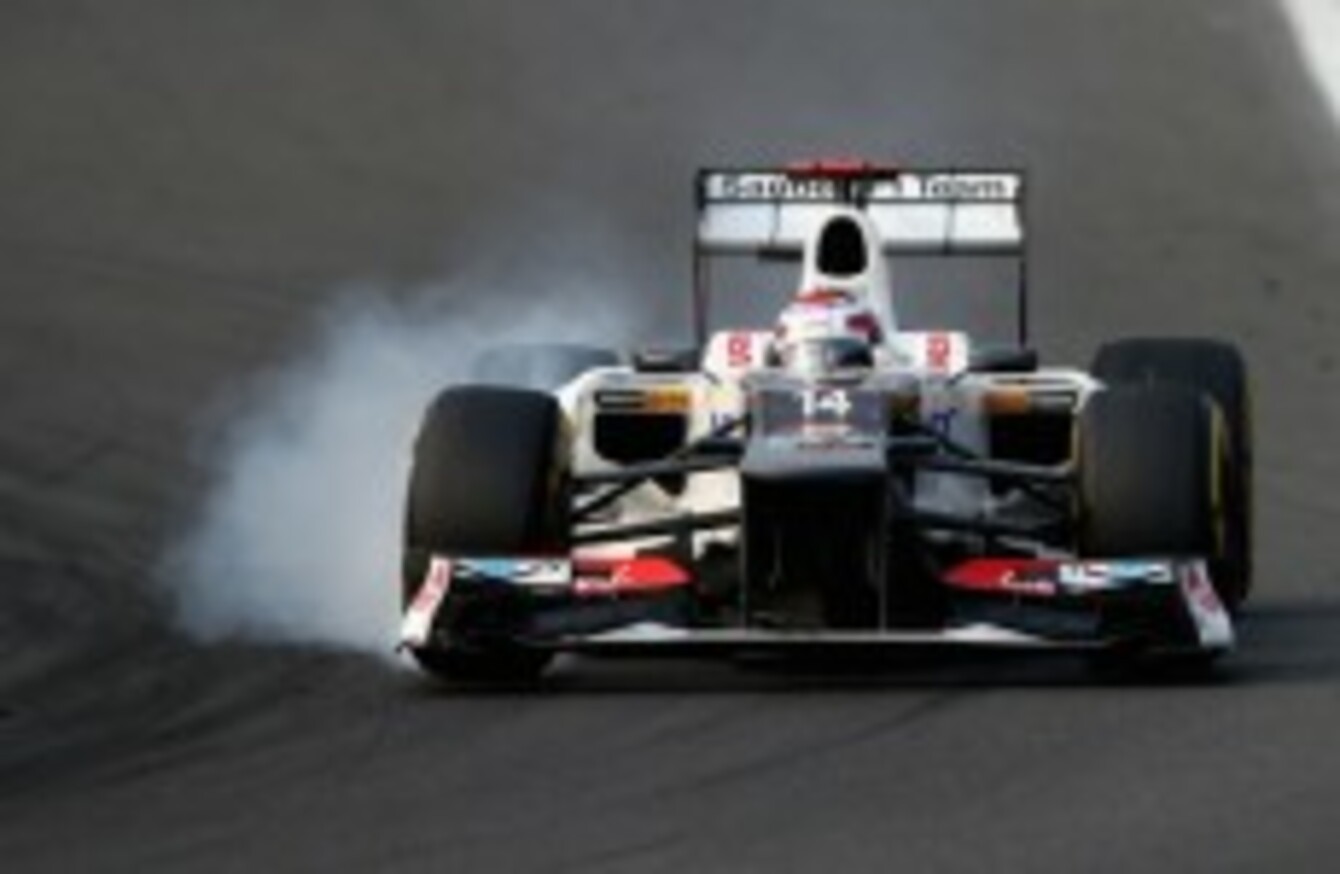 Kamui Kobayashi of Japan and Sauber F1 drives during the Korean Formula One Grand Prix.
Image: (Photo by Clive Mason/Getty Images)
Kamui Kobayashi of Japan and Sauber F1 drives during the Korean Formula One Grand Prix.
Image: (Photo by Clive Mason/Getty Images)
JENSON BUTTON HAS criticised Sauber pair Kamui Kobayashi and Sergio Perez for their standard of driving at the Korean Grand Prix.
Button began Sunday's race from 11th on the grid but he was forced to avoid a collision with Perez at the first turn, before Kobayashi rammed into the back of his car two corners later.
The McLaren driver's race came to an end along with Nico Rosberg following that incident and was left struggling to understand the pair's actions.
"It seems both Sauber drivers think the first lap of the race is the only lap," Button said.  "They have got a great car underneath them and could score such great points here if they just kept their heads together. I don't know what they were doing.
"It's very poor driving standards, considering this is the pinnacle of motorsport. It's not just a slight misjudgement, it's massive.
"There is so much opportunity here as well with way tyres are working and the DRS zone. It's a great circuit for overtaking, which is why it so surprising people are driving like that."
Following the race, a sympathetic Kobayashi admitted he was at fault for the crash, which also saw him retire after 17 laps.
"This is a race to forget," said Kobayashi. "Initially I had a good start but then we were four cars side by side approaching Turn 3.  I had Nico to the right and Jenson and Sergio on my left hand side. Someone hit my rear tyre and then it was impossible to control the car. But I had to brake at some point. I didn't manage to avoid the accident, and I feel very sorry for ruining someone else's race, and certainly this was not my intention.
"It was just a very difficult moment and I had nowhere to go but I think it was my mistake."
Meanwhile, Perez was disappointed not to be among the points positions at the Korean International Circuit, claiming 'sixth would have been what we could have done in perfect circumstances'.
Perez finished 11th behind Red Bull driver Sebastian Vettel, who overhauled Fernando Alonso atop of the standings to gain control of the drivers' championship.
"It is a big shame that we didn't score points today," he said. "My first stint was really good, despite a little understeer which came from the incident after the start when I damaged the front of the car.
"But our plan was good and the strategy seemed to work out. Then unfortunately we had a problem at the pit stop and could not recover from it. This was when we lost the race because I dropped behind a group of cars. Nevertheless towards the end it again looked like there was a chance of scoring a point.
"My car was quick, I overtook Paul (di Resta) and Lewis (Hamilton) had a problem but in the end I just didn't manage to catch him."