RUGBY HAS COME a long way since the legendary Francois Pienaar joined Saracens in 1996.
Less than a year into professionalism, the South African's initial experiences at the Premiership club were light years away from the micro-managed high performance cultures in which teams operate in the modern game.
Pienaar admits to pride at the über-professionalism of Mark McCall's current Saracens as the London outfit prepares to face Ulster at Ravenhill tomorrow evening. The 1995 World Cup winner says the club's facilities and Allianz Park stadium are far from what he encountered on first landing in England.
When I arrived in 1996, before the first training session they gave me a shovel, and I thought it was a joke. I thought somebody was filming me. But we were training on a public park on Bramley Road, and we had to go and take the dog poo off the field before we trained!"
Pienaar's career began in the amateur era, something that allowed him to form strong bonds with his teammates at Transvaal and for the national team. The Springboks' importance to the work of Nelson Mandela in unifying the nation was fostered in that amateur spirit.
The unity has not been lost, according to Pienaar, but is now present in different forms.
"It changes because of groupings, and we were amateurs. That's what people forget. We had to train very early in the morning, go to work and then train again in the evening. We went on tours and we got a little brown envelope… why was the envelope always brown?
"There was money in it, and people said that we were semi-professional before anyone. We got 100 bucks, the equivalent of €10, at most. The game was different, we did it for different reasons.
"The game now is professional and people are getting paid properly to do their job as well as they can. But if they don't have that spirit, that 'corps d'esprit' that bonds them together, it's very difficult to be successful."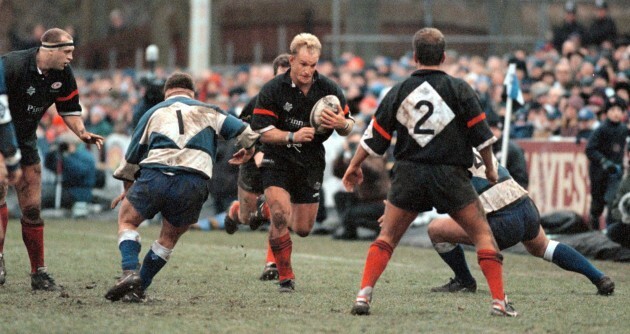 PA Archive / Press Association Images Pienaar in action for Saracens in 1997. PA Archive / Press Association Images / Press Association Images
While Pienaar will be cheering for Sarries at Ravenhill tomorrow – he remains a board member at the club – he admits to seeing something of that collective bond in Ulster, who are driven by their South African totems, Johann Muller and Ruan Pienaar.
Muller is "very well-respected" in their native land for his "style and mannerisms," while the scrum-half is tied to namesake Francois through his father.
"Ruan is so talented. His dad, Gysie, coached us at the World Cup in 1995, coaching the backline players. He [Gysie] was like Serge Blanco as a player and started running the ball from fullback. [Gysie Pienaar originally shot to fame with his exploits against the 1980 Lions].
You never saw him play because of apartheid [meaning the absence of international matches]. Ruan's got that same X-factor, he can do something special. Saracens have to clamp him down and put him under great pressure."
Exclusive Six
Nations Analysis
Get Murray Kinsella's exclusive analysis of Ireland's Six Nations campaign this spring
Become a Member
Pienaar [Francois] has been a player, coach and CEO at Saracens, while he is also a legend of Transvaal rugby. However, his real legacy lies in aiding Mandela's efforts to bring the South African nation together during the Rugby World Cup of 1995.
"I was really lucky to be in the right place at the right time in sport. Sport is a very powerful tool, it has the power to change the world. It has the power to unite and the power to give hope where there was previously despair. Sport cuts across religion and race, creed, colour and nationality.
"It's a story that I never get tired of telling. I think it's my responsibility to share this story about forgiveness and healing; how this person was in jail for 27 years and could come out and embrace a sport that was hated by most black people in South Africa."
One Young World Counsellor and former South African rugby captain, Francois Pienaar, was at Trinity College yesterday to launch the One Young World Summit which will take place in Dublin from the 15th – 18th October.