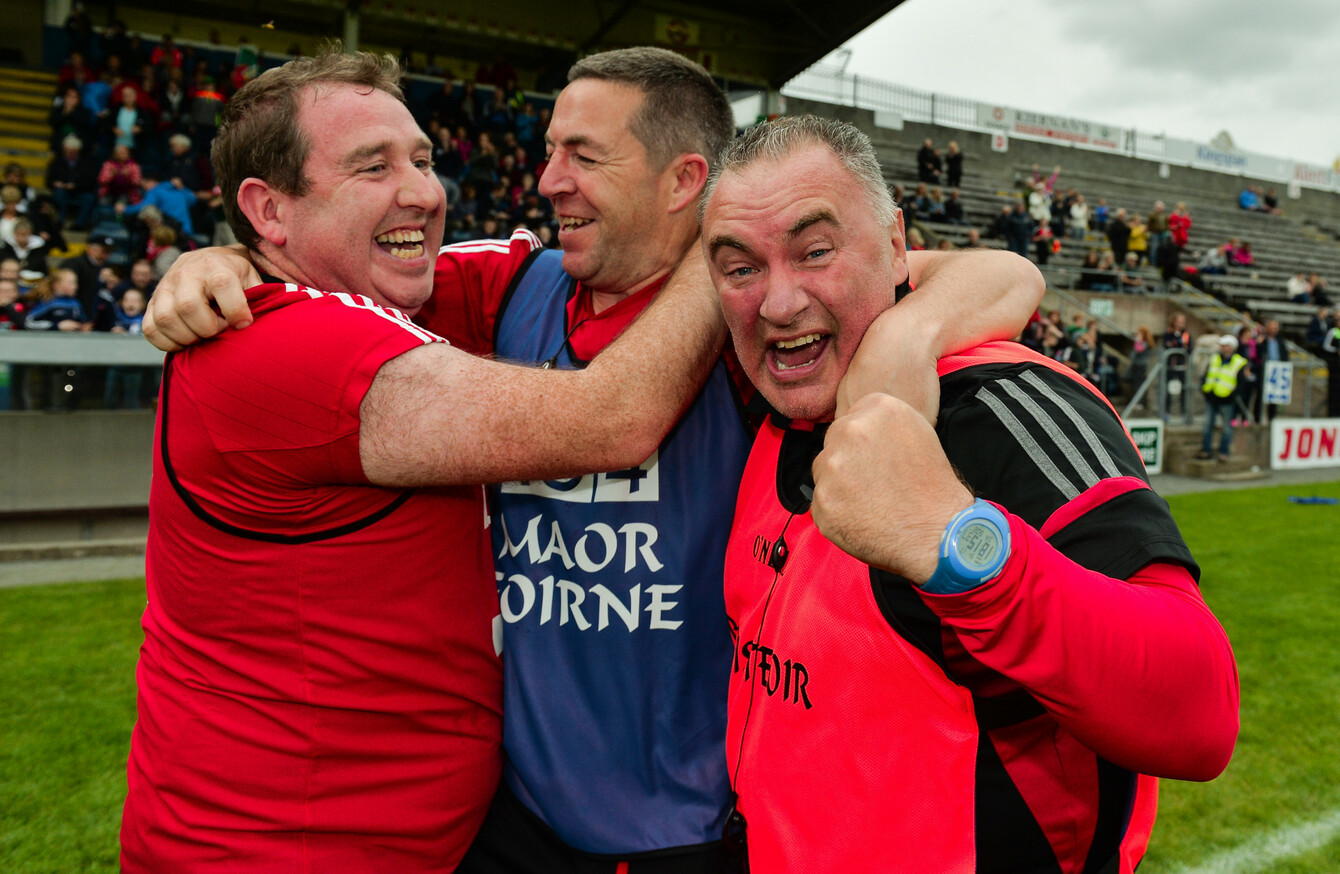 A day to remember: Browne and his team celebrate a huge victory over Cork.
Image: Sam Barnes/SPORTSFILE
A day to remember: Browne and his team celebrate a huge victory over Cork.
Image: Sam Barnes/SPORTSFILE
FRANK BROWNE WAS always itching to come back to the Mayo set-up. He had unfinished business.
On 23 September 2007, he watched Cork win their first three-in-a-row and lift the Brendan Martin Cup in Croke Park. Éamonn Ryan's relentless force had beaten his by five points, and the All-Ireland senior title would spend another year on the banks of the Lee.
That winter in the West however, things were changing. An extremely rocky era was underway. Over the next few years, ladies football in Mayo would go into turmoil with several managers coming and going over a short period of time.
In fact, their county board pulled them from the Connacht championship in 2010. And that All-Ireland final appearance in 2007 would be their last, until now.
After some time out on the club scene, and a three-year stint with the Longford senior hurlers, Wexford native Browne returned to the Mayo helm in 2015.
They, and Browne, have been building and building for this. And they're back where they want to be, in the decider.
Football, and getting back to the top has been an obsession, he says, over the past number of years.
"It's something that for me personally, since 2007, it's been my forthcoming," he tells The42 at the captain's day for the TG4 ladies All-Ireland finals on a sunny Tuesday afternoon.
"It's been an obsession, as my wife Deirdre would say. It's been an obsession for me and for our family, for all of us."
An obsession in ways, but also a way of dealing with loss.
In 2003, Browne's entire world came crashing down as he lost his six-month-old daughter Emma to pneumonia. The tragedy has given him a sense of perspective on what really matters.
It's clear, from speaking to him, that winning on Sunday would mean everything but ultimately, football is there to be enjoyed.
"It's a game of football at the end of the day," he continues. "You train for it for how long, winter nights, it's not something that should be weighing down on us.
"One team is going to go to Temple Street and Our Lady's Hospital in Crumlin [on Monday morning], they're the people that are really fighting battles and are under pressure.
"We're in our health, playing football, it's something we have to enjoy. All week I'm hearing, 'It's devastating for Mayo [losing the men's final],' but it's not. They lost a game of football, they'll come again.
"A team will go into Crumlin or into Our Lady's and that's where real tragedy and real devastation is going to take place, not out here on the field of dreams."
It can't be ignored, as he's alluded to already, that the senior ladies final throws up a repeat of last Sunday's men's decider, and that brings another interesting storyline to the action.
The question has been thrown at him several times over the last few days, has their male counterpart's defeat had an impact on the panel? Browne thinks not.
"We're kind of locked away in our own little cocoon and we know what we have. I was talking to some of the men's players before the game and they said 'Ye have a job the week after, don't let what we're doing be a distraction to you because you've got to focus on further down the line'.
"That's what we've done. We all went to the game as a group and of course we were screaming for Mayo but we were very, very, very aware that there was a bigger train coming down the track.
"It's a football-mad county. The one thing we're conscious of as a management group is as the week goes on, the level of expectation will rise on the team in terms of 'Ok, it's up to ye now to deliver.' But look, that's a brilliant problem to have."
Throughout Mayo's run in the All-Ireland series, Browne has spoken about this hurt that his side have been carrying.
Last year, their exit came in the semi-final at Breffni Park. Sinéad Aherne, the Dublin captain, broke Mayo hearts with a free-kick in the dying seconds, leaving the Westerners so close, but yet so far from Croke Park.
This year, at the same stage — and fittingly at the same venue — Browne's side ended Cork's reign with a two-point win and finally broke their 10-year wait to reach the final.
"A great day!" he smiles. "I suppose is that karma, or what goes around comes around? But, that's what we do, that's why we're sportspeople.
"We spoke on the pitch in Breffni Park afterwards there and people were saying to me 'Where did that performance come from?' I was saying 'If you were here 53 weeks ago, when Sinead slotted a free down in that corner, you'd know.'
"If we'd have went into the dressing room immediately after that and said 'Girls, you can have a shot back at this on Monday night,' we'd have jumped on the bus and we'd have been ready to go.
"We had to wait a year for a time to get that back and we've had to wait 10 years to get back here. That's a huge thing driving us forward.
"It's not that I want to use negative things to drive us forward. Yes, we want to heal all of that pain but we want to go out and we want to express ourselves.
"We want to win and we want to bring it back to Mayo, we want to give some of the older players the fitting send-off, or the fitting tribute that they deserve."
Those 'older players' he speaks of are of course Cora Staunton, Martha Carter and Yvonne Byrne. There's a real sense that this could be it, that this is one big push to finish on a high.
Having beaten Cork is a huge feat, and a notable high in itself, but it's over and done with. And he knows it as well as those stalwarts.
"[That's] no good now unless we close the deal. It's all about now when you get here. As Cora said in her interview, Croke Park is a great place to win but it's a bloody terrible place to lose.
"It's all about now, closing the deal.
"I think Mayo, and Mayo psyche in general, it suits us to be the underdog too. You can doubt whatever you want about Mayo GAA people, you can doubt their fitness, their skill, but don't ever doubt their character."
And could this be it for the trio?
"All three of them have been good friends of mine as well, I don't know. Everybody's falling into the trap of Cora certainly for the past seven or eight years, saying this is her last year, but she keeps reinventing herself. That's from a burning desire to win.
"Maybe if it's a win here, that could throw up another thing. What more fitting place, if they are to call it a day, than the steps of the Hogan Stand with Brendan Martin on a bus going home to Mayo?
"Cora is probably one of the most iconic female sportspeople we're ever going to see. If you went out on the street there, asked people to name you three female sportspeople, they'd say Katie Taylor, Sonia O'Sullivan and Cora Staunton.
"It's a fitting place and I just hope there's a huge crowd here to watch her, she's one of the greats, there's no doubt about it.
"Sometimes Martha and Yvonne live in her shadow, but they're their own people too. And their desire to win, their drive and their application has been every bit as much. Cora's grabbing the headlines, but those two people have worked every bit as hard."
One thing he is 100% sure about though is his team's massive work rate, and steely determination to win.
"We'll rock up here, we'll have our overalls on and our work boots on and we're going to work as hard as we can for an hour.
"Don't get me wrong, there's a huge burning desire to win."
Subscribe to The42 podcasts here: