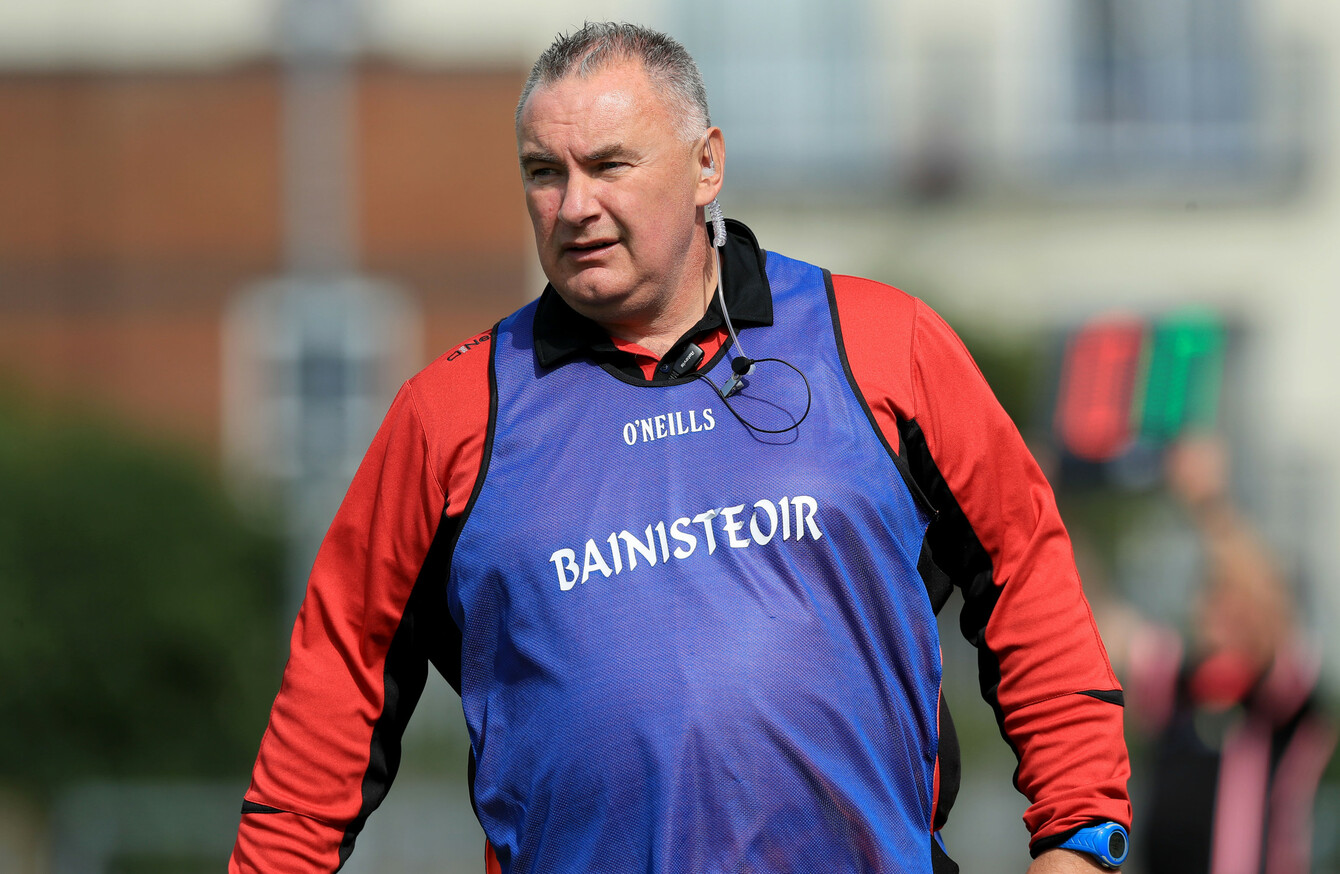 Image: Donall Farmer/INPHO
Image: Donall Farmer/INPHO
AFTER A THRILLING 60 minutes of football on a sunny Saturday afternoon, nothing could wipe the smile off Frank Browne's face as he soaked in the winning atmosphere at Cusack Park.
His Mayo side had just pulled off a six-point victory over Ulster champions Donegal to book their All-Ireland semi-final spot, upsetting the odds somewhat in doing so.
Beaming from ear-to-ear, he split his time between his players, management team and supporters alike, celebrating the win with handshakes and hugs, while chatting about the emphatic fashion his side had done so in.
Then came what many manager's dread, especially when they're basking in glory and surrounded by loved ones — the media interviews.
Browne cheerfully obliged, and was more than happy to devote some more of his time to the two journalists by his side.
"Saw your reaction at full-time, you were very happy with that," was the first line thrown at Browne, whose side fell agonisingly short by a single point — with the last kick of the game — in last year's All-Ireland semi-final against Dublin in Cavan.
"You know what, we've been carrying a huge amount of hurt," he responded.
"I remember talking to you in Breffni Park, a hugely emotional day after an article in the paper. We've been storing up that hurt for the last, what is it now, almost a year ago?
"We've been waiting for days like today. We said it in the dressing room, the winter nights we were in Ballyheane, driving down to Athlone to train as a group, all for today. It's a brilliant day for us."
The article he's referring to is one Jackie Cahill penned before that beating last August.
In the piece, Browne discusses how in 2003, he lost his six-month-old daughter Emma to pneumonia and how the tragedy has given him a sense of perspective on what really matters.
Football, he said, is there to be enjoyed. And it's clearly evident from speaking to him, that he thoroughly enjoyed the football his side played on Saturday.
"I'm just so happy for the girls," he continues. "You know them and you know how much they put in, how much this means for them.
"People doubt character sometimes, of the Mayo footballers, be it men or women. Whatever else we'll do, we'll die on our shield and we'll battle to the very end.
"We put in a massive performance. Fair play to Donegal, they've been an up and coming team but I don't even think Donegal expected what they got today. They got a goal, we got a point, they got another goal, we came down and got two points.
"We weren't going away today. In the last five minutes, Cora [Staunton] won three balls there, 41 years of age I think she is at this stage of the game, retired 18 times!" he jokes.
"Grace Kelly, Sarah Rowe, brilliant, Niamh Kelly, that power running. Fair play to the strength and conditioning people but I hear this all the time. The strength and conditioning people call the shots but it's the girls who put in the effort and sweat it out.
"They really did that today. It's a huge win and it puts it out there that we're not gone away. We're not gone away and we knew that. We're not a million miles off where we need to be."
Seven weeks ago, there was a stark contrast to the mood in the Mayo camp though. They were beaten by Galway in the Connacht final and faced a more difficult route through the qualifiers rather than direct to the quarter-final stages.
Opposition came in the form of a transitional Kildare side two weeks ago, last year's All-Ireland intermediate champions who have since been relegated back to the second tier.
The difference was 21 points in the end, but that's quite an unfair reflection on the Lilywhites, who battled gamely before Mayo pulled away in the second half.
The difference alone between Saturday's performance and their dull showing in the provincial decider is seismic, while that extra game under their belt as opposed to Donegal's seven-week lay-off really stood to them.
They've come a long way since 2 July.
"We have and we haven't," he argues.
"It was always in us, it just didn't on the day, the aberration against Galway. In fairness to Galway, they're probably not as bad as they were today either. That little game in the qualifiers? For the first 20 minutes of that game against Kildare, we were very rusty.
"You can practice all you like and play challenge games but there's nothing that will beat a championship battle. We had that and Donegal didn't – and that probably stood to us a little bit."
Three second-half goals were the difference in Mullingar, as Browne's side ran out six-point winners.
In a game which had it all — multiple goals, yellow cards, hard hits, point-taking masterclasses and endless excitement –the Wexford native lauded the spectacle's physicality and both sides' huger.
"It's a championship game, a game where you're getting into the white heat of battle and that's what we had. There were two teams going full-blooded at it.
"It was probably a tough game for Gus [Chapman] to referee because it was fairly physical but there was no malice or nasty stuff in it. It was just two teams going as hard as they possibly could to get into an All-Ireland semi-final against Cork and that will be a day out for us."
Of course, the Cork ladies footballers need no introduction. Currently bidding for their seventh All-Ireland title in-a-row, and 12th in 13 years, Browne is aware of the mammoth task that lies ahead.
He's been happy to wear the underdog tag to date, and will continue to do so as he prepares his side for a showdown with the Rebels.
"I'm happy with where we are. I'm happy that we're the underdogs. We were confident in our own ability, confident in the work we had done, we knew where we were going and again, never doubt the character.
"Now we've Cork in two weeks time and sure I suppose we'll turn up for that one too," he smiles.
They will. But for now, Browne will enjoy the moment, the football, and worry about what really matters in life.
Source: The42 Podcasts/SoundCloud
Subscribe to The42 podcasts here: