This post is part of The42′s Facing History series, supported by Cadbury Boost. To read more, click here.
TO SPEND TIME in Mike Casey's company is to be around a man who truly lives and breathes the sport of rugby.
A scrum coach with Auckland and the Blues during Pat Lam's reign, Casey now runs Front Row Factory with former All Blacks hooker Keven Mealamu from his home in South Auckland.
Front Row Factory does exactly what it says on the tin. Casey and Mealamu – as well as other specialist coaches – coach, mentor and represent un-contracted front row players as they attempt to push into the professional game.
Front Row Factory / Twitter One of Front Row Factory's sessions. Front Row Factory / Twitter / Twitter
Casey also works full-time as the director of Kingstons, a successful quantity surveying company, as well as being part of the 1st XV coaching team at Sacred Heart College in the highly-competitive Auckland 1A schools competition.
Formerly a player with the Auckland Marist club and North Harbour, Casey's coaching career has also seen him lead the scrums of Counties Manukau, Japanese side Sanex, and many, many more. 22 years of coaching and counting.
New Zealand's scrummaging culture does not share the international reputation that those of some of their Test rivals enjoy, but a solid scrum platform is vital to the All Blacks' success today.
Their try-scoring capability is well-known, but the scrum foundation many of those scores are built on is less lauded.
As one of the leading scrum gurus in New Zealand, Casey is ideally placed to explain the state of the set-piece in the land of the long white cloud.
"About 10 or 12 years ago, we were starting to struggle front row-wise," says Casey at his home in Takanini. "We've always been competitive but the traditional scrummagers like England, Argentina, France, people like that, were always a handful.
"There were a few people around New Zealand who were doing work with scrummaging at that time, in particular a guy called Mike Cron.
"When the new All Blacks coaching staff was put together in the early 2000s, they brought Mike on to do their scrums. He's a fantastic guy at the technical side of scrummaging. I haven't come across anyone who knows it in as much depth as he does."
Cron is now regarded as a master of his art globally within the game. He has been with the All Blacks throughout their development into back-to-back World Cup winners and remains an integral part of Steve Hansen's set-up.
Cron is famous for his habit of drawing from the study of all sources – sumo wrestling, for example – in order to help his players improve their scrummaging ability.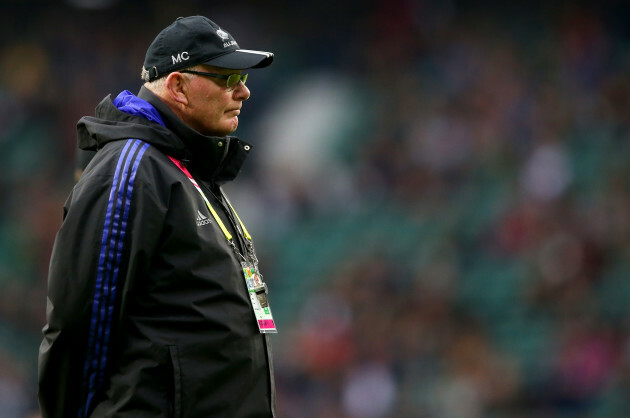 James Crombie / INPHO Mike Cron is highly respected in world rugby. James Crombie / INPHO / INPHO
What Casey points to, however, is the importance of the scrummaging culture that Cron helped to develop in New Zealand.
"It wasn't just his knowledge and what he did with the All Blacks scrum," says Casey, whose friends, players and fellow coaches refer to as 'Machine'.
"He was at the All Black level but he then made sure each one of the Super Rugby franchises had a scrum coach, then that each one of the teams below Super Rugby had a scrum coach or somebody who was working their way towards the skills required.
"From one guy starting with the All Blacks, he built this huge triangle of people who have a bit of experience and have learnt a bit about scrummaging through playing, coaching, or learning it from someone else.
"We now have a reasonable level of knowledge amongst a lot of people around scrummaging in New Zealand. I think probably in the last 10 or 12 years, New Zealand has improved in that area. They are able to blunt an attack on their set-piece.
"There are some pretty good scrummaging teams around the world but if you can play the game the All Blacks play, win your own ball and put a bit of pressure on the opposition ball at scrum time, then we know in other areas we're reasonably strong and we're going to be in with a good chance."
It's rare to see New Zealand demolished at scrum time, but then it is also not too common to witness the All Blacks' scrum utterly dismantling the opposition pack. Steve Hansen and his coaches want to play off the set-piece with clean ball.
Casey was with the Blues as Cron built New Zealand's scrum coaching triangle, at a time when current Ireland scrum coach Greg Feek was with the Hurricanes.
Casey – who has had extensive success in women's rugby too – points out that the habit of sharing within New Zealand's coaching scene has been key to the growth of scrummaging expertise and awareness.
"You've got the All Black coaches and they go around each of the Super Rugby franchises, where they'll talk to the players and coaches. Coaches can talk directly to the All Blacks coaches about game plan, technical things, whatever they need.
"The Super coaches will then go around their feeder provincial teams and keep an eye on the players and talk to those coaches. There's a lot of sharing of ideas, even though people have their own ideas and plans.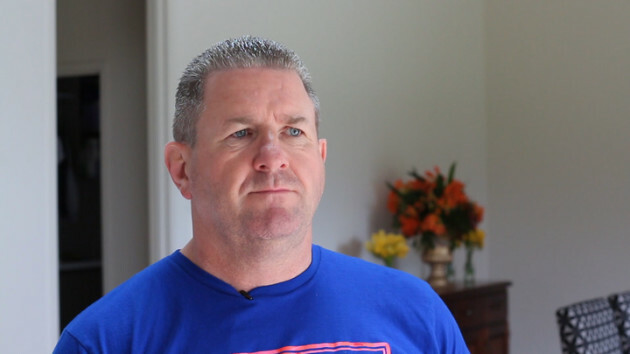 Eoin Lúc O'Ceallaigh / The42 Casey has over 20 years of coaching experience. Eoin Lúc O'Ceallaigh / The42 / The42
"That allows people to gather a whole lot of information and work out which parts work for them and which parts work for the team they're coaching.
"It's exposure to a lot of ideas, a lot of techniques and from that, coaches pick and choose what they're going to use. That's how they come up with their own game plan."
Casey's relationship with rugby, his deep love for the game, is something we encountered in many other people throughout our visit to New Zealand.
He passionately discusses the sport at every opportunity, never tiring of the debate no matter how detailed the discussion becomes.
Drop-kick routines for winning games under pressure, Joe Rokocoko's sprinting regime, the latest schoolboy prospect, politics at the Marist club, specifics of training technical lineout skills, the development of women's rugby – time with Casey is a rugby education.
A car journey alongside him involves phone calls to referee managers, Super Rugby coaches, and schools rugby officials.
The Rugby Channel – with its 24-hour coverage of the oval ball game – is rarely off at home. His wife, Jo, is a former rugby player too, while his two teenage sons – he has four children in total – are both disciples of the game. Hooker Joseph, nearing his final days at Sacred Heart, looks set to move into the professional game.
New Zealand rugby is built on the passion of people like Casey.
He once had an opportunity to come to Ireland to coach professionally, while the likes of Fiji, Japan and Samoa have also attempted to lure him abroad permanently. Family is the priority, however.
Still, despite not currently being involved with a professional team, Casey dedicates so many of his waking hours to the game – even though Front Row Factory is far from being a lucrative business.
"I was a rugby player when I was four years old, that's when I played my first rugby game, and then right through the years," says Casey of why he does it.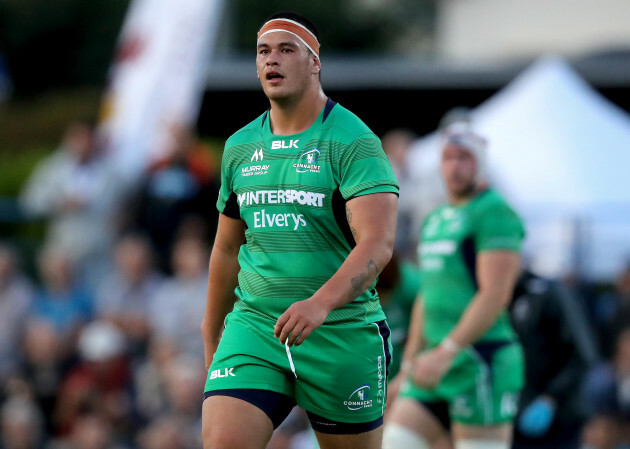 Ryan Byrne / INPHO Connacht's Robertson-McCoy came through Front Row Factory. Ryan Byrne / INPHO / INPHO
"I've been coaching for a long time and just to see the difference you can make in somebody's life by helping them out with rugby and where it takes them, and the enjoyment they get out of it.
"Some of these guys, it changes their lives. Some of the girls I've worked with in women's rugby, it changes their lives. If you can do that and you've got a stable day job that allows you to do that, it's quite a cool thing to do."
When he was involved in the professional game, Casey had many successes – several of them alongside Connacht coach Pat Lam.
Casey was Lam's scrum coach when Auckland won the 2005 and 2007 NPCs [the competition now known as the Mitre 10 Cup]. That '07 season saw Auckland go undefeated and take the Ranfurly Shield. The province hasn't won a title since.
They linked up again at the Blues when Lam got the Super Rugby job in 2009, Casey having been involved since 2007.
Though that Blues era ended in disappointment for Lam in 2012, there was a Super Rugby semi-final in 2011 and Casey drove one of the strongest scrums in the competition, as well as working on mauls, restarts and the ruck.
Exclusive Six
Nations Analysis
Get Murray Kinsella's exclusive analysis of Ireland's Six Nations campaign this spring
Become a Member
"Pat played all his schoolboy rugby here and then he played for Auckland, so he's a born and bred Aucklander," says Casey of a man who remains his good friend.
"When he coached the Auckland team, he brought his own style of coaching to it and was very successful in the first couple of years. His two championships in 2005 and 2007 are the last ones Auckland have won, so he did a really good job.
"He harnessed, without restricting, the type of play that a lot of the Polynesian boys have. If you can harness that without restricting it, and put it into a game plan, then you've got a pretty dangerous weapon, because there are some magnificent athletes here.
"I see he's taken that open, running style of game to Connacht and had some fantastic success with them. I see a bit of what he was doing in Auckland in Connacht's style of game. That's probably turned a few heads up in Ireland."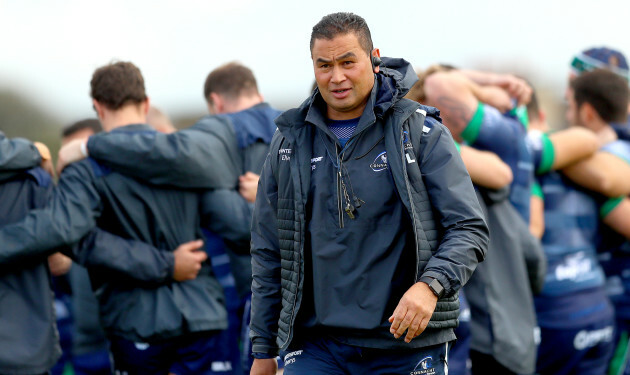 James Crombie / INPHO Pat Lam remains a good friend of Casey's. James Crombie / INPHO / INPHO
Their relationship also helped Dominic Robertson-McCoy move to Connacht this year, the 22-year-old Irish-qualified prop having come through Front Row Factory under the tutelage of Casey and Mealamu.
"Through coaching Auckland and the Blues, I had a close association with Keven and when I finished up with the Blues and Kevy was in his last few years of rugby, I said to him 'Why don't we try and help some of these boys, but do it a little bit differently?'" says Casey of how the business came to life three years ago.
"Instead of what a traditional agent does, coming along when the player is ready to sign a contract and represents them in that whole exercise, we said 'Let's start from well before that, do coaching, mentoring, and at the end you are representing them.'"
Casey has helped to develop numerous props during his career, with Charlie Faumuina being one of those he remains proudest of.
The latest prop off the Front Row Factory production line is Kalolo Tuiloma, who has starred for Counties Manukau in the Mitre 10 Cup this year.
The Samoan weighed 181kg when Casey took him under his wing, but his performances as a 140kg tighthead in 2016 have drawn major interest from the Super Rugby franchises, as well as a number of French clubs.
Casey represents Tuiloma as an agent would, but he has also played a major role in bringing the 26-year-old's scrummaging, fitness and skills up to a professional standard, while their relationship is that of genuine friends.
Mealamu and Casey are hopeful of having many more success stories like those of Tuiloma and Robertson-McCoy - Jarrod Firth is now with Glasgow Warriors - in the near future as the young men they have been working with in recent years come through into the professional game.
Guiding young men with Polynesian backgrounds, such as Tuiloma, will be an important part of their work, and is certain to pay off for New Zealand rugby in the coming years.
"We decided not to approach any players we had worked with before, any players that Kevy had played with, anyone I'd coached or anyone who already had an agent, we just didn't touch them," says Casey.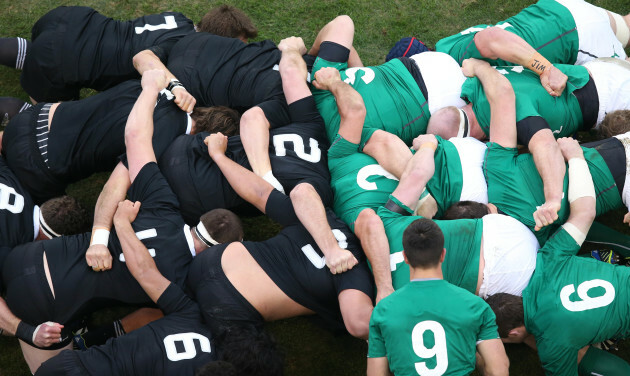 Billy Stickland / INPHO Ireland will face the New Zealand scrum twice next month. Billy Stickland / INPHO / INPHO
"We started with a group of guys who had not played any level of footy. Front Row Factory would get them in, have a sit-down, find out what they wanted to get out of rugby and then spend two, three, four years putting a bit of work into them.
"On a Monday night at my house, we've got lights and a scrum machine and stuff like that. We start to teach them a bit about the technicalities of the front row, but also how to plan for your game off the paddock, how to analyse your game.
"If they turn up and put the work in, invariably they get a good result at the end of it."
The42 is on Snapchat! Tap the button below on your phone to add!