LAST UPDATE | Jan 30th 2023, 8:31 AM
ON SATURDAY IRELAND begin their 2023 Six Nations campaign away to Wales, and if all goes to plan, Tadhg Furlong will lace up his boots for his first appearance since early December.
A 36-minute display off the bench against Ulster remains the tighthead's only outing since the November internationals with ankle, hamstring and most recently, calf injuries leaving him stuck on the sidelines.
Furlong dismisses the suggestion he's been wrapped in cotton wool ahead of the big kick-off this weekend, but you can be sure every precaution has been taken to ensure one of the most important players in Andy Farrell's starting team is up to speed and ready to go.
When it comes to Ireland, if Furlong is fit, Furlong plays.
"I'm itching, I can't wait," he says.
"I think it's a class tournament, it really stands on its own, like a pillar on its own. It's a big deal, the Six Nations.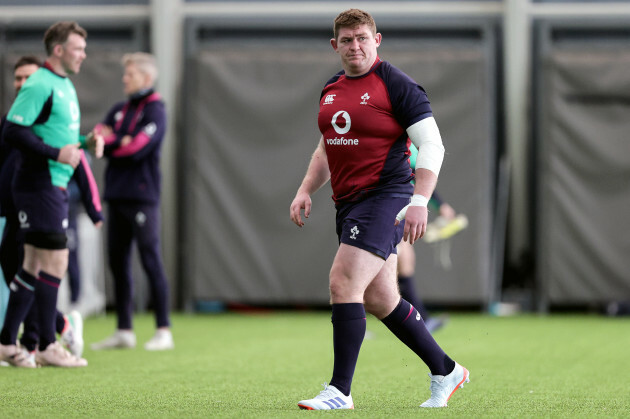 Laszlo Geczo / INPHO Furlong training with Ireland last week. Laszlo Geczo / INPHO / INPHO
"You can see that with the crowds, all of the stadiums are full, there's obviously added excitement this year with the new coaches and the fact that it's a World Cup year, everyone will be analysing it in minute detail."
One of those new coaches is not so new at all. It's a little over three years since Warren Gatland stepped away from the Wales job but now he's back to try revive a Test team that had fallen flat under his former assistant coach, Wayne Pivac.
First up for Gatland is a meeting with Ireland, a nation he coached from 1998 to 2001 and one he has enjoyed a colourful relationship with since. 
Furlong knows the New Zealander well having worked under him on two Lions tours, and understands why his return has been met with such excitement in Wales.
"I loved him because he always picked me!" Furlong continues.
"He's incredibly clued in. I suppose he was a hooker, so he takes a good interest in the scrums, but a lot of it is just on tactics, getting the motion of it right, framing the week – he does it very, very well.
"I know the Welsh lads have a huge amount of respect for him and he really gets the most out of those Welsh players. They really buy in.
The game, the week, being a rugby player is different (during a Lions tour), it's totally different. The meetings (Gatland runs) are very short, keeping lads fresh, a lot more contact in training than we would do in Ireland. Double-days a lot, he works you very hard, so it's different."
The extra contract in training is something Wales still practice under Gatland, and it's a very different approach to that which Furlong is used to with both Leinster and Ireland.
"They (Wales) have that element of a spike during the week. Now, you're not taking full 15 on 15 in-house games or anything like that.
"They do the spikes of live contact during the week and maybe they split, I know the English clubs do it as well, they might have a units session in the morning, and then a team session in the evening.
"In Leinster and Ireland, we tend to wrap it up in one session, lace up once."
The other big change this year is the absence of former England boss Eddie Jones, the Australian sent packing earlier this month with the RFU placing their faith in Steve Borthwick.
With both Wales and England potentially benefiting from a new-coach bounce, it's set up to be a fascinating championship.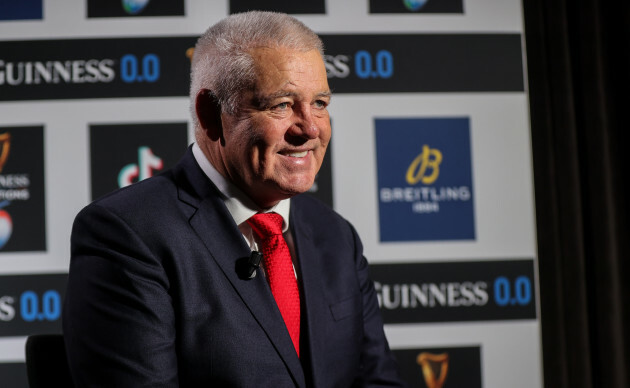 Tom Maher / INPHO Warren Gatland is back in the Wales hotseat. Tom Maher / INPHO / INPHO
"From our perspective, it's just on us to keep pushing on, to where we want to bring it to and not being happy.
"Other teams, it can go one of two ways for them but usually when you see another coach come, it usually lends to a bounce in some aspects. Obviously with Wales, it's not as big of a change as it is for England.
"That being said, even with England, Steve Borthwick has a relationship with a good few of those players already, either that be England in 2019 World Cup or with Leicester."
Another twist of this year's Six Nations will be the presence of Netflix cameras, with the streaming service currently filming for a docuseries set to launch early next year.
Furlong says the players have yet to be briefed on exactly how much access the crews will be afforded but admits to having some hesitations about the prospect of cameras following the players around camp.
Netflix have already asked for 'feature players' to put themselves forward but the Wexford native didn't fancy stepping into the spotlight.
"We've done it on Lions tours. The only danger with cameras is that you still want lads to be themselves and not have the cameras affect what goes on.
"I'm not sure how much rugby IP I'd like to leak from the group, for normal reasons. I don't know the full ins and outs of it. I couldn't imagine it would be full open-door, I don't see how that would work."
Tadhg Furlong was speaking as Just Eat announced the launch of their sustainable Notpla food packaging at Leinster Rugby fixtures across the remainder of the 2022/23 season. just-eat.ie/blog/news/notpla-fund-leinsterrugby 
Get instant updates on your province on The42 app. With Laya Healthcare, official health and wellbeing partner to Leinster, Munster and Connacht Rugby.