WE PANELLED THREE respected performance analysts for a roundtable discussion on the current state of analytics in the GAA.
The panel:
Note: Some of the answers have been edited for clarity.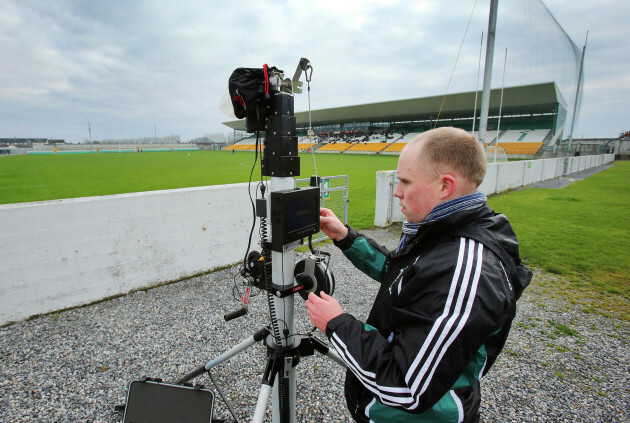 Cathal Noonan / INPHO Cathal Noonan / INPHO / INPHO
The42: Let's start with this - What teams have you worked with in the past and who are you currently working with?
Carroll: I worked with Kieran McGeeney for three years in Kildare. I worked with Brian Cuthbert in Cork and I do a small bit in the background with Donegal. I'm also the International Rules Analyst.
Boyne: I've been with Dublin at various levels since 2003. I've been with the Dublin senior footballers under Paul Caffrey, Pat Gilroy and Jim Gavin. I was with the Dublin minor team and senior ladies in 2014.
McCarthy: I've been with Kerry since Eamonn Fitzmaurice came on board in 2013.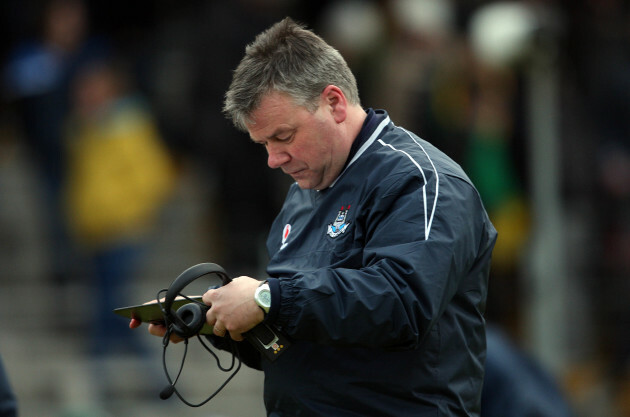 Donall Farmer / INPHO Donall Farmer / INPHO / INPHO
The42: How big a role do data analytics play in the modern inter-county game?
Carroll: It's massive. It's changed considerably from 10 or 12 years ago when I started. There were only a handful of teams doing it – a couple of the northern teams and Dublin. Now every team would have at least one guy, and in a lot of cases you'd have three or four guys.
Boyne: I would suspect other inter-county managers are similar to Jim and are quite modern in their approach to football – in the way they want the games analysed and the data captured. Different teams tend to use similar practices and use lot of the same software packages. 
McCarthy: I would class it as big. Eamonn really values it, he's mentioned it before that he uses it heavily himself. It has to be as it's a very visual part of what the players do. They want to review what they do. It's only getting bigger.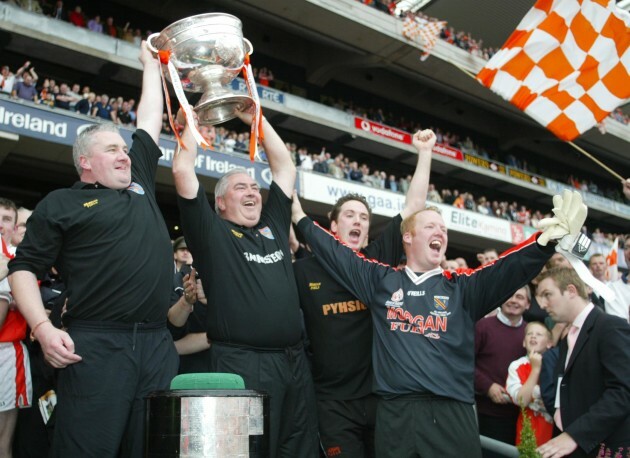 Morgan Treacy / INPHO Morgan Treacy / INPHO / INPHO
The42: Is it fair to say the GAA was a little late to the game when it comes to performance analysis compared to other sports?
Carroll: The nature of the sport being an amateur organization holds things back, but I work with football clubs in the UK, and the level of work being done here isn't massively far away from that. The likes Chelsea and Man City aside, at the lower end of the Premier League and in the Championship, the day to day operations would be similar to what's going on at the top level of inter-county set-ups here.
Boyne: I'm doing it 13 years, before that Armagh would have been the pioneers of it. They adapted it from basketball, at that stage there wasn't many people in the market for analytics packages within GAA. But it did catch very quickly. By 2008 it was certainly being widely used on the inter-county scene. Coming to 2009/10, there were a lot of clubs beginning to embrace it.
McCarthy: I wouldn't say late to the game. I think those guys who were working in the background, they're probably getting a small bit more exposure now. It was always being done. You'd hear stories of back in the '80s when guys were looking at footage of other teams. The role of the analyst has moved on with the advancement in technology. Now it's moving at a crazy pace.
Cathal Noonan / INPHO Cathal Noonan / INPHO / INPHO
The42: As a general outline, how do teams use analytics to make better decisions on and off the field?
Carroll:  With in-game analytics, teams would be trying to track individual players or team level stats such as kickouts, possessions and turnovers in the game. Invariably those guys are mic'd up to a selector or manager, feeding back in-game information.
Then outside the game you'd be pouring over video, looking at opposition kickout strategy, your own kickout strategy to try and find any chink in the armour. And just putting together five minute videos for individual players trying to pick up on any clues.
Boyne: It's about the collection of that big data. For example, Netflix and Amazon monitor your habits and then suggest what you should watch or buy. In a sporting context, it's very similar. It's about tracking players' physical, technical and tactical performances.
It's about gathering that data, isolating where the strong points are and working on them, and on the areas that need to be concentrated on. Then you can construct and build your training around that.
McCarthy:  You've got three sections: pre-analysis, which is getting all your footage of the opposition, you've got your live analysis on the day, and you've got your post-game analysis. I don't know if I'm a bit different, I'm heavily involved in coaching in my own club. For me it's only a small part of it, but it still comes down to the nuts and bolts on the field.
James Crombie / INPHO James Crombie / INPHO / INPHO
The42: What are the most important data sets when analysing a team's performance? 
Carroll: You often hear in the media that 'turnovers win games,' or 'kickouts and the midfield battle is so important.' They all add up to be important, but if you take any of them in isolation, you rarely find that doing one aspect really well is enough. It takes a bit of everything to win.
Kickouts fascinate me because teams spend so long on them. That's not to say they're not important, I just think sometimes they're over-egged in terms of how vital they are to the final outcome. So much happens between winning that kickout and scoring a point. Sure, you want to win kickouts, but they won't determine the game on their own.
Boyne: You need to work closely with the coach and look at his style of play. Think in a soccer context of Barcelona being a team who like to press very high up the field. That would be key for their coach. You have to be able to analyse what the players who are on the ball are doing, and what the players not on the ball are doing.
Sometimes you can get bogged down with just the events that involve the ball. If you take a 76 minute GAA game, the ball will be in actual play less than 12 minutes. Most players who give a man of the match performance, will have possession for less than two minutes. That means there's a massive amount that needs to be analysed away from just the interactions with the ball.
McCarthy: You'd have your Key Performance Indicators (KPIs) which would change from trainer to trainer. They'd look at games differently, but your generic ones are always going to be there. Your kickouts, turnovers, scoring accuracy, efficiency up front, that stuff is never going to change.
It's not just concentrating on the fella that has the ball, it's everyone else. That's the way I like to look at football because it's the movement of everyone around it that's the issue for the guy on the ball. I look at patterns of play. How teams gets scores, how teams are setting up, how teams are trying to break the opposition down.
Morgan Treacy / INPHO Morgan Treacy / INPHO / INPHO
The42: In terms of in-game analysis, do you ever suggest fixes to management during a game if you see a trend developing?

Carroll: It definitely can happen. It's different to rugby where you see the manager sitting beside four guys with laptops. Rugby takes a lot longer to play a half, you've a lot of breaks in play to watch video. Gaelic is a lot faster than people think. You're waiting to see if something's a trend. You would be trying to highlight certain things in relation to what the manager's gameplan is. You're there to facilitate those guys, you're not running the show in any sense.
But at times you would be radioing down to say, 'they're picking up a lot of ball here,' or it might be a certain player on the opposition's sixth possession or his fifth shot. You're just trying to give clues as to what's going on from a higher vantage point, then it's up to the manager to match that to what they see going on and decide whether that's a tactical change or a substitution.
Boyne: Maybe it's why I've survived three managers that I don't tell them what changes to make or cast an opinion. I would hope the information I'm giving them would either endorse their own thought process, or get them to concentrate in a particular area. There's regular feedback and constant interaction similar to the rugby between the analysis box and the sideline, but I would strictly avoid suggesting fixes.
If you look at the Dublin sideline, Jim and his backroom team have all played at that level. They know the game so the only thing I'm interested in is giving indicators that maybe clear away a little bit of fog of what they're seeing in front of them.
McCarthy: It varies from game to game as Kerry are moving around county grounds and not just based in one venue. Your main structures are always there. I'm trying to feed those KPIs back to the coaches in order for them to make better decisions.
Donall Farmer / INPHO Donall Farmer / INPHO / INPHO
The42: What's the process like of breaking down a game from the moment it finishes to the presentation to players?
Carroll: When I was working with Kildare or Cork, I would try and have that game completely tagged, which is about six or seven hours work, by Monday afternoon. Then I send the video and tags back to the manager, with some general thoughts.
I'd have a one-page document that would go initially, which would list the KPIs about whatever the team is working on. Later in the week, that would expand out to a seven or eight page report with individual player information and maybe some more in-depth stuff around different things the team is working on.
Boyne: All inter-county teams now go for a recovery session after the match, and then they go for a meal. As a performance analyst, you don't get that luxury. If it's a championship game in Croke Park on a Sunday, it's straight home and you're pulling down all of the data you recorded during the game and formatting that into the traditional high level report, which would be available for the coaches before they finish the post-match meal.
Then you're analysing the video more forensically and that would be towards having a much broader set of data available on the Monday. Everything would be geared towards summarising and presenting back in a team environment on the Tuesday.
McCarthy: When the game ends I'm sitting down hopefully with multiple angles of the footage. I've got a template for match analysis. I've do a full individual analysis and come championship time a full individual opposition analysis. From there you've your online platform that you can share with the team. Then you've your statistical report.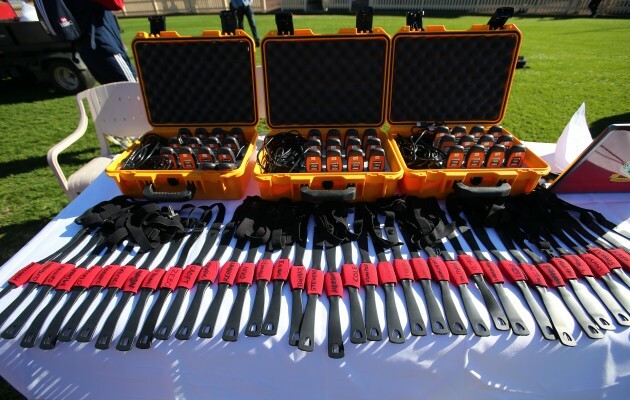 Dan Sheridan / INPHO Dan Sheridan / INPHO / INPHO
The42: What has been the biggest development in analytics you've seen in your time working in GAA?
Carroll: The affordability has opened up a totally different world. Ten or 12 years ago, you were trying to tell managers what analysis is and why they needed to do it. You certainly don't need to do that now. I would use Dartfish for my analysis, that's nearly a quarter of the price it was 10 years ago. Cameras and laptops are cheaper. It's made it much more accessible. Even mobile phones have apps now that people are using to do analysis on club games.
Boyne: Sportscode Elite was the top of the range back then and it was used from all of our counterparts in rugby union. It is important not to complicate it, simplification is really important. Technically, you're starting to get quality information from GPS systems that are tracking players.
You are getting a broader understand of the different work rates and the distance covered by players in different positions, and then detailing the training sessions in terms of what's required of a corner back and a midfielder, because the dynamic is different. Sport is probably a little bit ahead of what everybody in the street has.
McCarthy: It's getting more advanced. From the analytics side I use Sportscode software. There's so much data coming out for inter-county teams that it needs to be streamlined. There's going to be a need for people in set-ups to bring all that data together – and that's across all set-ups from U21s, minor to development squads.
So you have a picture of the guys that are coming through, because a lot of this data is being lost from year to year. If you're changing S&C guys, analysts or nutritionists, there's a bit of a disconnect between teams at the moment. But the biggest change I've seen is analysis is coming into clubs more.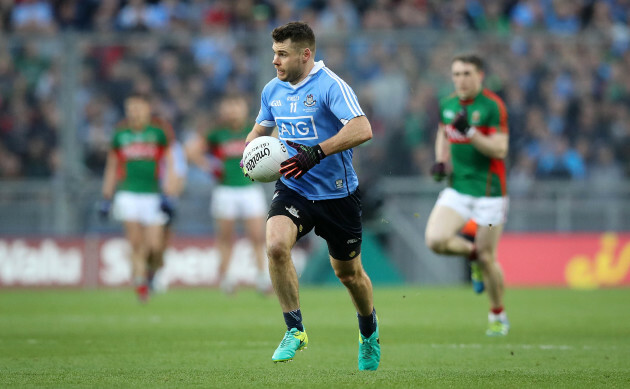 Ryan Byrne / INPHO Ryan Byrne / INPHO / INPHO
The42: What sort of information do inter-county players receive about the guys they'll be marking before a game? How detailed is it?
Carroll: It can vary. Some guys don't like that much information. Generally speaking guys who want it will get some sort of written report. Then I'd add a three or four minute video trying to highlight some of those key points.
If a defender will be marking Kevin McManamon, I'll try to show: does he prefer to run on the outside or inside? Does he have a trigger that shows when he's going to go? I'd look a lot at shot maps to show where on the pitch he tends to shoot from, or what his accuracy is like in certain areas. If he's in this area, if we can put him on his left foot or right foot, this is the change it might make to the accuracy.
These are split second decisions and players aren't always going to get them right but it can swing the odds considerably in their favour. Certainly, the defenders would be more into it than the attackers.
Boyne: You will get players who are information hungry about the opposition and you get ones who prefer to play a bit more naturally. It tends to be tailored to what the individual players asked for. There will be general information available because every team is watching each other.
There's a danger you take yourself too seriously and almost think it's like playing FIFA on the Xbox, and you're controlling the game, which you're not. It's about simplifying the information. If the man on the street doesn't understand the information, players and coaches aren't going to either.
McCarthy: Everything they need for the guy they're marking is there for them. If a guy comes to me and says, 'can I have all this?' I'll give it to them. But the player has to take ownership for himself. If you spoon feed everything to the players it's not being efficient.
Is it my job to tell the player that he should be looking at the stuff for the guy he's marking? No. It should be in his own interest to do that.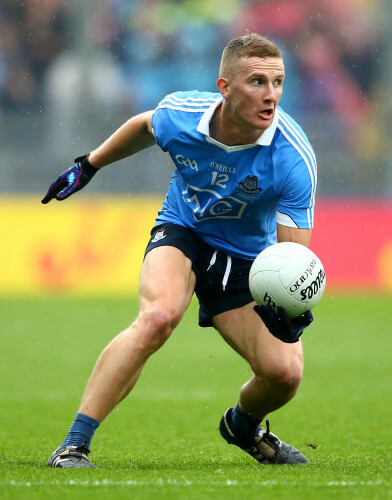 Cathal Noonan / INPHO Cathal Noonan / INPHO / INPHO
The42: How much do you attribute the current style of play to analytics? Have numbers coming into the game affected the style of play as a whole or is that too simplistic?
Carroll: I think it's a mix. Analytics has played a part , but there's also influences from other sports. Something that drives me mad is some managers can get obsessed with counting possessions. When I was with Kildare and sitting down with Kieran, we decided not to count possessions.
Because if, for example, Ciaran Kilkenny has 40 possessions and Diarmuid Connolly has 20, it doesn't mean Kilkenny is twice the player Connolly is in that game. You don't know what affect it's having on the players in terms of, one: do they just go looking for possessions? And two: even if they get a possession, is their decision just to give a simple pass and make sure they've a 100 percent pass accuracy rather than try something that might result in a goal? Counting possession numbers can have as big a negative effect as a positive effect.
Boyne: You don't want to create a fear factor. I would never see targets as a good idea, because people become more focused on targets than the performance. There's styles of play and I'm not sure analytics has had a major influence on that.
The really top coaches like Jim McGuinness, know where the strengths and weaknesses of their team is. Know if they have two or three really good scoring forwards, what's the best way to support them and set-up their team in which to do that. He brought in that whole style of playing defensively to minimise the damage of what the opposition are going to do and then create the opportunities for yourself on the counter. If you have a team of stars you don't need to do that because you've players in every position who can score. Or if you're Kerry, who are possibly the most natural footballers,
McCarthy: I wouldn't be along the train of thought along Ciaran Kilkenny's head that, 'I'm on 52 possessions.' That was just the role he was playing and it was up to the opposition team to push up more to affect what he was doing. It can possibly change it from a gameplan pre-game, but not once the game is in flow.
GAA is a free-flowing game. It's not stop-start like rugby or NFL, when they come to the sideline and chose a play to run. I don't think that element is in there and I don't think it affects it on an individual level like that. But before a game you could have an analyst go to a coach and say there's a certain area where a team is strong. And for deadball situations like kickouts, it could affect it that way.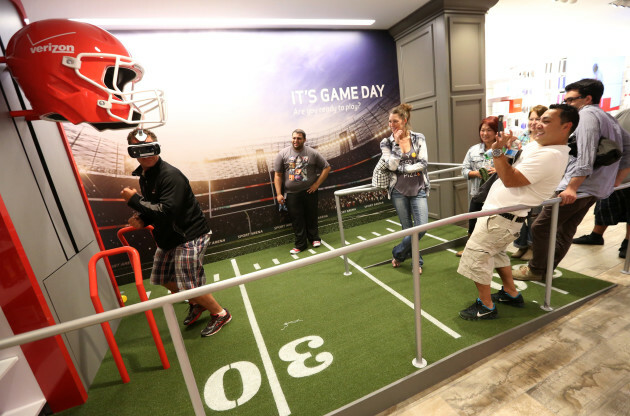 Casey Rodgers Casey Rodgers
The42: What's the next big thing in the industry? Is there anything you can see coming down the line that everybody will be using in five or 10 years?

Carroll: We're getting to the stage where the coding of games will improve. Teams have got a lot better in terms of the amount of detail they analyse. For example, knowing that I made a successful pass is one thing, but knowing that there were 10 other options on and I took the worst option, is something the tracking data can begin to tell us.
Diarmuid Connolly averaged 22 possessions per game in the 2016 championship. That's a tiny amount in a 75 minute game, but that's not all he's doing. The tracking data tells us all of that, far beyond GPS which tells us how far he ran. But it goes a step further and shows us where on the pitch he was in relation to all the other players and then we can marry that to all the ball contact stuff and we can get a different picture.
I think with data, teams will get better at managing players and the likelihood of injuries. I would know of teams that are tracking the amount of time their players are spending in their car, to try and tailor the training accordingly. Or they do things for those guys that gets them more ready to train, as opposed to the guys that had a 15 minute drive. So teams are tracking that travel time and building that into the training to prevent injuries.
Boyne: I think you're going to start seeing censors in balls, you're certainly going to see wearables within sports clothing. You're starting to see that already. It's the dynamic of that information and how you use it, is probably the biggest growth area.
McCarthy: The GPS monitor and player loads, that is coming more and more into it. Your GPS systems can now be monitored from up on height.
The big thing in American sports is the virtual reality stuff. Is that going to come into GAA? You've got a 10-year-old who's playing in your club, when he's 20 is he going to be looking into a screen practising his GAA skills? It might sound far-fetched at the moment, but is it that far off? You go into any software shop at the moment you'll see more of these VR systems set-up that you put on, five years ago it was just your Playstations. Is that going to come into the GAA? I don't know. Possibly.
I think it was up in Ulster some college teams they were recording games with drone footage. That could be used once the drones get better a few years down the line when batteries can last for 80 or 90 minutes, At the moment I'm not sure if you can get a full game through a drone's battery life. But that footage would be fantastic.
What I'd love to see is footage being centralised and made available to all counties. I can't see a reason why there can't be a central platform. There's so much footage, it would be great if, say, the analyst from Wicklow can log on and download Kerry vs Donegal in the first round of the National League and learn from that. We're all on about putting more coaching resources into each county, but the analysts can learn from the way the other guys play and show that to their players. 'Look what they did here and look what we're doing.' It would great to make that available.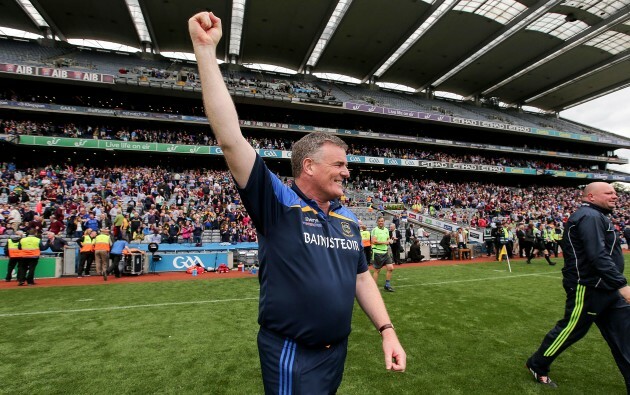 Donall Farmer / INPHO Donall Farmer / INPHO / INPHO
The42: What do you make of the criticism that analytics takes all the unpredictability – the magic – out of the sport? 
Carroll: I don't think it does. I think the reason we love sport is because it's unpredictable. I don't try and convince people they should or shouldn't. Some people like to watch the game and be immersed in the game. Part of me wishes I could do that as well. I sit down and watch a GAA match and I code it in my head, even without me knowing that's what I do.
Some people just like to know the information and understand the game better. I don't know if it takes away from the game. I think it enhances it. I think you see with the interest in fantasy football, people are interested in that side of sport. They are interesting in knowing the facts and figures around the game.
Boyne: The amount of errors in a game means it's quite unpredictable. The level of strength and conditioning has meant the game is played at a higher intensity and physicality. So you see players being stripped of the ball more than you would have 10 years ago.
It's difficult to predict when you're going to give the ball away. The shot to score ratios have not greatly improved in the last 20 years. You put 30 humans on a pitch and try predict and what's going to happen and I'd say good luck to you. Missed shots, passes, blocks, interceptions, breaking ball – a lot of that you just can't predict.
McCarthy: It's just a tool that's there. As I mentioned I come from a coaching background. It's not something you should solely build your gameplan around. It's in no way taking away from the game. Not a hope. It's a big part of all set-ups at the moment. It's what use you make of it.
Myself and another analyst can get footage of a game, we can both go to the same trainer and both tell completely different stories of that game. The statistics might be exactly the same but how we present it might be different. It's a positive because it gets players talking about different scenarios of games, but it's how you interpret it.
You might have had a turnover from a ball a guy kicked in, but the run mightn't have been good. So is it the guy who kicked the ball in or the guy that made the bad run that caused the turnover? There's so many variables, it's a difficult one.
The42 is on Instagram! Tap the button below on your phone to follow us!