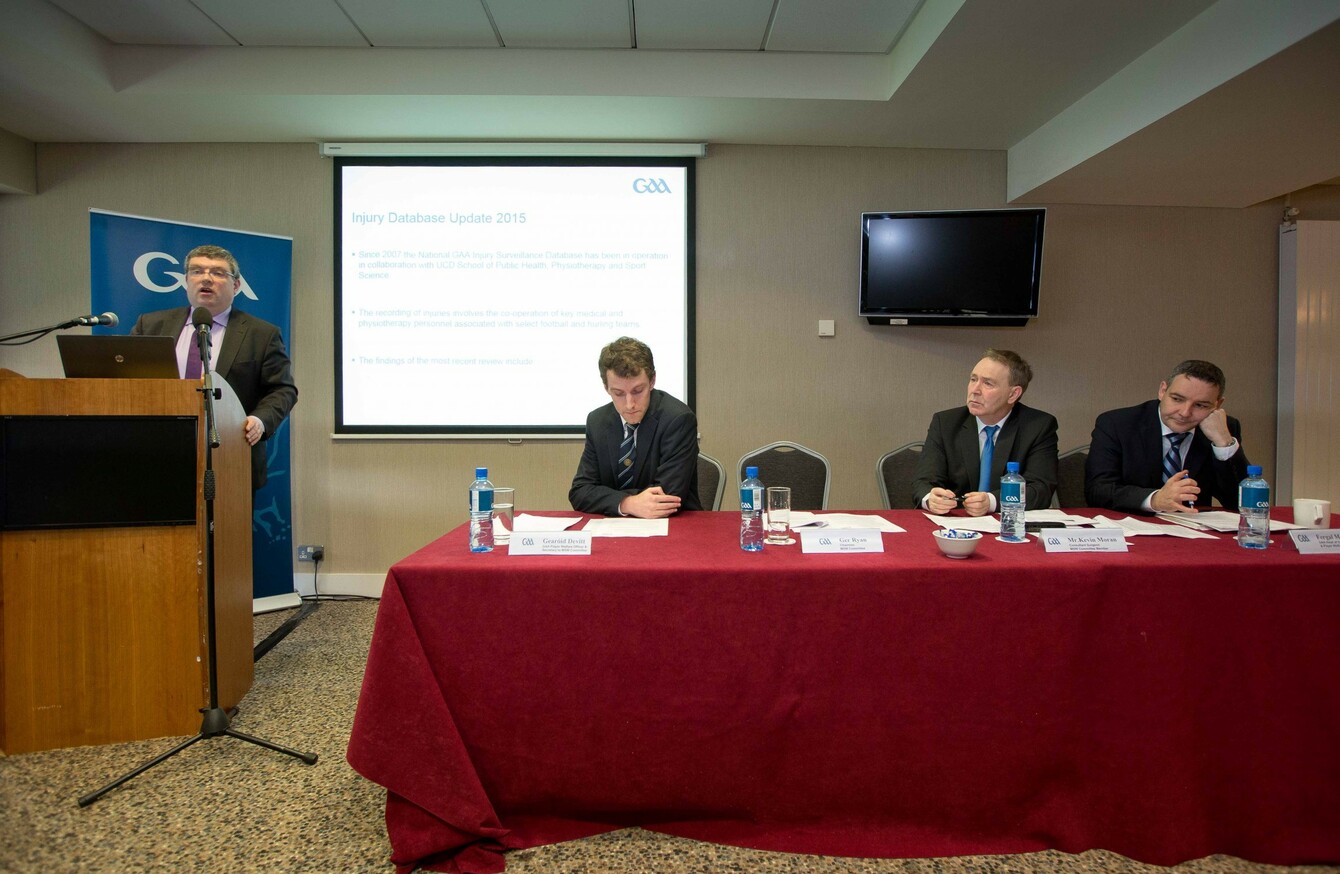 McGill with Ger Ryan, Gearoid Devitt and Kevin Moran at Croke Park yesterday.
Image: Morgan Treacy/INPHO
McGill with Ger Ryan, Gearoid Devitt and Kevin Moran at Croke Park yesterday.
Image: Morgan Treacy/INPHO
Updated at 13.30
A TOP GAA official has admitted that the positive drug test in Monaghan earlier this year focused the association's mind on the issue.
New blood testing procedures will come into effect for GAA players next month with testers allowed to collect blood samples as well as urine samples, if they wish.
GAA head of games administration Feargal McGill said the blood testing move isn't a response to the development in Monaghan and was actually put back by 12 months to educate players and doctors.
He said the GAA ultimately hasn't got a culture of drug use or any history of doping violations though conceded that officials may have 'coasted a bit' until earlier this year.
"I don't think we have a doping culture but I would never be complacent about it," said McGill.
"The second you get complacent about it, that's when the problem starts. I won't say we got complacent until last March but maybe we had coasted a bit and thought, 'this is all grand'.
"I don't think it has changed our view on whether there is a doping culture in the GAA, we always felt it would be pretty impossible to say Gaelic games is 100% clean.
"It would be impossible to say that, not when we have 416,000 odd players. But are we happy with the levels it is at? I think so, yes."
McGill admitted that the Gaelic Players Association weren't exactly 'thrilled' when news of the blood testing measures broke.
But he said the players body accepted that the widening of procedures was ultimately to protect the integrity of Gaelic games.
In all, 95 players were tested in 2015 and McGill revealed his confidence that the GAA's education efforts in the area are paying off.
"There are two fears — one is that players will deliberately dope and deliberately cheat and the second fear is that they'll do it accidentally," he said.
"They are our two big fears. We have redoubled our efforts on education to make sure no one accidentally cheats.
A by-product of that is when you are trying to do that, you are also subliminally telling people the consequences of cheating deliberately."
What are they
really like?
Rare insights on sport's biggest names from the writers who know them best. Listen to Behind the Lines podcast.
Become a Member
McGill accepted that in the drive to catch anti-doping violations, a player who has taken recreational but non-performance enhancing drugs may be caught, potentially causing significant damage to his reputation and job prospects.
"It's one of the dangers," said the Leitrim man. "Recreational drugs are part of society, there's no point in saying they aren't and the GAA represents a cross section of society at any given point in time so I wouldn't be naive to say there aren't GAA players engaging in recreational drugs. But I would make a slight distinction about them.
"You can't condone them because they are illegal but they are not necessarily performance enhancing and what we are trying to do and what people are trying to do around the world is prevent performance enhancement.
"In terms of future tests, obviously that's a concern that fellas would get caught because of recreational drugs. Having said that, at roughly 100 tests a year for the last 13 or 14 years, you'd have suspected it would have shown up in a test.
"The second thing is that particularly at senior inter-county level, if you are really serious about achieving what you want to achieve, you aren't going to be too fond of recreational drugs or get too engaged with them."