Updated 8pm
SNOW HAS AGAIN scuppered the GAA's fixture plans with two of tomorrow's hurling league quarter-finals postponed due to unplayable pitches.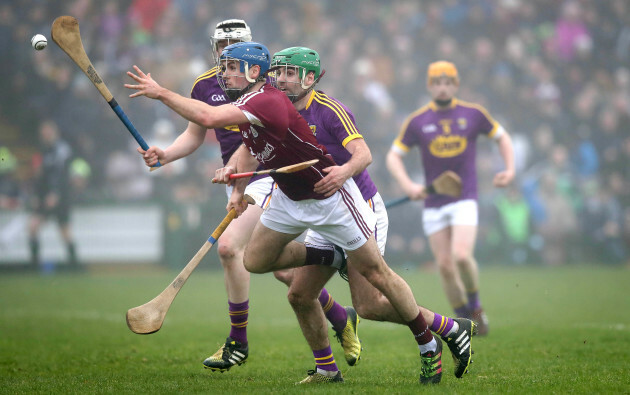 Ryan Byrne / INPHO No action between Galway and Wexford tomorrow. Ryan Byrne / INPHO / INPHO
The match between Dublin and Tipperary and the meeting of Wexford and Galway were both originally scheduled for this afternoon but postponed this morning.
It was the planned to play the matches tomorrow afternoon at Parnell Park and Innovate Wexford Park respectively.
But the GAA have revealed this evening that they have been called off again due to snow lying on the pitches and will instead be re-fixed for next weekend with the GAA's CCCC to confirm the fixture details on Tuesday.
It adds to a scenario where the GAA are likely to have to play three league finals on the second weekend of April, a month that had been designated for club matches only in the 2018 fixtures calendar.
The postponements earlier this month due to snow had resulted in a revamped Division 4 fixture programme with the final pencilled in for the weekend of  7-8 April. Carlow qualified for that decider today when they clinched promotion with victory over Antrim.
But this weekend's series of postponements will likely lead to the Division 1 hurling and Division 2 football deciders also taking place on that same weekend in April.
The re-fixture details for today's Tipperary and Down game have yet to be announced but given both counties involvement in promotion and relegation issues in Division 2, that may be a standalone game next weekend with the last round of games in that division taking place at the same time on 31 March-1 April.
Three hurling league quarter-finals are fixed for tomorrow but the Wexford-Galway clash moving to next weekend means the semi-finals will likely go back to Easter weekend and the final being held the week after.
There are seven matches down for decision tomorrow afternoon:
Hurling
Division 1 quarter-finals
Offaly v Kilkenny, Tullamore, 1.30pm
Limerick v Clare, Gaelic Grounds, 4pm
Division 2A final
Westmeath v Carlow, Portlaoise, 2.30pm
Football
Division 2
Louth v Meath, Drogheda, 2pm
Division 3
Offaly v Sligo, Tullamore, 3pm
Division 4
Waterford v Leitrim, Ardmore, 2pm
Wicklow v Limerick, Aughrim, 2pm