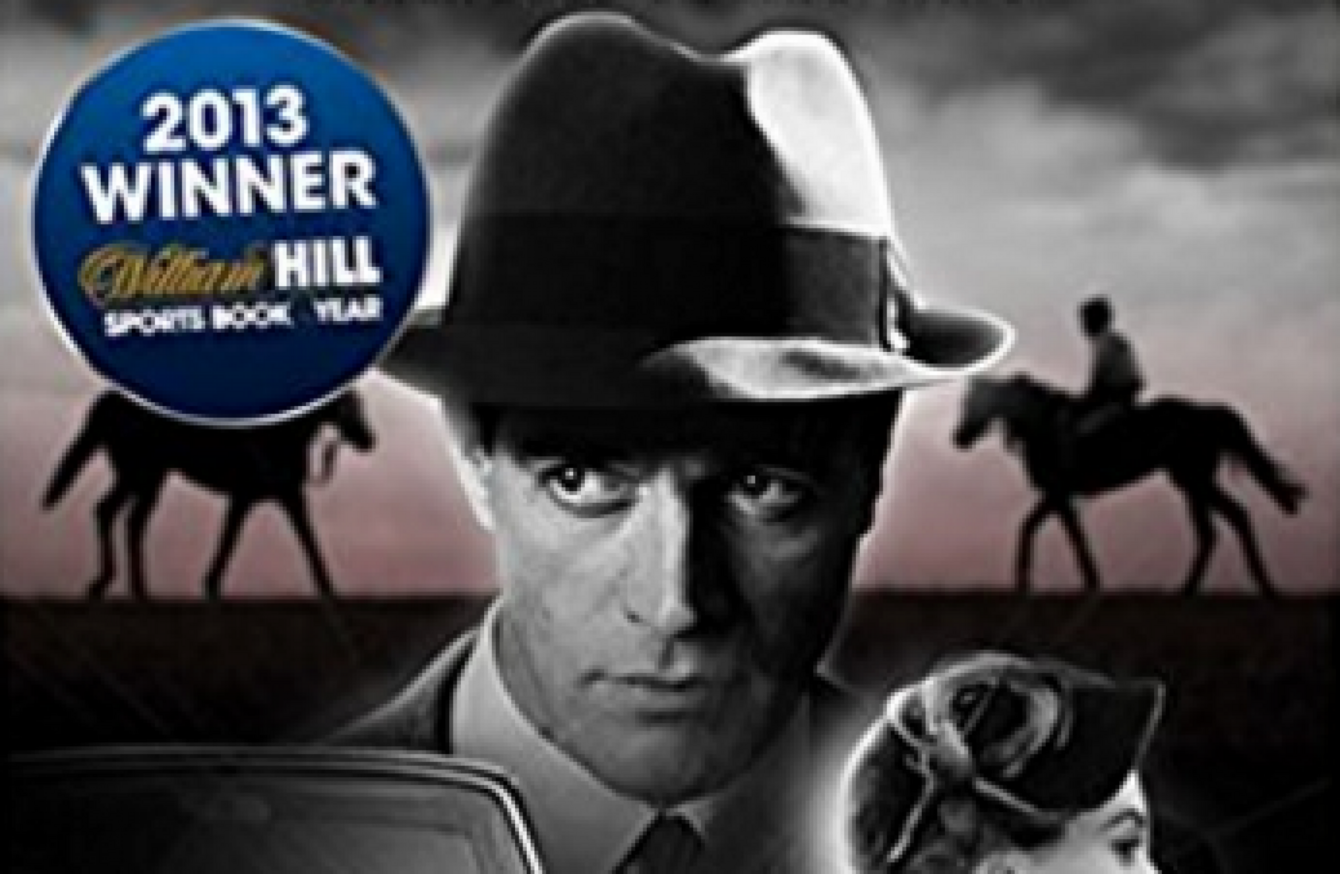 Updated at 10.16
HORSE RACING IS seldom short of drama, but in the early 1960s, the sport created big news on both the front and back pages of newspapers.
A shocking scandal came to light, as it was revealed that a band of racecourse criminals, backed by a number of ruthless London gangsters, were having an undue influence on the outcome of various events.
The doping gang were led by Bill Roper, a middle-aged ex-RAF sergeant turned oddsmaker, who was in the midst of a passionate affair with Micheline Lugeon, a Swiss au pair with lofty ambitions who was half his age. The scheme lasted a number of years from the late 1950s to the early 1960s until Scotland Yard were required to investigate and the perpetrators were eventually caught and brought to justice.
Doped: The Real Life Story of the 1960s Racehorse Doping Gang by Jamie Reid is a comprehensive recollection of this extraordinary tale. In 2013, it became only the second horse-racing book after Seabiscuit to win the illustrious William Hill Sports Book of the Year prize.
So with the Grand National set to place later today, now seems like an opportune time to re-visit this classic of its genre. Consequently, The42 recently caught up with author, Jamie Reid, to get an insight into his writing of a book that evokes not just the often morally dubious world of betting and horse racing, but also the complexities and nuances of British society at large during a period of great excitement and rapid change.
Tell us about the background of the book. What made you want to explore the subject of horse-racing and doping in the 1950s and '60s?
I was introduced to my love of racing by my grandmother, who was a gambler all her life. She had some shares in horses in the 1920s and '30s in England — never classic winners or anything like that, but she was passionate about it.
Whenever I went to see her with my mother when I was five or six years old, she always had all her bookmaking accounts, details all around — copies of The Sporting Life and the racing papers.
She let me bet on a horse — the first bet I had ever had when I was about seven years old in 1961. I had an each-way bet on the horse in the derby and it came third. I won a few shillings and I thought it was great and was hooked.
Even though I was very young at the time, I remember this horse called Pinturischio. Noel Murless was recognised as the absolute tip top trainer in England or Ireland at the time. Everyone was saying this horse could be the best horse he ever had. My grandmother was excited by it. It ran in a race at Newmarket and then it went to the Guineas and they said the big race was going to be the derby — it was fourth in the guineas but it was favourite in the derby. There was a really exciting aura about the horse and then suddenly it disappeared. At that age, I wasn't reading the coverage enough to know quite what had happened.
When I came to research for my book, to begin with, people fought shy of referring to what had actually happened to it. But as the years moved on, I got more excited about horse-racing and I started going to it regularly in my late teens and have done ever since — I went to Cheltenham for the first time since 1973 and I try never to miss it.
But over the years, as I got involved in racing journalism, I started to meet people in the betting and bookmaking world, which has always fascinated me. They were able to start to hint at things that really had gone on with Pinturischio. It became clear that he'd been doped — not once, but twice, and actually, there'd been a huge doping gang and a bookmaking, gambling and doping conspiracy had been going on in the late '50s and the early '60s.  It fascinated me.
Some years ago, I started doing work on a possible biography, which I still haven't done, about the bookmaker Victor Chandler. He's a fascinating character in his own right and is semi-retired now. Michael Tabor bought him out or ousted him depending on how you look at it. Victor's father and grandfather were also big players in the betting world. It's a fascinating family history going back to Walthamstow Stadium in the 1930s and all that
Talking to some of these old gentleman who are still alive, I found they were willing to open up about these old stories and I discovered that what made the Pinturischio story more intriguing was that this guy Bill Roper who was at the centre of it all clearly wasn't a good man — not in the objective sense of the word — but he wasn't a villain in a black hat either. He was a family man, he was married, had a wife he loved up in North London.
But this middle-aged man fell completely in love with a very attractive Swiss au pair girl half his age, Micheline Lugeon, who'd come to England originally to work with his family. She wanted to be a kind of a Helena Rubinstein-style beautician. He helped her get training and get set up with a shop. So I realised that there was this personal story going on as well.
In the end, to try to pay for his lifestyle, which was getting more extravagant, Roper who knew all the bookmakers in the London scene — he knew a lot of the jockeys, trainers and lads — he started to draw together activities he knew had been going on and try to formulate it into a major doping conspiracy where they were stopping favourites. He's the bookie, or he's the bookies' runner or he's selling information to other bookies. He knows those favourites have no chance of winning. Other players in the ring will pay good money for that. And then the gang will back the horses they thought would win the race.
That's how he started. In a sense he was too good at it, they were too good at it. It drew the interests of serious criminals, proper gangsters, West End villains, a very dangerous man called Charlie Mitchell who mixed with the Kray twins (Reggie and Ronnie), who were equally dangerous and Albert Dimes, who was the sort of godfather of Soho in that era.
The Jockey Club were totally incompetent at patrolling the world of racing in the late '50s and early '60s and it took three or four years before they properly called in Scotland Yard. Then they got some serious flying squad figures involved, and in the end, Bill Roper was caught between the two. He did finally go to jail and so did Micheline, and if it can be described as such, they did live happily ever after (once they were released).
But it did strike me as a fascinating story, both about racing and the social picture it painted of Britain at that time. How in the world of horse-racing, people of different social classes could mix in a way that they weren't really permitted to still in 1960. Outside of that, you had the world of nightclubs and the world of the racetrack. That fascinated me and it also fascinated me how comically incompetent the Jockey Club were, high bound in their attitudes about class and the 'right sort of person'.
Some of them liked to bet with bookmakers, but they kept them at a distance, because of that old cliché — the bookies weren't gentlemen. That fascinated me as well, so it was just a rich mix to meet old guys who knew about it. In particular, they led me to one or two people who had actually been involved in it. That was the sort of thing that enabled me to write the story.
Bill Roper's wife never really confronts him about his affair with Micheline Lugeon. Was that a sign of the times and indicative of a pre-feminist era when women didn't necessarily have the confidence or the support structures to stand up for themselves in such circumstances?
You're looking at different social attitudes all round, aren't you? The relationships between men and women. The relationships between trainers and jockeys and stable staff. In the racing world, there was the attitude with the jockey club that they did not want publicity. Publicity was bad. To admit to doping would have damaged the image of the sport, so they had to keep the whole thing behind closed doors, which they carried on doing to their own detriment for an inexplicably long period of time.
That double-sided way of behaving. You find it also with Roper's wife ironing his shirts, packing his suitcase when he was about to go on another trip around the country with Micheline Lugeon to racing stables. All of that side of it is extraordinary to imagine happening now.
Would it be fair to say stories such as this one were key to the rise of tabloid newspapers?
I spent a lot of time going through the old press coverage of the trial and the rest of it. You had papers like the Daily Sketch, which was very big at that time, as well as the Mirror. You had very popular red-top Sunday titles as well. I don't know whether the doping scandals helped them to increase circulation. Racing was much bigger then in a sporting sense than it is now, because there wasn't as much coverage of other sports. Obviously, you had football. But racing and dog racing would have been right up there, in the way that they may be now when we have Cheltenham or the Grand National.
You didn't have the great growth of interest in or betting on other sports in the late '50s and early '60s. That hadn't started yet. You had some betting on football, but it was more pools betting than fixed odds. So what happened in racing did make back-page and sometimes front-page news in all those papers — the tabloids, the mid-range papers, the Expresses and the Mail, right up to the Telegraph.
The Daily Express was fascinating to look at in 1961. It was a right-wing newspaper. It was a big paper and unrecognisable compared with the paper you see nowadays. It still had Beaverbrook's empire running it and the racing pages were colossal. You had Peter O'Sullevan and his colleague Clive Graham, and they were very shrewd punters. They knew everything and everybody.
That's another interesting little side-note. I was lucky enough to know Sir Peter (the legendary horse-racing commentator and journalist who died in 2015 at the age of 97). He was always charming and amusing when you asked him about these stories. I always got the feeling that he knew much more about this doping scandal than he let on.
Clive Graham knew about it and tried to alert people more — he was prepared to write articles that were defamatory of firms like Ladbrokes and Max Parker. Peter's slightly more on the right side of all of those people, but he was a consummate punter, who knew everything that was going on in this world.
Why did betting become so popular during this period?
You've got the old characters who were alive at that time who are always very interesting to talk to.
When I started out doing racing journalism in the '80s properly, I was able to meet a wonderful gentleman called Geoffrey Hamlyn. He was the Sporting Life's starting price correspondent officially but mainly, he was the betting correspondent for about 40 years. He knew everybody in the world of betting and bookmaking. He used to say that the amounts of money circulating on British racecourses after World War II and into the early '50s, they were the biggest of the 20th century. It's never been bigger.
That's partly because there was a lot of black market money left over from World War II. There were a lot of people who weren't in a uniform doing any fighting, but they made money out of it. They had cash to burn. And in the late '40s and early '50s, you still had those incredible characters standing on the rails and the boards at the big meetings who would take Cheltenham-sized bets every day of the week. They were absolutely fearless.
All those old guys will say to you that good bookies produce good punters. And people went to the bookies to bet, because you couldn't legally bet off course until 1961 anyway. The high rollers and owners could have an account, but other people would go to the races. They'd pack the meetings.
The craze of the pools started in the '50s as well and that led to some interest in betting on football. When you move on into the late '60s, a betting tax was introduced where bookies were having to start paying the levy, there were higher taxation schemes generally in the late '60s and into the '70s. Some of those old high rollers and punters used to bet on racing regularly before they died out or gave up, and betting levels dipped considerably compared to the first 10 or 15 years after World War II.
But the British and Irish are people who like a bet. Anyone who thinks Cheltenham or Aintree or Ascott is not about gambling, they're daft. It's like the great sportswriter Hugh McIlvanney said: 'Horse racing without betting is like jazz without sex.' It's a lovely image and I agree wholeheartedly with him.
I was brought up with fabulous horses like Arkle and Mill House. I remember watching them on television and years later, it was Lester Piggott riding Nijinsky in the derby or Jonjo O'Neill on Dawn Run at Cheltenham. Of course, you're gripped by the horses and the people who ride them, but the excitement and thrill of the gamble is absolutely essential. Ruby Walsh coming round the home turn at Cheltenham on a gambled-on favourite, it's the most exciting thing.
The funny thing about Bill Roper is that he felt that too. I think he did feel some shame over his activities before the end of his days.
Doing a book like Doped, people get in touch who you wouldn't have known beforehand. I was contacted by a retired judge. In 1963, he was the junior defence counsel for Bill Roper. He was a really funny and interesting man.
He and the main barrister defending Roper used to go down to the cell at the end of each day of the trial. They were supposed to be there to talk over how it had gone and what they were going to do the next day, and all the barrister wanted was tips for racing, and Roper would give him tips. Most of them over the three weeks of the trial (were successful). At the end of it, Roper joked that he should have a discount (on what he paid).
How badly were the doped horses affected in the long term?
Poor old Pinturischio was terribly ill. The horse nearly died because they did it not once but twice. I've always been told that that doping was ordered not by Roper — it was ordered by Mitchell and Dimes, because it was the derby favourite and they stood to make the most from it. That's why so many of the stable lads were terrified of mentioning it. That's why it doesn't crop up at all in the Lewes trial. The stable boys were told 'we won't bring that into proceedings if you give us the rest of (the necessary info)'. Pinturischio did recover (after being doped), but I don't think he lived to old age.
Some of them recovered very quickly. The gang realised sometimes a more effective way of stopping the horse than actually giving it a depressant or barbiturate was to give it an upper of some kind or other.
The stable boys were getting sixpence or ha'pennys and were sleeping on the floor in a straw bunk in the box with the horse. They were so badly paid that it's hardly a surprise some of them were persuaded to co-operate with the gangsters. But if you give a horse something to keep it awake all night, even you and I would be exhausted, so it puts in a very lacklustre performance. But 24-36 hours later, it can be as right as rain again.
One horse, a steeple-chaser, was really badly damaged by it. Once they got into that, that was seriously dangerous, and incredibly criminally irresponsible obviously for the jockey riding the horse as well as the horse — to be on a steeple-chaser going 40 miles an hour, not knowing that the thing has been nobbled.
One jockey whose horse was got at, he never really recovered. The stable did try and put him over fences the next year and he fell at the first fence at Wetherby and broke his neck. Things like that were the grim side of it. But surprisingly in some ways, most of the horses that were got at recovered, and had some success subsequent to the doping.
It's hard to imagine as sophisticated an operation being implemented nowadays, but is the doping of horses still an issue to a degree in modern times?
Well, there was the case a few years back with Sheikh Mohammed's trainer, Mahmood Al Zarooni, who was giving his horses steroids.
In fairness to the Jockey Club, they've been aware of the risk or the possibility that this sort of thing has been going on. That's why they sometimes had unscheduled visits to racing stables, turning up testing horses.
Zarooni's case was a scandal, which was definitely swept under the carpet. It was revealed that a number of Sheikh Mohammed's horses had failed dope tests. Zarooni was exposed and confessed (wrongdoing). There was an inquiry and the next day he disappeared and left the country. Plenty of experienced people in racing will say they find it hard to believe the people who ran that stable were completely unaware of the fact that was going on.
In the last decade, there have been scandals over betting exchanges and people backing horses to lose et cetera. You have the whole saga with Kieren Fallon, and the book about him and his trial in the autumn. You had all that going on and there were clearly horses who were being stocked to assist punters who were laying them on the exchanges, but that's become harder now.
But it would be incredibly naive to think (doping in) horse racing is not going on in some way.
The Zarooni case was a scandal because one of the horses that nobody knew much about and was revealed to have been doped won the St Leger — it beat Camelot, who had won the Guineas and the derby. Without Godolphin, Camelot would have been the first horse to win the Triple Crown since Nijinsky, and that would have been amazing. So that was quite a story.
But I think it's much harder to pull these strokes now than it was then. It's just as it is with the betting coups sadly. Just as you have a horse and it's primed for a big day, it's much harder to keep that information secret now than it was 40 or 50 years ago.
Finally, what surprised you most over the course of researching this story?
One of the things that was intriguing was the idea that Max Parker, who was the uncle of Cyril Stein, the very famous chairman of Ladbrokes, as his fingerprints were all over this but he never ended up in the dock. One of the guys who was involved in it said to me that when they had a particularly successful incident, stopping a favourite and laying it or selling information about it, Max Parker used to invite them all to supper at his place in London. He would make sure they had a good dinner and toasted it. That was an extraordinary idea really. Max Parker was laying bets to some of the biggest (figures in society at the time). All that was fascinating.
On another side of it, I liked Bill Roper's audacity when he was cross-examined at Lewes Crown Court. He said: 'I have laid bets for everybody from Lord and Lady Rosebury to the Newmarket postman,' and you could almost hear them coughing and spluttering in the Jockey Club 100 miles away.
The scandal did have one good after-effect. In fairness to the racehorse authorities, they did shake up racehorse security services, or they set up an operation which they called 'Racehorse Security Services,' which hadn't existed before. It was run by one of the Scotland Yard detectives who had been involved in the doping inquiry. So they did get the message about that.
Up until then, when Roper was starting, Jockey Club enquiries were the province of a former colonel who was more Basil Fawlty than Poirot.
Doped: The Real Life Story of the 1960s Racehorse Doping Gang is published by Racing Post Books. More info here.
The42 is on Instagram! Tap the button below on your phone to follow us!