IT'S HARD NOT to be impressed by Garry Ringrose, both on and off the rugby pitch.
Gleaming in his club suit, the Leinster centre entered the RDS media room with a spring in his step on Friday evening; and understandably so, too.
"A good run out, Garry?"
[Laughs]
"Yeah, we were over the moon with the result," he says.
Typically self-effacing, Ringrose deflects the praise away from him and onto the team.
On the other side of the room, Rory O'Loughlin does the same after another dazzling performance in the demolition of Zebre; two of Leinster's brightest young stars, two players at the centre of this renewal under Leo Cullen.
The man-of-the-match award could have gone to either. O'Loughlin's scintillating pace and ability to sniff out, and finish, a chance has seen him develop into a key component of Cullen's side, particularly in the absence of Fergus McFadden and Dave Kearney.
The former St Michael's winger brought his tally of tries to five in two games with a terrific treble under the Friday night lights. His rise this year has been one of the stories of the season.
The sponsors, however, swayed towards Ringrose and few could argue with their decision. The 21-year-old was once again terrific in Leinster's midfield in tandem with Robbie Henshaw and he capped the performance with two tries of his own.
Dan Sheridan / INPHO Dan Sheridan / INPHO / INPHO
"It's always about just trying to improve each day and that's the mindset," he said when asked had his focus changed over the last 12 months.
"You're probably sick of hearing me say it but any opportunity I get, whether it's in training or in the gym, it's just about trying to be better at the end of it than I am at the start. The focus hasn't really shifted too much and not too much has changed."
A lot has changed though.
No longer the fresh-faced teenager he once was, Ringrose has matured immensely during his second full season in the senior set-up and what immediately strikes you is the physical progress he has made. A wise head on ever-broadening shoulders.
That extra power and strength is evident in his defensive game, an area he has become a leader in and the statistics regularly back that up — only Jack Conan (13) made more tackles than Ringrose's eight on Friday night.
"The opportunities I've been given, I'm just trying to stay focused on the next job and trying to get better each day and that has worked alright for me so far," he continued.
"I was over the moon to get the opportunity I did during the autumn [for Ireland] and I wouldn't have expected to get the opportunities I did. I am trying to take the learnings from that and the experience and bring it into my game. That's kind of the challenge I have now, to turn that experience into something beneficial for Leinster."
You see as much as the talk is about him, it's all about the team, and club, with Ringrose.
He grew up, watched and supported Leinster. Like so many of his team-mates, this is his home club and pulling on the blue jersey will never not be a great source of pride for the former Blackrock student and his family.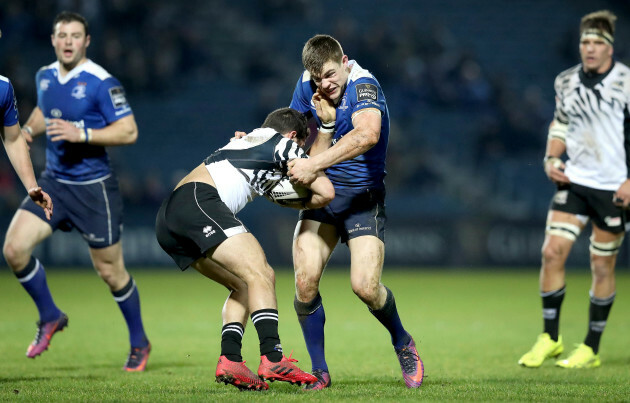 Ryan Byrne / INPHO Ryan Byrne / INPHO / INPHO
It's all still a little bit surreal.
"I just feel lucky really and it's almost a pinch yourself moment getting the chance to represent Leinster, especially here at the RDS with my friends and family in the crowd," the Ireland international admits.
"How special that feels certainly hasn't dwindled in any way."
You get the sense that next Friday will be one of those particularly special occasions at the RDS.
After a forgettable European campaign last year, the eastern province have the chance to seal a return to the Champions Cup quarter-finals when Montpellier visit the capital next weekend.
And the significance of that game for everyone at Leinster cannot be understated.
"Next week is just a massive game for the club," Ringrose adds. "Our goal from the off was to get into the quarter-final in Europe and we've an opportunity to do that next Friday.
"We want as close to a full house as possible and as many people there as possible to cheer us on because it is going to be a big day for the club. It's an opportunity to achieve that goal we set.
"It will be a special day for the club in front of our own fans so we're not going to leave any stone unturned during the week. I can't repeat enough how big it is for the club."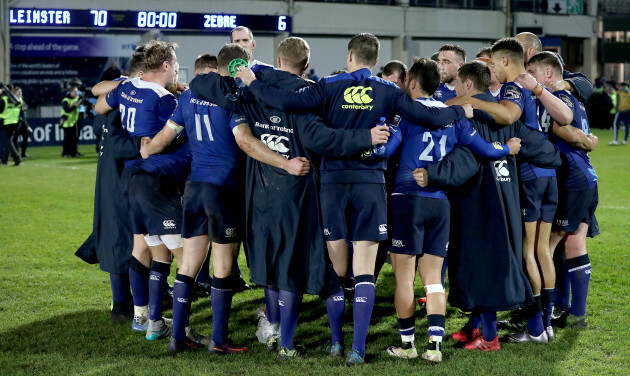 Ryan Byrne / INPHO Ryan Byrne / INPHO / INPHO
But Leinster only have to think back to October's 22-16 defeat in Montpellier to remind themselves of the size, quite literally, of the challenge awaiting them in round five.
Heading into the game with a five-point buffer over their Top 14 opponents in Pool 4, Leinster can be confident of sealing the group with a game to spare but the scars from last year still run deep.
Getting over the line this time around and making a return to where everyone knows they belong would be a huge step forward for Leinster under Cullen and a significant marker for his young charges.
"It would be massive," Ringrose admits. "A lot of the younger guys would have been used to watching Leinster win Heineken Cups on TV and supporting the lads out there and some of the other guys would have been in the Academy at that time as well.
"It really would be special for the club if we could get back into a quarter-final and having the opportunity to achieve that is massive. If we can get a full house and everyone behind us and then achieve that it certainly would be a step forward for a lot of us and we can take confidence from it.
"It was certainly tough going last year having personally seen Leinster doing so well in Europe and then being involved with them and not doing so great but it's arguably brought the best out of us and narrowed our focus this year."
The42 is on Instagram! Tap the button below on your phone to follow us!