GAVIN PEACOCK STILL thinks it's the major turning point of the game.
"People still say to me, 'Oh, I remember that chance you missed in the FA Cup final,'" he tells The42.
"And I say, 'It was a 25-yard volley. With my left foot. Out of nowhere. It wasn't a chance.."
He laughs, heartily.
"It would have been one of the greatest ever Cup final goals…if it had gone in'.
The fine margins. Peacock knows more about them than most.
During the 1993/94 campaign, he was the bogeyman who haunted Manchester United.
It was a rare thing for Sir Alex Ferguson's rampaging side to be held scoreless but Chelsea did it home and away that season.
In mid-September, United went to Stamford Bridge and Peacock, signed from Newcastle in the summer, capitalised on a rare error from Peter Schmeichel to pounce from close-range and grab the game-winner, the ball kissing the underside of the woodwork on its way.
"In those days I was just sniffing around for anything," he says.
"At Newcastle, we used to practice rebounds with Ossie Ardiles when he was manager. And instinctively, I got there. I was positive and just dinked it over Schmeichel after he parried a shot from distance. And I don't think it hit me until after the game. Me and my wife went out for dinner and you could pick up the early Sunday papers. And there was the headlines I got for grabbing the winner and I just thought, 'Wow, this is settling me in at Chelsea and the Premier League', which was only in its second season."
At the Bridge that day, the crowd were served up a treat and got to witness Glenn Hoddle pull the strings for the hosts and Eric Cantona conjure his usual variety of flicks and tricks.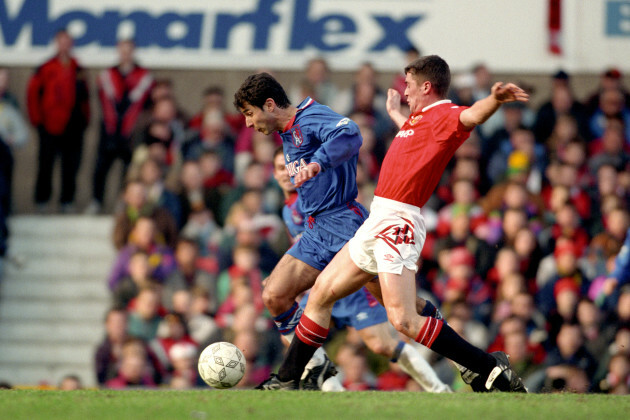 Steve Etherington Gavin Peacock tussles with Roy Keane during the 93/94 season. Steve Etherington
But Cantona was reduced to an unfamiliar role of background artist that day. Still, things could've turned out differently had an audacious attempt from the halfway line not agonisingly bounced back off the crossbar.
"It was done with Pele-like vision," Peacock remembers.
"Pele had attempted it at the 1970 World Cup against the Czechs but Cantona's was on-target. Dmitri Kharine was our goalkeeper and it's gone over his head and he's completely beaten but racing to get back. It bounces up and off the crossbar and drops back into his hands."
You had two of the great players on view that day: Cantona and Hoddle. But it was the latter who was the best on the day. Even Cantona said in the papers the next day: 'Hoddle is a genius. He was like Mozart in a world full of heavy rockers out there.' And I thought that was was really good way of putting it until I realised I was one of the heavy rockers."
Hoddle was Chelsea's player/manager and only appointed in the summer. He was just weeks shy of his 36th birthday but still put on a masterclass of passing and possession. But the club were struggling in the league. He had a clear philosophy of how he wanted his players to operate on the field but it didn't stick overnight.
"Glenn saw things on the field as a player and saw things off the field as manager that we just didn't see," Peacock says.
He was a visionary, and certainly ahead of his time. For him not to be involved in English football – at club level or international level…there should be a role for him. Anytime I hear him speak on the game he has great insight. I was talking to Robert Lee recently, my old Newcastle team-mate. And he was with Glenn for the 1998 World Cup squad and he was speaking about Glenn in glowing terms. He mentioned one game – Poland away – as an example and Hoddle said to them, 'This is what they'll do when they'll come out from the back with the ball. So, wide-midfielder, go here. Shearer, you're to press in here. And Rob Lee, you'll get in the space when they lose the ball and we'll get forward and score.' And Rob said it happened exactly as Hoddle had predicted. He had ability to read the game and apply the tactics at the highest level, and his record was good. It wasn't what he did on the field that made him leave England."
As much as Chelsea struggled to make an imprint on the league season in 1993/94, Hoddle and his players did enjoy an impressive run in the FA Cup.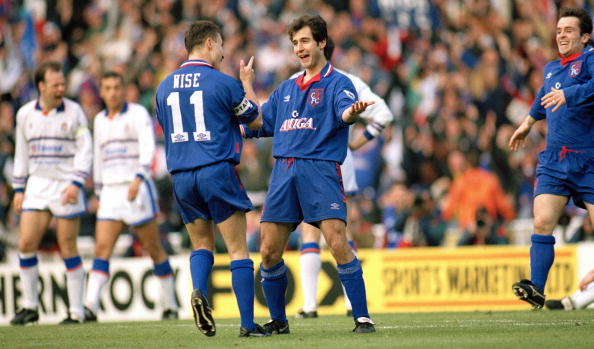 Bob Thomas Peacock's double in the FA Cup semi-final against Luton secured the club's place in the Wembley decider. Bob Thomas
And Peacock was crucial. He scored in early rounds against Barnet and Sheffield Wednesday and popped up again with the solitary goal in a quarter-final clash against Wolves. In the semi-finals, he managed a brace against Luton, almost single-handedly booking Chelsea's place at Wembley.
Simultaneously, United strolled through various rounds but almost came unstuck against Oldham in the semis. They needed a last-gasp volley from Mark Hughes to force a replay, where they casually and mercilessly put four past Joe Royle's side.
By that stage of the season, Chelsea had also got the better of United at Old Trafford. Peacock again proved the difference, delivering another expert finish past Schmeichel as United endured a rocky domestic spell.
But, they recovered and secured a second successive title. However, there was some inevitable trepidation about the Wembley matchup with Chelsea.
They had already lost there in March, going down to Ron Atkinson's Aston Villa in the League Cup. Now, they were returning to face a team that had repeatedly left them frustrated.
"We had a bit of a game-plan and we knew how important their flying wingers – Giggs and Kanchelskis – were to them," Peacock remembers.
"But we had fast full-backs in Steve Clarke and Frank Sinclair and we felt that if we could tie them up and the two centre-backs could keep Hughes and Cantona relatively quiet then we might nick a moment where, like in the other two league games, we could hit them on the counter-attack and grab a goal."
Hoddle didn't name himself in the starting XI and also left Tony Cascarino, who was bright in the semi-final win over Luton, on the bench.
Instead Mark Stein, who had been hampered by a recent injury, was chosen up front.
And, early on – in the continuous drizzle – the selection seemed to work as Chelsea caused United headaches. The movement of Stein and Spencer led to some half-chances before Peacock latched onto a poor clearance midway through the half.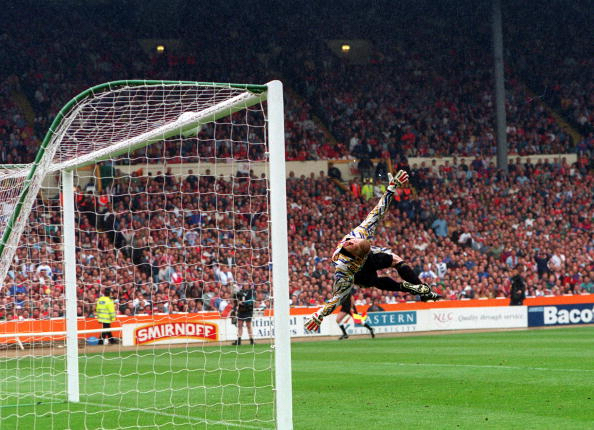 Bob Thomas Peter Schmeichel was beaten by Peacock's dipping strike but the crossbar wasn't. Bob Thomas
From 25 yards, he flicked the ball onto his weaker left side and instinctively thumped a dipping strike over Schmeichel's head. It rattled the crossbar and bounced to safety.
At half-time, it was scoreless and United – who'd barely had a sniff – were fortunate.
But, on the hour mark Eddie Newton badly mistimed a challenge and rashly brought down Denis Irwin in the area. Just a few yards away, Peacock lifted his hands to his head in disbelief. After dominating and essentially controlling the game, Chelsea now had the remarkably consistent Cantona stepping up to the penalty spot.
As he went to place the ball on the spot, Dennis Wise approached him and bet him £50 that he'd miss.
Wise was taken aback by Cantona's reaction.
"Okay, £100″.
Then, with his usual impudence, he sent Kharine the wrong way and made it all look easy.
Six minutes later, Kanchelskis and Frank Sinclair brushed off each other in the area and referee David Elleray awarded United a second penalty. It was a poor decision, something Elleray admitted years later. But it meant Cantona stepped up again.
This time, Cantona walked up to Wise and said, "Double or quits on the £200?" Wise declined to take him up on the offer, which proved a good decision.
Bob Thomas Bob Thomas
Cantona put the ball in the exact same spot as his first penalty, Kharine again going in the opposite direction.
"I still think my shot hitting the bar was the turning point and once we gave away the first penalty and then the second – which I still don't think was a penalty – then we were chasing it and then they did what they do best and hit us on the counter and they ran out deserved winners in the end," Peacock says.
"The result flattered a little bit and it wasn't a perfectly fair reflection on the game. Once the scoreline changed, we probably didn't have it in our locker to go after United and commit bodies forward without getting really exposed at the back. They just had too much for us in the end."
Cantona had the presence. Just the way he stood. He had that confidence. He was strong. He was fast. He had the skill. You knew when he stepped up for those penalties that he was going to score. I'm lined up on the edge of the box and I'm getting ready to run in but in the back of my mind I'm thinking, 'It's in the back of the net'. And, of course, to take two in any game is massive pressure but two in a final…? Your second penalty – what do you do? The same place? A double-bluff? Kharine was a good goalkeeper and had springs in his feet. And then Cantona just rolled it to the same side, cool as you like. People always ask me, 'Who was the best player I ever played against in the Premier League?' And I always say Cantona. There was a period in the 90s when he was king."
Exclusive Six
Nations Analysis
Get Murray Kinsella's exclusive analysis of Ireland's Six Nations campaign this spring
Become a Member
The BBC were still showing a replay of Sinclair's challenge when the same defender slipped on the saturated turf and deflected the ball into Hughes's path. He made no mistake and United, though drenched to their bones, were home and dry.
Hoddle had tried to change things and had brought himself on after Cantona's second penalty. But with his side so badly chasing the game at that stage, it made little difference.
"After the first penalty, I'm looking at the bench and thinking, 'Glenn, get on'", Peacock says.
"You wonder if he left it a bit too late to come on. When he did, we really had to go for it so we weren't the same Chelsea. The thing was that Glenn never gave the ball away. When he's on the field, you gain more possession and they begin to worry about him. So, when it was 1-0, I'd have liked Glenn and Cascarino to come on. I thought Cascarino should've started because he played in the semi-final against Luton and made my two goals along with John Spencer. Stein had scored a lot of goals for us earlier in the season but he'd been injured…"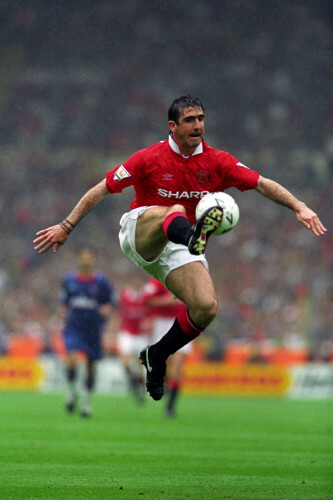 Tony Marshall Tony Marshall
Peacock's voice trails off. It still stings a bit, even 24 years later.
"…but hindsight is a wonderful thing."
Deep into injury time, Brian McClair added a fourth after Paul Ince put in the hard yards and teed him up for a tap-in.
United had secured their very first league and cup double and Chelsea trudged off, their minds inevitably trying to figure out how the wheels had come away so spectacularly.
"Inches," Peacock says.
A fine line between success and failure. Here's the picture. I hit the crossbar in '94 and it bounces out. If that goes in, we're playing well, we're nice and tight at half-time. We go on and win the final. And who knows how that changes my career? Maybe having a winning goal in a cup final gets me in that England squad. But it doesn't and we lose. But three years later, Roberto di Matteo bursts through against Middlesbrough and he hits the same crossbar. But it's an inch lower and it goes in. And Chelsea go on to win lots of silverware in the years to come. And you can say Di Matteo was one of the players who replaced me, really. I was still there but he came in with Gianfranco Zola and they were getting more game-time. And it shows you it's a matter of inches and how things can change."
"But I don't have any regrets and still feel very privileged to have been part of Chelsea's history and part of the building blocks at in terms of changing the culture. It's something that can't be taken away. In the 130 games I played over three years, I did alright for the club."
Peacock was already at QPR when Di Matteo scored that FA Cup final goal and the club went on to win at Wembley. They've won it five times since and it's a competition that still stirs something in Peacock, despite his personal memories being somewhat bitter.
"It makes heroes and stars," he says.
"It has lost what it used to be because of the Champions League and more glamorous things that people consider to be better. But I still always look at the FA Cup final as something special. When we got there in 1994, I just felt it couldn't be any better. We'd beaten them twice in the league. It had everything to make it a good cup final. Red versus blue. North versus south. Cockneys against the Mancs".
Peacock has gone onto a radical career change and is now based in the Canadian city of Calgary where he's a Christian minister.
But, he'll be watching with interest later today.
"Chelsea have been a bit disappointing and Conte will probably go but I'm still going to tip them," he says.
"Willian's been brilliant this season. I think if he and Hazard click, they can do it. I saw them at home against Crystal Palace and they were phenomenal. When they make something happen, Chelsea are a real danger. Is Lukaku going to play? Everytime I see him, he's a real handful. But a big guy like him? I'm not sure how match-fit he can be. I remember '94 and Mark Stein wasn't a big guy and he'd just come back in the game before and his legs just weren't ready. The final was just too big for him. It's hard to go into a major game like that if you've been out for a while. So, without a few factors like that, I think Chelsea can do it."
The42 is on Instagram! Tap the button below on your phone to follow us!