ON WEDNESDAY, FORMER Ireland manger Brian Kerr spoke at the launch of an initiative from Gaza Action Ireland to bring a group of kids from Gaza to play football in Ireland in 2015.
Here Kerr describes how important football – particularly the opportunities it presents – is vital to kids who grow up knowing nothing but poverty and war and why Irish people should get behind the project. 
You can find more information on the initiative here.
I'M SURE I'M one of the few people who has coached a team both on the beach in Israel and coached a team on the beach in Gaza which, obviously for the four young cousins who were killed by the shells while playing football on the beach in July, it shows how the experiences can be totally different.
I had lots of good experiences in Israel with underage teams and we were treated very well. We played in a range of venues but it was very nice and we were very well protected, there was no comparison with the lifestyle of these kids who will hopefully get to Ireland next year if there isn't too many obstacles put in their way.
People in Gaza are absolutely mad about football, it's extraordinary. They've 56 operating teams in Gaza. They can have huge numbers, 20,000 people at a league match in Gaza, yet they have to deal with extraordinary restrictions.
Children don't have any choice about war, about who engages with war, but they suffer more than anyone. In Gaza, anyone who is over seven has already suffered through three wars and yet they're still trying to play football.
It makes me think of a quote from a lad who is widely considered as the Messi of Gaza football, Bashar Abu Qeriya (16):
"We've no other option here. There is nothing else to do but play football."
Obviously that's not quite true. From the point of view of the coaches and the administrators of football in Gaza and Palestine who are spending their time trying to keep kids away from violence, it's not a very easy path when they see the adult players being prevented from going to play for teams in the West Bank and going to play for the national team.
Palestine, extraordinarily, weren't too far away from Ireland in the rankings until quite recently when they were 85th. They've gone down to 108th mainly because they can't get all their players to play.
They've qualified for the Asian Cup in 2015. They went to the Maldives and were unbeaten in five games (won four, drew one and only conceded one goal). They went there without five key players who weren't allowed visas to travel.
They're constantly having to put up with this situation so what is the reaction of young players, of kids, who are looking at this and whose aspiration – much like many kids in the poorest parts of the world – is to become football players as they see it as a vehicle to get them away from their difficult lives, particularly in Gaza because of the poverty that's there, some of it heavily imposed on them obviously.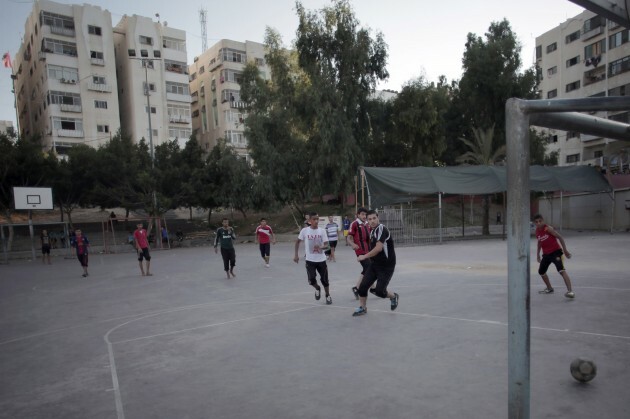 Khalil Hamra / AP/Press Association Images Children play football in Gaza during a temporary cease fire in August this year. Khalil Hamra / AP/Press Association Images / AP/Press Association Images
Always in this situation there is a desire for escapism, a desire to improve themselves and in this case, as it is in many countries, it's through football.
As a kid myself I was fortunate enough to get to travel. I remember going to Blackpool with my parents and seeing Ray Charles and Cliff Richard as a 10 or 11 year old and thinking 'Blackpool is like Mecca' and I've got to get to Blackpool again.
So I started arranging football trips when I was playing U15 with Crumlin United for the team I was playing on and the team I was managing. I arranged trips for them to go to Blackpool at Easter time and it was like Disneyland at the time.
We were able to go see Liverpool, Leeds and Manchester United at that time, football at the highest level. But we got to see things outside the narrow vision of Ireland at that time too and arriving in Blackpool on Good Friday to see shops being open was extraordinary.
I was fortunate enough through football, as were many of the kids on teams I was involved in, to travel and see stuff outside of Ireland and experience different cultures, hear different accents, and different attitudes.
As I grew older, through my involvement with football and international teams, I got to travel to Africa and the Middle East. I got to travel to Libya when no one else was travelling to Libya. I went there with St Patrick's Atheltic in the early nineties.
It was very controversial at the time but we were there to share our love of football with Libyan football people and we played in the national stadium with 70,000 people at a match involving St Pat's. It was quite extraordinary.
What the Gaza Action Group is trying to provide is an opportunity for these kids, and maybe many kids in the future, to aspire to play football, to see something outside the restrictive lifestyle of Palestine, of Gaza and to play football in a joyful manner among Irish kids in a calm, peaceful situation.
I was thinking about the four kids killed on the beach and what could be more horrendous than the idea of kids playing football on a beach and dodging shells, running for your life and not making it.
Contrast that with the joy we had on the beaches of Israel three years in a row with the Irish U18 team. There was never that sense of fear, that sense of threat in comparison with those four kids and many other kids and coaches who have been killed, former players who've been killed and current players who've been injured and who haven't been able to go back and play.
Exclusive Six
Nations Analysis
Get Murray Kinsella's exclusive analysis of Ireland's Six Nations campaign this spring
Become a Member
Football should be outside of that but it isn't that long since we had conflict in Ireland. When Ireland played Northern Ireland, it was almost a no-go zone for Irish people to go to that game. I went, along with a lot of other people who sneaked in and we weren't very loud in our celebration when Alan McLoughin scored the goal to get us through to the World Cup.
That isn't that long ago. We played Northern Ireland recently in Dublin and it was a non-issue. I think some of their fans had a poster behind the goal that was confiscated that was giving out about the Republic poaching players form the north of Ireland but that was the big issue.
Have we moved on? Can Palestine and Israel move on? Can the relationship move on? There are obviously huge political issues, but this type of action could be the beginning of something because Europe really hasn't been affected by the situation because Palestine play in the Asian federation while Israel play in UEFA.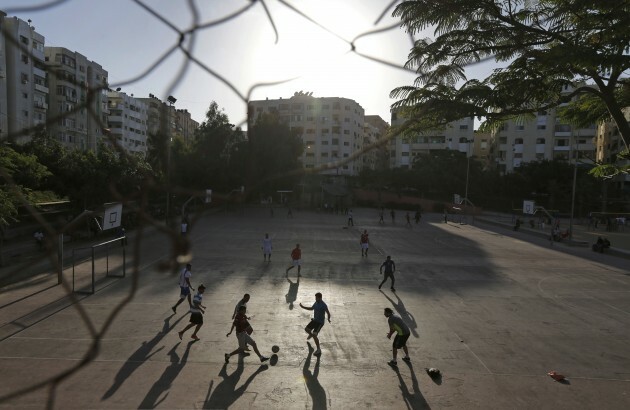 Lefteris Pitarakis / AP/Press Association Images Palestinian youths play football in Gaza City. Lefteris Pitarakis / AP/Press Association Images / AP/Press Association Images
In many ways, European countries haven't been involved in helping the Palestinian Football Association. They rarely play friendlies against European countries.
I've looked at their list of matches and when they'll play at the Asian finals in 2015 and their group is Japan, Jordan and Iraq.
I know there's a bit of trouble over the manager at the moment – and I am available – but I'm not putting myself forward for it just because I've seen Japan live, I've seen Jordan live and I've actually seen Iraq live over recent years.
I was in Jordan doing a bit of job for a club a few years ago and I went to an international match between Jordan and Iraq and I could tell that this was a really good level of football. I was surprised that Iraq was so good because they were in the middle of a war at the time.
This group, for Palestine, is tough. But what other obstructions are going to be in the way for the team trying to bring the joy of the Asian finals to their supporters. Restrictions on player movement? On training camps for the players? On equipment coming in?
We give out in Ireland about pitches and Dundalk won the league recently and some people have given out about their pitch not being of the highest quality with too much rubber on it. But what would it be like to be worried about have we got balls, gear, cones?
These are daily obstructions that are in the way of football in Gaza.
So who in Ireland is going to support these kids? Well I think anyone in Ireland who has some sort of a social conscience. Anyone who is a lover of football. Anyone who understands the restrictions we had in place here when I wasn't allowed play soccer in school.
But we've all moved on since then and soccer people in Ireland, soccer clubs in Ireland and the soccer community in Ireland should open up their arms and grab this situation and do something for kids who are on the margins but kids who love football.
One of the nicest things that ever happened in sport in this country was the 2003 Special Olympic Games. The whole country got behind it. Communities in the smallest of towns and the biggest of cities got behind the people who came here.
People were open to their cultures, their difficulites and they embraced them, opened up their homes, their facilities and gave them a joyous time as Irish people do.
Here's an opportunity for soccer people to say, we'll take this first gang of kids and we'll make it so special for them that it will be unforgettable and inspire others to say 'yeah, we can do it'.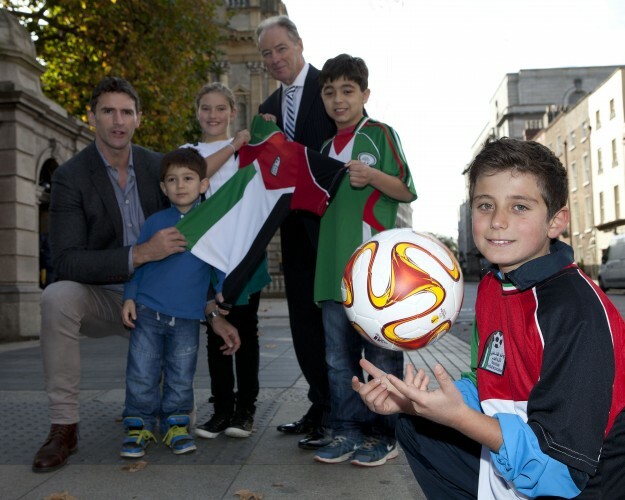 Peter Houlihan / PH Photography Kerr and former rugby international Trevor Hogan launch 'Gaza Kids to Ireland' with the help of a group of Palestinian footballers in Dublin . Peter Houlihan / PH Photography / PH Photography
This is a real opportunity to do something for the children with the biggest obstacles to playing football in the world, the biggest obstacles to making progress in their football dreams.
The player I quoted earlier was asked what his dream was and his dream was to go and play football professionally, to play for Liverpool,  just like the dream of thousands of Irish kids.
Here, they can fulfil that dream so can we help kids from Gaza to fulfil that dream by showing them there is another lifestyle, there is another way, showing them an ability to overcome obstacles and the type of divisive actions that cause so much hate and violence.
The kids in Gaza have suffered more than any kids in the world have suffered but what if the issues are overcome there and imagine the possibility that, in the future, the Palestinian national team could play a friendly against the Ireland team, how would that be?
Who knows, maybe even some of the kids from Gaza who come over next year, imagine in 10 years time they were playing in that game? I'd urge people to support this initiative and the football people of Ireland especially to get behind it.