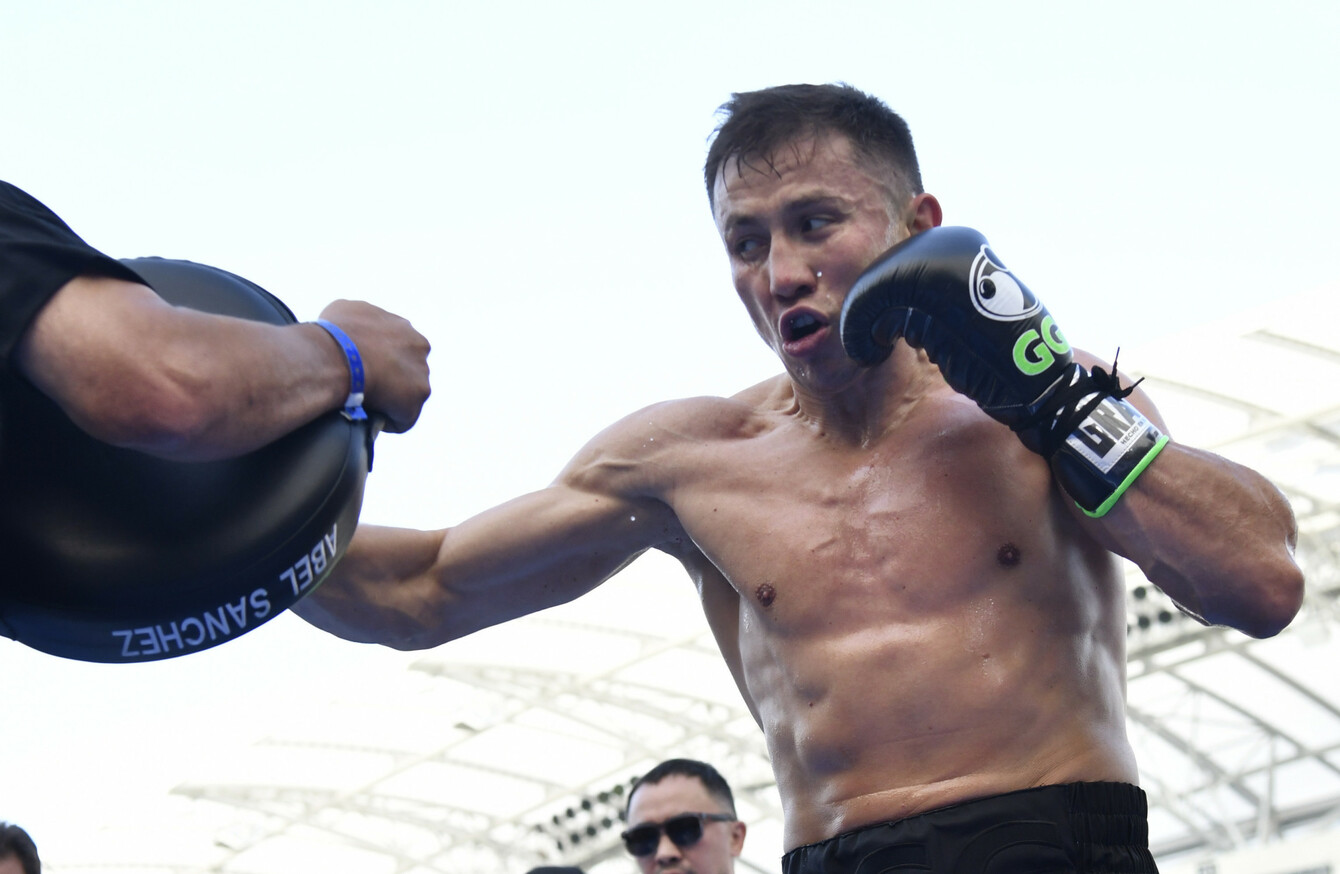 Image: Gene Blevins
Image: Gene Blevins
GENNADY GOLOVKIN INSISTS he feels no personal animosity towards Saul 'Canelo' Alvarez ahead of their feverishly anticipated World middleweight title rematch, but has doubled down on his dismissal of the Mexican's claims that his doping violations earlier this year were caused by contaminated meat in his homeland.
'GGG' was speaking at a media roundtable ahead of Saturday's showdown at the T-Mobile Arena in Las Vegas, where Cork middleweight Spike O'Sullivan faces former IBF middleweight world champ David Lemieux in a bid to earn a shot at the winner of Golovkin-GGG II.
Also present were Golovkin's trainer, Abel Sanchez, and his promoter, Tom Loeffler.
Like his fighter, Sanchez has been embroiled in a war of words with Canelo and his team since it was confirmed in March that the Guadalajara native had twice failed drug tests weeks prior — a revelation which put the kibosh on the original May date for Saturday's rematch due to Canelo's subsequent backdated six-month suspension from the Nevada State Athletic Commission (NSAC).
Lineal middleweight champion Alvarez recently labelled Sanchez a "dumbass" who "doesn't know what boxing is", but the veteran coach insists that, while the loaded barbs between both camps have strayed into personal terrritory, Saturday's fight will be business-only.
"After the positive test, there was a different edge to GGG," said Sanchez. "He thought he was insulted, disrespected, so the camp was more purposeful.
"Like the Curtis Stevens fight, you have a fighter [in Golovkin] who feels he has been disrespected, so he's going to make you pay.
This is business. It's personal that he insulted us by claiming what he claimed. It's insulting some of the things that he did leading up to this fight. But this is business, and he's going to pay for his business.
Added Golovkin: "Like the Floyd and McGregor fight, this is not true sport — this is not a true fight. This is more business.
"You remember the first fight, we had a lot of respect for each other. Okay, yes, I shake his hand. But right now, [I'm] just 100% focused on a real fight, a real war.
"[The respect went] after the doping scandal. Because the first fight, I remember I said: 'Thank you for the fight, it was a great fight.' He said the same: 'Huge fight. You're still strong, you're still a champion.'
"After the doping scandal, you know… I'm not political — I'm just a fighter. But for me, this is a terrible situation."
Triple G, who spoke in English throughout the majority of the media event, added through his translator:
I don't believe in the beef [excuse]. I don't believe the stories about contaminated meat. I think it's all nonsense. I don't like hearing these nonsense stories about contaminated meat.
You couldn't deny that there was some injection marks on his arm [before the first fight]. I don't know what it was, but the injection marks were evidently there. Everywhere. His biceps, his stomach — pretty much everywhere. The injection marks were all over his body.
Sanchez, however, clarified that Golovkin had not noticed track marks on Canelo's body when they met either in person prior to their original clash nor in the ring. Rather, he had seen the pictures widely shared following Canelo's positive tests which depicted the 28-year-old as sporting feint bumps and marks on his arms and abdomen.
These images, however, could have been doctored a thousand times over such is the nefarious nature of boxing fandom on the internet.
"I want to state this very strongly," Golovkin added through his translator. "I don't care about that [Canelo's anti-doping violation].
"That's the last thing I'm worried about. It's not me coming out with a story about him having injection marks — people showed me photographs and you could see in the photographs that there were injection marks.
"But that's the thing I'm worried about least. Let's just not talk about that anymore."
When asked if he personally believed that Canelo was deliberately ingesting banned substances prior to last September's superfight, Sanchez stopped short of his chief charge's accusations.
"No, I don't want to say that.
What I would say is that I would have liked for him to come out and be truthful right off the bat when the thing [positive tests] came out, instead of waiting three weeks and then cancelling the [May] date. Because he was hoping that he was going to be okayed by the Nevada Commission.
It has been argued against the 36-year-old Golovkin that if he was as vehemently anti-drugs as he so claims, he would adhere to his principles and refuse to fight Alvarez again — even if, granted, there are a fair few million reasons to ignore such principles for one night, as well as his legacy as a generational middleweight great.
Triple G, though, waved off suggestions that he should find opposition elsewhere on account of the fact that Canelo is sanctioned by NSAC to fight on Saturday night as normal; the Kazakh is hellbent on the burying the hatchet, and he feels he can do so with a clean conscience so long as the man stood opposite him holds a legitimate, active boxing licence.
"For me it's the same," he said.
I'm ready for my opponent, whether he's doping or not doping. I'm ready for fight. If the [Nevada State Athletic] commission brings him, I'm ready. If you're legal, and you're commissioned to fight, I'm ready.
"If the commission doesn't bring him, okay."
Sanchez was also quizzed on the issue of Canelo's hand wraps last September when, during a pre-fight inspection, he protested to a Nevada official that the Mexican's team were 'stacking' his hand wraps illegally, i.e. applying too many layers of tape and gauze to the point that a de facto cast forms around the fist prior to the lacing up of gloves.
Sanchez insisted that he will be more fervent in his protestations if Canelo is permitted to have his hands wrapped in a similar manner this time around, but wants the issue resolved in advance of Saturday.
"Here in Nevada they seem to except the stacking, which everybody in the boxing business knows is an illegal way of wrapping hands," Sanchez said.
"But because Nevada allows it and the rules are very vague, there's not much more I can say about not accepting that.
What I will, say, though, is that there is rules in their bylaws which say that you're allowed to use a maximum of 12 feet of two-inch tape, which in turn would be 24 [feet] of one-inch tape. If you looked at the video where I protested, they used the whole roll on the first layer, which is 30 feet, and they used another roll on the top layer which is another 20 feet! To me, that's more close to 50, 60 feet.
"I am questioning that, and Tom [Loeffler, GGG's promoter] and I have had discussions about that with Mr. Bennett [Bob, NSAC chief]. I want those rules followed. We're going to follow the rules. Absolutely, I'm going to bring it up [in the referee meeting].
"But I want that talked about now — I don't want to wait until we're in the dressing room. I don't want to disrupt their [the fighter's] concentration.
"What I want to do is get it resolved now. 24 feet – if it's vague, it's vague. I understand that. But if it's in your rules, then follow your rules specifically."
Sanchez also confirmed that he did not, in fact, reject Canelo's custom-made gloves in the lead-up to September's controversial draw, but that NSA director Bob Bennett forbade the mitts before Sanchez himself was given a chance to examine them.
The veteran trainer claimed that the California State Athletic Commission recently outlawed the same gloves from all fights within their jurisdiction.
Golovkin's final contribution to the media gathering drew laughter from those assembled.
Asked if there was anything that Canelo did better than he had anticipated during their first encounter, the beast from the east paused momentarily before responding: "Yes, better… He run.
"I'm not really that fast!"
Added promoter Tom Loeffler with a smirk: "But [Air] Jordan made brand new shoes for him with a new hybrid sole that actually propels him across the ring so he can move faster. He's prepared!"
Loeffler also confirmed that Golovkin and Canelo may not face off until Friday's weigh-in, although the pair are due to at least share a room at this evening's press conference, which you can watch live below at 8pm Irish time.
Saturday's salivating showdown will be broadcast exclusively live on eir Sport in Ireland. Viewers will need to be an eir Sport subscriber to tune in, but will not have to part with the €22 pay-per-view charge.
The42 is on Instagram! Tap the button below on your phone to follow us!