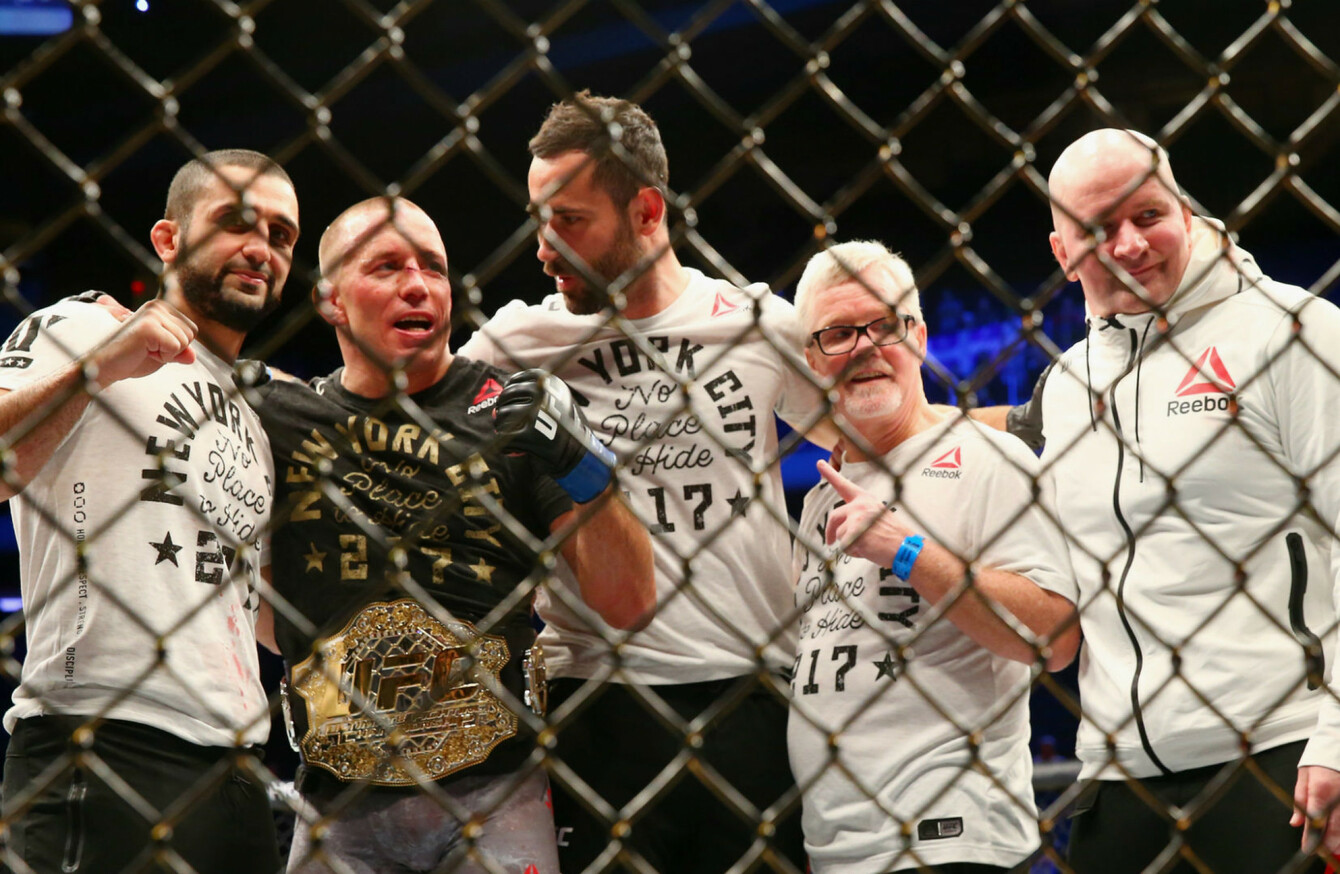 Georges St-Pierre celebrates UFC 217 win over Michael Bisping
Georges St-Pierre celebrates UFC 217 win over Michael Bisping
UFC LEGEND GEORGES St-Pierre will continue his middleweight crusade after defeating Michael Bisping to become a two-division champion, president Dana White has confirmed.
St-Pierre returned from a four-year absence to defeat British veteran Bisping by rear naked choke in the third round at Madison Square Garden on Saturday, adding the 185lb belt to his collection after a dominant spell as welterweight king before his hiatus.
Welterweight champion Tyron Woodley accused St-Pierre of taking the "easier fight" against Bisping, in which the Canadian overcame a fatiguing second round to drop the Brit with a left hook before choking him out cold.
Speaking on UFC's post-fight recap, Woodley even joked he would go up to middleweight in order to get a shot at GSP, but White confirmed that the legend's next bout will be a unification fight against interim middleweight champion Robert Whittaker.
When asked if Woodley v GSP was on his radar, White replied: "It's going to be Whittaker."
However, speaking in the octagon post-fight, St-Pierre cast doubt on his long-term future at 185.
"This is not my real weight," he said.
"I did it for the challenge and there was a time in my career I was too busy – the challengers were one after the other and I was too small to go up.
"I was even small for a welterweight. I'm still welterweight size but I decided to take a shot because I put on some muscle mass.
"There is a point that it's too much but now I'm at a point that it's okay."
In a year which has seen the light heavyweight title stripped from Jon Jones for a second time and Conor McGregor's boxing bout against Floyd Mayweather Jr take attention away from the octagon, White was delighted with the return of a bona fide MMA legend.
He told a news conference: "It's great to have GSP back.
"He came in after a four-year layoff and fought a tough fight. People say Bising's easy, show me one easy fight Bisping's been in – you don't walk over Bisping.
"GSP looked real good tonight."
For his part, Bisping was happy to label St-Pierre, just the fourth two-weight champion in UFC history, the greatest of all time.
"I'd say so. Good for him, yeah why not? Softens the blow for me, I guess!"
Bisping cut two deep gashes in St-Pierre's face with nasty elbows while defending on the ground and appeared to have the upper hand when the Canadian seemed to tire in the second round before a monstrous left altered the course of the contest irreparably.
"I wasn't surprised, he's always good striking," Bisping said of the finish. "The only thing that surprised was the left hook that dropped me, that was the big surprise."
Subscribe to The42 podcasts here: