WITH A FIREMAN in goal, a customs agent anchoring the defense, a police officer and store worker roaming the midfield and a PE teacher on the attack, the best players from this rocky, 2.6-square mile territory will take on the world champions from Germany.
Friday's match might be one of the biggest underdog stories ever, with Uefa's newest and smallest member trying to avoid humiliation against the team that won the World Cup just four months ago.
"They are 10 worlds apart from us," Gibraltar captain and customs officer Roy Chipolina said. "But it's something I'll be able to tell my grandchildren."
Germany embarrassed World Cup host Brazil, full of some of the top players in the world, with a 7-1 victory in the World Cup semifinals. And the Germans say they won't take it easy on Gibraltar in Nuremberg, wanting to stay on track to qualify for the European championship. Goal differential can sometimes come in to play as a tiebreaker, so even if the outcome is decided, the wave of German attacks on goal will continue.
"It is important to concentrate on the game against Gibraltar," said Germany defender Jerome Boateng. "We want to make a point but we have respect for every opponent."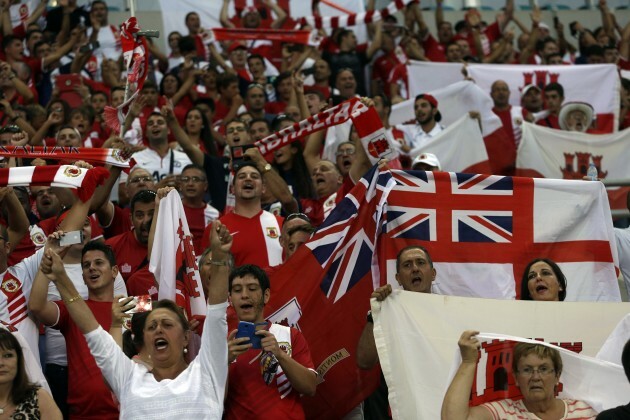 Francisco Seco / AP/Press Association Images Gibraltar fans will get behind their team regardless. Francisco Seco / AP/Press Association Images / AP/Press Association Images
Chipolina, 31, spends much of his time patrolling the borders of the sunny British outpost at the entrance of the Mediterranean Sea, where he's tasked with stopping drug smugglers. On Friday, he'll need to stop Thomas Mueller and Toni Kroos currently ranked as the No. 1 and No. 6 players in the AP's Global Football 10.
"Keeping them to single figures would be great," bar manager Richard Mew said as he poured a pint of beer in the Cannon pub, located just off the main street running through Gibraltar.
Gibraltar has three professionals in its squad of 23 players. Compare that to the world-famous millionaires on the German team.
"Germany could put their under 15s out and still win," Mew said.
Soccer has become huge in Gibraltar ever since its national team was accepted as the 54th and smallest member in Europe following a 16-year fight for recognition. The move had previously been resisted by neighbouring Spain, which disputes the sovereignty of the territory it ceded to Britain in 1713.
Players picked for the national team are drawn from amateur clubs that play in the Gibraltar Premier League. When they can't get access to the one and only full-sized soccer field on the territory for training sessions, they have to improvise.
"We just go running around the streets," midfielder Jeremy Lopez said. "We go to a car park and do some sprints, fitness. It's ridiculous, old school."
Old men walking their dogs sometimes stop and watch.
Like Chipolina, Lopez combines playing the sport he loves with a full-time job, as a researcher for the Ministry of Sports in Gibraltar. He works 9-5 and goes training with his local team three or four times a week. Then there are games on weekends and Lopez also finds time to hit the gym.
He is supposed to be getting married soon but some weeks, his fiancee barely sees him.
"I have three different lives," Lopez said. "Family, football and work."
Representing Gibraltar involves taking a week off work and is especially tough for those in the private sector. Playing in 10 European qualifiers a year requires 50 days off work and most Gibraltar players have 25 days of annual holiday. They must rely on the goodwill of their employers to accept a request from the Gibraltar Football Association to take leave — usually unpaid.
Exclusive Six
Nations Analysis
Get Murray Kinsella's exclusive analysis of Ireland's Six Nations campaign this spring
Become a Member
"It's hard enough balancing football, work and family," Chipolina said. "Then you've got to use your annual leave for football, so you have to tell your wife we aren't going on holiday this year."
Chipolina has gone from playing in front of 10 spectators a few years ago to playing in front of crowds of 35,000 in European Championship qualifiers.
"You find yourself switching off in games because you are just not used to it," said striker Kyle Casciaro, an operations manager for a shipping firm. "Ireland scored seven goals in the first 63 minutes against us. I looked around and people were chanting, 'We want 10, we want 10.'"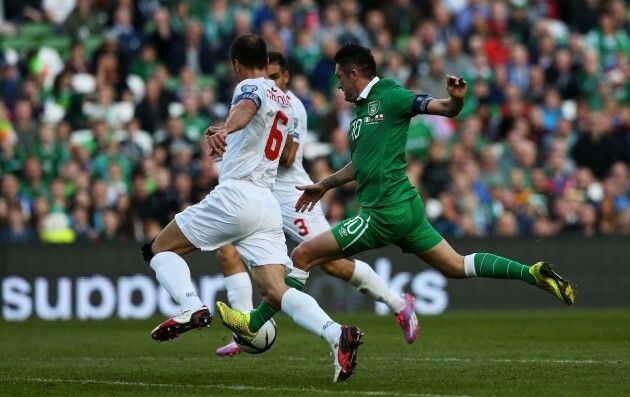 Brian Lawless / PA Wire/Press Association Images Robbie Keane scores his second goal. Brian Lawless / PA Wire/Press Association Images / PA Wire/Press Association Images
So far in qualifying, Gibraltar has lost 7-0 to Ireland and Poland, and 3-0 to Georgia.
Oh, for a similar score against Germany.
"Everyone's been telling us, 'If they don't score more than seven, we are better than Brazil,'" Gibraltar defender Jack Sargent said. "That's our target."