WHEN HE WAS back at Turner's Cross recently for the first time since joining Shamrock Rovers, Greg Bolger received a welcome that hasn't been afforded to many players who opted to swap Cork for Dublin.
Even Cork City legends like Pat Morley and Derek Coughlan had to contend with some hostility from the locals when they first returned to Leeside after their respective moves to Shelbourne and Bohemians.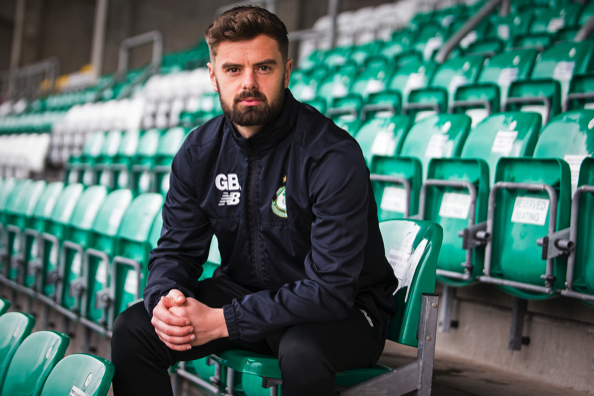 INPHO / Laszlo Geczo Shamrock Rovers midfielder Greg Bolger. INPHO / Laszlo Geczo / Laszlo Geczo
An injury ruled Bolger out of City's 1-0 Premier Division win over Rovers last month, but the midfielder made the journey south nevertheless. When he emerged from the changing rooms just before kick-off to make his way towards his seat in the Donie Forde Stand, the Cork supporters showed their appreciation for one of their former captains.
"I came out before the game and got clapped by the Shed End," Bolger recalls. "I was a bit shocked by it, to be honest. I thought I might get a bit of abuse or a few boos, but the hairs on the back of my neck were standing up.
"I definitely wasn't expecting it, especially to that extent, but it was a really nice touch from the Cork fans. It was a great feeling, a bit overwhelming. I gave everything I had in the two years I was there so it's good to know that it was recognised."
City manager John Caulfield pulled off a significant coup following the conclusion of the 2015 season by completing the signing of Bolger from St Patrick's Athletic, where he was pivotal during a four-year spell in which the Inchicore outfit won every honour in the domestic game.
In his first season in Cork, Bolger continued to enhance his reputation as one of the League of Ireland's top players. The Wexford native was particularly impressive in City's Europa League run. Despite playing through the pain barrier after picking up an ankle injury against Linfield, Bolger stood out in the ties against Swedish Cup holders BK Hacken and Belgian outfit Genk, who went all the way to the quarter-finals.
After ending the 2016 campaign by captaining Cork City to FAI Cup success at the expense of Dundalk, Bolger was in a good place ahead of last season. At that point — with the exception of leading goalscorer Sean Maguire — few would have disputed the view that Bolger was John Caulfield's most valuable asset.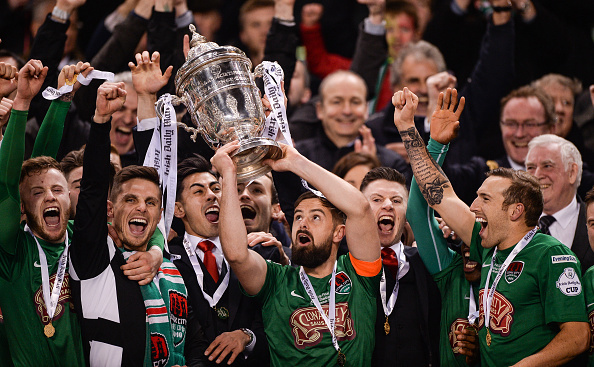 Seb Daly Bolger lifting the FAI Cup after Cork City's victory over Dundalk in the 2016 final. Seb Daly
However, while 2017 turned out to be a year of unprecedented success for Cork, Bolger didn't feature as prominently as he would have liked. Having been signed from Derry City, Conor McCormack capitalised on Bolger's absence due to injury early in the season. As McCormack tightened his grip on the defensive midfield role, Bolger's frustrations grew.
Aided by the 22-game unbeaten run they embarked on from the outset, John Caulfield's side romped to the club's first Premier Division title since 2005. However, Bolger was disappointed to have been restricted to just 14 starts over the course of a 33-match campaign.
"I think I played the first nine games, but then I got an injury to my calf which put me out for about four or five weeks," explains Bolger, who has also had spells with UCD and Dundalk. "From there it was kind of hit and miss for me. I was in and out of the team.
"It's hard to get back into a team when they're doing so well. John [Caulfield] didn't want to change too much, which was fair enough. But at the same time I was frustrated because I wanted to play. I felt I should have been playing but it wasn't my choice at the end of the day. I just put my head down and I felt I did well whenever I came in.
"Without sounding too arrogant, I just wasn't used to not playing. It was a frustrating time but it was a learning curve as well, in terms of how you handle yourself. I've been involved in teams where lads aren't playing and you can sense their frustration in how they act around the group. I was frustrated, but I was aware of making sure that it didn't show around the group.
"I obviously had a few words with John here and there to keep reminding him of how much I wanted to get in. You have to make sure as well that you don't make it all about yourself, because it's about the team. I wanted to make sure I was ready any time I was called upon."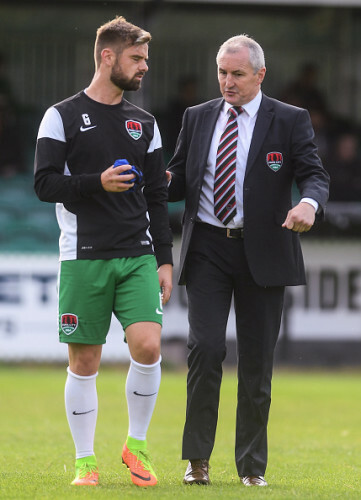 Ramsey Cardy Bolger with Cork City manager John Caulfield. Ramsey Cardy
Bolger's move to Shamrock Rovers wasn't announced until a couple of days after the game, but there was a sense of inevitability about last November's FAI Cup final representing Bolger's final appearance in a Cork City shirt. Although he had to settle for a place on the bench again, the 29-year-old ultimately made a vital contribution.
Before converting a penalty in the shootout against Dundalk which saw City complete the double, Bolger came off the bench eight minutes into extra-time and helped to revitalise John Caulfield's side, who were desperately in need of fresh impetus after falling behind.
"That's a great memory," Bolger says. "I really wanted to get on and do well. To win it then as well, I was buzzing. If I was going to be leaving — which was up in the air — then there wasn't going to be any negative feeling. I wanted to go out on a high by winning the double, so I was delighted."
While the fickle nature of the average football fan will ensure that Bolger will never be more than a mistimed tackle or important goal away from a frosty reception in Cork, for now at least he's fondly remembered by the supporters of the club where he spent two successful seasons.
The warm welcome he received at Turner's Cross on 12 March is likely to have stemmed from an acceptance on behalf of Cork City supporters that moving elsewhere was Bolger's only option. In the case of a player of his calibre and experience, an assurance of game-time is warranted. But due to the strength of his midfield options, John Caulfield wasn't in a position to provide it.
Bolger: "I loved every minute of my time in Cork. It's a great club, brilliant fans and I loved running out to play at Turner's Cross on Friday nights. But if I wasn't going to be guaranteed a spot — which I wasn't — then I kind of felt like I had to move on.
INPHO / Ciaran Culligan Bolger challenges Dundalk's Chris Shields. INPHO / Ciaran Culligan / Ciaran Culligan
"There's no better club to move on to than Shamrock Rovers. I've been lucky enough to play for some of the biggest clubs in the country — Dundalk, Pat's, Cork and now Rovers."
Bolger will face another one of his former clubs this evening when Shamrock Rovers travel to Oriel Park to take on second-placed Dundalk. A win for Rovers — who are currently fourth — would see them overtake the Lilywhites, but with Stephen Kenny's side yet to concede a goal in their eight games this season, a good result won't come easily.
"The aim for us, the same as every game, is to try and get three points but I don't think a draw would be a bad result either," Bolger says. "We drew with them at our place so there's nothing between the teams. We're going there in good spirits and if we can perform well I think we can get a good result. But everyone will need to be 8/10, 9/10."
Hoops manager Stephen Bradley played down their title aspirations after last weekend's win over Sligo Rovers. Bolger avoids making any bold statements to the contrary, but if he doesn't manage to win a Premier Division title with a third different club while in Tallaght, he doesn't believe it'll be down to a lack of desire.
"There's a good group of lads here," he says. "It sort of reminds me of when I first went to Cork, in the sense that we haven't won anything yet but the hunger is there to do that. Bar Ronan Finn and myself, I don't think many of the lads here have won anything before.
"The lads here are hungry and eager to learn every day. I'm not going to say we're going to win the league but the appetite is definitely here to be successful. Let's see where that takes us."
Premier Division

First Division