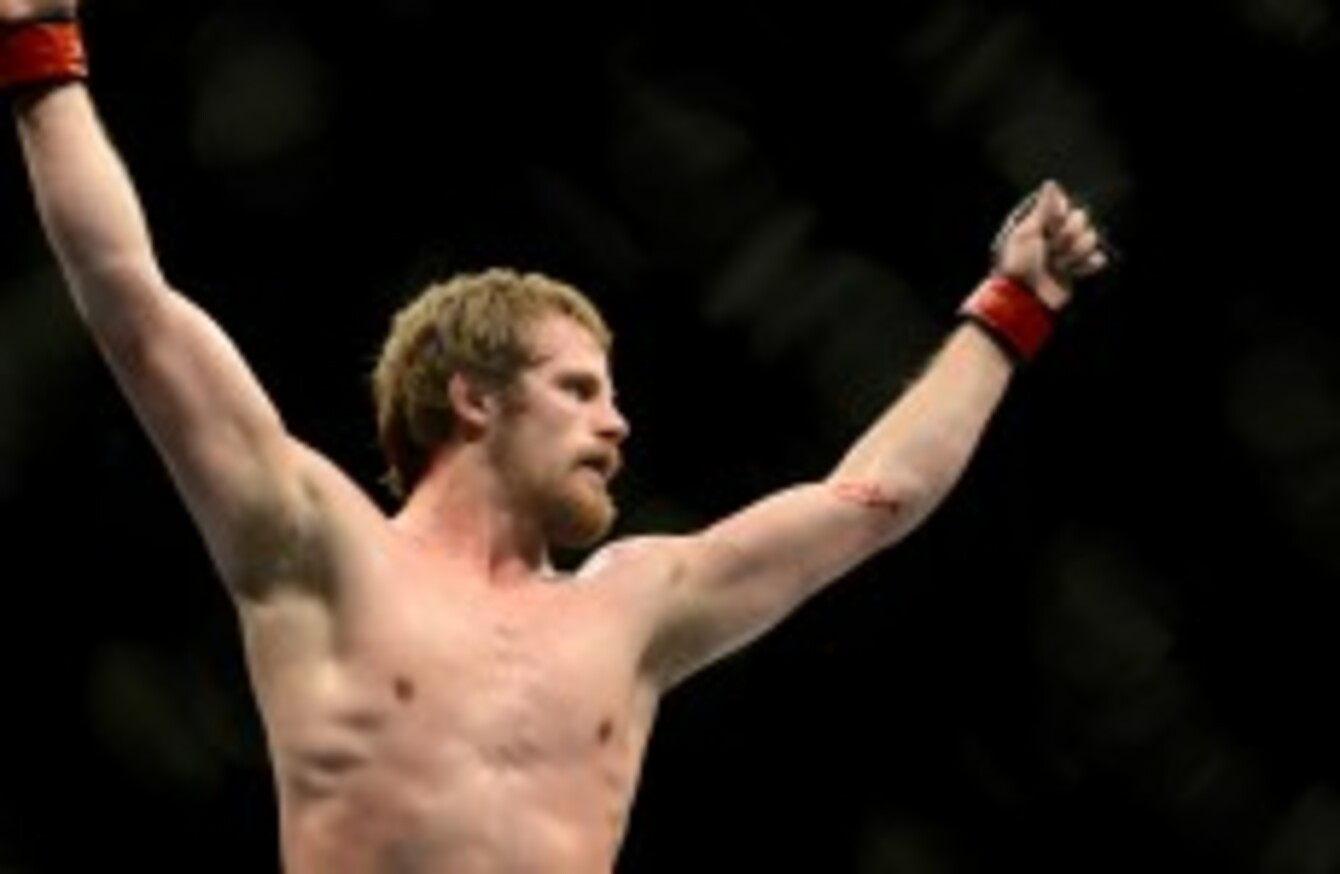 Nelson is in action on Saturday night.
Image: Rodrigo Romos/INPHO
Nelson is in action on Saturday night.
Image: Rodrigo Romos/INPHO
UFC PRESIDENT DANA White admitted being blown away by the electric atmosphere at the sold out Dublin event back in July.
Just short of 10,000 fans lifted the roof off the then O2 Arena as Conor McGregor made it a clean sweep of wins for the five Irish fighters on show with a first round TKO of Diego Brandao.
As he has habit of doing, 'The Notorious' stole most of the limelight on the night. In stark contrast, Gunnar Nelson quietly went about his business with devastating efficiency by disposing of Zak Cummings with a second round submission in the co-main event.
The Icelandic welterweight, warmly known as "Ireland's adopted son" was given an incredible reception but it doesn't come as much of a surprise when you consider five of his 14 professional fights have taken place here.
"I've been here with one foot since I was about 18," Nelson told TheScore.ie. "I've fought here many times and a lot of people actually think I'm Irish. I guess I'm half-Irish at this stage.
"UFC Dublin was something else. The vibe in the arena was like nothing I've ever experienced before. It's a night that we will never forget. All the guys on my team getting a win and just everything about it.
"Even when we walked out for the weigh-ins, the crowd went crazy and we just got such a good response.
"I've fought in front of 20,000 people and it didn't even come close to this. It felt more like 60,000-100,000 people because of the amount of power that was in this crowd.
"It has to be something special for Irish people to be throwing away beer! That's not an everyday thing."
Nelson's connection with his "second home" stems from a meeting with SBG Ireland founder John Kavanagh in 2006. Kavanagh was over in Reykjavik to give a seminar when 18-year-old Gunni, who had been training in karate, showed up.
"I guess he, like many other people, he thought I was a bit emotionless so he tickled me to death," he recalls.
"I didn't know anything about grappling at that stage and he was just unbelievable. I decided from there that I didn't want to be tickled to death anymore so I began training with him."
Eight years on, Nelson's bond with the man known as "the Godfather of Irish MMA" is stronger than ever.
John keeps surprising me," says Nelson. "He has always been this way. He's sees things from different perspectives and has got a different angle on things. A lot of times us fighters see things from inside the cage but he is watching from outside and always picks up the things we don't. That is so important. He has a special eye for it.
"I learned to grapple from him and I adopted a lot of his movements and his game. I think one of the reasons why I'm pretty good at fighting bigger guys is because of that.
What are they
really like?
Rare insights on sport's biggest names from the writers who know them best. Listen to Behind the Lines podcast.
Become a Member
"He is a small guy and he was always fighting bigger guys so his style of grappling was very much technically-based on moving yourself and never getting attached in any position unless it's the very end of the best one like taking the back or taking mount or sinking in the choke. It's very basic but as efficient as you can be."
The misconception that Nelson lacks emotion is one that has followed him around for some time. Always relaxed when fielding questions from the media, he possesses an incredible calmness and is thoughtful in his answers.
"I've never been known with my friends or family to have little emotions. It actually would be the other way around since I was young. Maybe I wasn't as calm when I was young.
"I've always had quite strong emotions but in my later years I have calmed down and learned to guide them in the right direction. I guess in this game you have to. It has worked for me anyway this way."
It certainly has worked for him. The 26-year-old remains unbeaten with 13 wins and one draw while five UFC bouts have produced as many wins. Currently ranked 12th in the welterweight division, Nelson headlines this weekend's event in Stockholm when he takes on Rick Story (17-8) at the Ericsson Globe Arena.
Source: UFC - Ultimate Fighting Championship/YouTube
As ever, preparations have not focused on Story but on constantly improving his own game. After a four-week training camp in Dublin was followed by a brief trip home before they touched down in Sweden earlier this week.
"We always take the same approach. We don't really put any thoughts on our opponent until we step into the Octagon. We know all the guys anyway and I've seen him fight many times in the past so I know what kind of fighter he is.
"He is a very tough, experienced fighter who has got good wrestling and good hands. He knows everything.
"Our approach is that you don't know what it is going to be until you step in there and get the feel of his energy. There is no point making big gameplans, we just work on our own game and then we just go in there and do our own thing."
Kavanagh has flown straight over from Las Vegas after McGregor's win on Saturday while Nelson's team-mate Cathal Pendred also gets his second appearance in the Octagon for what is sure to be another huge night for SBG.
"It's an honour to be the main event," adds Nelson. "Especially as it's our neighbours in Stockholm. We've been looking at how the Swedes have been working with the government and getting MMA legalised and putting on competitions.
"I've watched the scene there for awhile and it is so rapidly growing. Headlining this card is going to be huge for me and I'm very excited."