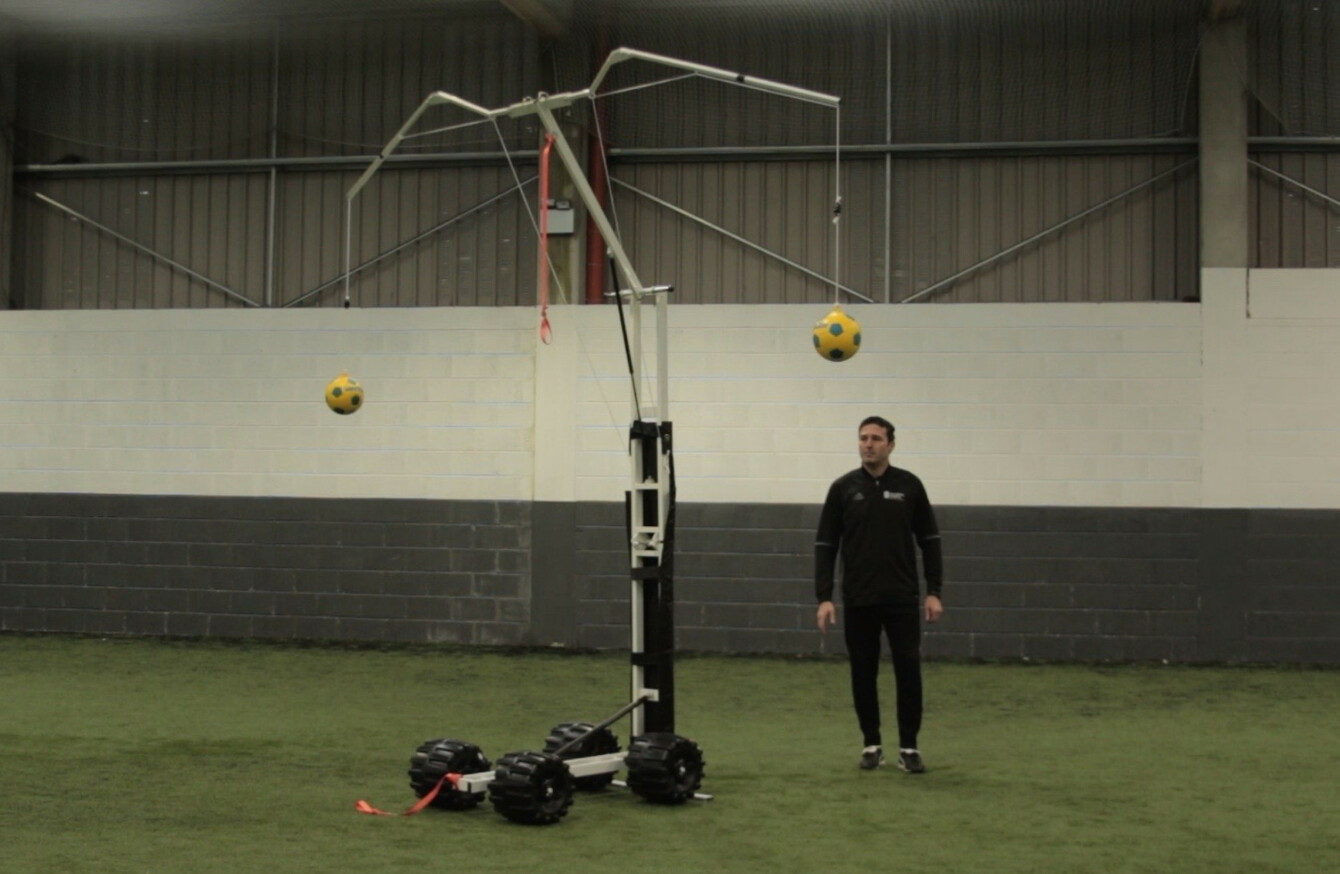 The Headrite training aid has been developed to improve heading skills without the impact of a real football.
Image: Headrite Sports
The Headrite training aid has been developed to improve heading skills without the impact of a real football.
Image: Headrite Sports
EARLIER THIS YEAR, the most detailed study ever conducted into dementia in retired footballers concluded that the condition could be connected to "repeated head impacts", either caused by collisions or the thousands of headers a player may have executed in their career.
The study, by Swansea University and University College London and published in Acta Neuropathologica in March, included post-mortem examinations of six players who suffered dementia and found that all had suffered from a tearing of the brain membrane, consistent with the repetitive act of heading a football over their lifetime.
For contrast, the incidence of membrane tears in the general population is about 6%.
The post-mortem exams also concluded that four of the six players suffered from Chronic Traumatic Encephalopathy (CTE), a disease prevalent in just 12% of the general population.
CTE is a disease that came to prevalence in American football where it was determined it was just as likely to be caused by the repetitive sub-concussive collisions between offensive and defensive linemen — just like heading the football — as it was any knockout blows.
In advance of his documentary on the BBC last weekend, Alan Shearer told the Telegraph he had serious concerns about what heading the football had done for his long-term health:
"I am concerned that I might develop dementia, it is definitely something that bothers me, that I might not have a future because of football," Shearer said.
"I've had head injuries on the pitch and you run off and get a few stitches and you get bandaged up and you're straight back out. It was what was expected.
But it's more the damage that happened by continually heading the ball in practice. That's what worry's me. Then you would be heading the ball 30, 40, 50 times."
But, as underage footballers in the United States become the first in the world to be banned from heading the football, one former League of Ireland player has devised a solution that could allow the skill of heading the football to remain, while making the practise of it safer for all.
Former Cork City and Galway United midfielder Mark Herrick founded Headrite Sports to develop an "innovative training apparatus that increases heading proficiency and decreases head injuries in football."
The training aid, which will be available for clubs to trial and buy later this month, is specifically designed to improve timing of headers and incorporates wearable technology to monitor performance.
But the idea is one Herrick had long before talk of dementia or CTE.
"The concussion or traumatic brain injury issues never dawned on me until recent years," Herrick told The42 this week.
"But I remember seeing footage of Santos in the 1970s on VHS. And I saw Pele jumping and heading a ball that was suspended from the overhanging stand.
"As a 15-year-old, I wanted to be good in the air so I put a football in a pillow case and hung it from the washing line at home. I was there, jumping up and down and perfecting my technique as much as I could.
"This was the same summer where Ray Houghton scored his great goal against England from a header.
"When I went back to my underage club, Renmore, in Galway after the summer, my timing had improved significantly. I was not only winning balls in the air but I was scoring goals with my head and it was a part of my game that stood to me throughout my career.
"I recreated this in training a few years ago when I was involved with a League of Ireland club — I was the assistant manager with Mervue — and I wanted our players to be better in the air.
"We'd no budget, but the margins in football are so small we thought this was one area we could make a real improvement in. I came up with a frame for heading footballs and this is where it all stemmed from, trying to make it available to other clubs.
In the last couple of years, when it started to become apparent that heading the football was problematic thanks to the great research that was being done, I rethought our device.
"As it's all about timing and the ball comes at a much lower speed, you don't need as heavy a football.
"In fact, we could put a foam football on the frame and use it for underage players so they could get better at heading without the heavy head impact of a traditional football used in standard training."
But Herrick knew that, in order to develop a product that he could stand over as providing safer training for both adults and kids, he had to do his due diligence.
It looks simple — a football hanging from a bar and adjusted to different heights with movement incorporated — but it's much more complicated than that.
"I spoke to Sterling University — who featured in the Alan Shearer documentary — and got involved with UCD.
UCD did some research with our football — and different weighted match footballs travelling at different speeds — and studied the impact that would have on the brain through computer simulation.
"The average speed that our ball is headed at is 8km. Because the ball is always moving, you still have to time your jump correctly and, because the most important headers on match day are usually the ones when you are airborne, we've likened this to being able to swim and walk in water.
"A lot of players are out of their depth when they are in the air, but — through research with NUIG — we can prove there is an improvement with head-eye coordination using our device."
Testing has also been carried out outside the lab, with research into impacts, vertical jump and timing all studied with the help of Galway club, Maree/Oranmore FC.
SEE SPORT
DIFFERENTLY
Get closer to the stories that matter with exclusive analysis, insight and debate in The42 Membership.
Become a Member
Herrick is keen to point out that his device is not something that should be used every day, rather a training aid to take some of the burden off the constant heading of regular weight and size footballs.
As well as the device itself, Herrick and his team have devised a number of drills aimed at different skill levels and different ages.
"On the surface, from a user point of view, it's a very simple piece of training kit," he says, but its long-term impact could be huge.
"[The future of heading the football] is a global issue, and we had to be very careful when developing this.
"We've done our research and we've taken as many steps as possible to make sure this is safe to use and has proof of competency.
"Purdue University in Indiana are another that has done some ground-breaking research that shows the long-term damage caused by repeated sub-concussive blows.
"And the problem for the likes of Uefa and Fifa is that this could eventually reduce participation.
There are possible rule changes they can bring in like banning heading, like they have done for some underage players in the US. But, because you're not allowed head the ball, opposition teams are deliberately kicking the ball out for corners because they know it's not a disadvantage any more.
"So, for me, it's not as straightforward as banning heading or, as they do between 10-14 in the US, limit it to 20 headers per week — I don't know how you even monitor that.
"Now, it is necessarily cautious in light of the research, but there must be a way to keep such a valuable skill — 22% of all goals in the Premier League are headers and 20% of assists are headers — in the game while maintaining player safety.
"I don't think it will be banned, but it's my belief that every federation should at least have a policy on heading.
Kids don't play on the street any more, they don't play headers and volleys, so the only training in headers they get is with their clubs.
"For me, clubs should therefore have a policy on heading the football.
"We definitely shouldn't fire balls at kids and have them heading them, especially with the floodgates of information of how damaging that can be in the long run opening up."
The42 has just published its first book, Behind The Lines, a collection of some of the year's best sports stories. Pick up your copy in Eason's, or order it here today (€10):