JAMIE HEASLIP DIDN'T quite let the name of his greatest desire slide out from his lips, but he might as well have had little William Webb Ellis Cup signs ring up in place of the pupils of his eye.
On a day when Ian Madigan was a prime example of the drawbacks that potentially lurk beneath the lucrative figures associated with a move abroad, Heaslip and his newly inked IRFU contract was excitedly looking at the possibilities within the scope of his new two-year deal.
"There is one thing I haven't won that I would like to win," said a grinning Heaslip, the holder of Six Nations, Pro12, Heineken and Challenge Cup medals and vice captain of a team who beat the All Blacks, Springboks and Wallabies last year, but began 2017 with defeat to Scotland.
"I would like to add a couple more things to what Leinster have won as well.
"I like winning!
"I think any professional player that has ambition (does). I have been lucky to have a lot of success. It actually makes you hungry for more, to be honest.
"It makes all the crazy stuff that we do, sacrifice-wise, family-wise, friends-wise, pay off in a big, big way. That is something that drives me."
This time around there was no great drama or wrangling over Heaslip's future. A coy glance abroad perhaps, but nothing too serious. The number eight is content in his home province and the facilities and opportunities that come with the package. Less pertinent, insists Heaslip was the IRFU's power of control over its playing resources which help to limit fatigue, if not necessarily injury.
Values
"I don't think it would have mattered where (I was playing rugby). I physically and mentally feel very good. I don't think that specifically is something (important).
"I just thought that the opportunity that was ahead of me, the decision on all the things that go on in my life that (staying) was the best decision for what I wanted to do, according to what I'm about, what my values are about – I'm very happy."
He added: "I have been lucky enough to visit other places, sporting environments, not necessarily rugby, and Leinster is one of the best facilities out there.
"We are very lucky we have some of the best coaches right now in our club, best S&C, amenities like I said, and a really strong culture and identity.
Culture goes a long way. You can have all the money in the world, but not have any culture and I think for sustained success of an organisation or a club it is really important going forward."
Before ensuring to actively reel back his projected World Cup age from the suggested 36 to a mere 35, Heaslip said he felt "really lucky" to feel fit and able to compete at the international grade for at least two more years. In the immediate aftermath of the painful quarter-final exit to Argentina at the last World Cup, he had hinted that 2019 might be a season too far, but it was more than just the fresh-out-the-shower appearance that gave off an impression of a reinvigorated Jamie Heaslip.
"In 2015, I probably just meant that you just don't know in rugby. I've seen too many guys, my peers, guys who started the same time as me, guys who started after me, who had career-ending injuries.
"You just don't know. That's probably what I meant. I felt very lucky to be able to go to two (Rugby World Cups) and, if I get a chance to go to a third, that would be amazing.
"What drives me is adding value to the club or the country, to the jersey. I still think I can add a lot of value to it."
Exclusive Six
Nations Analysis
Get Murray Kinsella's exclusive analysis of Ireland's Six Nations campaign this spring
Become a Member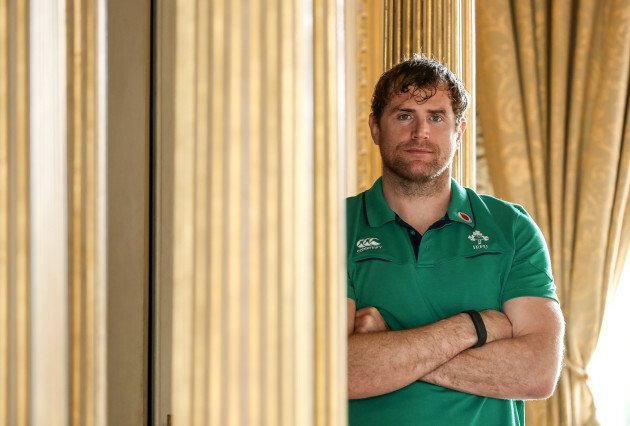 Dan Sheridan / INPHO Dan Sheridan / INPHO / INPHO
If it feels odd that Heaslip was targeting a World Cup midway through a Six Nations campaign, don't worry, the Kildare man is never far from checking his stride to prioritise the upcoming clash with France as the most important game on his radar. But it's also a step along the road to the ultimate goal.
"I think everyone involved wouldn't be involved if they don't have those ambitions. But like, you have got to work back from there…even if you got in a position where, say, you are in the 'final' there is still a lot of things out of your control for that to happen.
"But working back from that, it comes back to: 'what we can do today? Build on that tomorrow.'
"You might have that long-term ambition, but one thing I have learned is that when you start looking down the road, it is the thing in front of you that kills you so you have to keep your eye in front of you and what's going on."
Subscribe to The42 Rugby Show podcast here: