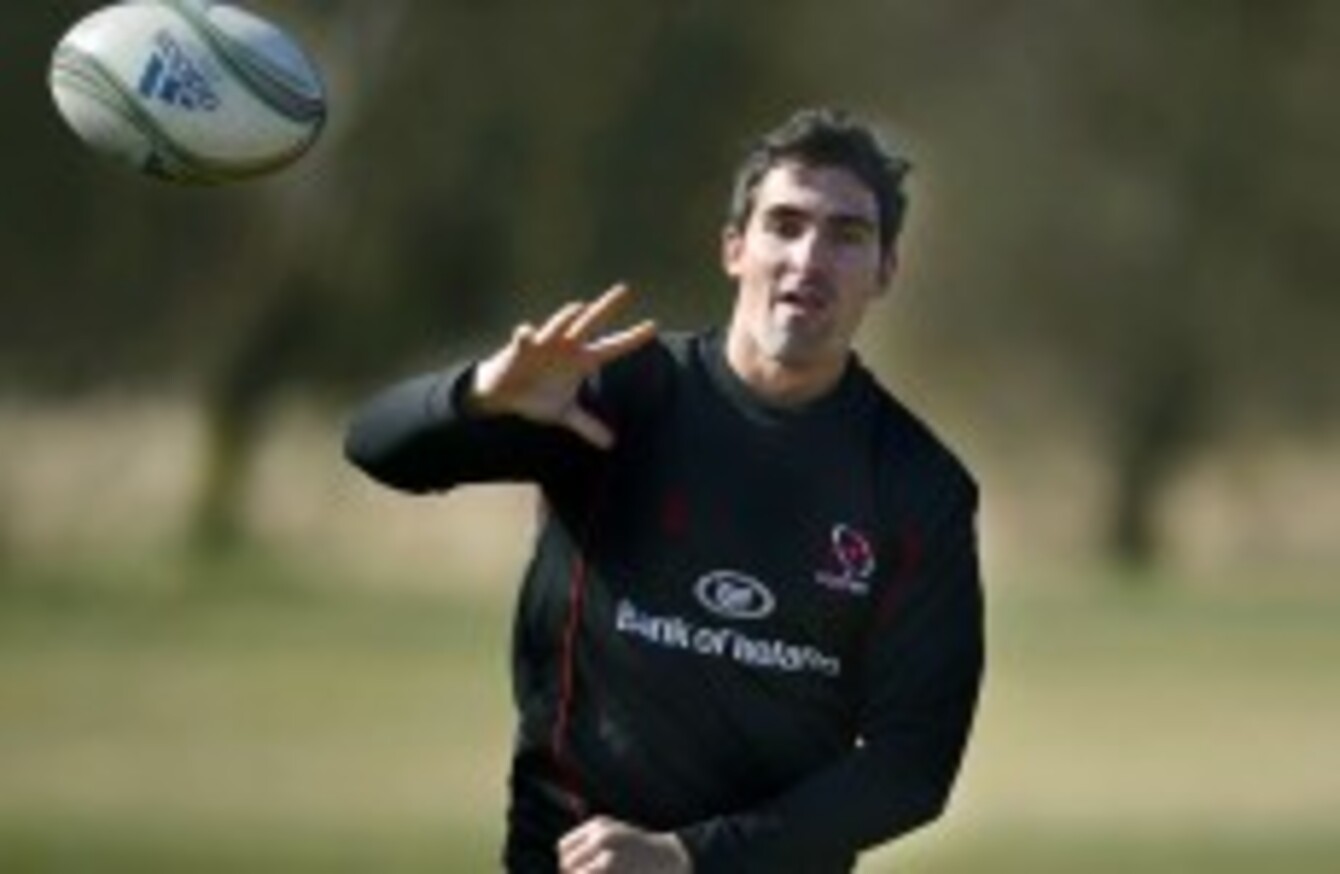 Single-handed: Ruan Pienaar is crucial to Ulster's cup hopes.
Image: ©INPHO/Presseye/Russell Pritchard
Single-handed: Ruan Pienaar is crucial to Ulster's cup hopes.
Image: ©INPHO/Presseye/Russell Pritchard
ONE OF THE most endearing aspects of Ulster's quest for silverware this season has been their honesty in stating goals.
Whether it is an established star like Chris Henry or an emerging talent, such as Luke Marshall, the Ulster players will look you straight in the eyes [or tell you down a phone-line] that they are targeting trophies.
Ruan Pienaar is no different. Since arriving at the province in the summer of 2010 there has been a direct correlation with the South African's imperious performances and Ulster's upturn in fortunes.
"I don't think anyone would have expected us to be in a position like this," Pienaar told TheScore.ie.
A few years ago, when I arrived at the club, Ulster were in a bit of a bad place. It is only when things started clicking, and we made the Heineken Cup quarter finals in 2010/11.
"We managed to make it to the final last season. Slowly we are progressing, being in the playoffs every year and hopefully, at some stage, we will get some silverware.
"Every team enters a competition to win it and it is the same for us. Hopefully, for us, it's sooner the better."
Enjoy it while you can
With Isa Nacewa heading back to New Zealand at the end of the season and the IRFU trying to develop Irish-born players in key positions, Pienaar's time at Ulster could be limited.
The South African said, "I'm enjoying my time here and I still have another year to go on my contract. You never know what will happen but if I get an option to stay it is something I will definitely look at.
"That will be something to worry about next season. My main concern now is to end the season well."
Ulster players, including Paddy Jackson (r), celebrate with Pienaar after defeating Castres. (©INPHO/Presseye/Darren Kidd)
One player that could make the future loss of Pienaar talents bearable is Paddy Jackson, who has split the kicking duties with his half-back partner for much of the season.
Pienaar said, "He had some unfair criticism and I think some people forget how young he is. He's one of our leaders and always gives his input on the field.
"He's only going to get better for us and for Ireland. I'm excited to see what he can do next."
Pienaar and Jackson have been preparing themselves all week to face a fearsome Saracens team, led by former Ulster coach Mark McCall.
The Springbok international said, "They have a rush defence that puts you under pressure but we'll be looking at playing in the same style we have been playing all season."
Getting the Blues
Pienaar admits Ulster were beaten by the better side on their last day out at Twickenham but feels the Pro12 win over the same opposition, last weekend, could provide the momentum needed to finish the season on a winning note.
"It was an important win for us," he said. "We had gone through a tough time for a couple of weeks beforehand and top get a result like that was pretty positive, especially going into this weekend.
"We need to build on that now. It is the business end of the season and we have to get some of the momentum back that we have lost."
Saracens are set to welcome Namibian flanker Jacques Burger back into their line-up for this Saturday's clash. Pienaar has some words of advice for his provincial teammates. He said:
He's a kamikaze pilot of a player. He just puts his body on the line and his running at defensive lines is a handful. He will be a handful and we have to watch out for him if he plays.
Asked if he is in touch with Sarries' South African born players such as Mouritz Botha and Schalk Brits, Pienaar says he is 'friendly with them' but proclaims, just like his Ulster teammates, they will never convince him to join Twitter.
"A lot of the guys have said I must get onto it but my life is private and that's what I am," he said. "I don't think you'll see me on it any time soon."
Ulster supporters would be much happier seeing Pienaar off Twitter and on the winners' rostrum in the coming months.
*TheScore.ie will be liveblogging Saracens v Ulster at Twickenham from 6pm on Saturday