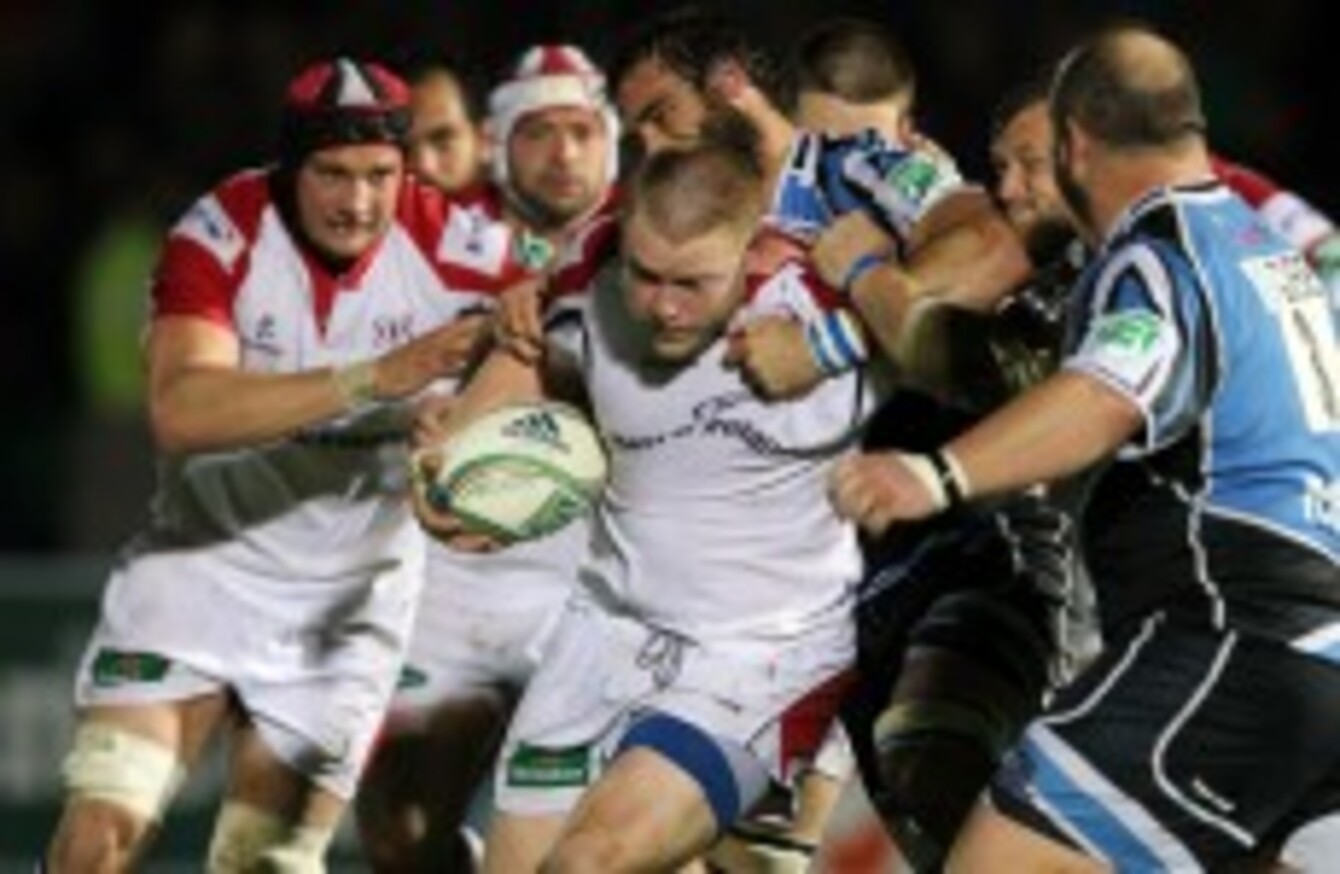 Image: ©INPHO/Presseye/Ian MacNicol
Image: ©INPHO/Presseye/Ian MacNicol
Ulster can win ugly, real ugly
If you see a 30-second highlight package from this game over the weekend, then Sky have over-egged the pudding.
It was dire.
Yet, here we wE are after two games with Ulster sitting three points clear at the top of pool four without having put an 80-minute performance together.
Last night at Scotstoun was no place for running the ball, or releasing delicate offloads, but Ulster tried it anyway and It didn't work.
Even with a back-peddling scrum, a shaky line-out and a back-line extinguished by the conditions; Ulster found a way. When all else failed, they turned to the maul and were rewarded by Chris Henry.
Behind the pack, Paddy Jackson showed maturity well beyond his tender years. Mark Anscombe has entrusted the 20-year-old with the responsibility of a primary goal-kicker and he did not come close to disappointing. The one miss among his six attempts was his first attempt of the night, and it was from the half-way line.
Ulster needn't worry about their number 10.
Which Leinster will show up?
They've been the best team in Europe for two years, but today we will find out whether the crown really is slipping or whether it was just in need of a polish.
On the opening day of this season Joe Schmidt took his side as top dogs to Parc y Scarlets. They returned with tails firmly tucked between their legs after a 45-20 whipping. Sure, only three names in Leinster's starting XV today were involved that night, but even with the big guns back the have only fired in very short busts.
As was made evident by Scarlets' heroic display against all the odds in Clermont, Simon Easterby has a young team spilling over with self-belief. And they have the skill and athleticism to match.
A defeat would all-but end the home side's hope of progressing to the quarter-finals, but Leinster will feel their performance is much more important to their chances of appearing at the Aviva next May.
How do Connacht attack without the element of surprise?
Once-bitten at the Sportsground, nobody expects Harlequins to fall into the bear trap again. Add to that, an underlying mood of insecurity over Connacht since Eric Elwood announced he would leave the scene at the end of the season and all logic points to a win for the Premiership champions.
However, logic can be a peculiar beast and it so often leaves us right at the point we feel it can be relied upon. Hunger, passion, desire; these are the illogical reasons behind why Connacht just might (maybe) humble the might 'Quins again.
There is also a method to unfold this madness; it lies in the game's pivotal position, the number 10.
This is one area of the field which Connacht appear to have an upper hand. If John Muldoon, Willie Faloon and George Naoupu can get down and dirty enough to disrupt 'Quins in-form back row, then they can put the game in the hands of Dan Parks.
Ben Botica is undoubtedly a talent, and he has pretensions of becoming an All Black, but a wintry 6pm kick-off in Galway's cauldron is not something which can be planned for. Parks must relish the opportunity of controlling the game with his right boot, giving Botica ultra-fine, ultra-slippy margins to work with.
The real Munster will stand up and fight
Last week, Munster lost a game which, in their heyday, they could have won in their sleep. The precociousness of youth still showing in Conor Murray and the absence of Ronan O'Gara had a massive part to play in that. But Rob Penney must ensure that a home tie with Edinburgh comes nowhere near being decided by such fractions.
The late horror show in Paris brought Munster's losing streak to three, but all have been away from home. Tomorrow, with Paul O'Connell and Donncha O'Callaghan back in tandem,  Ian Keatley should have the run of Thomond Park – no matter what the kick-off time.
Whatever emotional shackles a young fly-half feels with O'Gara waiting impatiently on the sideline will be cast off. This is the time for Munster to show how quickly they have moved along the evolution curve since Penney's arrival. And time for Keatley to prove he can own the red number 10 shirt.
Time to turn performances and generous plaudits into the cold hard currency of results.