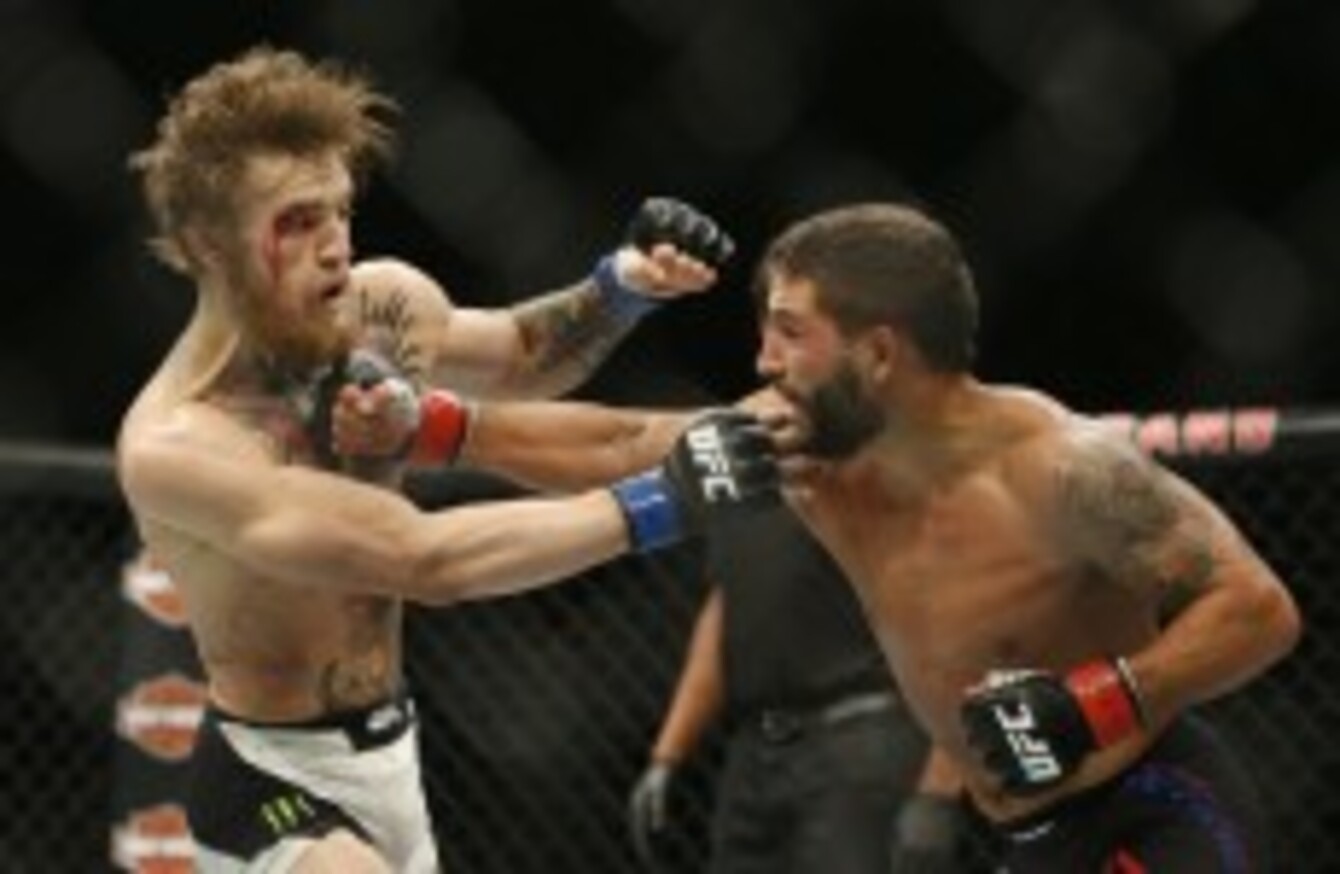 Chad Mendes, right, punches Conor McGregor during their interim featherweight title mixed martial arts bout at UFC 189.
Image: AP/Press Association Images
Chad Mendes, right, punches Conor McGregor during their interim featherweight title mixed martial arts bout at UFC 189.
Image: AP/Press Association Images
CONOR MCGREGOR HAS been widely praised after his defeat of Chad Mendes at UFC 189 last night.
Writing for MMA Junkie, Steven Marrocco called it the toughest test of McGregor's UFC career thus far, adding that the fight justified the considerable hype that preceded it.
"Somehow, the fight rose above all and surpassed expectations. McGregor (18-2 MMA, 6-0 UFC) survived the toughest test of his UFC career and stopped Mendes (17-3 MMA, 8-3 UFC), a three-time title challenger, in the second round to win the interim title and send his Irish fans into a frenzy."
Yahoo Sports' Kevin Iole highlighted the numerous problems that McGregor's opponent caused him.
"It looked bleak for McGregor, but when Mendes went for a choke, McGregor spun out. With time in the second round running down, McGregor fired a hard right and then followed it with a blistering left that dropped Mendes near the cage.
"McGregor followed him to the floor and landed a couple of shots before referee Herb Dean jumped in to stop it at 4:57 of the round.
"The place, which was filled with McGregor's loyal Irish fans, erupted with an ear-splitting roar as Dean waved his hands over his head, officially ending the bout and giving McGregor the belt."
In addition, he praised the Irish fighter's resilience in the face of turmoil.
"[Mendes'] wrestling was even more dominant in the second, as he put McGregor on his back and dropped a series of crunching elbows on him.
"But the wily McGregor, who had been criticised by some for being moved up too quickly by the UFC, showed the courage of a champion by not only getting up, but by finishing the fight."
Meanwhile, Michael Stets of MMA Mania also emphasised McGregor's ability to silence the critics.
"Most experts were picking Chad Mendes because they weren't confident in the Irish featherweight's wrestling ability or take-down defence. Mendes was to be his first real test. McGregor got taken down, but he remained patient, took his lumps and when he got back to his feet, made every strike count before closing the show.
"It was an outstanding performance by McGregor, and after all the months of promotion and non-stop build up to the fight with division champion Jose Aldo, and then this fight versus Mendes (after he stepped in), he delivered. The new interim Featherweight champion proved he can take a big shot and that he can defeat a stud wrestler in his division.
"There is nothing left to say about him. McGregor is for real and UFC 189 was his official coronation. He is a bonafide megastar."
Furthermore, MMA Fighting focused on the surprisingly humble reaction of both fighters, in addition to looking ahead to the seemingly inevitable McGregor-Aldo showdown.
"McGregor, holding the Irish flag, collapsed to the mat in tears upon winning, as a heavily Irish crowd exploded in delirium.
"Mendes, for his part, expressed respect for McGregor after the two traded barbs all week.
"The result sets up what promises to be one of the biggest events in UFC history, when McGregor eventually meets longtime champion Jose Aldo, who pulled out of the fight two weeks in advance with a broken rib."
Moreover, Bleacher Report went as far as to hail McGregor as the 'UFC's biggest star'.
"The most incredible thing on Saturday evening—and this means something because it happened after a night full of incredible things—was the way the Irish celebrated after Conor McGregor knocked out Chad Mendes in the second round to become the UFC's interim featherweight champion.
"At first, they stayed, and that is saying something in and of itself. Typical Vegas crowds will begin filing out of the MGM Grand Garden Arena immediately upon the conclusion of an event and often even before Bruce Buffer announces the final winner.
"Not this crowd. People stayed, at first in their seats, holding their Irish flags aloft in the air and singing songs. Then they moved, to the concourse and beyond, filling the depths of the MGM Grand casino with their festive sounds, stopping only to bounce up and down and throw beers and high-five.
"If you aren't familiar with the word craic, it's an Irish way of saying you are having a good time. And the Irish, who made Las Vegas just another version of Dublin on this night, were most certainly having a good craic."
Finally, BBC Sport received some flak for describing McGregor as the "first UFC champion from the United Kingdom and Republic of Ireland".