Updated at 20.04
ARGUABLY NO OTHER coach in the history of football has enjoyed such success in so little time as Bob Paisley.
Along with Carlo Ancelotti, he is the only manager to win the European Cup/Champions League three times.
In nine years in charge at Liverpool, he won an incredible 14 trophies, after taking over from the similarly successful and equally iconic Bill Shankly.
What also made Paisley stand out was his unique personality. Unlike most modern managers, he was a reluctant public speaker and could hardly be described as media savvy, given that he possessed little to no interest in self promotion.
And perhaps partially on account of these modest traits, Paisley's achievements have been downplayed by some critics, with the unfair claim made in some quarters that he was no more than a steady pair of hands who benefitted from taking over the great team that Shankly had built.
His persona has also been perceived in a simplified manner and the nuances in his character glossed over with the passing of time.
However, a recently published biography of Paisley, written by British sports journalist Ian Herbert, entitled 'Quiet Genius,' seeks to re-evaluate the venerated boss and go beyond the stereotypical portrait, while providing a deeper insight into this relatively complex figure, through a mixture of comprehensive research and in-depth interviews with those who knew him best.
The42 recently caught up with Herbert to chat about the book…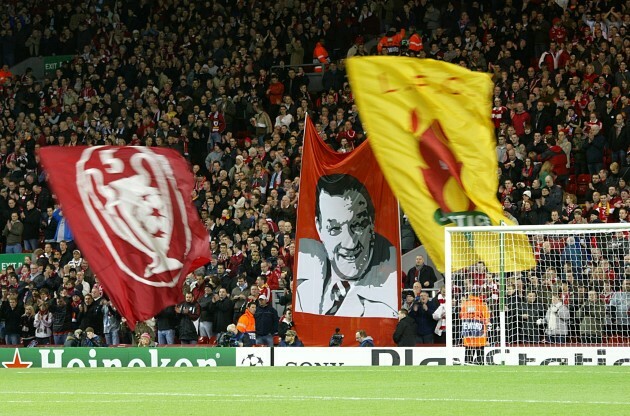 EMPICS Sport Liverpool fans show their support by waving large flags, one of which depicting former manager Bob Paisley, during a Champions League match in 2008. EMPICS Sport
What prompted you to write the book?
When I was growing up, I watched a lot of Liverpool in that period — the '70s. As I got older and analysed football as a journalist, I wondered a bit more about what it was that made Paisley tick and what his secrets were.
There never seemed to be that much written about him, aside from him being this slightly eccentric, avuncular guy. I thought there must be more to it than him just being a nice guy. So that's where I came from — (Liverpool and Paisley) being part of the fabric of growing up watching football and wanting to know a bit more really.
What surprised you and went against the stereotypical notion of Paisley?
He was tougher than I thought. One of the consistent themes was that the players didn't all like him that much, though they respected him.
He was very uncompromising and that was a big surprise — the idea of him being like an uncle or a grandad shuffling around Anfield with his slippers and a cardigan was quite a long way from the truth. In my mind, I wonder whether that was partly a front to create a false sense of security about him, making people complacent about Liverpool and what he thought.
Did being in the army during the war have a significant influence on him as a person?
He didn't say an awful lot about that, either to his family or in interviews afterwards, other than to describe his experiences in the war.
But it just seems logical to me that it must put a lot of things into perspective, when you've actually served in war and you've seen people who you served with killed in duty.
I don't think he came back home psychologically affected by it. I think it was more his upbringing that hardened him. A lot of footballers had known poverty in that time. They weren't namby-pambys, they didn't expect anything, they just wanted to win football games.
Unlike a lot of managers, he was actually a very good footballer who played at a quite high level, didn't he?
He was a left-half, he was a very tough defensive midfielder as we call it now. He captained Liverpool in 1950 in a First Division title-winning team. He just wasn't quite good enough to be an England left-half, in a time when there were other left-halfs who edged him out.
He was a really important part of the Liverpool playing staff for a long time. If it hadn't been for the Second World War, he would have had a longer career. But like a lot of those players, his career didn't really get started until 1945. And by the early '50s, it was reaching the end.
I think that was significant about the Second World War, rather than affecting him psychologically, like a lot of players, it cut short his career, because it went on for six years.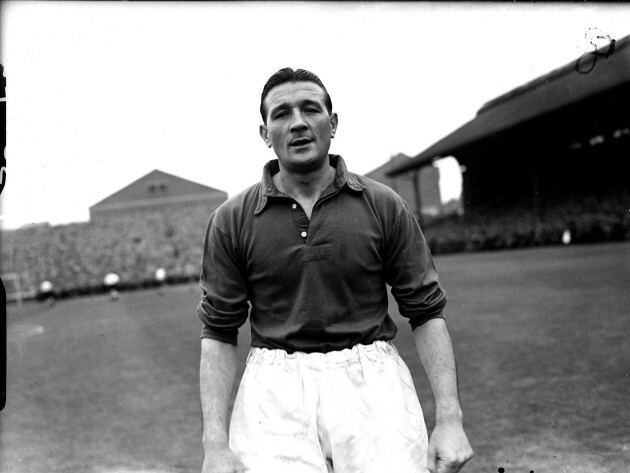 S&G and Barratts / EMPICS Sport Paisley pictured during his days as a player. S&G and Barratts / EMPICS Sport / EMPICS Sport
You mentioned that a lot of the Liverpool players who worked under him didn't really like him. Why was this the case?
To some extent, it was the usual thing about all players wanting to play. But I think that was (exacerbated) by two factors.
In that Liverpool team, there wasn't much of a squad. He played the same players in all competitions really.
Once you were out of the team, it could be very hard to get back in. It wasn't like you could get a chance in a League Cup game — there were a lot of players who were in the squad but hardly got a look-in.
In those days, the salary was affected to a large degree by how many times you played. The game bonus contributed a big percentage towards your salary. So there were conventional reasons for not liking the manager.
The other thing about Bob was that he was not very good at fronting up to players when they weren't going to play, and then they might find out they were (omitted) through the Liverpool Echo the day of the game.
He didn't handle that side of things well. He wasn't very good at being honest, and that exacerbated (the ill-feeling among players).
Those were the factors and he could be very brutal about it. He could cut people out very quickly. But the most successful managers are the ones who are able to be ruthless and he was ruthless about team selection, and that's why he won games.
Jack Charlton was in the running for Liverpool manager's job, along with Paisley, after Shankly stepped down. How would he have gotten on as manager?
It would have been a very different sort of Liverpool team. What was good about Paisley was that he very much carried on what Shankly brought through. He wasn't so egotistical to rip it up and start again like a lot of managers did then and certainly do now.
I can't see how Charlton would have succeeded in the way that Paisley did. Liverpool had a collective culture of playing football that Shankly introduced and Paisley carried on, and I don't think Charlton would have done that.
Who knows? But it's hard to imagine they would have had the same success if Charlton would have taken over that team.
Was there a degree of envy from Shankly at Paisley's position ultimately, given how he clearly missed being Liverpool manager after a while?
'Envy' is quite a hard word, but Shankly immediately realised he'd made a mistake by stepping down. By the time he realised it, Paisley was ensconced in the job.
It's fair to say there was some tension, because Paisley felt Shankly's presence around the training ground wasn't helpful.
It's a fascinating period — the 1974-75 season, where you've got him trying to make his way and Shanks in the background.
But what's important about that relationship is that, as the years went by, Shankly was always welcome around Anfield and he was at Anfield a lot
When they won the European Cup in '77, Shankly was very much part of the celebrations. And he would often be found just inside the players' entrance at Liverpool, shaking hands with all the players.
These days, there's a lot less of that now — Van Gaal welcoming Mourinho, or Rodgers welcoming Klopp (is hard to imagine). There's more ego in management now than when Bob took over.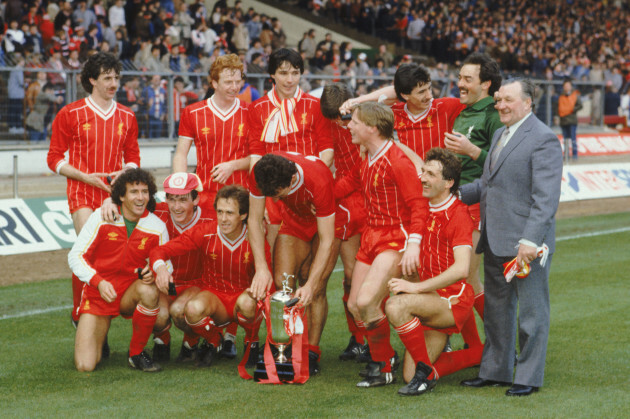 EMPICS Sport Liverpool celebrate with the 1983 Milk Cup (back row, l-r): Mark Lawrenson, David Fairclough, Alan Hansen, Ronnie Whelan, Ian Rush, Bruce Grobbelaar, Bob Paisley; (front row, l-r): Craig Johnston, Kenny Dalglish, Phil Neal, Graeme Souness, Sammy Lee, Alan Kennedy. EMPICS Sport
He was reluctant initially to take the Liverpool job, wasn't he?
I think he did have doubts about whether he was up to it, but I don't think those doubts lasted terribly long. Once he'd started, he was quite determined to see it through. That's another part of the narrative of Paisley, which I think has got lost — this idea that he was a bumbling, slightly incoherent old grandad, who took over and waddled around Anfield for nine years.
If he wanted to get out and it was too much for him, he could have got out in the first season, when Shanks decided he (wanted) the job.
Within a few months of taking over, Paisley was just determined to carry on. He asked that Shankly not be present at the training ground when he and the players were doing their work. He was a more determined individual than he's given credit for.
Is he underrated as a coach to a degree, given that there is a tendency to take for granted how good a job he did in successfully managing the club's transitional period in the post-Shankly era?
What a lot of people haven't been able to do is realise what's good about the inheritance and stick with it.
The natural inclination with a lot of new managers is rip it up and start again, but because he was part of the fixtures and fittings, he saw what was good.
Then he introduced his own qualities. He was a better judge of a player (than Shankly). He was a more ruthless dispenser of players, he sold players when they were younger, compared with Shankly.
He was tactically aware enough to rebuild the team when Kenny Dalglish took over (from Kevin Keegan in attack) — it was a different type of football that they played. Then when Ian Rush and Ronnie Whelan came through in 1980-81, he rebuilt the team again.
The overwhelming myth was that Paisley took over a great Liverpool team and just kind of minded the shop for a few years — it was far more proactive and imaginative than that. It was his own team that won the European Cup, not Bill Shankly's.
Exclusive Six
Nations Analysis
Get Murray Kinsella's exclusive analysis of Ireland's Six Nations campaign this spring
Become a Member
Could Paisley be a great manager today?
It's far more of a circus these days. It's a form of public theatre really, in which the managers are very much players.
I think he would struggle with the powers that players wield in today's world. For better or worse, players now demand to leave regularly. Contracts seem to be worth an awful lot less and part of the job now seems to be trying to coax players into staying, as well as putting the right team on the field.
He was of his time really, although he was succeeding at a time when flamboyant managers were coming through: Malcolm Allison, Brian Clough and Ron Atkinson — these were the glittering showbiz managers of the day and it was becoming more of a celebrity environment. He certainly was a throwback, even in those days.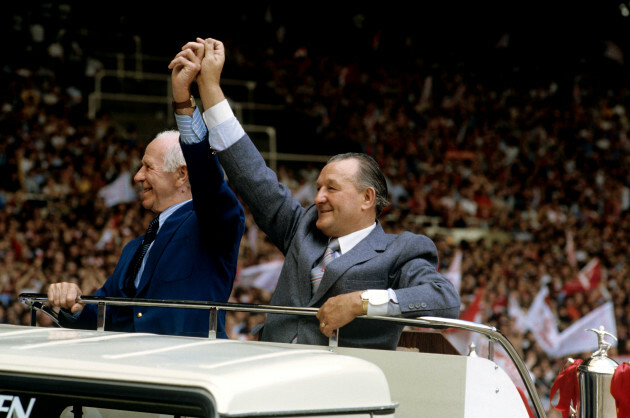 EMPICS Sport Liverpool manager Bob Paisley (right) and former Manchester United manager Matt Busby (left) receive the acclaim of the Wembley crowd in 1983. EMPICS Sport
Did he have any sense of regret about leaving the Liverpool job, particularly given that they were still highly successful when he did decide to step down?
He may have felt it, but he never expressed it, and there's nothing his family said to me that made me feel he regretted it.
Unlike Shankly, he did have a life beyond football, particularly the horses. He liked horse-racing as much as football, if not more at times. He wanted to fulfill that passion more in his life, and there was lots he wanted to do. He did spend more time with his wife when he retired, so I don't think he did regret (leaving).
The world was changing by the early 1980s — there were more flamboyant players coming through, more international players coming through, it was harder to maintain that old Liverpool collective.
Craig Johnston was a good example of the new style of player who came through — more ebullient and individualistic.
I wonder whether Bob felt his time had passed and it was a new era.
They tried to keep him on for one more year at 64, which was certainly a year younger than he needed to have gone. He probably could have gone on for several years more.
He caused controversy with some public criticisms of Liverpool after his retirement. What were the reasons behind this slight sense of acrimony?
That public criticism got him in trouble with the board. I thought it was incredibly uncharacteristic of Paisley and the Liverpool way.
Although there's no evidence for it, if you look at the chronology of things, I'm convinced it was a sign that his mind was beginning to fray.
He suffered from dementia and ultimately, that made the last years of his life very much a shadow of his greatness.
I think the beginning of his mental disintegration was about that time. If it hadn't been for his mind starting to go, he wouldn't have spoken out in that way.
Paisley came extremely close to landing the Ireland job after leaving Liverpool, with Jack Charlton beating him to the role after a much-publicised vote by FAI board members. Was it a blessing in disguise that he narrowly missed out ultimately?
I think it was. He was beginning to be a different kind of individual then. And it was obviously a very close thing. He could have got that job.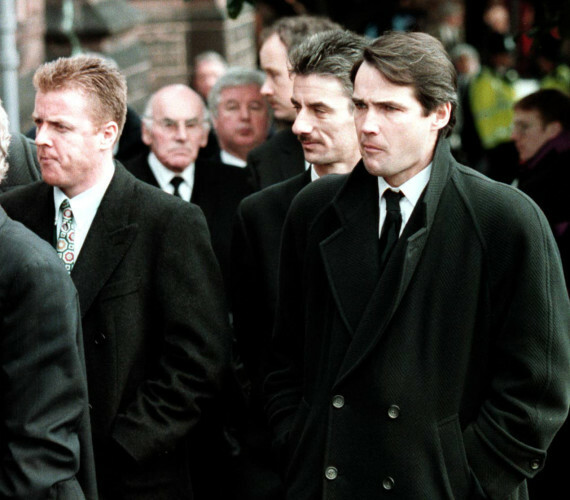 PA Archive / PA Images Former Liverpool stars pictured at Paisley's funeral in 1996. PA Archive / PA Images / PA Images
Finally, what is Paisley's legacy, does he deserve to be considered as one of the all-time coaching greats and is there any modern manager that compares to him? 
I think he is, in terms of trophies per season, better than anyone really. Obviously, he wasn't in the job for as long as (for example) Fergie, but three European Cups in that period is an incredible achievement.
I think his legacy is to show that there's a different way of managing. You can manage quietly, you can manage by delegating to others and using that more collectivist ethos — less ego, individualism, the big I am really. I think that's true today and a lot of managers could learn from Bob in that respect.
I don't think there is an equivalent now. They're all in their own way about media and self-promotion. I don't think there's anyone like him. Ancelotti, in terms of continental managers, is probably as close as you'll get.
'Quiet Genius' by Ian Herbert is published by Bloomsbury. More info here.
Subscribe to The42 podcasts here: