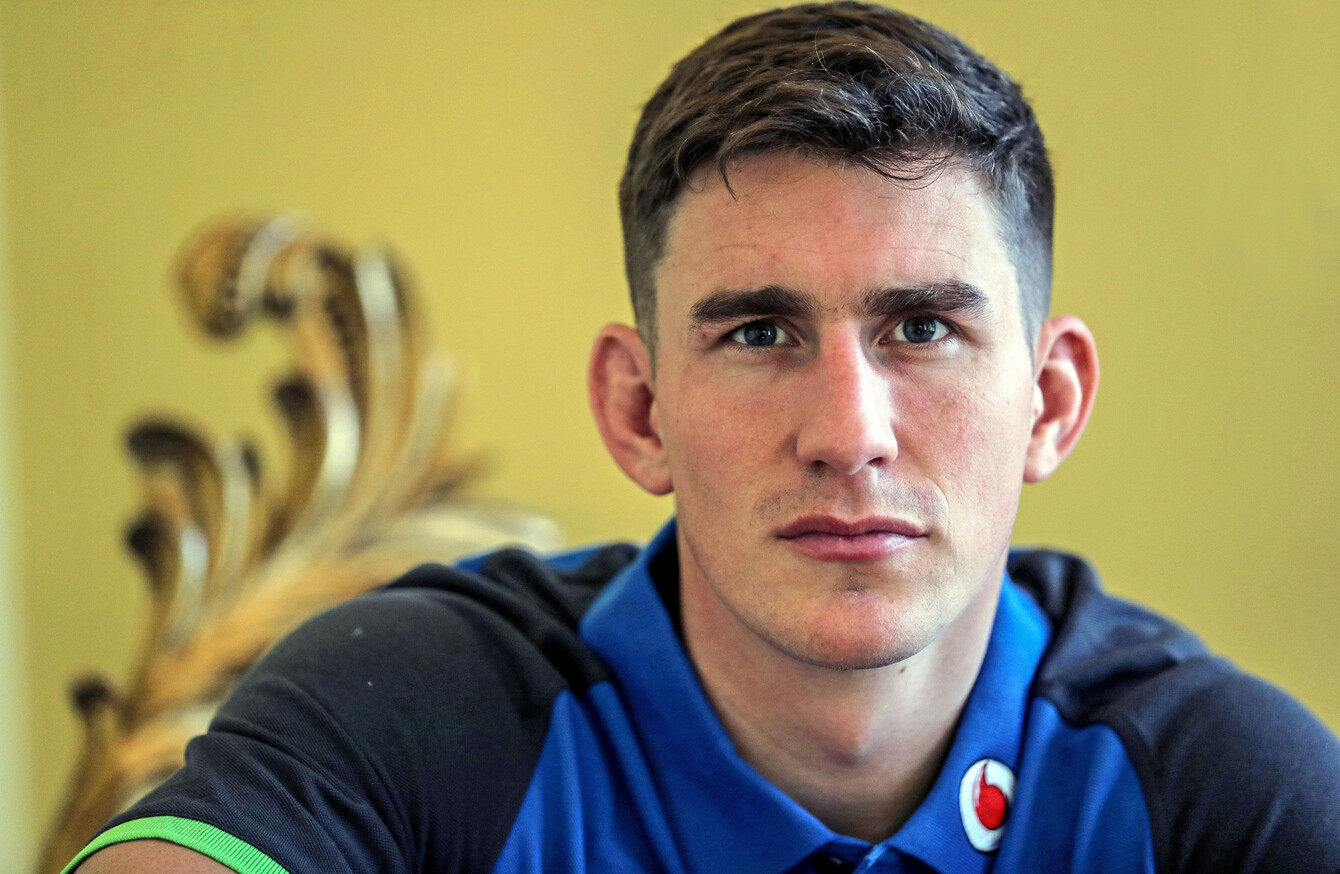 Image: Dan Sheridan/INPHO
Image: Dan Sheridan/INPHO
SWINGS AND ROUNDABOUTS.
Over the course of the past three years, Ian Keatley has experienced them more so than most professional rugby players will in a career.
His darker days are well documented at this stage, but he cuts an extremely contented figure as he addresses the media at Carton House, and sporting Irish rugby gear he suspected he might never wear again as recently as last year.
Instead, due to Joey Carbery's broken wrist, he made his international return from the bench in a slugfest versus Fiji last Saturday, and steered Ireland home with the boot. He'll likely have a role to play this coming weekend, too, when Argentina come to town.
Due to the razor-thin margins he was dealing with on his introduction against the Fijians, he perhaps wasn't afforded the opportunity to apply some of his vastly improved club form to the green jersey – in open play at least – but he didn't mind in the slightest.
The Munster fly-half was just glad to be back out there representing his country.
"It's not frustrating at all," Keatley says.
"I just came on and we won the game. It would have been more frustrating if I was trying to create or put my hand up and something went wrong and you lose the game.
"So, the main thing is when you are a sub is that you come on and you fit in. That's your first job. That's what I did at the weekend.
"Myself and Luke McGrath talked about it when we watched from the sideline, that if we come on we'll play the percentages, keep the Fijians back and make sure we don't give them good opportunities to counter attack."
Between them, and with no shortage of help from their fellow subs, they saw it out. Two Keatley penalties amounted to the difference on the scoreboard, his place-kicking woes long since confined to the past.
It might transpire to be a seminal moment in his international career, which currently consists of just six caps but looks likely to continue aplomb where, as recently as 2015, it seemed all but over.
Imbued by his and his partner Lisa's recent arrival, Beth, Keatley maintains life outside of rugby caused him to reevaluate his own perception of his profession, and that has made all the difference.
I remember during the Six Nations here driving out of Carton House. I remember saying to myself: 'this is probably the last time I'll play for Ireland.' But even after I said that, I was like – and I remember saying to myself – 'I'm just going to enjoy myself from now on.'
"You put a lot of pressure on yourself. There were times when I wasn't enjoying myself. I said, 'I'm just going to enjoy myself playing rugby now.' Funnily enough, now that I'm enjoying myself and playing better another opportunity comes to play for Ireland. Jacques Nienaber said: 'it can be fun, but not funny,' he laughs.
"Everything [has changed]. Family now. Everything. I'm seeing life a lot differently. Things have happened me, like with rugby and outside of rugby. It's hard to say, and it's easier said than done. You can't just say 'go out there and enjoy yourself.' I suppose that is just life experience. I think I've become a better person for it. I think you have to go through some things to come out the other end – just to realise, really.
"You just see things differently. It's hard to put your finger on it. Literally, something happens one day and suddenly everything clicks.
"I've always been a hard worker on the field. I suppose sometimes I was almost working too hard, driving myself nuts and training for hours trying to fix something. I almost had to let it go a little bit. Especially with my place-kicking: I went through a bad time with that two or three years ago.
People were asking me 'Do you not practice?' And I was telling them I practice all the time – I was practicing too much and driving myself crazy. It's just getting off the field and relaxing when I was away from the game, trying to separate rugby from my personal life. And then obviously what happened with Anthony Foley puts things in perspective. And having a family makes you have different views and perspective on life.
He suggests it was mainly "myself and the support of my family and my girlfriend", as opposed to a sports psychologist, which steered him back on course on the field.
His unbending attitude toward Saturday's kicks, however, under a mountain of pressure, stems from something different.
"No, when you are stepping up for a place kick, I wouldn't say you would ever get nervous going for place kicks. I know I've done all the hard work and the processes.
When you're standing over a kick, you're not thinking of the scoreline or anything. You're thinking of processes you've been doing for years. I'm not thinking either, 'Jesus, life is great, here I am taking a kick!' Not like that at all. You just stick to your processes and thankfully at the weekend, the kicks went over.
"I was a 78% kicker and then I wanted to get higher. I tweaked one or two things and it didn't work out. Then I went back, there were only small tweaks which the naked eye wouldn't even notice.
"I always wanted to get better. You see it with Padraig [Harrington] and you're saying, 'what are you doing? You've won two (three) majors and you're changing stuff!'
"But that's professional sport. You're always trying to get better. Sometimes it's frustrating when it doesn't work out. But if you don't try it you'll never know.
It's a remarkable turnaround for a player who admits that, as recently as last summer, he was considering a move abroad – and not only to France, as was predominantly reported at the time.
"I talked to one or two clubs as well in England. The game is changing a little bit – you can see it with Simon [Zebo] and stuff. The game is changing. I did think about it.
"But I did talk to my girlfriend – we talked about things. Don't get me wrong, I love staying in Munster and that is a better fit for me now. I'm really happy things have worked out."
As for his position in Joe Schmidt's much-discussed depth chart, Keatley hasn't really had much of a chance to consider it. For the weekend, at least, he's likely number two in the pecking order by default.
He's relishing the opportunity to build upon his significant impact versus Fiji, but is keen to stress he wish it hadn't arrived at the expense of Joey Carbery, whom he maintains was 'controlling the game excellently' prior to his own introduction.
"I don't know. Obviously, Johnny is number one and there is a lot of competition behind him. It's a great opportunity now, although it's disappointing for Joey.
"I was one of the first to go up to him after the game to see if he was alright. It's never good for someone to get injured, but it offers an opportunity for me. I'm prepared in any event for what might happen.
"I could be on after five minutes this Saturday or else I mightn't get on at all. But I'm ready regardless of the circumstances. Once again, I'm just enjoying being there, learning from Joe Schmidt and the other coaches. It's exciting. I'm enjoying myself, not getting complacent, but still trying to improve as a player."
He has improved – 'significantly' within the international fold, per Rob Kearney, who spoke to media separately – but Keatley suggests that's at least partially down to a familiarity he had lacked until quite recently.
"In my earlier years in Irish camp, because there are so many calls, I didn't have them on the tip of my tongue," he says. "But as a 10, you need to have them at the tip of your tongue. I found I was looking at space and didn't have it rolling off the tongue.
"I know the calls pretty well now because I have been in a number of camps and I feel more comfortable stepping in and making those calls. I do think that now I have been in the camp a good few times, that I am more comfortable running the show a bit when I do get my chance."
The42 has just published its first book, Behind The Lines, a collection of some of the year's best sports stories. Pick up your copy in Eason's, or order it here today (€10):