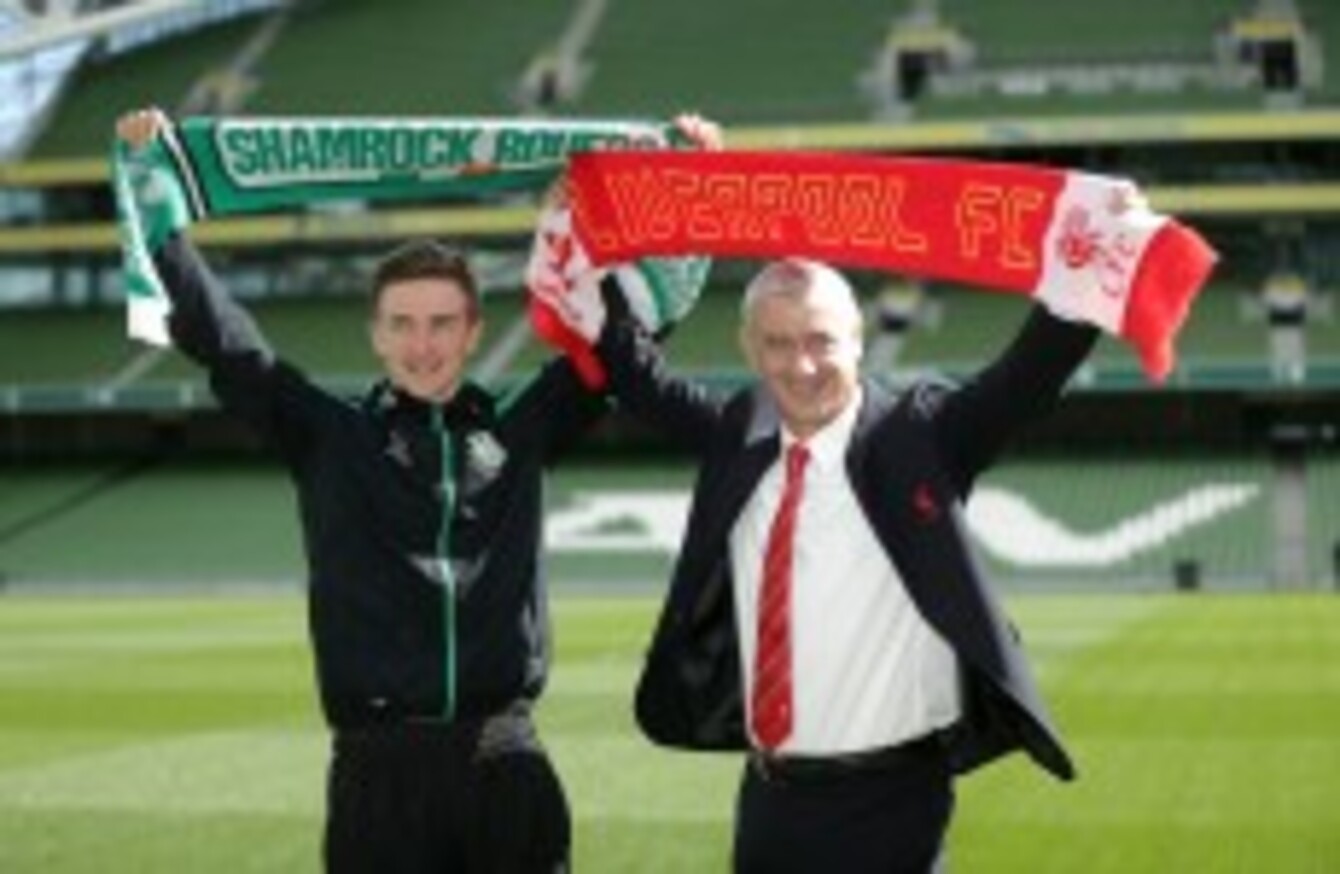 Rush with Shamrock Rovers midfielder Ronan Finn ahead of Liverpool's game at the Aviva Stadium on 14 May.
Image: Morgan Treacy/INPHO
Rush with Shamrock Rovers midfielder Ronan Finn ahead of Liverpool's game at the Aviva Stadium on 14 May.
Image: Morgan Treacy/INPHO
Ian, this must be an exciting and nervous time for anyone affiliated with Liverpool football club?
I'd say exciting but I wouldn't say nervous. You start feeling nervous and you will get nervous. It's an exciting time and I think the football that Liverpool have been playing all season has been very enjoyable.
When you get this close to the title is it easy to forget there is still a job to be done?
I think you have to take one game at a time. We are close but Chelsea and Manchester City will still feel that they can win the league as well.
You were a huge player when Liverpool won their last title back in 1990. Do you recall the excitement around the club at the time and is there a similar feeling there at the moment?
I think it's a different feeling because we expected it at that time. We had won titles and there was an expectation there. It is how you were brought up.
It is a bit different now for the players as it's 24 years since the club won the league so there is more excitement for the supporters as there are a lot of people who have never seen Liverpool win the title.
That said, you've got to keep the same composure and Brendan will be speaking to everyone about it.
You can get carried away with all the media hype and Bob Paisley used to say that if you read the papers when you play well, then read them when you're playing badly.
Don't change anything. You're on the line, not over the line so it's one game at a time and see how it goes.
You scored in a 2-1 win over QPR at Anfield to win the title. Does that go down as one of your most special moments in football?
I wouldn't say special as I never thought of not winning the league! When we beat Tottenham 3-1 (in the 1982 League Cup final) with me and Ronnie Whelan springs to mind but you were expected to do that. Looking back now 24 years on, it would be but at the time I would say no.
Liverpool face Chelsea today but is the next game against Crystal Palace a potential banana skin?
Yeah. You know what you're going to get from Tony Pulis and they are flying at the moment. The home games don't worry me as much because I think the crowd can help them through it.
We've got two home games and Palace away so you take one at a time but going to Selhurst Park on a Monday night could be dangerous. They're safe but they will want to finish as high as they can.
What was the most crucial game of Liverpool's season?
First game of the season. Without doubt, the penalty save. We played Stoke and we're winning 1-0 despite not playing particularly well but having plenty of possession. With about two or three minutes to go we concede a penalty and everyone is thinking it is going to be exactly the same as last season.
Then Mignolet saves a penalty and there is a big roar than when we score.
League title aside, how important is it for Liverpool to be back on the Champions League stage?
It's fantastic. When we played in the Europa League thee Is still an atmosphere but now we've got back in the Champions League it's about doing well in it.
What would you say to people who argue that Luis Suarez doesn't perform against the big teams?
I'd have to disagree because he has been absolutely fantastic. Even when he doesn't score the amount of work rate he puts in has been fantastic and it has rubbed off on other players as well.
The work rate when you look at some of the other players — Sturridge, Sterling, Coutinho — I think they have looked at Suarez and said if you put a shift in I'm going to do it as well.
That's the reason Liverpool are doing what they are now. I think Luis Suarez can compete against the top teams.
He seems to have cut out the cynical part of his game this season…
I think he has matured. I think he knows what it's all about and from the start of the season the owners and the manager have handled the situation very well.
There is no one bigger than the club and Suarez has put his head down, worked really hard and repaid the fans with the season he has had. He is without doubt the Player of the Year.
You can see in him that he is enjoying playing his football now and the supporters love him which goes a long way.
If Liverpool do win the title, is there any reason why it won't be a clean sweep with Manager of the Year, Player of the Year and Young Player of the Year?
If they do it, they have got to give it to Rodgers — 100%. The Player of the Year has got to be Suarez and it just goes to show how far Liverpool have come if it does come to happen.
Who would you choose between Sterling and Sturridge for Young Player of the Year?
It's very hard to say and you tend to forget that Sturridge is still only young. You look at Raheem and he could win it next year. Sturridge has had a couple of injuries but he has been fantastic. The goals he has scored means he has to be in contention.
If they carry on the way they are I'm sure both will go to the World Cup with England and Raheem will be a better player for that.
How important is it for Liverpool that Rodgers looks after the academy and brings through local players?
When Jamie Carragher left you were thinking there was only Stevie G there but for Flanno (John Flanagan) to come in is a great thing. We have a good academy at Liverpool but it is no good if you don't have the manager who is going to play them.
That's why Brendan is so special because if they're good enough he is going to play you. Some managers are scared to play young players because they want instant success.
I think last year we brought six players through the academy who made their debuts. Look at Flanagan and Sterling. Both of them have flourished and that's with Flanagan playing out of position. But he is showing that passion that supporters love.
Is Steven Gerrard the greatest ever player not to win the Premier League title?
Oh definitely. He is a true legend and when you look at true legends you look at winning the league. The way he reacted against Man City showed his feelings there and no one wants to win it more than him. Everyone will be so happy if we can win if for Stevie.
It was announced that Liverpool are going to extend the capacity of Anfield. Do you think that that is important as opposed to moving to a new ground?
100%. There are something like 28,000 people on the waiting list for season tickets. We have to move with the times as it's a business but one thing you can't take away from Liverpool is the atmosphere at the ground.
You look at Arsenal with the Emirates and it's a magnificent stadium but do they have the same atmosphere they had at Highbury?
We have to get more people in there for revenue but you can virtually touch a player on the pitch and I'm very happy that we are staying there. You just can't buy that.
Liverpool are playing Shamrock Rovers at the Aviva Stadium on 14 May. Is it important for them to come play in front of their home fans?
Yeah, we go on tours to Asia and America and that's the way it is now. But you should never forget the true supporter from as far back as the 70s.
It's vital that they keep that connection. We're coming over to play Shamrock Rovers and it would be something special if we can bring that trophy with us.
There are tremendous people from Ireland who go over and watch Liverpool for every game and you've got to keep that connection strong. We've also got to look to the younger generation who want to see their heroes play so you have to keep coming.