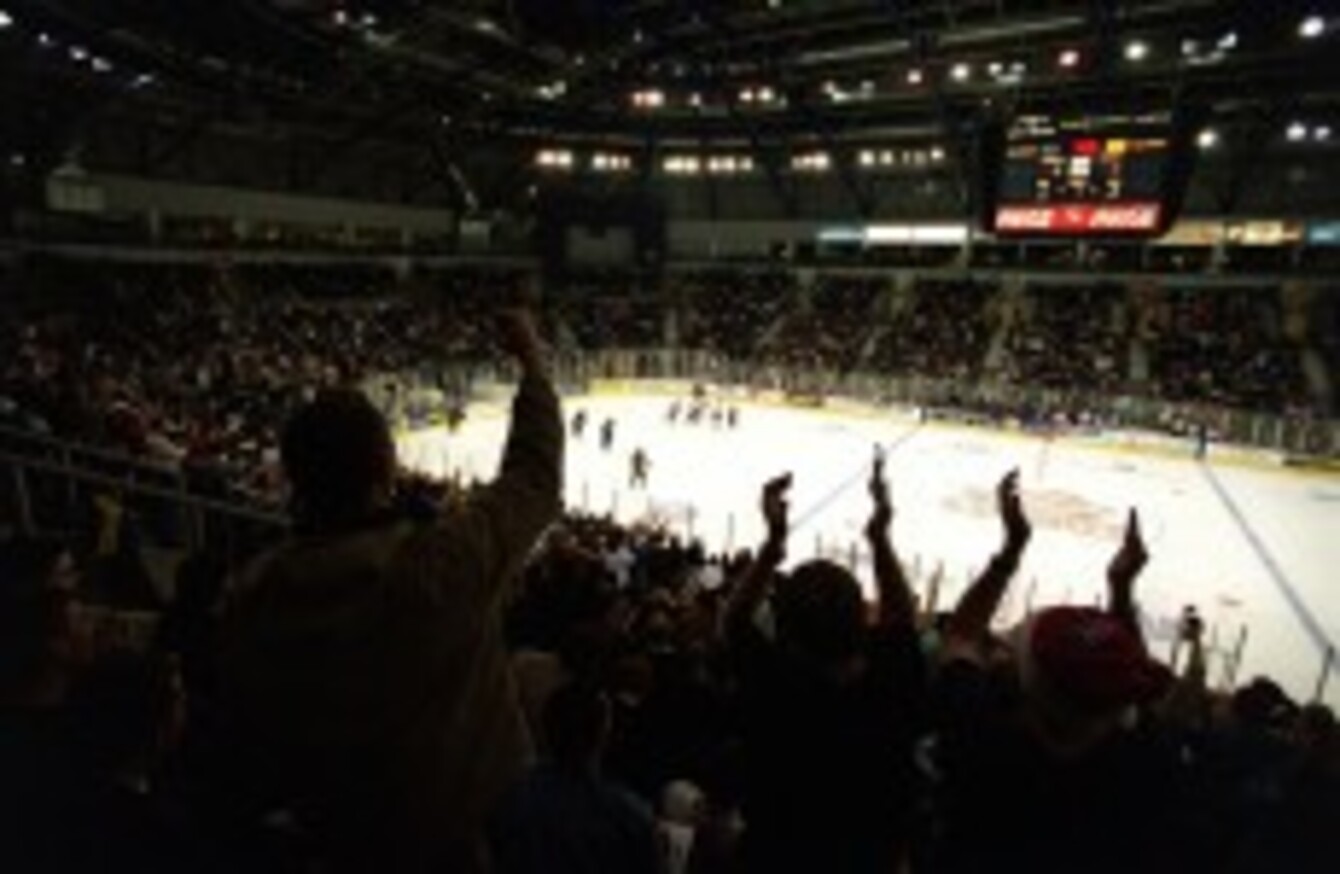 Image: Andrew Paton/INPHO
Image: Andrew Paton/INPHO
Updated at 08.00
AS OPENING GAMBITS go, Brian Burke's is pretty strong.
"It's almost like five Irish guys were sat around a table and said 'Let's design a game that's perfect for Irishmen' and they came up with hockey".
He has a point.
Research tells you that the ties between this country and ice-hockey are much closer than you'd first expect.
Hurling was brought to Scotland by the first batch of Gael emigrants and morphed into shinty – a similar sport, also played with a caman but with slightly different rules. Those who fled the Highlands for North America in the mid-18th century brought the game with them. Devout disciples, they even played in the harsh, bitter winters. But the ice necessitated some changes to the rules and very soon, hockey was born. But to this day, the term shinny is still used in Canada to describe the casual practice of meeting at a rink to play recreationally.
As Canada's national sport, every local community, every small town or village, revolves around the rink. Kids learn to walk and skate simultaneously. They're brought up on the ice. It's a culture. Sound familiar?
Still, despite the history and the similarities between it and the GAA here, Ireland has a complex relationship with hockey and those invested in its development here are pushing hard to be heard again.
Burke is a high-profile figure within the National Hockey League. Having steered the Anaheim Ducks to a Stanley Cup (the annual championship) triumph in 2007, he also enjoyed a successful time with the Vancouver Canucks and spent over four years immersed in the white-hot intensity of the Toronto Maple Leafs as President and General Manager. Since late-2013, he's been President of Hockey Operations for the Calgary Flames.
But getting Ireland turned on and tuned in to hockey is his latest passion piece.
"My background is Irish and I'm keenly interested in this. I think we've got to get this sport growing here", he says.
If you look at what I do aside from running teams – I do a lot of work with charitable endeavours, I do a lot of environmental work, I do a lot of anti-bullying work. This is one of those causes that's important to me personally given my Irish ancestry and I can't imagine that this sport isn't tailor-made for this country."
Growing its popularity and engagement here is a tough sell though, namely because of the lack of resources. Right now, there are no ice rinks south of the border. There are two facilities in Northern Ireland – one at the SSE Arena (formerly the Odyssey), where professional UK Elite League outfit the Belfast Giants play their home games while the Dundonald International Ice Bowl is in Down.
The Irish Ice Hockey Association (IIHA), which was founded in the mid-1990s, seemed to have finally found the perfect home when the Dundalk Ice Dome was opened in 2006 but within four years it was gone.
But for former General Secretary of the IIHA, Mark Bowes, the level of interest that was generated by the venue is a sure sign that there's a ready-made market of consumers, desperate to get back on an ice surface again for various reasons.
"We did host the Division 3 World Championships In Dundalk in 2007. When the rink was open, we had 21 senior teams playing in a recreational league. We had six teams playing in a top division and 500 kids were part of the underage programmes. It really was a factory. If that was in Dublin, we'd have had thousands of kids participating.
But you can only rent out so many hours of ice at a given time. So that's why we'll need another facility. That's why we need it in Dublin and not in the small towns."
Will there be enough of an interest, I ask? Hockey is a relatively unknown sport here and it remains a tough sell. But Burke points to America as a perfect example of how to tap into a barely-there interest and appreciation.
"It's been my experience, even in the US – in a non-traditional hockey market – that wherever you build an arena people start playing. And big concentrations of people start playing. When the Dallas Stars went into Dallas, they started building arenas. And last year I read that there were thirty kids from the Dallas area on full hockey scholarships at NCAA schools. This is an area that they never played hockey growing up. You put a rink in a small town in west Texas where they have zero kids registered to play hockey, you build one arena and a year later, they have 400 kids, boys and girls, registered to play."
The game should've been born here. It should be a natural thing for Irish kids – they should love this game. But it's hard to play and it's expensive to play and we won't have a chance of developing the game unless we get an ice surface going here."
And the IIHA are hopeful that the Dundalk facility, which was purpose-built, will open its doors again sooner rather than later. With more good news potentially further down the line.
"We're in discussions currently to try and get that over the line and hopefully, we'll see that re-opened this year", says Bowes.
That would be a breath of fresh air for us as a federation because we're under pressure from our world governing body to reach the minimum standard of criteria which means we need at least one artificial ice surface in the country. So, we think that should be step one.
Believe it or not, Dublin City Council have put an arena in their development plan for 2018. That's a huge push for us because we've been advocating the need for this for a long time. The plans are strategic and zoned so the location could be anywhere."
The prospect of a Dublin rink brings with it a certain nostalgia.
Many will remember the city's very first – in Dolphin's Barn. In 1980, it was converted from a disused cinema and thousands would learn to skate there. When Canadian doctors, studying in the nearby Royal College of Surgeons, began to use the ice for hockey purposes, many locals, including Boews, were enraptured and began to play.
What are they
really like?
Rare insights on sport's biggest names from the writers who know them best. Listen to Behind the Lines podcast.
Become a Member
Source: MsRiposte/YouTube
Soon, there was a team – the Dublin Stags and in 1983, they were involved in the very first hockey game in Ireland when they hosted the Liverpool Leopards and beat them at the Barn. Ever since, there's been progress and Ireland became a member of the world governing body in 1997. Seven years later, a senior Irish men's team competed in their very first internationally-recognised competition in Iceland.
But there have been plenty of troughs to go along with the peaks. Since the closure of the Dundalk Ice Dome, everything has flat-lined. For the die-hards, it's been an inconvenience. For everyone else, it's a neat excuse to forget. With no rink, there's no reminder of how good the sport is.
But in Burke, the IIHA have a prolific flag-waver. He's dedicated his life to hockey and he's infectious company – ferociously passionate about the benefits of the sport and what it represents.
"It's a game you can truly play for life, that's the beauty of it", he says.
"In Toronto, there's a league for players over 80! I'm not making this up. I remember when I turned 50, teams were calling me to play for their over-50s. There are leagues for over-60s and over-70s too. Maybe 80 is a push but you can easily play recreational hockey into your 50s and 60s. Obviously the pace is slower and there's no hitting in the older leagues – it's just for fun but in terms of exercise and getting kids involved, it's a marvellous sport. That's part of hockey's appeal.
We talk about a pyramid in Canada. So the elite kids are at the top but underneath that are layers upon layers of people that are never going to play hockey at an elite level. But they're going to play it for life and they're going to put their kids in hockey and they're going to watch hockey on TV and buy tickets and they might become referees. So, in that pyramid, there's the little wee bit at the top but Canada and the US supports every other layer too. And that's what we need to do here. It's going to be a slow build but we need to start. Nothing happens without a rink."
What the project needs is more guys like Burke – well-respected, astute and eloquent. And he's only too aware.
"I think we need to do a better job of tapping the hockey market in North America that has Irish ancestry. There are some pretty prominent hockey people from Irish families – their parents or grandparents were right off the boat. There have been a couple of players, like Owen Nolan from Belfast, who were born here. So that's the number one thing. We haven't really tapped that group for fundraising ability or interest so we've got to do a better job on our side of the water and the investors, the buildings – they're things we're working on in the gestation period."
If you look at the early days of the National Hockey League, there were very important roles for Irish immigrants or for guys who were first generation Canadians whose parents were Irish. The ties between hockey and Ireland are very real. You look at some of the great players – Terry O'Reilly – go through the names!
This is a sport that was made for this country."
Originally published at 21.30 on 16 April