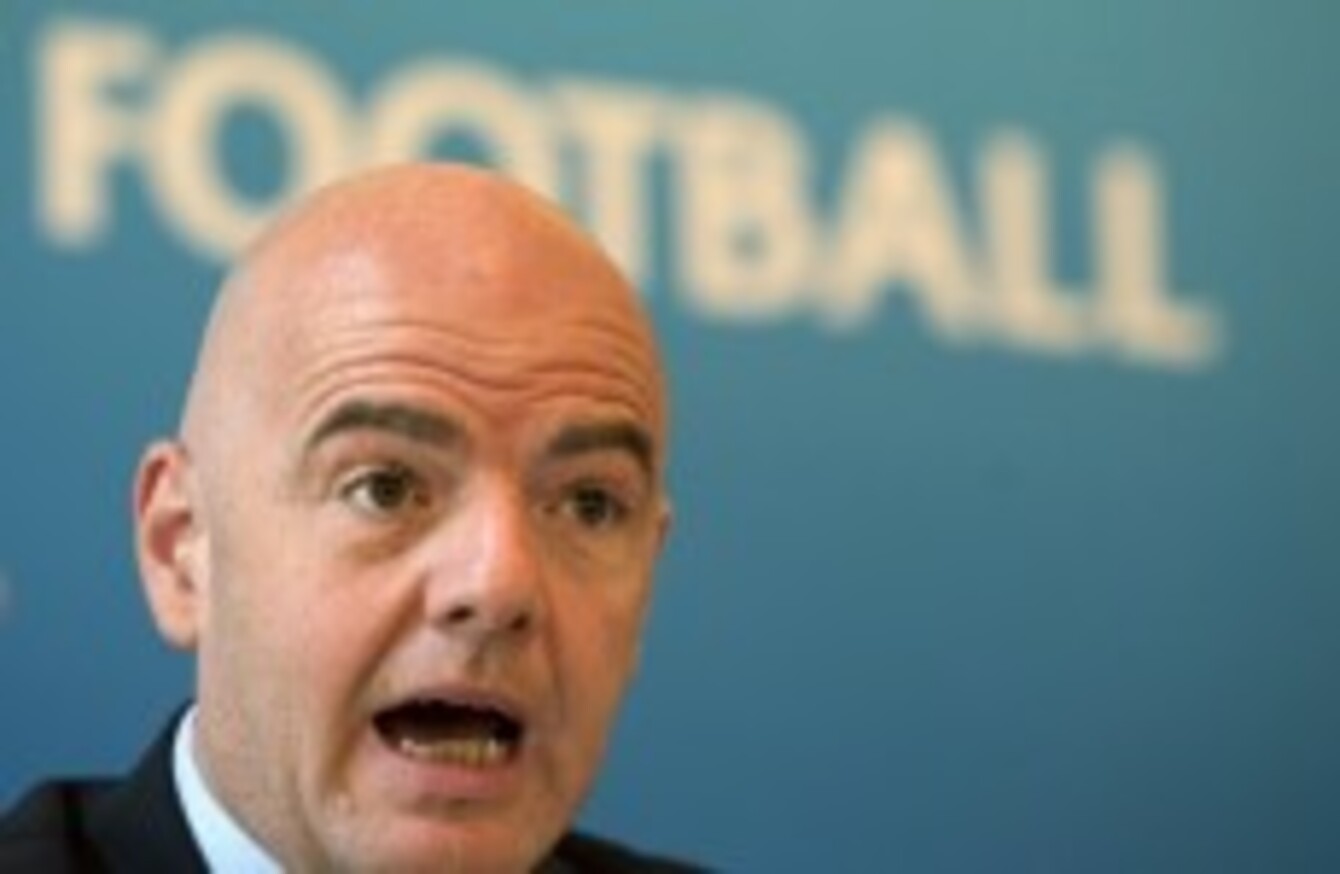 Infantino is hoping to replace Sepp Blatter as Fifa president.
Infantino is hoping to replace Sepp Blatter as Fifa president.
FIFA PRESIDENTIAL CANDIDATE  Gianni Infantino believes the World Cup should be expanded to 40 teams.
The Uefa general secretary is standing in the February election as world football's governing body looks to replace the suspended Sepp Blatter. The 45-year-old made the decision to contest for the position after Uefa's president, Michel Platini, was also suspended.
And Infantino has said he would like to see a World Cup finals tournament consisting of 40 teams instead of 32, pointing to the growth of the European Championships to 24 teams as an example.
"I believe in expanding the World Cup based on the experience we had in Europe with the Euros," Infantino told AP.
"Look at qualifiers now where some teams who have never qualified did and some teams which have always qualified didn't make it.
"So it created a completely new dynamic in the qualification. It created new enthusiasm. If you are serious about developing football it must involve more associations in the best football event in the world: The World Cup."
Infantino says he wants to ensure Europe's voice continues to be heard at Fifa and insists he is not the same as Platini.
"It's a question about Europe being present and making its voice heard. I could have continued as secretary at Uefa and see football ruined. Or put my face out there and work for football." he added.
"When you have a function in football like mine with responsibilities you have to assume responsibility when times are difficult, to put yourself forward in order to try to change this and bring messages forward.
"I hope all of them he will agree with, but maybe on some of them we are not exactly the same – some of the priorities are maybe not exactly the same.
"I have been working with Michel Platini for the last nine years. We share many views and many ideas. It's obvious we have the same philosophy on many things but I am a candidate on my own, I will have ideas on my own.
"I take it seriously which means if I am elected on February 26 in case Michel cannot run, then I will be the Fifa president and I will act as Fifa president. There is no stepping down or whatever."
Uefa have attracted controversy in England recently as Manchester City fans booed the Champions League anthem and the club are being investigated for it.
"When you are in charge of a governing body like Uefa it's of course very difficult to be popular. If you think fans in general have the opportunity and right to give raise to their opinions in the way they do best.
"They are booing their team, they are booing opponents, they are booing the Champions League anthem.
"We have to not be offended by it, live with it and to make things always better and try to prove and show people what is down in our heart is football basically. I am looking forward very positively and I hope I can convince as many people as possible."