THERE IS NO doubt about it — Football Manager is a genuine phenomenon.
Since the series launched on 5 November 2004, it has sold over five million copies, quickly establishing itself as one of best-selling video game franchises of all time.
The feat is an incredible one, especially when you consider its makers previously had a hit with the similar Championship Manager series (which also sold over five million copies) and had to cope with the pressure of improving on this already enormously popular original incarnation.
Moreover, soccer is still quite a niche sport in certain parts of the world, making its appearance on the list alongside legendary series such as Super Mario and Final Fantasy all the more remarkable.
A Journalism graduate and MA student, Stephen Milnes, has even devoted an entire video documentary to it entitled Football Manager: More Than Just A Game (see video below).
One of the men who has played a significant role in this success story is Miles Jacobson, the game's studio director. Jacobson joined the Sports Interactive team in the early days of Championship Manager, quickly bonding with the founders of the series, Paul and Oliver Collyer, over their mutual love of football and music.
"I first got involved with the game purely by luck," he tells TheScore.ie. "I was working in the music industry. One of the bands I was working with, Blur, were quite popular at the time. A couple of people from the company wanted to go and see Blur play live.
"So I swapped two tickets to see Blur to be a tester on Championship Manager 2. And this is before people really had email addresses, so I would fax the Collyer brothers, with feedback on what I thought of the things in the game and what would make really good features. I just got to know them. We ended up going out for a couple of drinks and became good friends. I started helping them out on the business side as well as doing testing and some data research for them.
"So basically, for eight years, I was working with them on a part-time basis while working in the music industry as well, until one day, they turned around and said 'when are you going to stop doing that stuff and come run the studio?' I went 'oh yeah' and did that. So I've been involved now for 19 years in various different roles.
"I'm still involved in the testing side of things now. I just happen to also run the business, direct one of the games and exec produce the others, so things have changed over the years, but we're a very tight-knit team over here. We're the closest to a band that any video games development team is. People don't tend to leave and we've grown organically over the years, so that other like-minded people can come in and work on our games."
Since the first game was released in 1992, both Championship Manager and Football Manager have gone on to acquire considerable success, to the extent that Jacobson received an OBE in 2011 and the Collyer brothers both received MBEs in 2010 for their services to the gaming industry.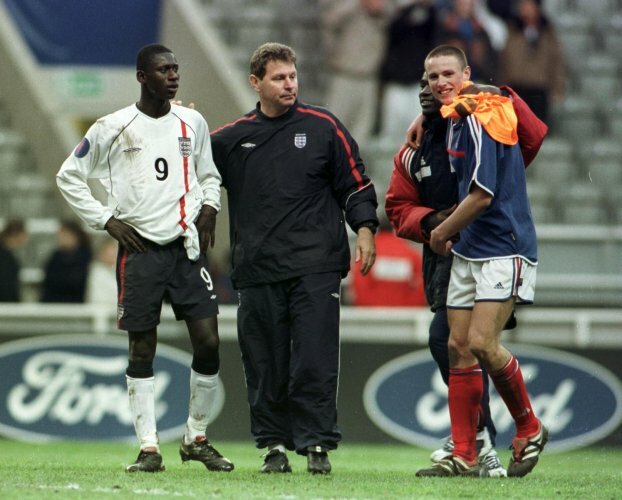 (England's Cherno Samba, a star of Championship Manager 01/02, is comforted by ex-England international Clive Allen as France's goalscorer Anthony Le Tallec is congratulated on their 4-0 win by a teammate at the 2001 European Under-16 Championship — Steve Morton/EMPICS Sport)
Cynics might have thought the novelty of a game that allows you to manage football teams would have worn off after 20 plus years of various installments, however Jacobson points out that they are "increasing in popularity every year" and he is confident that they will continue to remain as compelling as ever.
"If we carry on working as hard as we do to improve it year on year, then we'll be okay," he says. "But if we ever become complacent and just think that people are going to buy it every year, then we will fail badly."
The latest installment in the series, Football Manager 2014, was released on Thursday at midnight. One of the keys to the series' continuing success is the extensive array of new features that updated versions tend to provide, and this most recent edition is no exception.
"We've got over 1,000 new features in the game, which is the most new features we've ever had before. Some of those things are really big, such as the new tactical revamp and the new transfer system, which is being able to do live transfer negotiations.
"We've also improved the interface massively, so a lot more of the information is shoved directly in your face and you can deal with it there and then without feeling as overwhelmed as you might have done before.
"And if anyone hasn't made the decision to purchase it yet and the reviews haven't swayed them, we do have a free demo of the game available, so if you go to

Steam

, you can download a demo, which allows you to play half a season of the game and actually see all of the new things for yourself and then decide from that whether you think you're going to get value for money from the game."
But despite these countless changes, Jacobson admits that he'll never be entirely satisfied with the finished product.
"The day that we make a game and say 'woah, it's perfect,' we might as well just give up and go and get proper jobs. There are always things that we don't get time to do. We have literally thousands of ideas backed up — things we want to do at some point in the future. Even this year, I cancelled a few features in June because we weren't going to have time to do them properly.
"It's certainly the best game we've made from my perspective anyway. It's the one I've enjoyed playing the most and the one that my girlfriend dislikes the most. So I haven't been seeing much of her recently. Normally, it's because I'm in the office late. Now, it's because I'm going home and just sitting there, playing the game on the sofa."
One might assume that someone who works so closely on the game for so many months would be sick of it by the time it's released, however the opposite appears to be the case as far as Jacobson is concerned.
YouTube credit: rlv80
"I love playing the game," he says. "I don't think someone can direct something that they're not enjoying. It would be a very difficult thing to do, because if you don't have the passion for the creative work that you're putting together, then that's going to come across in that work. You can't fake passion — it's something that's either there or isn't. And I'm incredibly passionate about the game and love playing it.
"Don't take this the wrong way, but I'd rather be playing my current saved game with Watford than doing all these interviews. We've got a week to do all the interviews as well, so it's nice talking to people about the game, but this weekend I'll been sitting, with my feet up, hopefully with football on the telly and Football Manager on the laptop."
Jacobson, of course, is not the only for whom the game has become a near-addiction. One need only refer to the comments section in this recently published article to get an insight into the level of adulation and obsession it inspires.  What is it, does he think, that makes it so compelling for so many gamers?
"It's because people are actually creating their own stories when they play. If you look at most entertainment products, when you listen to an album, you're normally in the head of the singer or the songwriter, when you watch a film, you're in the head of the writer or the director and the characters you're getting into. And when you play most games, it's quite a linear story.
"With Football Manager, you create your own world, you create your own story, you decide on the combination of leagues that you're going to have, you decide which team you're going to manage, you decide on the players that are going to be brought in. You decide on every single element of the game you're playing. And you're playing against computerised versions of real-life managers.
"But every experience is different, so you're sitting there and you want to prove whether you can do better. Your star defender has just turned round and said he thinks you're not doing well enough this season and questions whether you are going to turn it around. You want to prove him wrong. You want to prove that you can get to where he wants to be in his career, so that he signs a new contract.
"It's all those little nuances and those little parts of story that all grow into one whole. That's what we're trying to do. And that is why people spend so much time playing it. It's a pretty cool parallel universe to get embroiled in. It gives you the chance to find out whether you would do a better job than your own team's manager or not."
The meticulous level of detail applied to each edition extends to the involvement of actual footballers in the making of it.
"We have over 300 professional footballers who help us test the game each year, so they got their bills around six weeks ago," he says. "And they've been helping with the last few weeks of development. They're giving us good feedback and ideas of things to help us improve it. So yes, there are lots of people inside of football who've played the game.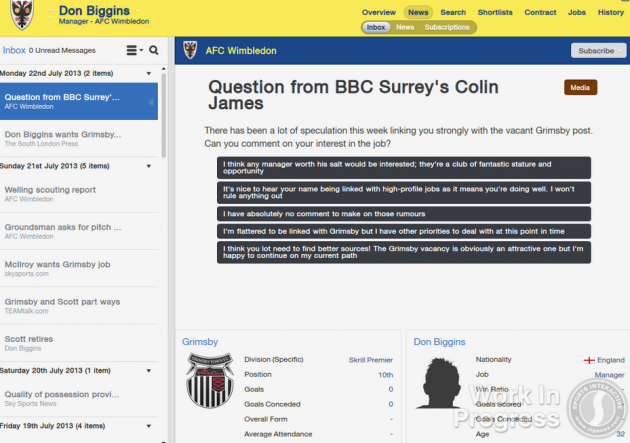 (A screenshot of the new game)
"We used to have a deal with Everton where they actually used the database as part of their scouting network. There are also lots of managers who talk about playing the game — Ole Gunnar Solksjaer, when he got the job at Molde, he was asked what makes you think you'll make a decent football manager. He said he didn't have a bad mentor in Sir Alex Ferguson when Solksjaer was reserve team manager there, but he also said 'I'm very good at Football Manager'. So it's become part of football culture."
Some people may scoff at the idea that someone who is adept at Football Manager would have a genuine chance at succeeding as a coach in real life, but Jacobson doesn't see any reason why this couldn't be the case.
"I think they might need to get their coaching badges first, but there are already lots of examples of people who weren't great players that have become great managers. Sir Alex Ferguson wasn't a great player. Jose Mourinho wasn't a great player. Andre Villas-Boas, I don't even know if he can kick a ball or not. They are all really good managers and there are countless examples of them. So why can't the same thing apply to someone who's really good at Football Manager?"
Indeed, at least one football club agrees with Jacobson — on 20 November 2012, Vugar Huseynzade, a 22-year-old student, was appointed as manager of Azerbaijan side FC Baku largely on the basis of his Football Manager prowess. And indeed, there are countless similarly great anecdotes on the game, which has also inspired an acclaimed book entitled Football Manager Stole My Life written by sports journalists Kenny Millar, Neil White and Iain Macintosh.
One particularly famous story involves an individual putting on his best suit when his team reached the Champions League final in the game, and subsequently celebrating by buying a bottle of champagne and going for a night out after they won.
Yet while, like every highly successful franchise in popular culture, it attracts its fair share of eccentric fans, Jacobson refuses to judge these quirky individuals.
"I think it's a standard thing for people to put on suits for cup finals. Whatever they want to do, that's fine. If that's how they get their enjoyment out of the game, then that's great."
Another fascinating and much-discussed aspect of the game is the obligation of its creators to enable certain young players to eventually turn into highly talented superstars. Seasoned fans of the series will be familiar with names such as Tonton Zola Moukoko, Cherno Samba and Maxim Tsigalko — all of whom could become among the best players in the world if developed properly in certain installments of the series, but they effectively flopped in real life. Nonetheless, while Jacobson concedes that they make the odd error of judgement, he claims that more often than not, they get it right when it comes to judging a player's potential ability.
YouTube credit: coladomenico
"Our strike rate is pretty good," he says. "Tonton's name gets brought up quite a bit, but often people forget that we also had Leo Messi becoming a world superstar when he was 16. And to be fair to Tonton, he was a great young talent. There were things that went wrong in his life and in his career, so he's probably disappointed that he didn't make it as far as he could have done.
"Real-life managers get it wrong as well, we can't get everything right. And our scouting network is huge — we've got 1500 people around the world. And I'm very proud that we seem to get the stats right 99% of the time. If we are wrong every now and again, such is life. But at least people have enjoyed using them inside the game."
While Jacobson and his colleagues have made the odd mistake when it comes to judging players' capabilities, they've barely put a foot wrong in their marketing of the series. The relative wealth they have consequently amassed even means they can now engage in the occasional somewhat idealistic endeavour, such as their support of AFC Wimbledon.
"We heard the guys who were setting up AFC Wimbledon on the radio talking about it," he recalls. "We phoned up Five Live, which is the station they were on, and said 'can we get the number for them please?' So we just called them up and offered them a sponsorship deal. We just thought what they were doing was absolutely the right thing. Their club was stolen from them. They moved to Milton Keynes.
"For a while, they were going to be moved to Dublin, of course. And as a football fan, I don't think that franchising in football is a good idea. I wouldn't want the club that I support to be moved 60 or 90 miles away. So we put our money where our mouth was and we're delighted to work with them today.
"It's been announced that their FA Cup game is going to be on the telly. And I was with a couple of them last night — we were with the manager and assistant manager. They're all wonderful people and it's a brilliant club to be involved with."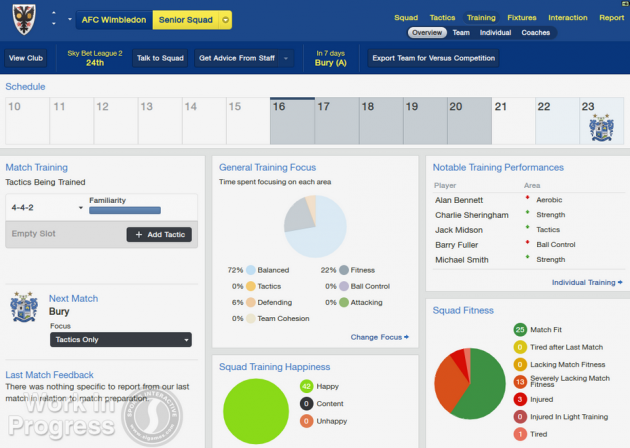 (A screenshot of Football Manager 2014)
Moreover, their staunch backing of the League Two club is not the only admirable feat that the studio is associated with. In 2004, they struck a deal with War Child whereby the charity receives a donation for each copy of the game that's sold, with over £700,000 being raised to date.
"When we stopped working on Championship Manager and sought a new publisher to work with on Football Manager, pretty much every publisher wanted to sign us," he explains. "We had a lot of offers. So we were looking at ways to find out who were the publishers we wanted to work with and I turned round and said 'why don't we ask for a charity donation for every game that we sell that goes to War Child', who are a charity that I'd worked with in the music industry as well, and the first people who said 'yes' were Sega.
"I do a lot of work with War Child away from the game as well. I'm on the entertainment committee, so I help put on a lot of their gigs and the event I was at last night with the guys from AFC Wimbledon was a thing called The Football Extravaganza, which is an event that I help put on each year for Nordoff Robbins, who are a music therapy charity that do amazing work. We actually had Pele at the dinner last night, so you can't get much better than that sitting in a room with Pele. It was pretty damn amazing!
"I try to give back, but I'm really lucky to get to do something I love for a living. And I work with a bunch of people here who are also really nice people. We know how lucky we are, so it'd be wrong of us not to give back to causes that we're passionate about."
YouTube credit: Stephen Milnes
Football Manager 2014 was released on Thursday. More details here.