Murray Kinsella reports from St. George's Park
ANY ANALYSIS OF Ireland's seven-try win over Canada to open their World Cup campaign must take into account the poor quality of the opposition.
Nonetheless, it was encouraging to see Joe Schmidt's side play with width, move the ball through forwards' hands and run out from deep inside their own half. There was even one phase of play that featured three offloads in a row.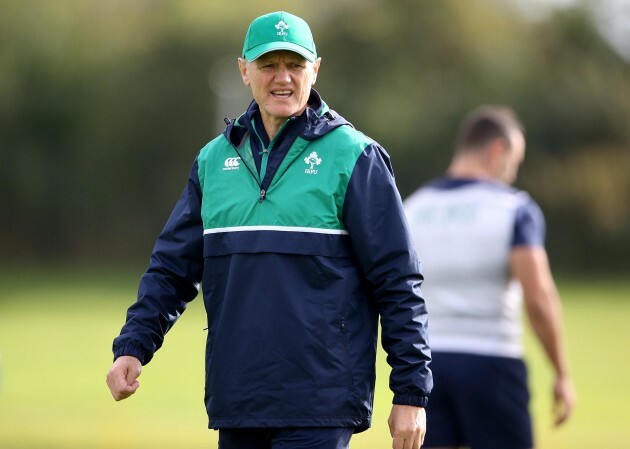 Dan Sheridan / INPHO Schmidt bases his game plans on opposition strengths and weaknesses. Dan Sheridan / INPHO / INPHO
Canada's extremely poor defence allowed Ireland to do all of this, but equally it was about Schmidt and his coaching staff matching a suitable game plan to the opposition.
The clever shapes in midfield, the wide strike plays from set-piece, the linking passes from forwards – they might not always be part of the plan at this World Cup. Ireland possess a kick and chase game of high quality and sometimes revert to a lower-risk, one-out approach to attacking with ball in hand.
There will be stronger elements of those things later in the pool stages perhaps, but the challenge of Romania in Wembley on Sunday is likely to see Ireland maintain the tempo and ambition of their win over Canada, even with a number of changes to the XV.
"We've always said we're a week-by-week team," says centre Jared Payne. "We tailor our game plan around the opposition we're facing and I think if we came up against certain teams it might be a bit more kicking.
If we come up against other teams, it might be a bit more running. We'll wait and see who we play and if we're lucky enough to get out of our pool, we'll go from there."
The fact that Romania play France this evening (8pm in Olympic Park), leaving them with a four-day turnaround before fronting up against Ireland, strongly suggests that Schmidt's men will be doing plenty of running at Wembley.
Lyn Howells' squad simply doesn't have depth, so several of their frontliners will need to double up for both games. That may mean tired legs and it will almost certainly mean an expansive approach from Ireland.
Schmidt's side have had their critics at times in the last year, with the thrust of the disapproval being that Ireland are a limited attacking team. The final day of the Six Nations saw Ireland freed up to run and pass, the result being the clinching of the title.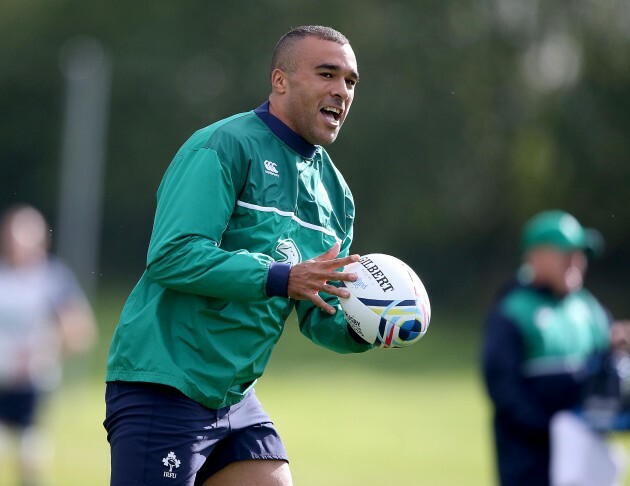 Dan Sheridan / INPHO Simon Zebo would enjoy an attacking approach against Romania. Dan Sheridan / INPHO / INPHO
"Yeah it's nice (to play the attacking rugby they did against Canada)," says fullback Rob Kearney. "One of the criticisms in the last Six Nations was that we didn't score enough tries.
"We did that against Scotland and I think some of the chat last week was that if we could try to play the Canada game with a similar mindset then we would be able to get a few more tries.
"Listen, backs will tell you we're in it for the tries, and we like to play running rugby, so when you get a few you're happy."
Did the criticism hurt Ireland?
No, not at all," says Kearney. "I think ideally you want to be scoring tries but what matters is winning games.
"And you'll find as this tournament goes on that teams get more evenly matched when the margins are smaller, you'll see a lot more aerial contesting and kicking ball. That's a tactic teams will use when the stakes are higher."
The message here may be to enjoy the running rugby while you can, although it does seem likely that Ireland will retain elements of their phase-play shape and some of the clever set-piece strike moves later in the tournament.
Ireland's counter-attacking game and kick return appeared to be in effective shape against Canada last weekend, with Kearney himself managing to eat up a fair few metres with ball in hand.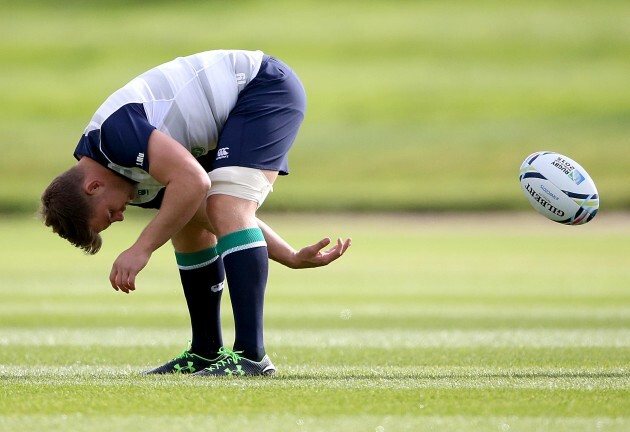 Dan Sheridan / INPHO Jordi Murphy practices his offloading at training. Dan Sheridan / INPHO / INPHO
Has there been a shift in mentality in that department, we ask, more of a willingness to seek out a gap in the defence or make another pass to shift the point of focus on counter-attack?
"I don't think so," says Kearney. "I think that's maybe a little bit reflective of the opposition that some of the teams are playing against. Teams with a well-organised kick-chase, as a back three player you're literally running into a wall of 12 or 13 players.
"If you pass the ball twice across the field, that's 10 metres the opposition are getting on you whereas you haven't moved the ball forward. It's not pretty but generally the most effective thing to do is just get the ball and eat up the space as quickly as you can, try and win the halfway line.
You give your forwards a really clear idea of where the breakdown is going to be, you give them a clear idea of their barrels as opposed to maybe dancing around and not giving them a clear picture of where their contact is going to be.
"Obviously that will work later on in games when kick-chase might be a little bit more unorganised or after a little bit of kick tennis when teams are a little bit more organised, but it's all very dependent on the style of game."
Ireland's game plan is certainly dependent on the style and weaknesses of the opposition. This Romania meeting appears to call for tempo, width and plenty of passing.
Now which personnel match that task? Schmidt names his team at lunchtime on Friday.