AFTER IRELAND ENJOYED a clean sweep of the 2021 November Tests against Japan, New Zealand, and Argentina, Peter O'Mahony declared it had been "probably the most enjoyable month of my career."
You can only imagine how he would rate the last couple of months as Ireland have backed up last summer's series success in New Zealand by winning this island's fourth-ever Grand Slam.
Andy Farrell's team are on a mission to win this year's World Cup, but it's worth pausing to reflect on just how they sealed their clean sweep of this year's Six Nations. 
It's impossible to encapsulate every single thing that went right for Ireland, but this analysis aims to identify some of the big pillars in a glorious Irish Grand Slam with help from Opta/Stats Perform's data for the Six Nations.

Discipline
Ireland were outstanding in this area, conceding the fewest penalties in the Six Nations with 44, an average of just 8.8 per game, according to Opta.
On top of that, Ireland were the only team not to be shown a single yellow card or red card. Everyone else was shown at least two cards.
It's worth reiterating how important this stuff is. Obviously, Ireland had 15 men on the pitch at all times, while the squeaky-clean discipline consistently denied their opponents easy 'access' into the game with attacking platforms inside the Irish half and favourable scoring opportunities off the tee or via kicks into the corner.
Incredibly, Ireland gave away only one offside penalty in the entire championship, a sharp contrast to France's 13 in that area alone. There were no maul penalty concessions either, with the ruck the major source of conceded penalties at 20. The ruck is always the biggest area for penalty concessions for every team.
It's not always easy to show good discipline because it's about what you don't do, but here's an example against France as Caelan Doris jackals at the breakdown.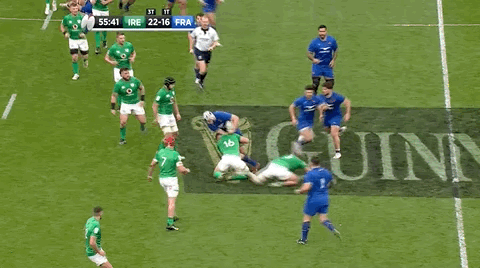 "Not now, let go," shout referee Wayne Barnes and Doris listens, removing his right hand from the ball.
"Taken off your feet, well done," adds Barnes. Doris has been denied a turnover but he has greatly slowed the French recycle and they kick the ball away aimlessly on the next phase, allowing Ireland to respond with an excellent James Lowe kick in behind them.
It's an example of Doris making a positive play for his team but not crossing the line into penalty territory as he listens to the referee.
The most penalised Irish player by some distance was Andrew Porter, who was pinged 13 times in his five games, while James Ryan had four and Josh van der Flier three. No one else was penalised more than twice and the likes of Dan Sheehan, Garry Ringrose, and Jamison Gibson-Park didn't give away a single penalty, albeit they missed games.
Whatever about the more glamorous attacking moments and try-saving tackles, Ireland's discipline was essential to them winning this Grand Slam. They have set a high standard for themselves in this regard.
Dan Sheridan / INPHO Ireland boss Andy Farrell. Dan Sheridan / INPHO / INPHO
Kicking
Again, this might not be the stuff that steals the headlines, but Ireland's kicking game has been pivotal to their success over the last two seasons. 
In this Grand Slam campaign, they kicked regularly again, with their 153 kicks in play leaving them third overall behind France [156] and England [170].
Ireland kicked long more than any other team, though, with the huge left boot of James Lowe obviously useful in this regard.
The left wing kicked the ball in play than any other Irish player with 32 kicks making up over 1,000 metres of distance. It's worth noting that three different players featured at scrum-half for Ireland [the player who usually kicks most] but Lowe's importance is still worth reflecting on.
The power of his left foot is useful in exchanges of kicks where teams look to find backfield space, but Lowe's finesse has also been important. Early on against Wales, this kick allowed Ireland into position to make a brilliant try-scoring start.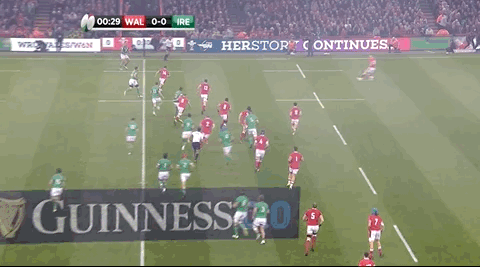 A week later, he did something similar – albeit with a different style of kick – to draw an error from France fullback Thomas Ramos for Ireland's early opening try.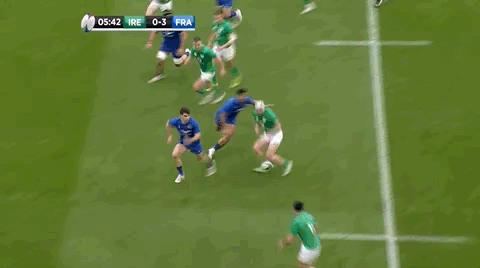 Of course, Ireland's kicking game is not all about Lowe.
While his left boot was vital – he kicked with his right once too! – the likes of Mack Hansen and Hugo Keenan also contributed handsomely.
Keenan had an outstanding 50:22 kick against France at a crucial point in the game as Ireland exploited some poor work in the French backfield.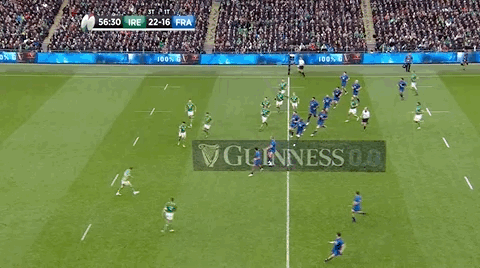 Keenan's excellence in the kicking department extends to his skills in catching the ball and it was his brilliant take of Johnny Sexton's towering garryowen against England that led to Sheehan's vital first-half try.
There were several key aerial wins for Ireland across this championship, with Mack Hansen delivering this memorable moment away to Scotland.
Lowe scored wide on the left off the back of this Hansen regather of a superb Jamison Gibson-Park box kick. This kind of contestable kick was not always a strength of Gibson-Park's game but he has improved hugely in this area in recent seasons.
Ireland captain Sexton doesn't kick as frequently as the team's scrum-halves or Lowe but he's obviously still an integral figure in this area of their game.
Among Sexton's notable touches with the boot was his clever diagonal kick against England last weekend, when he took advantage of their backline reshuffle after Freddie Steward's red card.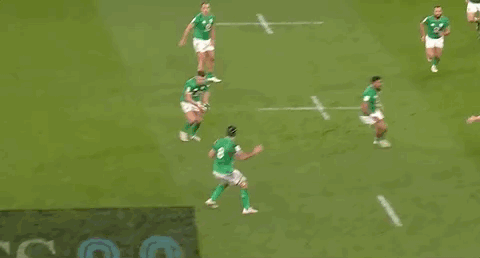 Sexton finds grass, the ball bounces wickedly, and England are driven over their own line for an Irish five-metre scrum they score off to take full control of the scoreboard.
There were many less memorable moments in Ireland's kicking game that were nonetheless important. Solid exits from their own 22, patient long kicks during kick duels, running set-piece plays to create space for kicks, and shorter attacking kicks – there has been lovely variety to their kicking tactics.
While Ireland are renowned as a team that thrives with ball in hand, their kicking is relentlessly important to their success.
Squad
Before discussing Ireland's attack and defence, it's worth spending time looking at how Farrell used his squad. Injuries were a major theme throughout the championship but they never really became an issue apart from the Italy game when Garry Ringrose and Robbie Henshaw were both missing, meaning Bundee Aki had to play at 13.
Ireland used 32 players in this Six Nations, which is fewer than Scotland's 33 and Wales' 35, but virtually all of them made a genuine impact.
There were lots of players who amassed fewer than 100 minutes but still had a telling influence for Ireland, including Gibson-Park, Henshaw, Tadhg Beirne, Cian Healy, Dave Kilcoyne, Jimmy O'Brien, and Rob Herring. Even Jack Crowley, who only had a fleeting cameo against Italy, was able to show his quality.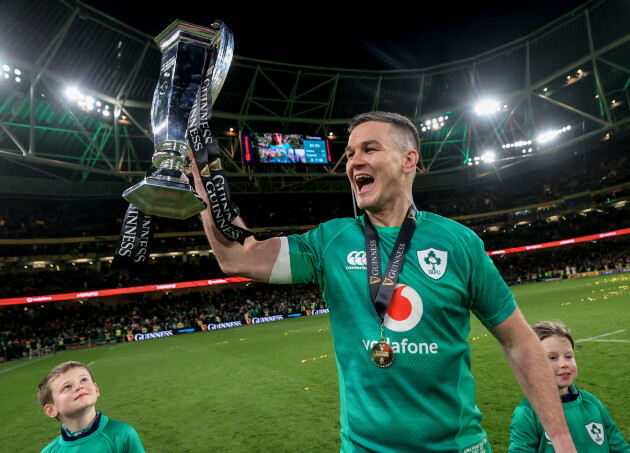 Dan Sheridan / INPHO Ireland captain Johnny Sexton. Dan Sheridan / INPHO / INPHO
This is a key point – Ireland's players were all in excellent form. It's hard to think of one who didn't play well. The tactical approach and squad culture is clearly getting the best from these players, but this is also arguably a product of how well Irish players are taken care of in a centrally-managed system.
Farrell clearly empowers players to perform, telling them to 'be themselves', but they have to be good players in the first place to make an impact at Test level. With Ireland's depth looking stronger than before, the entire Irish rugby system deserves credit.
While the wider squad was important, it's worth highlighting that Ireland do still have key players who racked up huge workloads. James Lowe, Mack Hansen, Josh van der Flier, and James Ryan played every minute of the Grand Slam campaign, while Hugo Keenan would have done the same but for his head injury. 
With 361 out of 400 minutes, Andrew Porter's workload was huge, while Caelan Doris played 330 minutes.
Tries
In the end, France were the top try-scorers with 21 mainly thanks to their evisceration of England at Twickenham, but Ireland were just behind on 20.
Ireland did create more linebreaks than anyone for an impressive average of 7.8 per game.
Once again, the fluidity of Ireland's phase play stood out in this championship, with slick interplay between forwards and backs prominent, as for Lowe's try against France.
Obviously, there were big question marks over Lowe's finish here, but the build-up is typical Ireland. Just after they have carried off scrum-half to condense the French defence, Sexton hits Peter O'Mahony in the middle of a pod of three forwards for O'Mahony to sweep a pass out the back to Keenan.
Ryan then runs a short line off Keenan to keep the French defence narrow and the Irish fullback instead goes out the back to Ringrose, whose pass gives Lowe just about enough time to attempt an acrobatic finish.
But Ireland had great variety in their try-scoring. There were muscular close-range finishes like the one below from Porter, with O'Mahony's excellent latch helping him over.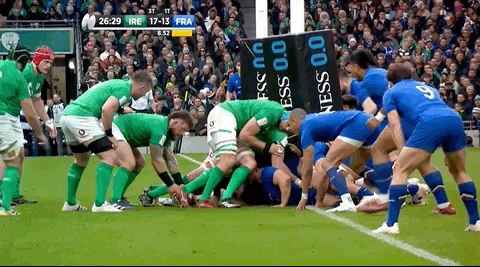 There were outstanding set-piece scores like Sheehan's wonderful finish from a lineout play against the English.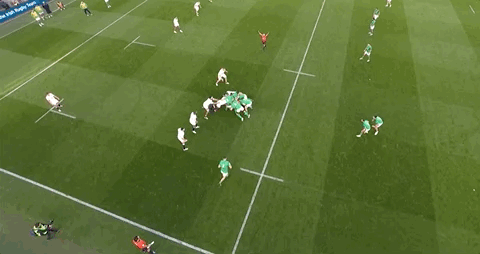 This kind of score is of huge credit to attack coach Mike Catt, who is in charge of Ireland's set-piece strikes, and forwards coach Paul O'Connell.
There were clinical counter-attacking tries too, as Ireland showed that they are pushing their attack to be as varied as possible.
As with virtually every team across rugby, the lineout was the key platform for Irish tries, with seven of the 20 originating there, but they also scored seven tries in 'transition' phases of the game from turnovers or on kick return. Ireland were previously heavily reliant on the set-piece as a platform for their try-scoring but they can now score from anywhere.
Farrell's team have become renowned as fast starters and that held true in the Six Nations as Ireland scored just over 31% of their points in the opening quarter of games.
They also finished superbly, scoring 33% of their points in the final quarter. In terms of their scoring, it was notable that Ireland only bagged 6% of them in the third quarter of games. That third quarter is a big area of focus for Farrell moving forward.
Ireland only conceded 72 points in their five games, but it may be of some concern to Farrell and co. that 54% of them were conceded in the first quarter of their games. Most of the damage was done by France, who scored 13 points in the opening 20 minutes.
Wrinkles
While Ireland's phase play attack is now familiar, it's still extremely difficult to defend against because their players usually have multiple options and a habit of picking the right one.
This Six Nations also demonstrated that Ireland continue to add new wrinkles to their attack. They're often subtle bits of play but every little counts in terms of making life difficult for the defence.
One example is Ireland's use of 1-2s on the fringes of ruck, as below against Italy in the build-up to Hansen's game-sealing try.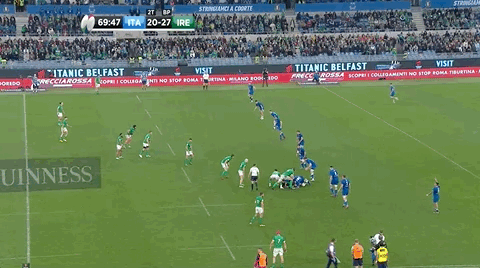 In the instance above, it's Conor Murray and Ryan Baird who combine.
Below, it's Gibson-Park and Sexton against England.
This isn't a new tactic and indeed, Irish sides have used these 1-2s in the past, but sprinkling in wrinkles like this continues to make Ireland more unpredictable.
In that sense, it has been positive to see the theme of being less reliant on Sexton as a playmaker continue.
The captain is still their main man in terms of directing play, putting others into space, and generally running the attack, but it's not just all about the ball going through Sexton now. Hansen has developed into a particularly creative force.
One eye-catching stat in this Six Nations was the fact that Hansen had seven 'break passes,' in which his passes resulted in team-mates breaking the line.
That figure of seven is the most of any player in the Six Nations, with only Italy's Juan Ignacio Brex [6] close to him.
In the example above, Hansen puts Jack Conan away for his try against Scotland.
As in this instance, Ireland used the shortside very well in this Six Nations. That was helped by the likes of Hansen being comfortable as distributors, but also by good decision-making from Murray and, particularly, Gibson-Park at scrum-half.
Long gone are the days when Ireland's scrum-halves just waited for the call from Sexton to decide what happens next. 
Ireland also brought 'new' ideas in areas like goal line drop out reception, with Keenan striking for that stunning try against the French on second phase of his team receiving the restart.
This isn't a new play, in a couple of ways, but Ireland had clearly rehearsed it well and their execution was sublime against the French.
They ran three different variations on this play over the next three games, with mixed results, and these goal line drop out strikes underline how Ireland are constantly looking for new ways to develop their game.
Having been number one in the world for quite some time now, Ireland's challenge is to avoid stagnating and these signs of development are positive.
It's also encouraging for Ireland that they still have so much scope for improvement in attack. As we discussed after last weekend, they missed several chances to pull clear of England earlier in the game and that was something of a theme in this championship.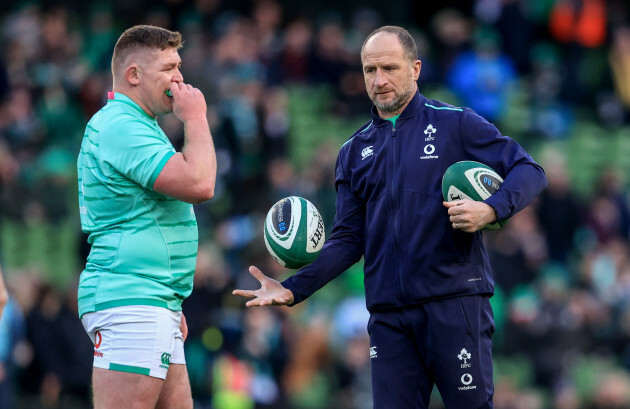 Dan Sheridan / INPHO Ireland attack coach Mike Catt. Dan Sheridan / INPHO / INPHO
Ireland had a total of 54 entries into the opposition 22 in this Six Nations and turned the ball over or conceded a penalty on 29 of those occasions, according to Opta.
That means they still either scored or won a penalty 46% of the time, which is relatively excellent, but there were lots of times when Ireland came away empty-handed.
Farrell's men want to be the most ruthless team they can be, so there's room to get better.
Scramble
Arguably more pleasing for Ireland than all their attacking quality was the defensive performance.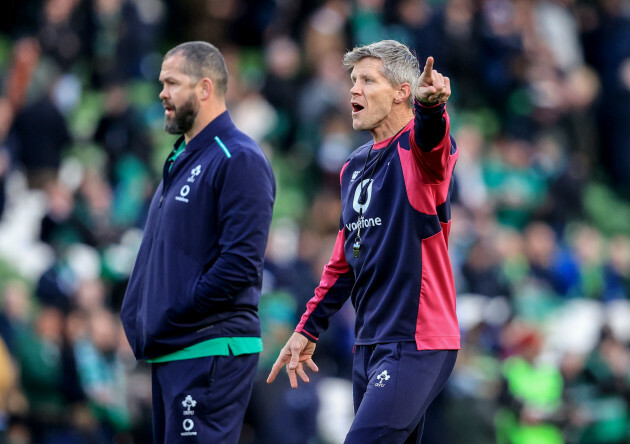 Dan Sheridan / INPHO Simon Easterby runs the Irish defence. Dan Sheridan / INPHO / INPHO
Defence coach Simon Easterby's charges conceded just six tries, easily the best in the Six Nations. That follows conceding only four in last year's Six Nations, so Ireland's defensive excellence is now well established.
Ireland's tackle completion rate of 78.4% meant they were behind Scotland and France in that particular stat but the reality is that Easterby's system will see tackles 'missed' at times given how defenders out on the edges often shoot up aggressively to pressure the opposition attack.
There is an element of 'risk' in being so aggressive on the edge, as we saw at times against Italy, but the reward is obvious too.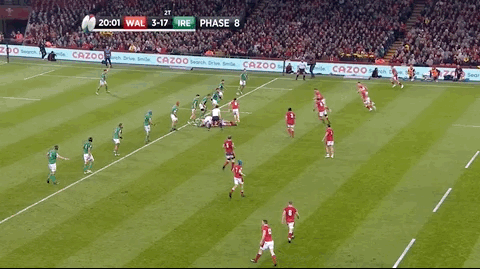 As we see above, left wing Lowe scored an intercept try against Wales and made some excellent reads at other stages of the championship.
Over on the right edge, Hansen did lots of similar good work even when Ireland were numbers-down. It's also worth noting how hard Irish players work from inside the ball to ensure that even when the likes of Lowe and Hansen are beaten, there is nearly always cover.
Indeed, Ireland's scramble defence was superb in this Six Nations, with some huge moments in that regard.
Below, Lowe and loosehead prop Porter manage to hold Scotland out, denying them what would have been a momentum-changing try just before half time.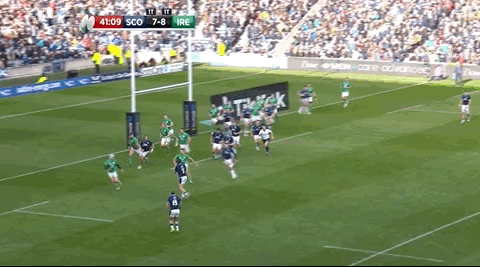 This intervention came soon after a brilliant try-saving tackle from Keenan just in front of his tryline on Scotland wing Duhan van der Merwe to keep Ireland's lead intact as Lowe and van der Flier pounced over that tackle for a turnover penalty.
There were many more moments of excellent scramble defence from Ireland in this championship. These efforts speak volumes of a squad's togetherness and willingness to work hard for each other.
They also show how fit a team is and Ireland deserve credit in that regard. There was some grumbling over soft-tissue injuries during this Six Nations but clearly the upside of pushing players so hard in training is their sheer fitness levels.
Ireland's combative edge also meant they were able to produce huge turnovers throughout this Six Nations. Indeed, no other team came close to winning as many turnovers as Ireland's 35. They were relentless at stealing opposition possession.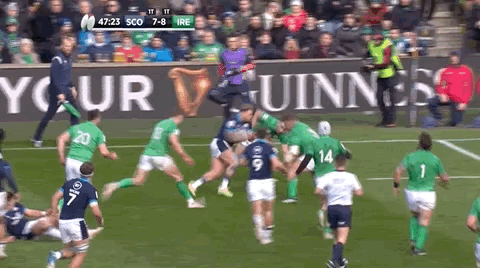 It's right wing Hansen who jackals for the breakdown turnover in the instance above, one of three poaches he had in this championship.
Hansen and Lowe are rightly renowned as excellent attacking players, but their defensive contributions for Ireland are arguably as impressive.
There were jackal threats across the board for Ireland, with Doris leading the way with four breakdown turnovers as Porter, Bundee Aki, Conan, Lowe, van der Flier, Henshaw, and Baird, Stuart McCloskey, Tom O'Toole, and Beirne all contributed too.
Baird's steal against England was a huge moment, but there was a key turnover just before that too as Conan forced his way through a seam at the front of the English maul to turn the ball over.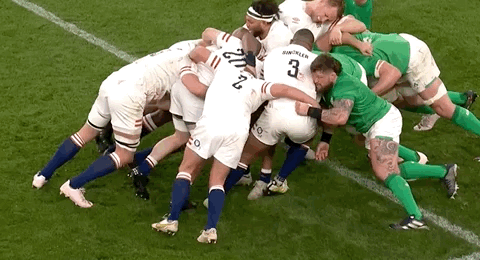 Ireland take huge energy from these big defensive interventions and while much of the outside talk about this team focuses on their attack, Farrell's men spend a big portion of their time looking at how to make their defence better. 
Coaches
Farrell is deservedly getting plenty of the plaudits for Ireland's success. He has married Ireland's tactical and technical progress with a big focus on creating a positive working environment that players thoroughly enjoy being part of.
Farrell has also enlisted the expertise of performance coach Gary Keegan, who had been working on the squad's mental skills for a couple of years before joining full-time ahead of the New Zealand tour last summer. Players have raved about Keegan's input and he's part of a staff that works well together.
Forwards coach Paul O'Connell is a major influence in the group, having added a crucial detail-obsessed mindset upon joining in 2021. Ireland's lineout wasn't perfect in this Six Nations at 86% but we must account for the remarkable way in which they adapted to losing both hookers against Scotland. With van der Flier throwing in, they won six of their nine second-half lineouts.
The Irish maul might be one area of focus for improvement as they didn't consistently gain momentum in that area, although we should note that they played away from dummy maul set-ups on many occasions.
Dan Sheridan / INPHO Paul O'Connell has a huge influence. Dan Sheridan / INPHO / INPHO
O'Connell oversees much of Ireland's attacking breakdown work and they were Six Nations leaders there. The Irish breakdown lasted fewer than three seconds 65% of the time, which was considerably better than any other team. That kind of ruck speed made their attack so much more dangerous as defences had less time to get set.
The aforementioned defence coach Easterby deserves strong credit for Ireland's excellence in that area. He was Ireland's forwards and defence coach before O'Connell came in, but having time to focus on a single area has been brilliant for Easterby and Ireland.
Meanwhile, attack coach Catt has grown as an influence. While Farrell is the key driver of Ireland's overall attack, particularly the phase play work, Catt is tasked with delivering much of it on the training pitch and running Ireland's set-piece strikes. Catt's work with the Irish players' skills has been important too, helping their forwards to be better ball-handlers and their backs to improve their decision-making. 
Scrum coach John Fogarty has helped the Irish pack to overcome slight doubts about their prowess in this area of the game.
Ireland won 92% of their own scrums, which leaves them top of the Six Nations. They didn't concede a single penalty on their own put-in, although there were six penalty concessions as they attacked on the opposition feed. That tends to come with the territory.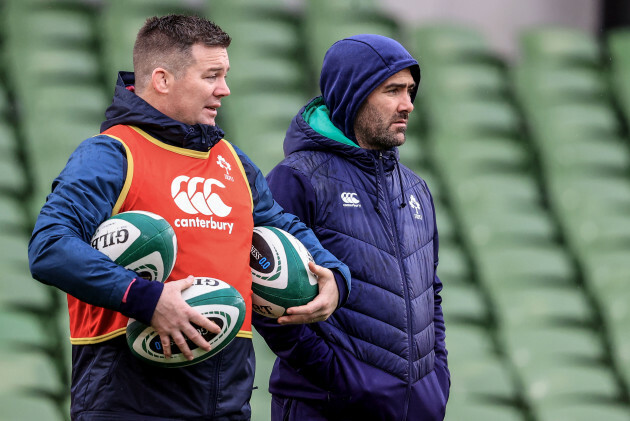 Dan Sheridan / INPHO Scrum coach John Fogarty and performance analyst Vinny Hammond. Dan Sheridan / INPHO / INPHO
It's worth highlighting that loosehead prop Cian Healy had to scrummage at hooker in the second half against Scotland, but helped Ireland to dominate in that area.
This was a breakthrough Six Nations for 24-year-old Ulster tighthead Tom O'Toole, who Fogarty has been working closely with for some years now, while Finlay Bealham stepped up impressively in the absence of Tadhg Furlong earlier in the championship.
Ireland have a settled backroom staff who work alongside the coaches, with S&C expert Jason Cowman an important figure in helping Ireland to hit the aforementioned fitness levels. Performance analyst Vinny Hammond remains prominent too and is a recognisable figure as he sits alongside Farrell during games.
There are a host of other figures behind the scenes who are key to this squad's performance, including popular team manager Mick Kearney, and Farrell has always emphasised that it's a group effort.
After hitting a huge high with this Grand Slam, their focus has already turned ambitiously towards the World Cup.