THAT IRELAND'S PRESS release unveiling Joe Schmidt's 37-man squad ahead the November Tests included mention of 15 players unavailable for selection due to injury told the tale perfectly.
This is a time of unusual difficulty for the national team's coaching staff, given the absence of important figures such as Sean O'Brien, Cian Healy, Fergus McFadden, Donnacha Ryan, Andrew Trimble and Dave Kearney.
One man's misfortune is another man's gain.
While Schmidt point-blank refuses to suggest that the injuries are a blessing in disguise, in allowing him to build depth, he does see the value in the space afforded to men on the 'next tier' of the Ireland ladder.
That said, there is frustration in the fact that the Kiwi will not have a lengthy opportunity to build and maintain a spine to his team less than a year out from the World Cup.
It'd be nice to have continuity, because we want to have a little bit of rhythm," explains Schmidt. "Because our windows with the players are so small, it doesn't offer us too much time.
"I already feel a little bit squeezed for time, with eight Test matches before our run-in to the World Cup. While we have four lead-in games to the World Cup, in those lead-in games nobody's going to play all four. You're chopping and changing a little bit.
"Having that continuity is something I look at in the Southern Hemisphere teams. In the All Blacks team, there's a spine that goes through the team which is very consistent. If they're missing one guy, the other guys are there."
James Crombie / INPHO Cian Healy last featured for Ireland in their Six Nations success in Paris. James Crombie / INPHO / INPHO
With Schmidt having omitted the likes of Healy and O'Brien from the tour to Argentina over the summer in order to allow them time to recuperate before the start of this season, the annoyance is deepened.
"Probably the biggest frustration I'd have is that the guys we left out of the Argentina tour to allow them to regenerate and recover from injuries, or repair themselves on the back of injuries, some of those guys are re-injured or haven't fully recovered.
"A couple of those were Cian Healy, Sean O'Brien, Donnacha Ryan, those sorts of guys. We probably expected to have them available to us. There's not too much we can do about that apart from to try to broaden the squad."
The onus is now on players who have not established themselves as Ireland starters to grab hold of the jerseys next month against South Africa, Georgia and Australia, just as Trimble, Kearney and Chris Henry did last season.
There are a few places that we're going to learn a little bit about what the next tier are doing," says Schmidt. "The challenge is for the next tier to become the top tier. That's what these opportunities are for.
"I think there's probably a few guys who went into the [2014] Six Nations, hadn't been involved in the [2013] November Series and suddenly became very clearly top tier, by rights because of their performances. That's the opportunity and it is quite a challenge to these guys.
"Nobody owns the jersey and therefore they have the opportunity to try to get their hands on it."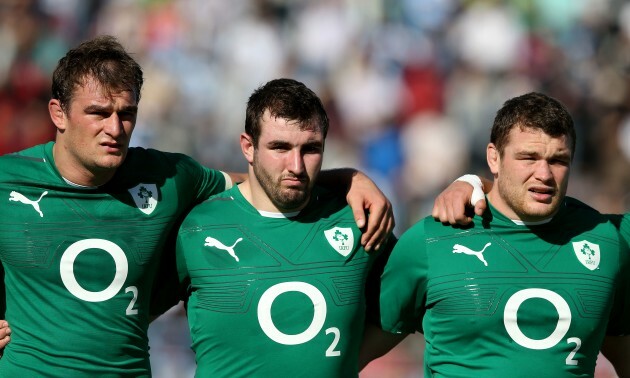 Dan Sheridan / INPHO Rhys Ruddock, James Cronin and Jack McGrath are three of the men Schmidt name checks as replacements for O'Brien and Healy. Dan Sheridan / INPHO / INPHO
In losing O'Brien and Healy, Schmidt is without two of his undoubtedly world-class players, as well as men who bring unique ball-carrying abilities to the party. The former Leinster coach believes there are others who can fill those voids.
"The engine that Rhys Ruddock, Peter O'Mahony bring will allow them to try and compensate for that," says Schmidt. "Chris Henry I thought was super in the Six Nations. Then we've got to have a bit of confidence in Jack McGrath.
"Jack finished off each one of those [2014] Six Nations games and he's had clutch moments. He's had some tough clutch moments he's recovered from and I think he's maturing into the player we need.
We've also got James Cronin, who's had a taste of it. He's a hungry man, as is Dave Kilcoyne. Those guys are going to pressure each other to fill that spot and try to emulate whatever Cian adds to a contest.
"Cian is a particular player, as is Sean. I think they're both top-level players.
"That's something to aspire to for those guys, rather than to cause us to do anything massively differently. There might be a play or two that you do differently, but in the context of a strategy, I don't think it will change a heck of a lot."
*******************
Munster's historic 12-0 victory over New Zealand in 1978 is retold in a new Guinness ad campaign, 'Munster: Self Belief,' which will air on Irish TV for the first time on Wednesday 5 November ahead of Ireland's opening Guinness Series fixture.