"IT WAS A mad one all right, I certainly never saw myself playing 50 minutes on the wing for Ireland in a Six Nations game." – Peter O'Mahony, March 16 2013.
The above quote from Munster's work-hungry flanker is implausible, yet completely sums up the dispiriting experience of Ireland's last visit to Italy. It's still less than two years on from that day and yet it feels like an age.
In case you missed it, Ireland went to Rome on St Patrick's weekend and lost, comprehensively, 22 – 15 to the Six Nations' traditional whipping boys. There was a point when we thought we had cracked how to win in Rome. There was that oh-so-nearly-Championship-winning 24 -51 game in 2007 and two years later Declan Kidney's men romped home 9 – 38 on the way to a Grand Slam.
After that, it got a little ugly.
Italy away is not the ideal way to open up the tournament, but out of the three occasions Ireland have started their campaign in Rome this century, 2011 was the only occasion when the visitors failed to put clear daylight between the teams on the scoreboard.
That narrow victory came courtesy of Ronan O'Gara, coming off the bench to show his class had not faded by slotting a 78th minute drop-goal to seal an 11 – 13 win.
Source: TheRugbyVault/YouTube
That was a scare and a half, so when Kidney took his side back there 25 months later with just three points from the opening four Championship games, the coach must have feared the worst.
He got it too: Italy rampaged and Ireland wilted. It could well have been Brian O'Driscoll's last game in green and he spent 10 minutes of it in the sin-bin after venting his frustrations on the chest of Simone Favaro. That would have been a glum way to bid farewell.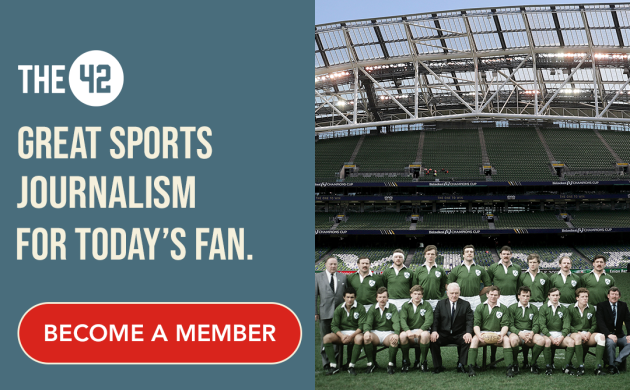 Conor Murray and Donncha Ryan also did time and Paddy Jackson's five penalties were not nearly enough to rein in the hosts. What really killed Ireland though, were the injuries.
The team that made themselves title contenders with a stunning 23-point first-half performance in Cardiff, ended the same tournament in disarray. Keith Earls and Luke Marshall were forced off injured, then replacement Luke Fitzgerald too. So O'Mahony was given the dubious honour of recapturing his fleeting experience of club level wing play on the big stage.
Source: RBS 6 Nations/YouTube
Ireland go to Rome again for Saturday's Six Nations opener. The Wooden Spoon v The Champions. It's a mismatch in theory, but on opening day the underdogs will be poised and ready to try and trip up another giant.