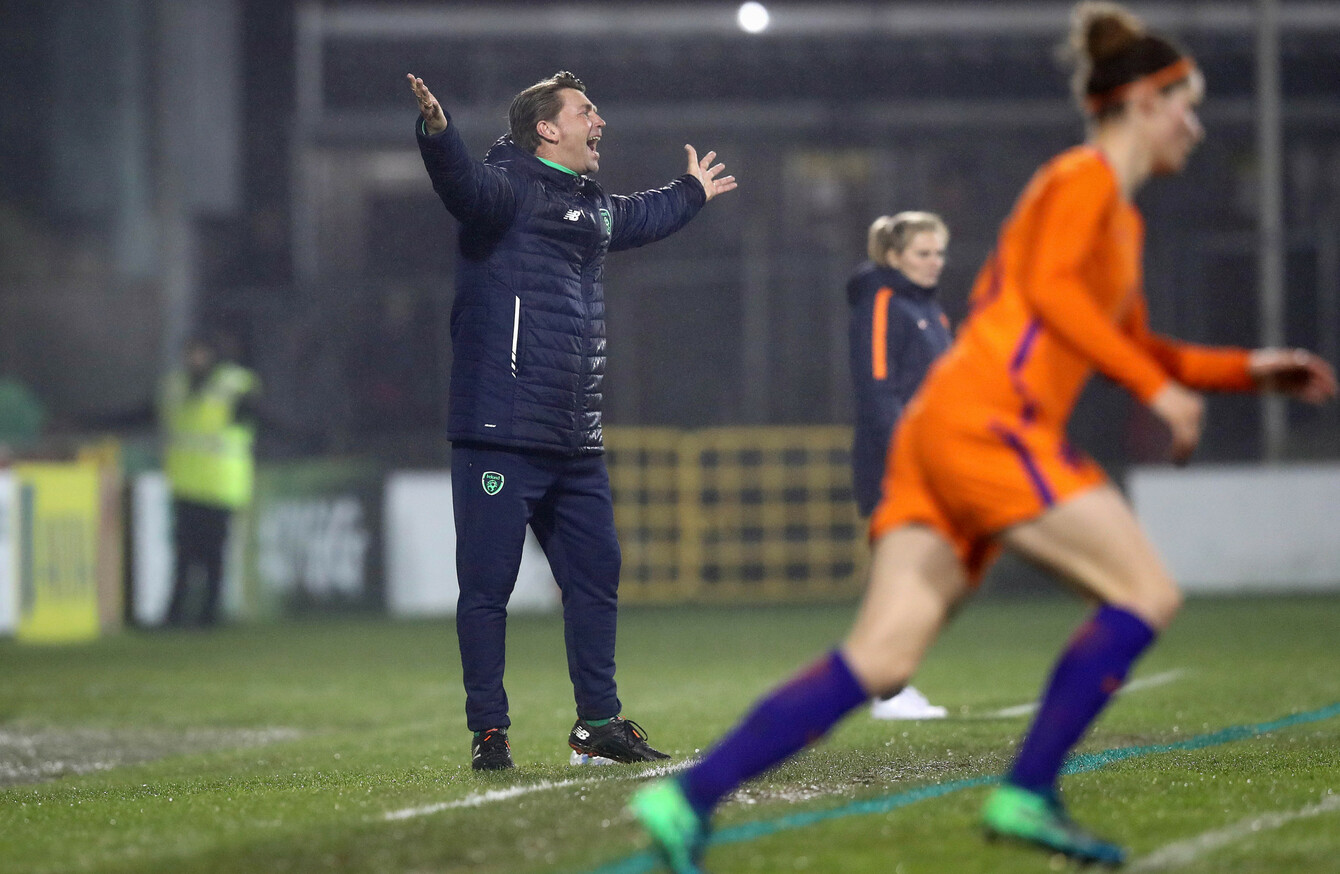 Bell questions a decision by the referee during last night's game.
Image: Ryan Byrne/INPHO
Bell questions a decision by the referee during last night's game.
Image: Ryan Byrne/INPHO
ON THE FACE of it, losing 2-0 to a Netherlands team that hit seven goals against Northern Ireland last week and defeated England 3-0 en route to last year's European Championships doesn't look a terrible result.
But that's not how Ireland manager Colin Bell sees things.
Having watched his side earn a hard-fought 0-0 draw against the Dutch five months ago, he set his team up to repeat that feat at Tallaght Stadium last night.
And although the visitors created buckets of goalscoring chances throughout the 90 minutes, it was ultimately a couple of mistakes that led to the two first-half goals.
He criticised Ireland skipper Katie McCabe for not clearing her lines before being caught in possession and also questioned the marking of Lineth Beerensteyn to allow her to score the opener.
The penalty should never have been awarded as Diane Caldwell pulled Danielle van de Donk outside the area, but committing a foul on the edge of the box still left Ireland vulnerable.
"I'm very disappointed," Bell said after the game. "We had to get at least a draw, and in the first half we were well in the game but then we make two blunders, although don't think it was a penalty. It was a foul, but outside the box.
"With the first goal, put the ball into the stand and nothing happens. Also, with the cross coming in we lost our marker. Really it was down to unfortunate errors that we made and you get punished at this level.
"If they had played a fantastic pattern of play and we couldn't get hold of the ball, I wouldn't say anything, but we had possession. We give the ball away in that area when it has got to go into the stand, there's no two ways about it. That's football, they are the decisive moments, but you make a blunder by trying to take on someone on the edge of your own box and you're going to get punished.
"Katie has to stand up for that. She's a great girl and we want to encourage her to take responsibilities for the team but in those moments you cannot take any chances.
"Of course, I'm very pleased of the effort the girls put in during the second half. We came into the game, made a scrap of it but couldn't get ourselves back into it with the goal that we needed.
"We've learned a lot. We need to be able to compete against these team and we can do that but there are things we have to improve on.
The girls did great but I'm trying to get away from this mentality of 'We only lost 2-0 against the European champions, who are probably the best team in the world… Brilliant'. No, we lost and we could have got a draw at least.
"I was confident we could get something out of the game if we did everything right. You maybe make a couple of mistakes but not in those dangerous areas. That's what I told them. I said I'm always proud of them, I don't define them in terms of winning or losing and they are great girls who are working really hard, but we now have to realise we have to work even harder now."
Ireland can take encouragement from their second-half display as they got at their opponents more often and created a couple of half-chances, with Denise O'Sullivan excellent and substitute Amber Barrett providing an injection of energy.
"We said at half-time, if we can't score then we will lose 2-0," added Bell. "We need to stay in this tournament and you can't be conceding five or six, which is possible against these kinds of teams.
"That was good that we kept it tight in the second half. We had a couple of chances ourselves. A dangerous cross came in and Leanne [Kiernan] has to attack that ball, get across the goalkeeper and put it in. They are the moments, but we're not quite experienced enough.
"You have to make things happen as a striker and get on the end of the ball, anticipate where it's going to come, then it's in the back of the net and we have a fight on our hands. I love my girls and they're working really hard, but they need to improve on a lot of areas."
He concedes that there is still a gulf between many of the part-time Women's National League (WNL) players and those playing professionally for clubs abroad but the squad have been working to close that since Bell's arrival with extra training sessions and they will continue to do so in the coming months.
Amber will not be able to play 90 minutes at that pace yet," he said. "That's where we have to pick it up. We have to get our players much fitter, especially the home-based players. They can't be training three times-a-week, it has to be four or five times.
"That's the difference, that's what the girls keep hearing and I won't change my mind on that. If we want to compete with these top nations, the girls have to come in absolutely in top fitness."
There was also a senior debut for 17-year-old Amy Boyle Carr, who started in midfield against the star-studded Dutch side. Although she was taken off at half-time, Bell was glad to give the teenager a first taste of international football.
"It was difficult for her when we went 1-0 behind," he said. "They put a lot of pressure on us and it was difficult to keep our shape at times, but she deserved a chance as she trained better than a lot of the other players and that's why she got an opportunity.
We're trying to develop these young girls and we have to throw them in at some stage. They've got to learn to swim and it was a great experience for her. I thought she did okay but I know Amy can play better, so it's another good player for the future."
As it stands, Ireland remain second in Group 3 after five matches played, three points behind last night's opponents and one ahead of Norway, who have a game in hand.
June sees Bell's side meet the Norwegians twice in the space of four days. Claiming top spot looks unlikely at this point, but with the four best-placed runners-up from seven groups going into the play-offs, the upcoming double-header could make or break dreams of qualifying for next summer's World Cup finals in France.
"It was always going to come down to these games against Norway," Bell says. "Norway have to play Holland again in the last game when we play Northern Ireland, so we always knew these two ties against Norway would be crucial.
"That's what we're looking forward to now and it's why the Slovakia win was so important. We can take a lot out of this evening, but, unfortunately, no points."
The42 is on Instagram! Tap the button below on your phone to follow us!