WITH JOHNNY SEXTON sidelined due to ongoing concussion issues, Ireland head coach Joe Schmidt will have an important selection decision to make at out-half for the Six Nations opener against Italy on 7 February.
The thought that Schmidt might have been tempted to test his depth at 10 even if Sexton was fit to play crosses the mind, although it's worth remembering that the Racing Métro man started against Italy last year and helped Ireland to rack up the points that proved crucial in the final outcome of the championship.
Either way, Sexton has been ruled out of next month's meeting with Italy, so we've taken a look at the three prime candidates to wear Ireland's 10 shirt.
Two vital Champions Cup weekends will allow Schmidt to further assess his options this month, but here's how we see things standing at present.
Ian Madigan
The 25-year-0ld has enjoyed just three starts in the out-half position for Leinster this season, although two of those have come in the province's two most recent outings.
Matt O'Connor has been insistent all along that his use of Madigan at inside centre, and briefly fullback, was a simple case of injuries limiting his backline options. Injuries eased, the expectation now is that Madigan will be Leinster's starter in the 10 shirt.
Not having played too often at out-half could, of course, count against Madigan in terms of his Ireland hopes, although he started there for Ireland against Georgia in November.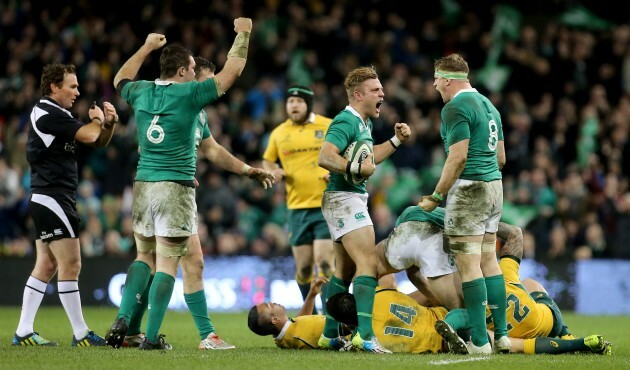 Ryan Byrne / INPHO Madigan won a crucial turnover for Ireland against the Wallabies. Ryan Byrne / INPHO / INPHO
"I've coached and had a relationship with Ian for four years," said Schmidt following that 49-7 win in Dublin. "That coach-player relationship means that he knows what we expect as a coaching group and he is very driven to try to be as accurate as he can be."
The above quote succinctly sums up one of the major advantages Madigan has over his rivals for Ireland's number 10 shirt. The former Blackrock College man has delivered for Schmidt before, knows exactly what he wants and has earned his trust.
Beyond the pre-existing strength of the relationship Madigan is clearly an excellent player. Despite his relative lack of size, the Leinster man is an aggressive and willing defender, increasingly mimicking Sexton with a high tackle focus.
His ability in attack is well flagged, while his kicking from hand has shown improvement this season, notably against Ulster last weekend.
I think he's added length to his kicking game," said Schmidt after that Georgia clash in November, "I think he's added variety to his kicking game. We've always known his running game and what he's capable of there."
Another major plus in Madigan's case is his place-kicking. Under Richie Murphy's tutelage, Madigan continues to improve in this regard and his record stands at over 90% this season.
Points from the tee are vital in any rugby game, providing Madigan with another green tick.
Ian Keatley
Having underlined his status as Munster's first-choice out-half over the last two seasons, despite calls for the promising JJ Hanrahan to be installed at 10, Keatley appears to have grown in confidence.
James Crombie / INPHO Keatley played for Ireland against the Georgians. James Crombie / INPHO / INPHO
Now 27-years-old, the Dublin native has been asked to stand up as a leader for his province, and the results have been largely positive. While Conor Murray carries much of the playmaking and kicking burden for Anthony Foley's side, Keatley's contributions in both domains have been excellent.
An underrated passer of the ball, Keatley is an equally robust defender to Madigan, while his power into and through contact makes him a breaking threat too. Keatley's kicking from hand has been strong this season, although his place-kicking is a distance behind Madigan's.
At under 80% for Munster this season, it's a negative for Keatley's hopes of an Ireland start.
In contrast to the Leinster back, Keatley has not played under Schmidt regularly. His appearance off the bench against Georgia was the Munster man's first in Schmidt's time as Ireland head coach.
Keatley was with Emerging Ireland last summer [that fact underlines his improved standing], but was part of the senior Ireland squad in November.
"He did very, very well on the Emerging tour and the feedback from Dan McFarland and the coaching staff there was that he led be example, both on and off the field," said Schmidt upon selecting Keatley that month.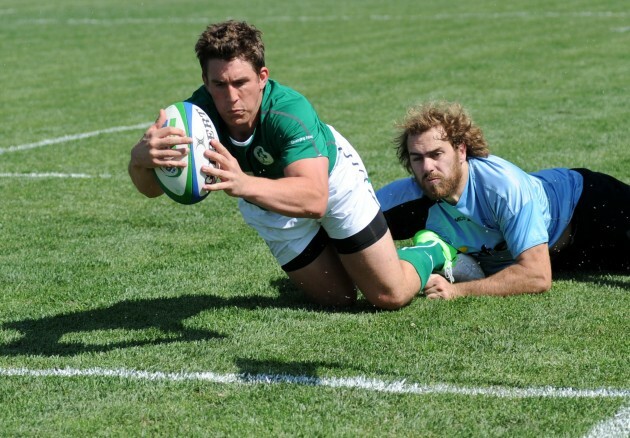 Tamuna_Photo Keatley scores against Uruguay last summer. Tamuna_Photo
"He's done well this season. There are some aspects of his game that we've been talking to him about and he's been working away on. This camp gives us a little bit of an opportunity to work with him and help him to develop as a player."
Madigan has more experience under Schmidt, but we can at least rest assured that Keatley now knows the systems and structures.
Keatley has arguably been the most in-form out-half in Ireland over the course of the current season, but with Madigan picking up in that regard at just the right time, Keatley may have to settle for a bench spot.
Paddy Jackson
Keatley's gain in November was Jackson's loss, but it's worth recalling that the Ulster man was back-up to Sexton during the majority of the 2014 Six Nations [although not for the most crucial game of all], playing four times off the bench and scoring a try against Wales.
Clearly, Schmidt believes Jackson has the quality to play international rugby, but this season has been a difficult one for the Ulster 10.
"We've got a lot of respect for Paddy," said Schmidt in November. "He's been in some tough situations on the pitch. Six Nations a couple of years ago, where there was some tough outcomes as well.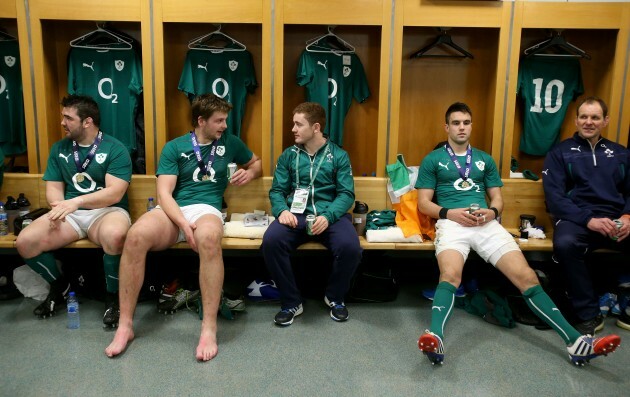 Dan Sheridan / INPHO Madigan was preferred to Jackson on the bench for the final clash of the 2014 Six Nations, although the Ulster man was part of the celebrations in Paris. Dan Sheridan / INPHO / INPHO
"He's worked his way through those and we've no doubt that he'll work his way through this period, and come back stronger and be competitive for selections in the Six Nations."
While Madigan and Keatley both have 12 starts each for their provinces, Jackson's stop-start injury-hit season has him on the nine-game mark. Not a great distance behind, but certainly having had less opportunity to impress Schmidt.
The time he has had on the pitch has been intermittently strong, although his first-half performance against Leinster last week was highly encouraging. Flat to the gainline, Jackson's pass selection and weight of pass were superb.
The more of that in the coming three weeks, the better. Like Keatley, Jackson's place-kicking record is some distance off Madigan's, however, and he looks like the least likely of the three to get the nod at this point in time.
Verdict
Madigan remains the likely starter for Ireland's clash with Italy, but Keatley can keep the pressure on by building on his strong season in Munster's Champions Cup clashes against Saracens and Sale.
Jackson looks like the outsider of the trio at present, even if he still has much to offer Schmidt and Ireland in the coming seasons. Madigan to start versus Italy, with Keatley backing him up.